by Tom Gaylord
Writing as B.B. Pelletier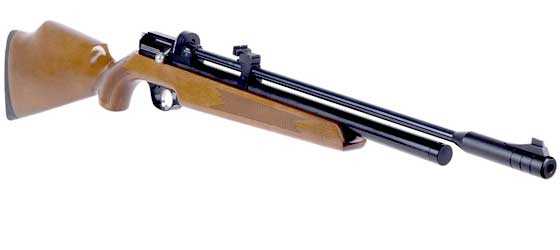 Diana Stormrider precharged pneumatic air rifle.
This report covers:
What it is
What it isn't
Description
Fill probe
Fill port is exposed
Stock
Free-floated barrel
Power
Sights
Summary
Today we start looking at the new Diana Stormrider PCP. Though this one snuck up on us, it's getting a lot of attention now. That's because of what it is.
What it is
The Stormrider is a precharged pneumatic (PCP) repeater that comes in both .177 and .22 calibers. It's produced in China to Diana's specifications. The biggest news is it retails for $200. I remember a time 5 years ago when many people thought that was impossible, yet here we are.
What it isn't
Here is where the native drums are getting it wrong. The Stormrider is not a threat to the Benjamin Marauder. It doesn't have the highly adjustable trigger, the sound suppression, the ability to vary the fill pressures or the ability to adjust the power. If it challenges anything it's both the Benjamin Discovery and the Benjamin Maximus, but I'm not sure it even does that. Both those rifles fill to 2000 psi and the Stormrider fills to 2900 psi, and that is a make or break difference. If someone plans to use a hand pump, the Benjamins are the way to go. If they use a tank, the Stormrider excels because it's a repeater. Assuming, of course, it is accurate.
What it also is not is a thousand-dollar PCP. Mention those three letters and people who don't shoot them assume infinite accuracy. None of the comparison rifles mentioned above have that and I doubt the Stormrider does, either. My task will be to see just how accurate it is.
Description
Beside what you already know I will tell you that the Stormrider is svelte and petite. It's also very slender and rather small. I would call it the Beeman R7 of PCPs, though both the Disco and the Maximus deserve that title, as well. The Stormrider weighs 5 pounds, give or take, and it just 38.5-inches long. That's small!
The rifle is a repeater, holding 9 pellets in .177 and 7 in .22. The magazine follows the shape and form of other popular circular magazines, but is quite a bit smaller. And this magazine has one more unique feature — a rare earth magnet that holds it in place when you insert it into the breech! It's inserted and removed on the left side of the rifle — like the first Marauder magazines. That magnet allows the magazine to slide in and out of the breech easily.
Besides the magazine, Diana also gives you a single-shot tray that also stays put via the magnet. This little feature is one the rest of the airgun world should pay attention to because as many people want to shoot single shot as want to use the magazine. Other companies charge extra for what they must feel is an unnecessary accessory, but they should attend one field target match and have their thinking realigned. Single-shots are in!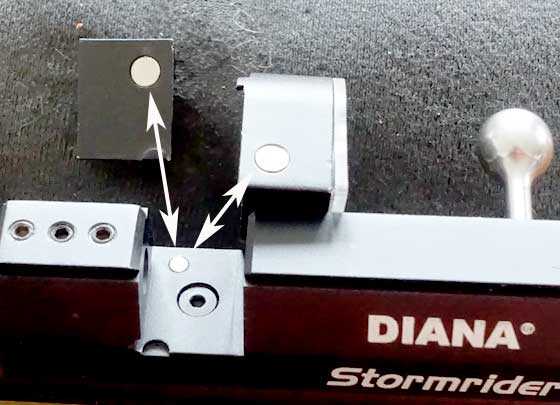 The rare earth magnet in the breech holds either the magazine or the single shot tray in place. Because of that, both slip in and out of the breech easily.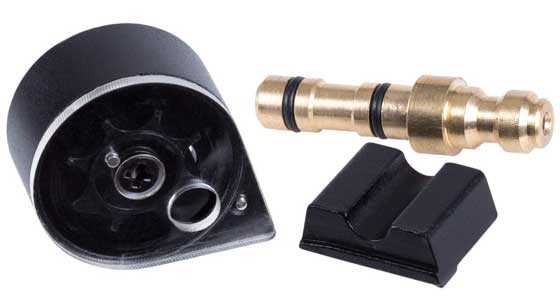 Diana fill probe is a male Foster on the other end. Yes! THAT is what sells airguns — thought given to the end user! Also shown are the magazine and the single shot tray.
Fill probe
I have to acknowledge this. The fill probe has a male Foster connection on the other end, making the Stormrider as easy to fill as any other standard PCP. Manufacturers who don't acknowledge the Foster fitting as universal are subjecting themselves to a loss of sales, I believe. All it takes is one bad experience where their gun cannot be filled because the proprietary probe isn't present and another customer potentially walks.
Fill port is exposed
On the flip side, Diana gets a slap on the wrist for leaving the fill port hole open and exposed. There is no cap to cover it. That can be remedied with a simple piece of Delrin, machined to fit through the port hole that goes through the end cap. Either that or something else is needed to cover that hole.
Stock
The wood stock is classic, with a Monte Carlo comb and a raised cheekpiece on the left side. It's ambidextrous enough for every shooter though. The pistol grip and forearm are both stamped with diamonds to resemble checkering. I don't think that adds anything. The butt has a thin black rubber pad that is grippy.
Free-floated barrel
One look at the top picture and you van see the barrel is free-floated. The barrel on the rifle I am testing is anchored well and hardly moves. A synthetic muzzle brake has a couple vestigial baffles that may do something. I will report on the sound level in Part 2.
Power
The specs claim 26 foot-pounds for the .22 caliber rifle and 20 foot pounds in .177. I think 20 foot-pounds is a little high for .177, but 26 is fine for a .22, so I chose the .22 to test for you. The specs say to expect 40 shots per fill, which would be a lot. I think that number is for .177 and maybe a few less for .22. We shall see.
Sights
Praise, praise, praise for the adjustable open sights! No fiberoptics! A plain squared-off post in front and a wide notch in the rear. Good going, Diana! As long as you are going to put sights on an air rifle, put on sights we can use — like these!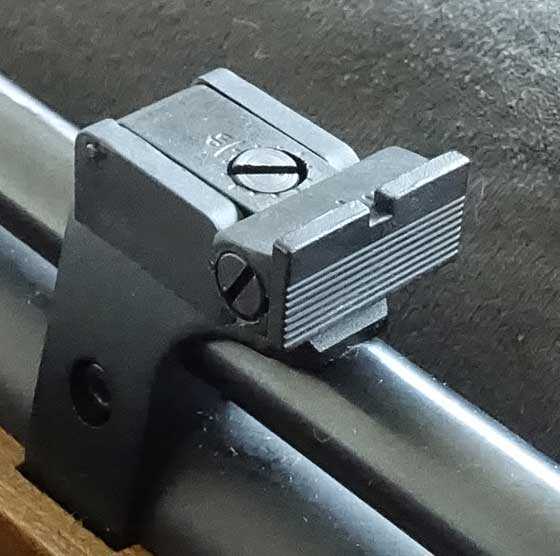 Both front and adjustable rear sight are plain black — thank goodness!
Summary
What we have in the Stormrider is a lightweight repeating PCP rifle with plain open sights and a single shot tray. The fill probe attaches to a common female Foster quick disconnect. It's powerful and costs $200. If these features bear out in testing there's just one more thing to ascertain — is it accurate? Oh, boy, do I love my job!