by Tom Gaylord
Writing as B.B. Pelletier
This report covers:
Meopta
Leapers
P.O.I. Airgun Rings
Vanquish 700
Air Venturi Hellboy
ASG
AirForce
Are we done?
Before I start I want to say a word about who I cover at SHOT. There are plenty of airguns I never look at, for reasons I think are good. These are the fringe companies that have no representation in the U.S., or they have a couple of shyster dealers with bad reputations. I don't want to give them any attention. The other people covering the show can "scoop" me on these. Yes, I miss a few things, but I also avoid giving credibility to guns that will only break your hearts.
That said, why do I cover Leapers and not other scope companies? Am I getting a kickback? Well, there is a story here. I used to go to Burris, Leupold and many other scope manufacturers, and they all received me the same way. "Airguns? You write about airguns? Sure, we have a couple scopes that could be used on an airgun, I guess."
Only at Leapers was I met with enthusiasm and interest. When I told them that airguns break scopes with their snappy two-way recoil, they decided to brace all their scopes for that! When I told them about parallax adjustments down to 10 meters, they went down to 3 meters and the Bug Buster line was born. Leapers is a company that cares and wants to play the game. I have only limited time at SHOT and I spend it on the companies that count.
Meopta
This year I will say that I found one scope at Meopta that adjusts down to 10 meters. It retails for $1,700, but is the optical equivalent of a Swarovski costing almost twice as much. We pay a lot more than that for Nightforce scopes for field target use. Unfortunately this one was only a 4-16, so I doubt many airgunners will go for it, certainly not those in field target. However I was asked by Meopta if I would like to test one. They are curious whether their scopes can take the airgun recoil, which I thought was a brave thing to say! I am tempted to give it a try, because, if we can get Meopta on board, we will have two great optics companies making airgun scopes, and at different price points!
If you are a long time reader you know that I think the world of Meopta optics! If they can come on board, we will have a powerful new source for optics.
Leapers
I already started testing the new Bug Buster 3-12 late last year. But this year they will be adding an optional feature that all Bug Buster owners will like, I think. It's a special sidewheel, just for the Big Buster! I am getting one to test for you!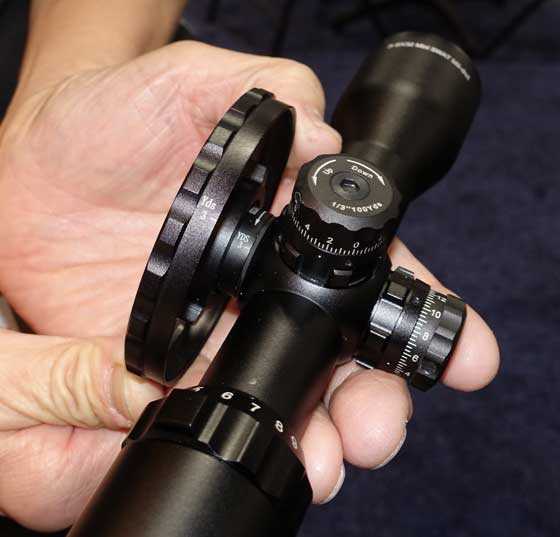 The new Bug Buster sidewheel fits all current Bug Buster scopes. Call for info on older scopes.
Leapers has made several changes to their Accushot scopes. They all now have thinner reticles, many of which are illuminated. They are etched onto glass for reflection reduction. I looked through several different of them in the Leapers booth and, although the types of reticles were different, they were all quite thin! In one case I could only see the floating center dot because it was illuminated. These are features found on other manufacturers' scopes that cost a lot more.
They are also putting new turrets on this line of scopes. They are wider, so there are fewer turns to go up and down (because of a larger circumference/more clicks on the knobs).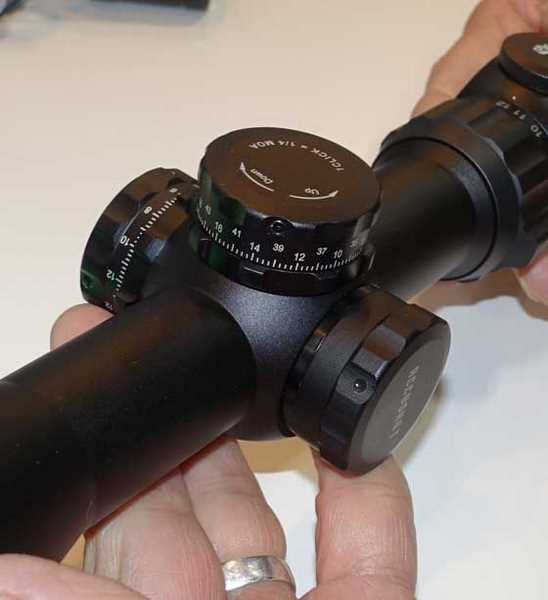 The turret adjustment knobs on the Accushot line will be larger from now on.
P.O.I. Airgun Rings
I saw the P.O.I. scope rings last year, but they were made for Weaver scope bases. This year Leapers will make P.O.I. rings for 11mm airgun dovetails, as well. They will be in all heights and both tube sizes — one inch and 30mm.
These are made in the U.S. What makes them special is the movable jaws are guided by two pins. They cannot get cocked or out of alignment.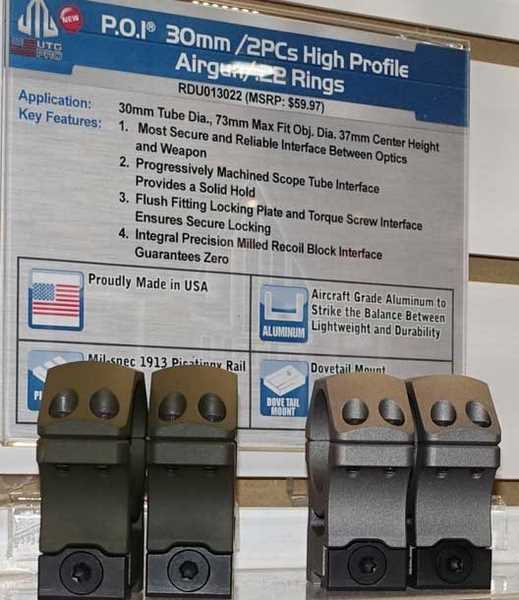 P.O.I. rings are now made for 11mm dovetails.
Vanquish 700
Leapers also showed me their new Vanquish 700 tactical flashlight. You guys know what a sap I am for flashlights! This one has two buttons, one to turn on/off and the other to manage brightness and the strobe. It does run on 2 CR123A batteries, but those can be rechargables, which is about all I use anymore.
There are other 700 lumen tactical lights on the market. I focus on this one because it's from Leapers and will therefore be affordable. Also there is good chance Pyramyd AIR will carry it.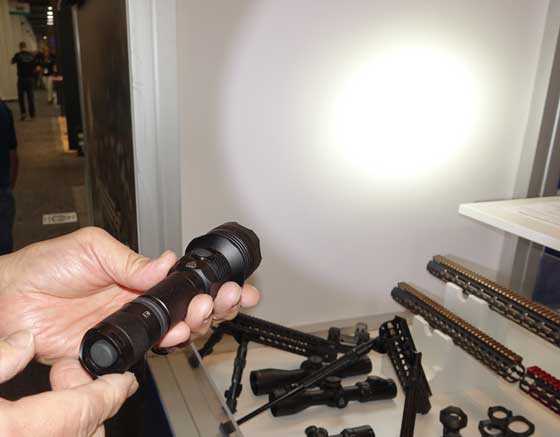 The UTG Vanquish 700 will be an affordable defense light.
Air Venturi Hellboy
The Hellboy is a CO2-powered AR lookalike that shots BBs. Tyler Patner told me it is remarkably accurate out to long distances with the new Dust Devil BBs!


Air Venturi Hellboy is a new CO2-powered BB repeater.
But, from what I observed, the biggest news in the Air Venturi booth was the fact that Air Arms has finally made the S510 Xtra FAC in .25 caliber. They say it gets 44 foot-pounds, so you hunters should be interested.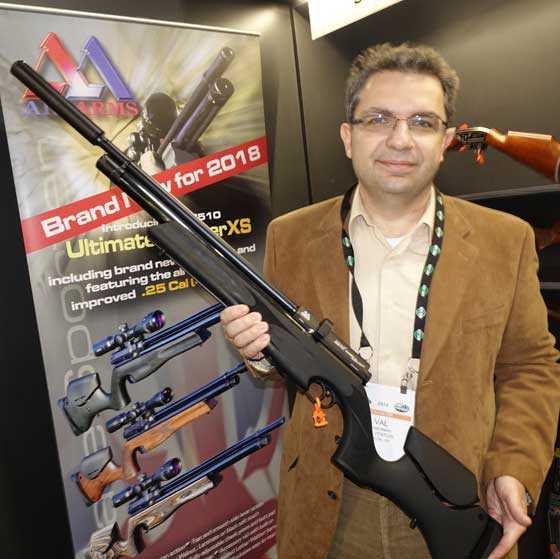 Val Gamerman of Air Venturi holds the S510 Xtra FAC from Air Arms. It now comes in .25 caliber!
ASG
Action Sport Games showed me a couple nice new air pistols. They license the 1911 from Dan Wesson and build a nice budget-priced pellet repeater. It's not blowback, and the grip safety doesn't function but the price is low enough that those things don't matter. The gun is heavy and has a double action trigger that's amazingly light. I hope to review this one soon.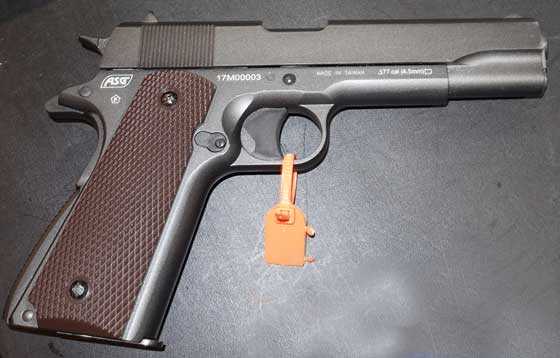 Dan Wesson 1911.
Bob Li of ASG is one fantastic salesman! He talked up the CZ75 SP-01 Shadow so much at dinner the night before that he has me wanting one in 9mm! But at his booth he showed me the BB version that's coming this year.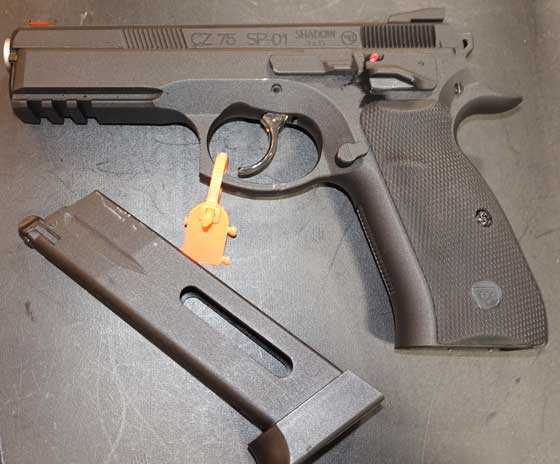 CZ 75 SP-01 Shadow.
All controls function and this one comes apart! The sights adjust, too, so there is a lot to look forward to.
AirForce
I'll finish this report with the new Texan Carbine from AirForce. Some people wanted a shorter-barreled big bore, and with the Texan they don't give up enough energy to be concerned. The carbines are still more powerful than most other big bores.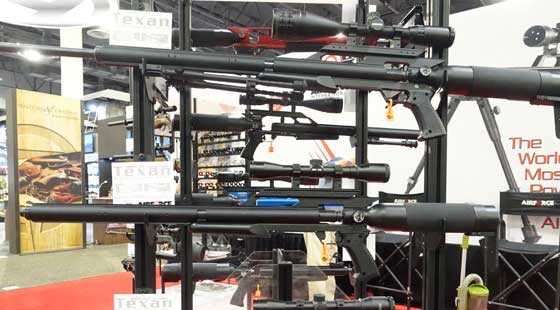 The Texan Carbine is under the Texan, for comparison. Same calibers. Just give up 100 foot-pounds in .45, which the Texan can afford to do.
Are we done?
Not yet. There are still new things to show you and I will do that later this week. This year bodes well for the airgun industry, I think. It is the year of the price-point PCP and of the budget air compressor, but there are a couple other new things you haven't yet seen that are quite nice.