by Tom Gaylord
Writing as B.B. Pelletier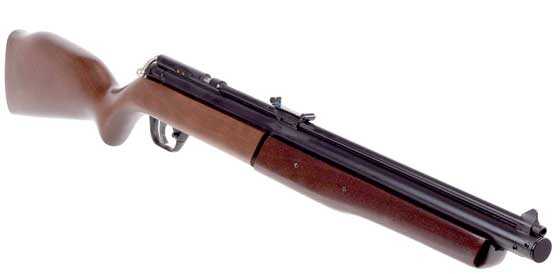 Benjamin 392 multi-pump pneumatic.
This report covers:
The story
Applying ATF stop leak
Condition of the rifle
Test 1
Test 2
Test 3
H&N Baracuda Match
JSB Exact Jumbo Heavy
Trigger pull
Conclusion
Before I begin, a message to Aaron from Hawaii. I have talked with Johnny Hill of Tin Starr bullets (at the Weatherford Pawn Shop) and he is making me some bullets that are unlike any on the market today. I will test them in the TexanSS and let you know the results. They are very light and should give more than three shots per fill.
Today will be a different kind of report. It's one many of you have asked for, but I think this is the first time I've done one like it.
The story
I was in the Weatherford Pawn Shop last week, picking up a gun and getting some bullets for the TexanSS test. I happened to see an old Chinese B3 rifle in the corner and asked about it. This was a real B3 — not a B3-A that I sometimes mention. It looked even older than the B3 I once owned, so it probably dated back to the late 1970s or early '80s. I thought it would make a nice gun to test for this historical series. They sold for $20 when they were new, but the tag on this rusty old one said $59.00! I plotzed, right there in the store!
They told me to make them an offer, and I was about to say ten dollars when they remembered another old airgun they had that needed fixing. Could I reseal a Benjamin 392? I don't know how to do that, but Jeff Cloud does. It would cost me more than I wanted to pay for the B3, but the story was starting to get interesting.
They sent me home with both air rifles and on the way I wondered whether a treatment of ATF sealant that I recommend to everyone who has sealing problems might work. To make the story short, it did work. The rifle that absolutely would not hold a charge is now holding for days! And that gave me an idea.
What if I tested the rifle for velocity before an overhaul, and then again afterward? That would tell us just how good ATF stop leak is at fixing these pneumatic and CO2 guns. So that's what I'm doing today. I will test the rifle in my usual way for a multi-pump and then have Jeff go through it and test it again afterward. That way, whoever buys the rifle from them will get one that's freshly overhauled. and we get to see how well the field fix works.
Applying ATF stop leak
Before I get to the velocity test, here is a word on applying the ATF sealant. The fix happens fast but not instantaneously. Drop 10 drops of sealant on the end of the pump rod, which can be seen when the pump lever is all the way open and the rifle is on its back (with the pump slot up). I didn't have an eye dropper this time, so I loaded up a cotton swab several times and just smeared it on the rod end. The goal is to get past the rod end and onto the pump head at the other end that you can't see. Also, you want the sealant to be pumped into the inlet valve as the rifle is pumped, so it gets on all the inner seals.
This took me several minutes and I had to cock and fire the rifle several times. I also put sealant on the tiny o-ring on the end of the bolt. Finally, after about 5 minutes of pumping and shooting, the gun started holding. Then I would pump it 4 times and leave it for several minutes, to see if it held. Then several hours. Finally for several days. The rifle now pumps and holds as it should.
Condition of the rifle
This multi-pump has had a hard life. The external condition shows a lot of paint loss and scratches in the wood. It's a later model that I think was made in 2000, but it's in worse shape than many multi-pumps I've see that were 50 years older. Given the condition of the outside I believe the inside is probably the same. I doubt the rifle was ever stored with air in it, so it's probably filthy inside the valve. If the rifle was mine I would just leave it as is, but I would shoot it several times a week for the next year to get it running right. But the pawn shop will sell it, so it has to be right.
Test 1
Let's see what velocity the rifle achieves with Crosman Premier pellets on 3 to 8 pump strokes.
Pumps…………Velocity
3………………….491
4………………….538
5………………….576
6………………….599 no air remaining
7………………….632 no air remaining
8………………….652 no air remaining
This 392 is the fastest one I have ever tested! My 392 pump-assist topped out at 608 f.p.s. It's obviously still in good shape inside. I cocked the rifle and fired a second time after 6, 7 and 8 pumps to see if all the air had been exhausted on the shot.
Test 2
How consistent is it? I'll try 10 shots on 4 pumps.
Shot……………Velocity
1………………….529
2………………….541
3………………….529
4………………….522
5………………….499
6………………….538
7………………….529
8………………….552
9………………….546
10……..………….545
The average is 532 f.p.s. but the spread is 53 f.p.s. That's huge for a multi-pump. It should be closer to 10 f.p.s. That may be an indication of some seals that are less than perfect. Or the pump head may be heating up with use and compressing more air, because all the fast shots came at the end of the string.
Test 3
This is the last test. I'll shoot a couple heavy pellets to see what the power potential is.
H&N Baracuda Match
First up was Baracuda Match with 5.51mm heads, on 4 and 8 pumps.
Pumps………………Velocity………Energy
4………………………447…………..9.59 foot pounds
8………………………582…………..16.25 foot pounds
JSB Exact Jumbo Heavy
Next I tried JSB Exact Jumbo Heavy, again on 4 and 8 pumps.
Pumps………………Velocity………Energy
4………………………493…………..9.79 foot pounds
8………………………619…………..15.43 foot pounds
These rifles usually top out in the 14+ foot-pound range, so once again we see that this one is hot.
Trigger pull
The trigger is 2-stage and releases crisply at 4 lbs. 9 oz. There is no adjustment for this trigger but it can be modified to release easier.
Conclusion
That's where I'll leave it for now. The gun will be resealed and then I will re-run the velocity test, followed by a accuracy test. I'm not testing accuracy before because an overhaul won't change anything.