by Tom Gaylord
Writing as B.B. Pelletier


Beeman QB Chief precharged pneumatic air rifle.
This report covers:
Accuracy day
The test
Fill
H&N Baracuda Match with 4.50mm heads
Time for the trime!
JSB Exact Heavy
Crosman Premier heavies
Discussion
Oh, no!
Summary
Wow! How's that for a blog opener? Are you curious?
Ever make a huge mistake in judgement? I think I made one in Part 2, when I said this air rifle is probably not for the first-time PCP user. Read on to discover why I say that.
Accuracy day
Today is accuracy day and I want to shoot the Beeman QB Chief precharged pneumatic air rifle with both the open sight it comes with and also with a scope. Since this is the first test I decided to go with open sights at 10 meters.
The test
I shot off a sandbag rest at 10 meters. The rifle was rested directly on the bag, which you can do with precharged pneumatics (PCP), because they don't recoil. I decided to go with 5-shot groups and to just look for that special pellet or pellets that would be worthy of a 25 yard test. Boy — what I didn't know and was about to find out! I also went with just 5 shots because we know from Part 2 that the Chief is short on breath. Ten shots are about all you get before the velocities drop way off the power curve.
Fill
The QB Chief fills to 2,000 psi, which is good for the users of a hand pump. Because the rifle needs to be filled so often I kept my air tank next to the shooting bench and topped off after each 10 shots.
H&N Baracuda Match with 4.50mm heads
The first pellet to be tested was the H&N Baracuda Match with a 4.50mm head. I shot the first shot and was surprised to see it hit more than 2-1/2 inches above the aim point, which was a 6 o'clock hold on the bullseye below where it hit. Fortunately it landed on a different bullseye, so I just finished that group before adjusting the sights.
Time for the trime!
Yes, dear readers, the Beeman QB Chief I am testing is so accurate at 10 meters that it was time for me to drag out the trime — a silver three-cent piece from 1853. The American dime that I normally use for group size comparison is nominally 17.9mm in diameter. The trime that I am using today is 14mm in diameter.
At 10 meters five shots from the Chief with the H&N Baracuda Match pellet landed in a tight group measuring 0.274-inches between centers. That is phenomenal!

At 10 meters the Chief put 5 H&N Baracuda Match pellets into this group that measures 0.274-inches between centers.
What a beginning! I had to adjust the sights of course, but I hoped that I would get similar results from at least one more pellet. If I had only known!
I ran the sights down a lot and fired the first shot with the next pellet, which was the JSB Exact Beast. When it hit the target above the bull and I had used a 6 o'clock hold, I knew I had to run the sight down all the way. I also had to dial in a little right adjustment. The next 5 pellets landed in 0.269-inches. That's right, they were tighter than the first pellets! To heck with the dime — I used just the trime from this point on.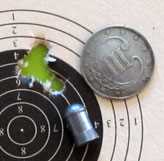 Five JSB Exact Beasts went into 0.269-inches at 10 meters.
I was starting to suspect that I had a winner on my hands and that every group would be this good. That would make this Beeman QB Chief a first-rate choice for the first-time PCP buyer. Let's just hope!
JSB Exact Heavy
The next pellet to be tried was the 10.34-grain JSB Exact Heavy. We know this premium pellet is often the most accurate, or at least is among them, and today was no different. Five pellets went into 0.189-inches at 10 meters. That is the smallest group of the test and also constitutes a true screamer! I couldn't believe I was shooting this well — with post-and-bead open sights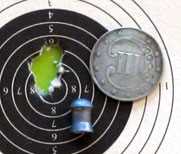 Five JSB Exact Heavy pellets are in 0.189-inches at 10 meters. This constitutes a screamer! The fact that it is also centered in the bull with no sight adjustment is nothing but a good omen.
Crosman Premier heavies
The last pellet I shot was the 10.5-grain Crosman Premier Heavy. Would they do as well as the rest? Well, five went into 0.303-inches, which is the largest group of this test. But yes — I would say they did as well as the others, or almost.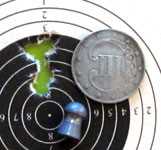 At 10 meters five Crosman Premier Heavy pellets went into this vertical group that measures 0.303-inches between centers.
Discussion
Wow! I can't remember another time an air rifle that wasn't a 10 meter rifle got 4 groups this good. And I was so pleased that the trigger is as nice and light as it is. Of course it would be nice if it stopped moving after the release…
Oh, no!
I had promised to adjust the trigger in this report, and I completely forgot to do that. Well, here is what I will do. I will dedicate the next section of this report to just adjusting the trigger. It will be a tutorial for everyone.
Summary
I guess I now have to eat my words from the close of Part 2 where I said it wasn't as well set-up for the general first time shooter. As long as they can live with just 10 shots per fill and the loud discharge, this is stacking up to be a brilliant starter PCP!