by Tom Gaylord
Writing as B.B. Pelletier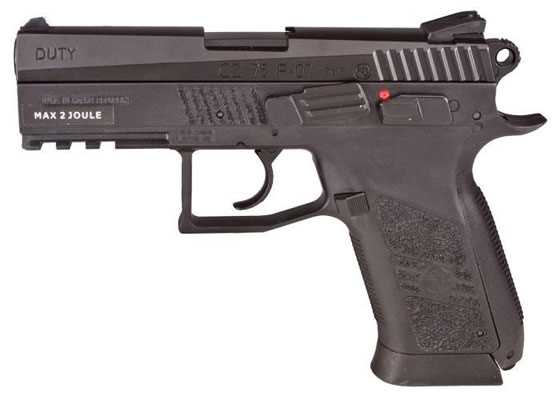 ASG CZ 75 P-07 Duty BB pistol with blowback.
This report covers:
Stick magazine
The quirk
ASG Blaster BBs
Daisy Premium Grade BBs
Dust Devils
Shot count
Trigger pull
Blowback/recoil
Summary
Today we look at the velocity of the ASG CZ-75-P-07-Duty-BB-pistol. As I said in Part 1, this is a compact pistol, but a duty size that's larger than a pocket pistol.
Stick magazine
The stick magazine is separate in the front of the grip. It holds 20 BBs that are loaded through the top. The follower is smooth and light and has a lockout notch at the bottom of the mag, so it's out of the way for loading. I found the mag pretty quick to load, but it did have one quirk.
The quirk
Sometimes, when a BB doesn't register through the chronograph during a shot string, I have to load a single BB after the magazine has been emptied to complete the 10 shots. This mag doesn't work well that way, because the top BB doesn't stay in place. It falls out of both the front and back of the mag, but when there is another  BB beneath it to push it up, it remains in place. I guess when you get to the last BB in the gun, the gun must hold it in place because there were no jams or failures to feed throughout this test. You just can't load a single BB into the mag and have it stay in place. Other than me, I doubt anyone would want to do that.
ASG Blaster BBs
I tested with ASG Blaster BBs first. They averaged 364 f.p.s. for 10 fired with a 10-15-second delay between shots for temperature control. The P-07 doesn't seem very sensitive to cool-down, so I think you can shoot it as fast as you like. You will loose some velocity but for the first 3 magazines it shouldn't be much.
The spread went from a low of 360 to a high of 367 f.p.s. That's just 7 f.p.s. variance, which is very small for a CO2 gun.
Daisy Premium Grade BBs
Next I tried 10 Daisy Premium Grade BBs. I consider them to be the standard of the BB world. At one time they were the absolute best, but other brands have come along that are now just as good. By "good" I mean they are a uniform size and free from manufacturing defects like the old Benjamin BBs I showed you yesterday. Today there are enough good BBs on the market that you have to try each of them to find what works best in your gun.
Daisy BBs averaged 367 f.p.s. in the P-07 Duty. The low was 363 and the high was 373 f.p.s., so the spread was 10 f.p.s.
Dust Devils
The final BB I tested were the Dust Devil BBs from Air Venturi. We know these are almost a full grain lighter, plus they are made of steel rather than lead, so they will go faster. They averaged 385 f.p.s. in the P-07 and the spread was 20 f.p.s. — from a low of 376 to a high of 396 f.p.s.
Shot count
After the three chronograph tests were over the CO2 cartridge that had started fresh had 33 shots on it, so I kept shooting for record. Because the P-07 has a slide hold-open feature that holds the slide after the last shot, and because it worked flawlessly for this test, I shot actual BBs to get the shot count. If I had shot blanks I would have had to release the slide after each shot. Or I could have just left the magazine out and the gun would have fired. I shot the ASG BB for this test.
Shots……..Velocity
55…………..363
75…………..333
95…………..288
105…………255
I stopped shooting after 105 shots, and within less than 5 more shots the slide was no longer coming back far enough to cock the hammer. I think you can plan on getting around five good magazines on a single cartridge.
Trigger pull
This is where I got a surprise, but I believe I know what's happening. The P-07 trigger is heavier than expected. The test pistol trigger breaks at 7 lbs. 3 oz. I wonder if that is done to be representative of the firearm trigger?
Blowback/recoil
The ASG CZ 75 P-07 Duty has a metal slide that comes back all the way, but the slide is lightweight, so the recoil impulse is not that heavy. I may have more to say about it when I shoot the pistol for accuracy.
Summary
That's it for the velocity test. The P07 gives respectable velocity for a BB pistol with blowback and 100+ shots per cartridge. The gun feels very good in the hand and I can't wait to see how accurate it is.
The current crop of BB and pellet pistols are pushing the limits of authenticity when it comes to looking like the firearms they were copied from. This CZ 775 P-07 Duty is one more very realistic BB gun!