by Tom Gaylord
Writing as B.B. Pelletier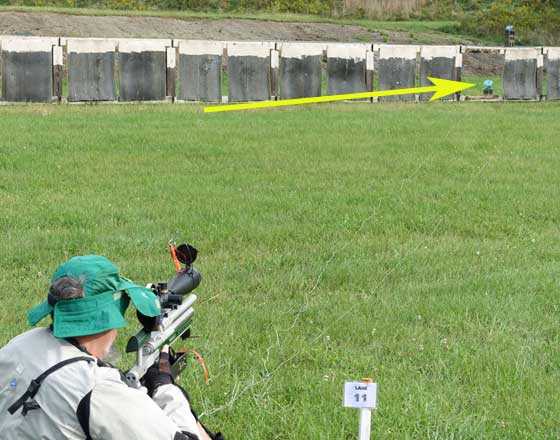 The field target match included a number of difficult shots, like this long one.
This report covers:
Exotic equipment
Timed
Other airguns
Rich Shar
Youth shoot
Gunslynger
Summary
We're back to wrap up the Pyramyd Air Cup today. We ended Part 1 with the start of the field target match that surprisingly attracted a lot of reader attention, so that's where I will begin today.
Exotic equipment
One thing field target brings out is the odd and exotic in many of us. You see equipment you could never imagine! Some of it is not so useful but some things you wish you had invented yourself.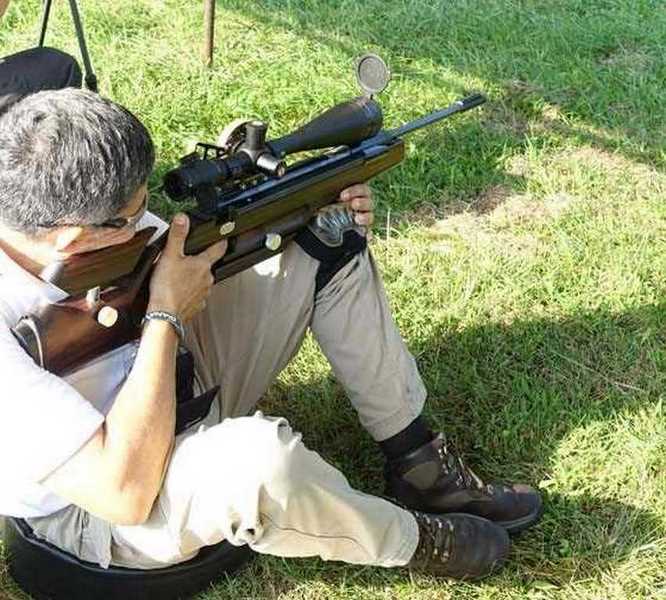 Hector Medina checks the zero on his Diana 54 that's been detuned to 12 foot pounds. It's so easy to cock!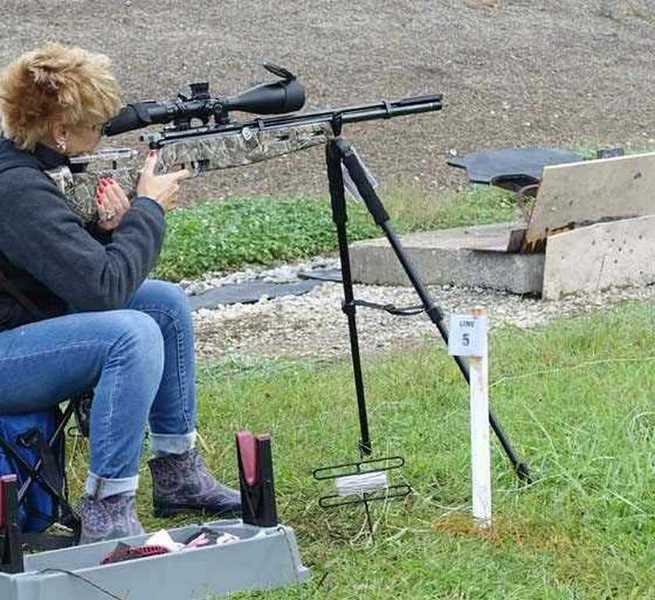 This young lady is shooting a Crosman Challenger PCP that has, no doubt, been tuned up for field target.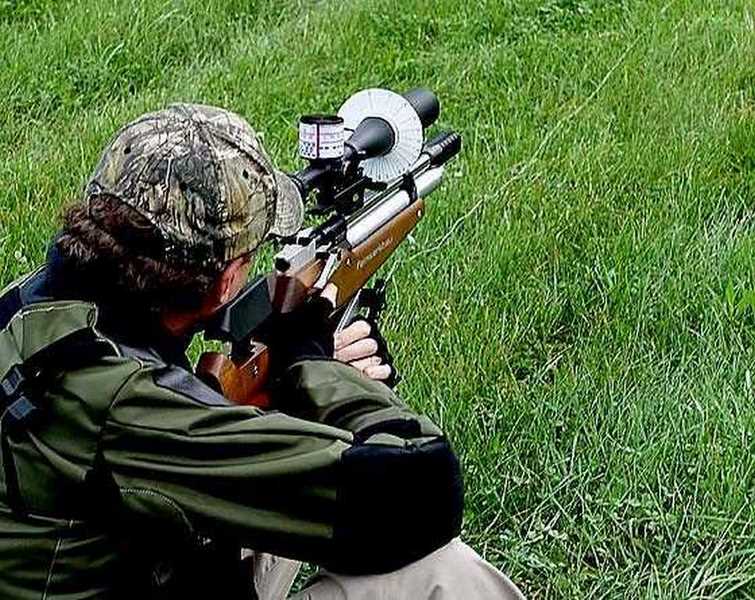 See what this shooter has done to be able to see the yard markings on his scope's adjustable objective?
Timed
Each lane in the match is timed. From the moment your bottom hits the cushion or seat, a timer gives you 5 minutes to make 4 shots. That's more than enough time, and it keeps things moving along. When there are 104 competitors shooting 104 shots each, time becomes critical.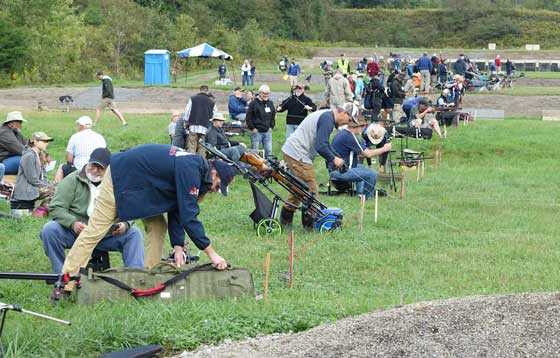 This gives you a sense of the size of this field target match.
The match results were not posted by the time I wrote this report, and I left Sunday morning, too early to see the finish. Suffice to say, the match was a success and a lot of people had a wonderful time.
Other airguns
I mentioned yesterday that there were lots of unique airguns to see at this event. Not all of them were brought by Pyramyd Air, either. One was a custom LD pistol, which is already a customized Crosman Mark I or II.
The typical LD uses bulk CO2 and has a longer barrel. You scope it, because it is a tack-driver. And, with the longer barrel, you get more power.
The pistol I was shown runs on air and the owner has two different tanks he uses. As I recall, one of them gets above 12 foot pounds and the other gets above 15 foot pounds. If I am mistaken, I'm sure he will correct me.
A typical LD is held by the grip and the rear of the scope. This one, though, has a forearm. A Benjamin Tootsie Roll pump handle fits the extended frame perfectly, as you can see.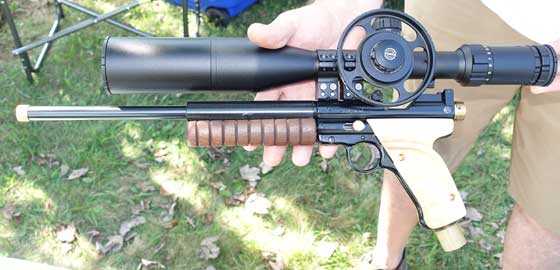 When you customize a custom airgun this is what you get. An LD pistol running on air!
Rich Shar
One of our readers asked me whether I planned to meet Rich Shar at the Cup. Rich is the man who has spent a lot of time smoothing and improving Gamo and Hatsan rifles over the years. You may have read about him in my 2014 report titled, An airgun test you weren't expecting.
Right after the blog reader asked me that, Rich contacted me and we did meet at the Cup. He missed a youth shooting event at his home club — one he has faithfully attended for the past 18 years — just to come and see me. And he brought me — wait for it — his latest version of a .30-caliber Hatsan 135! I couldn't wait to shoot it.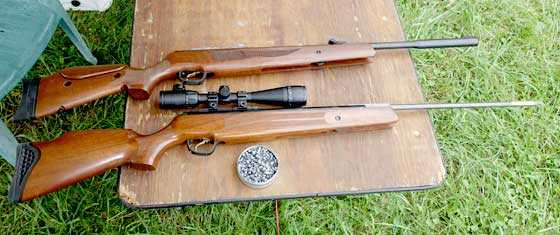 Rich Shar's custom .30-caliber Hatsan 135 (bottom) and a stock one he bought for comparison.
According to Rich, his rifle is just a shell of a Hatsan 135. He has completely remanufactured the powerplant with custom parts that are too exotic to explain. It uses a gas spring, but that's as close as it gets to the stock rifle. He added a custom TJ barrel, after discovering that his new powerplant benefitted by more length.
The stock 135 he has gets 535 f.p.s. with a JSB Exact 44.775-grain dome. The custom rifle gets 625 f.p.s. with the same pellet. As far as I could tell, the cocking effort of his rifle is identical to the one I am testing for you — 57 lbs. For comparison my test 135 got an average of 580 f.p.s. with that pellet. So Rich has boosted the rifle's velocity with no increase in cocking effort. He's done this by means of a totally new powerplant plus a new barrel. The original 135 barrel is 10.5 inches long and the one he has put on the gun is 20.5-inches. Usually a longer barrel does not add velocity to a spring gun, but on this one it does.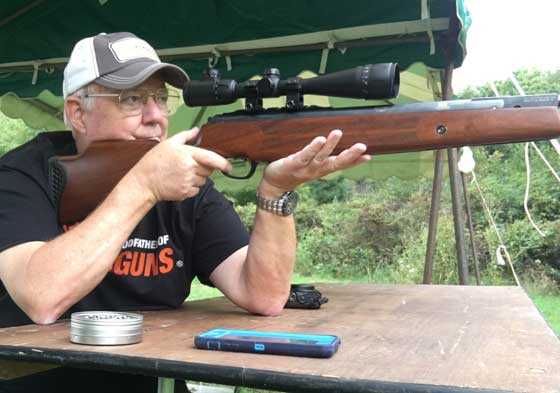 I found Rich Shar's custom 135 smooth and accurate.
Rich told me he is not finished with his work on the 135. He would like to see it shoot 700 f.p.s. and change, which for a .30 caliber breakbarrel is astounding. Whether he gets there or not, he's forged ahead in a world where we were already pretty close to the limits.
Let's look at another competition. This one is for the kids.
Youth shoot
On the public range Pyramyd Air hosted a youth shoot. It was an easy-going affair where the parents could watch and help the smaller kids cock the gun, but the shooters had to hold and shoot the guns themselves. They shot Li'l Duke BB guns at soda cans.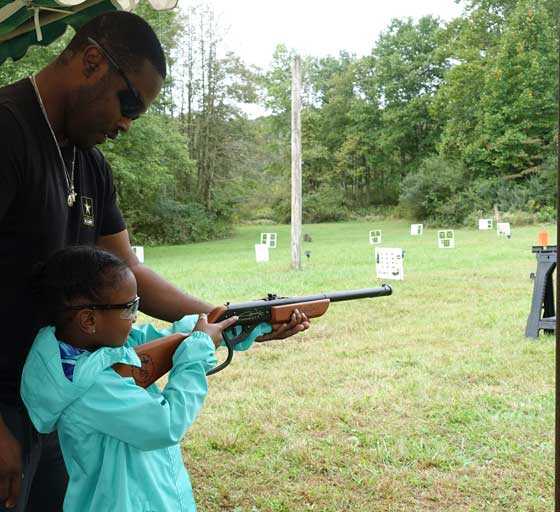 Dad helps his daughter set up for the shot.
Gunslynger
The other big competition at the Cup was the Gunslynger. They shoot at metallic silhouettes, but unlike the sport of silhouette, the Gunslyngers do it off the bench or off a rest — their choice. There are spring guns and precharged guns. The precharged guns shoot faster (all single shot), but the springers are more fun to watch. You might think they can clear all 20 targets (5 chickens, 5 pigs, 5 turkeys, and 5 rams) quickly, but only if you have never shot silhouette. Even though everyone is resting their gun, this is a sport that requires extreme accuracy.
Just to make things harder the firing line was elevated about 15 feet higher than the targets. That means everyone had to shoot downhill, which introduces problems of its own.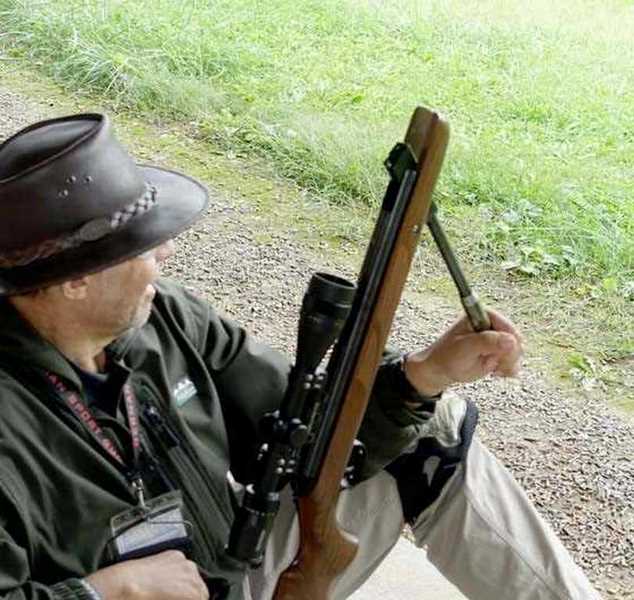 Imagine doing this 45-55 times as fast as you can and still trying to hit a tiny target hard enough to knock it off its stand!
As it turned out I happened to be behind two springer shooters who finished first in their respective matches. Of course this was an elimination match, so these guys still had a lot of shooting left.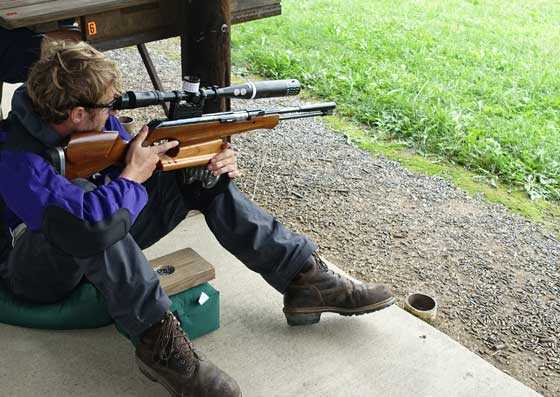 He did really well. I never saw him miss.
Summary
The 2018 Pyramyd Air Cup was a huge success, and I just received word that they plan to grow it next year. Maybe we'll get lucky and they will have an airgun show there, as well. Wouldn't that be nice?
If you want to expand your knowledge of airguns you really should get to one of these shows, and the Pyramyd Air Cup would be a good one to start with.