by Tom Gaylord
Writing as B.B. Pelletier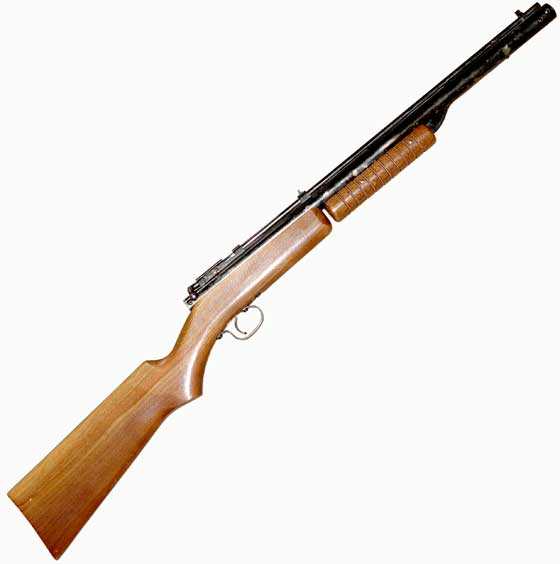 A Benjamin 310 multi-pump BB gun from 1952.
This report covers:
Smart Shot
4.4mm balls
4.45mm balls
Beeman Perfect Rounds
Darts and bolts
Airgun darts
Bolts
Airgun bolts
Bolt extraction
Not finished yet
Today I will almost complete the velocity test of the Benjamin 310 BB gun. Today we look at the velocity with lead balls and also with both kinds of darts. Lead balls are first.
I don't plan on testing each lead ball exhaustively. If I find something interesting I can always expand that particular test. And I will exhaust all the air before each shot I record, so you know it is moving that fast on just those pumps.
Smart Shot
H&N Smart Shot measure 0.1725-inches, nominally. Here is their performance.
Pumps……………Velocity
2……………………427
3……………………505
4……………………560
5……………………577
Notice that the amount of the velocity increase diminishes sharply after 4 pumps. If I were to pump the gun a 6th time I would estimate the shot would go out around 490-500 f.p.s.
Let's try that and see.
Pumps……………Velocity
6……………………556
6……………………562
As you can see, I did not test the gun before my estimate. I didn't believe the first attempt, so I emptied the gun and tried it again. Without a doubt this BB gun tops out on 5 pumps with Smart Shot. It seems we learned that in Part 4, when 8 pumps shot slower than 5.
4.4mm balls
I tried 4.4mm lead balls next. I bought several tins of these a couple decades ago when the Haenel model 310 rifles were coming out of the former East Germany. These balls measure 0.174-inches, nominally.
Pumps……………Velocity
2……………………430
3……………………496
4……………………549
5……………………569
I will guess that the same will hold true for 6 pumps with these, so I won't try it.
4.45mm balls
I bought these H&N lead balls to test my Daisy Number 12 model 29 BB gun, but the plunger seal in that gun failed during testing. So now I have them available for other tests. They measure 0.1755-inches in diameter, nominally, so they are the size of the Air Rifle Shot that Daisy created in the early 1900s when they abandoned BB shot. Remember — this is the shot size Benjamin mentions in a lot of their literature, but they also call it steel air rifle shot. As far as I can determine, steel shot was never made in this size.
Pumps……………Velocity
2……………………424
3……………………504
4……………………556
5……………………580
These results are interesting. They show this slightly larger and heavier shot traveling faster than the smaller stuff. I am guessing the reason is this shot seals the bore better. That will be interesting in accuracy testing. Now for the last shot — Beeman Perfect Rounds.
Beeman Perfect Rounds
Beeman Perfect Rounds are supposed to measure 0.177-inches in diameter, nominally, but I measured several and they came out at 0.1765-inches. That makes them both larger than the previous shot and also larger than anything Benjamin recommends for this gun. Let's see what they do.
Pumps……………Velocity
2……………………453
3……………………507
4……………………551
5……………………580
Wow! The largest shot also goes the fastest!
These shot will be interesting in the accuracy test. I will guess that the larger shot will be more accurate, but we have to test them all to know for sure. Remember the knuckleball? It moves around as it travels through the air because it doesn't spin. Any one of these balls may do the same.
Darts and bolts
I have two kinds of darts to test — normal Air Venturi airgun darts and special Marksman airgun darts that they call airgun bolts.
I will try them with one pump of air and then add one pump for the next shot and so on. That will tell us where the darts and bolts stabilize, as far as velocity goes.
Since I am concentrating on the chronograph and I want to stop the darts as soon as possible after the last skyscreen, I put a hardwood cutting board in front of the regular backstop. Let's get started.
Airgun darts
Pumps………Velocity
1………………167
+1……………..214
+1……………..225
+1……………..247
+1……………..203
+1……………..251
We learn a lot from this. First, airgun darts travel much slower than lead balls. That's good because wait until you see how deep they penetrate.
Next we see that the velocity can vary a lot. Even after they have stabilized they can vary by almost 50 f.p.s. I don't hold out much hope for their accuracy at anything past about 15 feet.
The darts came out of the gun with a lot of dirty oil on their fletching, so they won't be pretty long. And they buried so deep in the board that I had to use pliers to extract them.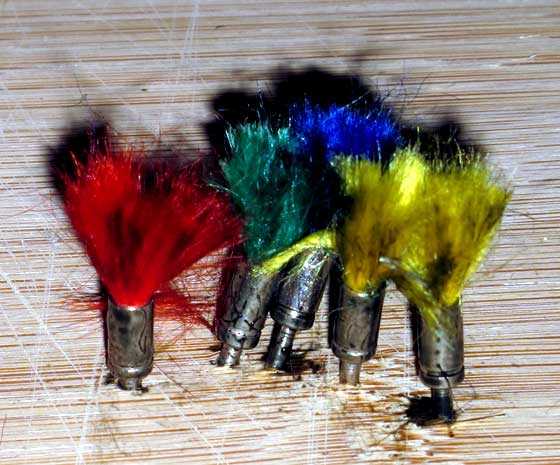 At three feet the darts went deep into the cutting board. The blue dart in the center was shot number one. And yes, they all landed on an angle to the board.
I got them out with pliers. Because of that they aren't going to last very long in this gun. Let's try the bolts next.
Airgun bolts
The bolts were a little long to load, but their flexible plastic tails could be bent to get them into the breech. Let's look at how they did under the same test conditions.
Airgun bolts
Pumps………Velocity
1………………203
+1……………..228
+1……………..235
+1……………..252
+1……………..256
+1……………..249
Bolts were more stabile in velocity, but they hit the cutting board at odd angles that suggest gross instability in their early flight. That means the accuracy is probably poor.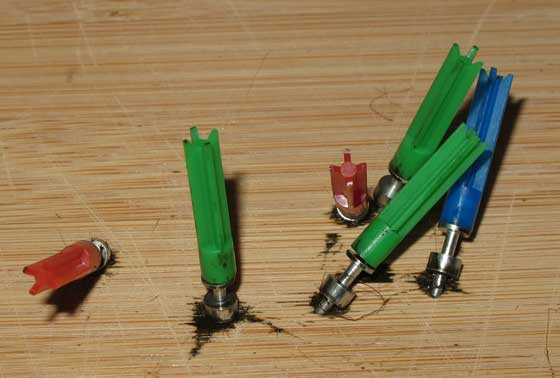 This is how the bolts hit the board.
Bolt extraction
When I extracted them all 5 had bent tips. This was not from the extraction but from entering the board at high speed.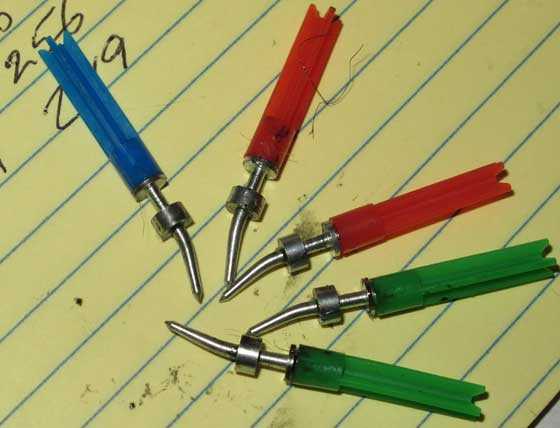 Every one of the 5 bolts has a bent tip.
That's it for those 5 bolts. I threw them out because straightening their tips won't make them fly better. I think these bolts are better suited to lower-powered airguns like the Marksman 1010 pistol.
Not finished yet
Well, this test is epic! The Benjamin 310 is so flexible that it handles more different kinds of ammo than any airgun I have tested — or at least I have tested more ammo in it. And I still have to test some pellets. So — we ain't done yet!