by Tom Gaylord
Writing as B.B. Pelletier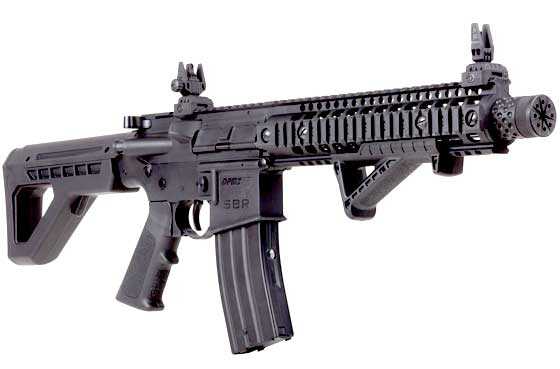 Crosman's DPMS SBR full auto BB gun.
This report covers:
Summary
The report
The test
Hornady Black Diamond
Second group
Hornady full auto
Crosman Copperheads
Copperheads full auto
Air Venturi Steel BBs
Next?
Summary
Summary
Buy it, buy it, buy it! The Crosman DPMS SBR is a best buy, both in a reliable full auto BB gun and also in one that's accurate.
That was my summary. Do I even need to write the rest of the report?
The report
Oh, all right! I'm here anyway, so let me show you what happened. Today is accuracy day for the DPMS and I was excited to see what it can do. I had seen indications of accuracy at the NRA Show a couple months ago, and in his video report Tyler Patner also showed us some good targets at a range farther than we normally shoot BB guns.
The test
Tyler shot at 10 yards. I'm shooting at the usual 5 meters (16.4 feet) until I know that the DPMS is really accurate. You'll see why when I tell you what I plan on doing.
I plan to shoot 10 shots with each of three different BBs in the semiautomatic mode. That's one shot per trigger pull. Then, if the group I get is reasonable, I plan to switch to full auto and dump the rest of the magazine into a second target. The gun does move around in full-auto, so this second group will be larger. I just want to make sure all the BBs end up on the paper and inside the trap. There are too many holes in my walls already!
I am resting the forearm on the UTG Monopod, which is a really solid rest. And I am seated. This is about the gun and not about me.
Hornady Black Diamond
First to be tested were Hornady Black Diamond BBs that I thought might prove the most accurate. I squeezed off 10 shots, one at a time, and watched as a small hole below the bull grew slowly larger. In the end 10 BBs went into 0.922-inches at 5 meters. That's great! But the group is off to the left and the DPMS rear sight does adjust to the right. So I adjusted it a handful of clicks (10?) and shot a second group.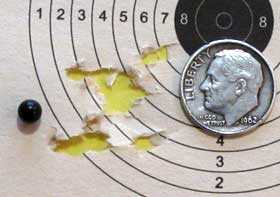 The first group of Black Diamonds BBs was surprising. It measures 0.922-inches between centers.
Second group
The second group is almost perfectly centered on the bull and is also smaller than the first. I suppose I was concentrating harder, now that I knew the gun can shoot. Ten shots are in a very round group that measures 0.742-inches between centers. I was really paying attention now!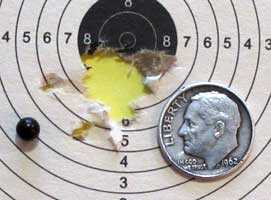 The second group of Black Diamonds, after adjusting the sights, was spectacular. It measures just 0.742-inches between centers.
Hornady full auto
Since I filled the magazine for this second target, the last 15 shots were shot full-auto. I did them in two bursts and got a group that measures 1.319-inches between centers! Guys — I doubt that a real DPMS could do any better at this close range. I have shot many thousands of rounds full-auto from M16s and let me tell you, that isn't their most accurate mode. This little BB gun can really sing!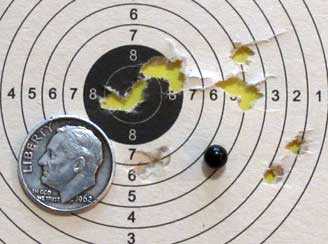 The DPMS is even accurate in full-auto. It put 15 Black Diamonds in 1.319-inches at 5 meters.
Crosman Copperheads
The DPMS comes from Crosman so I have to test it with their Crosman Copperhead BBs. I didn't hold out a lot of hope, though, because Copperheads have not been the most accurate BBs in past tests. But this time was different. Ten Copperheads shot on semiautomatic went into 0.765-inches at 5 meters! Shut my mouth — this gun can really shoot. Let's try full-auto.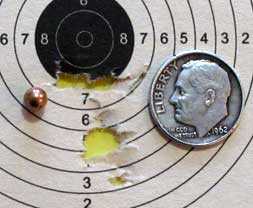 Ten Crosman Copperhead BBs made this 0.765-inch group at 5 meters.
Copperheads full auto
The magazine was not completely full at the start of the last test, so let's call this 12 shots on full-auto. The group measures 1.459-inches across, which is not bad for Rock 'N Roll.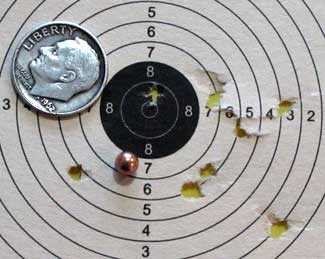 Probably 12 Crosman Copperhead BBs went into 1.459-inches at 5 meters when fired full-auto.
Air Venturi Steel BBs
The last BB I tested was the Air Venturi Steel BB. Ten of them on semiautomatic went into 0.777-inches at 5 meters — another tight group!
And on full-auto? Fifteen went into 0.787-inches — the tightest full-auto group of the test by far and smaller than a couple semiautomatic 10-shot groups. And that was with a single burst!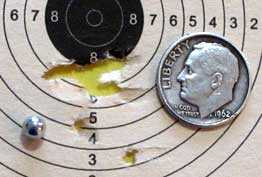 When fired semiautomatically, 10 Air Venturi Steel BBs went into 0.777-inches at 5 meters.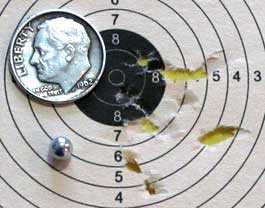 On full-auto 15 Air Venturi BBs still went into 0.787-inches at 5 meters. That's with a single burst!
Next?
We are not done with the DPMS. After seeing the accuracy we see today it warrants mounting that new UTG dot sight I showed you last time and testing it at 10 meters. Sure, the groups will grow, but you know you want to see it. I know I do.
Summary
Refer to my opening statements.