by Tom Gaylord
Writing as B.B. Pelletier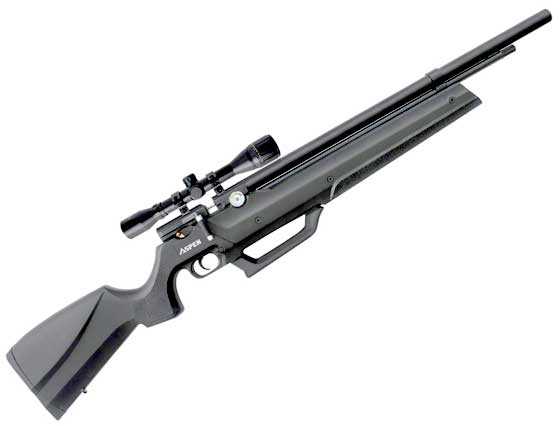 The Air Venturi Seneca Aspen precharged pneumatic air rifle.
This report covers:
Does this test rifle loose air pressure?
How many shots per fill?
First test
Test 2 — Full power shots
Discussion
Test 3 — Number of shots on low power
Gauge is not precise
Trigger pull
Summary
I guess you could say there is some interest in the Air Venturi Seneca Aspen PCP with a built-in pump. Many of you had things to say about this new rifle and a few of you own one like it. What I saw in the comments was a lot of curiosity. Let's start satisfying that today.
Does this test rifle loose air pressure?
Reader Kevin asked me to watch the air pressure in the rifle over time, as he said that leaking was one issue owners were reporting. I pumped the rifle to 3,000 psi last Monday at the end of my test and today the onboard needle reads 3,000 psi on the nose. So, this one holds fine. [Note: in a little bit I will admit that it actually reads 3100 psi. I will explain then.]
How many shots per fill?
The wording about the number of full power shots  in the description on the Pyramyd website is a little confusing and reader Seantheaussie said he was confused. I was, too. Today I will test it for you. Tyler Patner did comment that you get a reasonable number of high-power shots when the rifle is fired from a full charge, and today I will show you the exact velocities.
First test
Okay, the rifle has 3,000 psi in it at the start. You want to know how many pumps it takes to fill it, and the peak fill pressure is 250 bar/ 3626 psi. That is what I will do — fill to the max pressure and count the strokes. I will also weigh one of the final pump strokes because some of you want to know how much effort it takes.
I looked at the gauge needle with a jeweler's loupe, because it is a small gauge. The needle was actually indicating 3100 psi. I pumped in 10 strokes and the needle rose to 3400 psi. I measured the effort for pump number 11 and it registered 30 pounds on my bathroom scale. And I discovered a secret to pumping this rifle.
Remember — this rifle has a 3-stage pump onboard. It acts like one, too. Pump fast and the effort rises to 40+ pounds. Slow down and the scale needle never rises above 30 pounds. Just like a high pressure hand pump, the "secret" of using the pump on this gun is to go slow and be deliberate.
There is not a sound as the pump works! There is no in-rush of air when the pump handle is extended and no squeak of the inlet valve opening when the stroke ends. Except for the click of the pump arm, the rifle is silent when pumped.
Ten more pump strokes took the onboard gauge to 3700 psi. That's a little more than the max of 3626 psi, but the gauge is small and hard to read. So, 20 pump strokes were required to put 600 psi (3100 to 3700 psi) into the rifle. That means each pump stroke is putting in 30 psi. If it is doing that on the high end of the fill it has to do at least as well on the low end, because with a multi-pump the high end of the fill is where things slow down.
Test 2 — Full power shots
The rifle is now filled completely full, so we can start our test for velocity. I selected the .22-caliber RWS Hobby pellet for this test, because it is the lightest pure lead pellet. It will give us a solid number we can believe. Watch this string and pay attention to everything, because you will learn a lot about how the Aspen performs right now.
Shot……….Velocity……Sound…….Remaining pressure
1……………..492………..2.0
2……………..501………..2.0
3……………..518………..2.0
4……………..522………..2.0
5……………..527………..2.0
6……………..550………..2.0
7……………..555………..2.0……………3500
8……………..556………..2.0
9……………..577………..2.0
10……………583………..2.0
11……………592………..2.0
12……………602………..2.0……………3300
13……………610………..2.0
14……………626………..2.0
15……………630………..2.0
16……………639………..2.0
17……………658………..2.0
18……………672………..2.3……………3100
19……………670………..2.3
20……………693………..2.3
21……………729………..2.5
22……………738………..2.5
23……………756………..2.5
24……………759………..2.5
25……………785………..2.5
26……………804………..2.7……………2900
27……………811………..2.7
28……………851………..2.9
29……………883………..2.9
30……………898………..2.9
31……………916………..3.2……………2600
32……………936………..3.3
33……………941………..3.3
34……………942………..3.3
35……………946………..3.3
36……………941………..3.4……………2300
37……………937………..3.5
38……………915………..3.8
39……………906………..3.5
40……………889………..3.5……………1900
41……………874………..3.5
42……………610………..2.1
43……………188………..1.0……………300
Okay, this one string should clarify a lot of things for most of us. First, the test Aspen is in no way set up for 3600 psi/250 bar. It will work at that pressure, but as you can see, it is far from the optimum power curve. You can call it wherever you like but in my estimation it comes on the curve at 2600 psi by the onboard gauge.
If you accept my starting point you can see how many full power shots there are on a useful fill. I would go from shot 31 to shots 38 — a total of 8 shots at max power on a 2600 psi fill. We can argue all day about where the power starts and stops but I think everyone will agree that if you want tight groups at 50 yards, or even at 35 yards, 2600 psi on the onboard gauge of this rifle is a good place to begin and 8 shots are the maximum to take. Who wants to shoot a group with the rifle starting at 3600 psi? I do not plan on filling to that pressure ever again with the test rifle, because it's wasted effort and wasted air.
Next, notice how the discharge sound rises as the power increases. I bolded the first time the discharge sound seemed to change, both going up and coming back down. That's the real world. And notice that as the power starts decreasing the sound doesn't decrease as fast. That's also real-world. As a firing valve remains open longer and the air comes out with less pressure the gun starts to bellow. A silencer doesn't deal as well with that condition as it does with higher-pressure air.
Finally, if this string doesn't convince you of the importance of a chronograph, nothing will! I have tested many air rifles that performed like this over the years. The first was my Air Arms Shamal (read Part 2) that did not come with a manual. I learned by testing it this way that the Shamal's max fill pressure was 2600 psi and not the 3000 psi I had thought.
Discussion
There is a lot more to test and I will get to it right now. But I want to tell you what I'm about to do. It is a complete waste of time filling or pumping to 3600 psi. I hope you can now see that. However, each pellet and each power level may have a different maximum fill pressure, so I don't want to just stop at 2600 psi until I learn the rifle better. In the next several tests I will intentionally overfull the rifle to establish where that best starting pressure is for that pellet and power setting. I'm making a book on this particular rifle, which is something every multi-pump owner needs to do.
Test 3 — Number of shots on low power
Next, I will test the rifle's maximum number of shots on the low power setting. I'm going to shoot the RWS Hobby pellet again for this test. But I don't expect to shoot nearly as many shots, now that I know something about how this Aspen performs.
I will fill the rifle to 2800 psi to start the test. This is also an opportunity for me to count the number of pump strokes, because the rifle is almost empty at 300 psi. Since it fills faster than I expected, I need to keep a sharp eye on the gauge. Ten strokes took it to 1000 psi. Twenty strokes took it to 2100 psi. Thirty strokes took it to 2300 psi. Forty strokes took it to 2500 psi. Fifty strokes took it to 2800 psi — where I wanted to be for this test. This is a more complete look at filling the rifle with the built-in pump. And 2500 psi (300 to 2800) took 50 strokes. That's 50 psi per stroke.
Shot……….Velocity……Sound…….Remaining pressure
1……………..737………..2.8
2……………..747………..2.8
3……………..753………..2.8
4……………..751………..2.8
5……………..751………..2.8
6……………..761………..2.8
7……………..767………..2.8
8……………..759………..2.8
9……………..762………..2.8
10……………774………..2.8
11……………767………..2.8
12……………764………..2.8
13……………760………..2.8
14……………759………..2.8
15……………749………..2.8
16……………751………..2.8
17……………743………..2.8……………2000
18……………731………..2.8
19……………731………..2.8
20……………714………..2.8……………1500
I started the low-power string right at the beginning of the power curve. I could rerun the whole test to prove it, but instead I will just pressurize the rifle to 3000 psi and shoot a couple shots to demonstrate. It took me 52 pumps to go from 1500 psi to 3000 psi. That's 28.85 psi per pump stroke. Pretty consistent with the first finding, but not with the second one.
Shot……….Velocity……Sound…….Remaining pressure
1……………..716………..2.8
2……………..727………..2.8
3……………..740………..2.8
4……………..739………..2.8
5……………..758………..2.8……………2700
Okay, that should show any doubters that I was just at the edge of the power range the first time. Or, if you like, fill to 3000 psi and get 2 additional shots.
Gauge is not precise
Some of you will focus on my numbers as if they are precise. They aren't. They are just the best I can do when reading this small gauge. But even with that we have narrowed the performance band of the test rifle with great precision. My gauge reading may not be that precise but the place on the gauge face where the needle stops each time is. I now have a very good handle on this rifle — WITH THIS PELLET!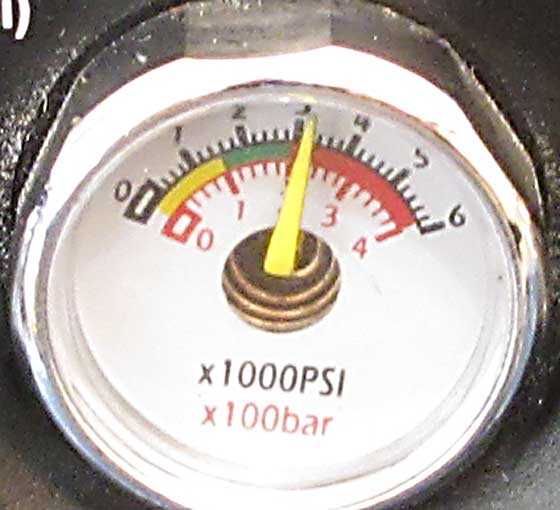 This little gauge is very difficult to read precisely, plus you don't really know how accurate the gauge is. I read this gauge display as 3100 psi (taken from the first test), but you have to get right on top of the gauge with a loupe to see where the needle is.
Trigger pull
I said I was going to adjust the trigger for a two-stage pull today, but this testing has already run overtime, so we'll have to wait on it. I also thought I would get a heavy pellet tested today, but that's also going to wait for next time.
The trigger is set up with a single-stage pull that breaks at 3 lbs. 3 oz. It is so positive and crisp that I guessed it was half that heavy. If I wasn't testing this rifle for you I would leave it alone, because it's very nice.
Summary
Am I impressed? You betcha! The Seneca Aspen performs as advertised. I have other tests to perform, like shooting and pumping to maintain constant velocity, so there will be a lot more velocity testing.
But don't overlook what we have seen today. I like the rifle on low power better than high power. It's more powerful than most multi-pumps even on low power and it's much more stable. It's also quieter. I don't need the last f.p.s. But I will wait for the accuracy test to decide anything final.
If we can agree that on high power the Aspen shot a Hobby at about 940 f.p.s., it generated 23.35 foot-pounds. That would mean that a 21-grain pellet will top 30 foot-pounds for sure. Of course I will test one. On low power the Hobby might be said to average 750 f.p.s. and that would be 14.87 foot-pounds. Not too shabby!