by Tom Gaylord
Writing as B.B. Pelletier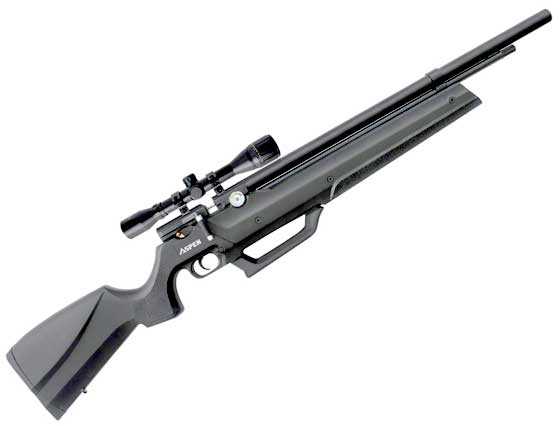 The Air Venturi Seneca Aspen precharged pneumatic air rifle.
This report covers:
Multi-pump
High power
Power
Coolest test
What you do
Low power with Kodiaks
Summary
Well, well. Lots of interest and discussion of the Air Venturi Seneca Aspen PCP with a built-in pump. As well there should be. This is a ground-breaking air rifle that offers many features never before seen. However, it has confused people a little. For example, many readers are focused on the "PCP" part of its title, when it is the multi-pump aspect that dominates.
Multi-pump
Did you notice that I never filled from a tank in Part 2? I won't today, either, and today is a continuation of the velocity test. It just is not that convenient to use a tank for the few shots that you get. I will fill from a tank at some point, but that will be after I learn the power curves of the rifle. And I did say curves, with an "s," because every pellet you use has the potential of changing the maximum and minimum optimum fill pressure slightly.
Today I will test the rifle with a heavy pellet. I'm going to select a Beeman Kodiak pellet, because I think it will be the best of the heavy .22s for accuracy. Kodiaks are no longer available, so I linked to the H&N Baracuda that is the same pellet. So the Kodiak/Baracuda for power with accuracy, but I know there are some who also want to know the "absolutest mostest powerfulest" this rifle can be, so once I determine the optimum pressure for a heavy pellet I will also test it with an even heavier pellet.
High power
Because I have done this before with a different pellet I don't need to waste my time or effort pumping to 3,626 psi. On the other hand I am shooting a different pellet, and a much heavier one this time, so I will pressurize the rifle to 3200 psi just so I don't miss anything. Just to remind you, I am shooting a genuine vintage Beeman Kodiak pellet that weighs 21.5-grains. The current Baracudas that replace the Kodiak weigh 21.14-grains. But we need to know the actual pellet's weight to calculate the energy.
Shot……….Velocity……Sound…….Remaining pressure
1……………..491………..1.8
2……………..526………..2.0
3……………..542………..2.0
4……………..558………..2.0
5……………..575………..2.0……………3000
6……………..586………..2.0
7……………..599………..2.1
8……………..611………..2.1
9……………..618………..2.1
10……………647………..2.1……………2800
11……………650………..2.3
12……………688………..2.3
13……………693………..2.4……………2600
14……………706………..2.6
15……………725………..2.6
16……………734………..2.6……………2400
17……………751………..2.8
18……………766………..2.8
19……………769………..3.0……………2200
20……………766………..3.2
21……………768………..3.2……………2000
22……………760………..3.4
23……………750………..2.6
24……………737………..2.6
25……………630………..2.6……………600
Once again we learn the value of a chronograph. In this string there are perhaps 9 good shots, starting with number 16 and running through number 24. We can argue whether shot 15 should also be included in the good shot string, but the point is with the data, we know what we have.
A second thing we learn from this string is the peak performance came at a lower pressure than when we tested Hobbys. Hobbys started peaking around 2600 psi on the gauge and ended somewhere under 2300 psi. With these Kodiaks the power curve starts around 2400 psi and ends below 2000 — probably well below. Not only does that tell us where this pellet likes to be, pressure-wise, it also suggests that an even heavier pellet will probably like an even lower pressure.
Power
Next I will test the rifle's power potential. We saw with the lightweight Hobbys the rifle could generate around 23+ foot-pounds on high power. I estimated that this heavier pellet would top 30 foot pounds. In fact, the strongest shot was number 21 at 768 f.p.s. With this 21.5-grain pellet that's 28.17 foot-pounds — a little less than I figured. Let's see what more weight can do.
I will now shoot a vintage Dae Sung pellet that weighs 28.5-grains. Because it is even heavier than the Kodiak, I believe it will generate the most power on less than 2400 psi. But I will pump to 2600 psi, just to cover all the bases. Pay attention because there is lots to learn in this next string.
Shot……….Velocity……Sound…….Remaining pressure
1……………..595………..2.5
2……………..619………..2.5
3……………..634………..2.5
4……………..641………..2.5……………2400
5……………..654………..2.8
6……………..667………..2.8……………2200
7……………..672………..2.8
8……………..671………..2.8
9……………..668………..2.8……………2000
10..…………..681………..2.8
11..…………..676………..2.8
12..…………..666………..2.8……………1800
13..…………..598………..2.8……………1000
The first thing to notice is how few shots I had to shoot in this string. By using the chronograph and understanding how the pellet weight affects the power curve and pressure curve, I can start very close to the results I want.
Next is the "magic number." That is the velocity at which the weight of the pellet in grains equals the energy it generates in foot pounds. That number is 671 f.p.s. In this case, that's a very handy number.
Now for the power. At 681 f.p.s. this 28.5-grain pellet generates 29.36 foot-pounds of muzzle energy. That isn't the limit of the rifle, because there are heavier .22 caliber pellets out there, but it is very close to it. The Air Venturi Seneca Aspen in .22 caliber is a 30 foot-pound rifle. That's in the middle for PCPs, but for multi-pumps it is screaming!
Coolest test
For the next test, if I want to shoot this pellet at the max power/velocity, where do I need to begin? I would say around 2000 psi. And, if I do start there, can I stay pretty close to there by adding pump strokes after each shot? Let's find out. This will be the coolest test I have ever conducted!
Shot……….Velocity……Pumps added after shot
1……………..667………….+2
2……………..672………….+2
3……………..674………….+2
4……………..674………….+2
5……………..671………….+2
6……………..627 — 1,200 psi remaining
Okay, 2 pumps are not enough to keep the gun at 2000 psi. Remember how fast the pressure drops when you get close to the bottom of the curve. I will try 3 pumps after each shot, and I will also watch the gauge. This is the same test, starting at 2000 psi.
Shot……….Velocity……Pumps added after shot
1……………..670………….+3
2……………..673………….+3
3……………..671………….+3
4……………..676………….+3
5……………..673………….+3
6……………..671………….+3
7……………..670………….+4
8……………..669………….+6
9……………..675………….+3
10.……….…..668
Do you know what this rifle is? This is a regulated pneumatic rifle. And YOU are the regulator. Total velocity variation in that string is 8 f.p.s. That is perfectly acceptable for a regulated PCP.
What you do
Here is the deal. To operate the rifle this way you have to watch the pressure gauge and add as many pumps as needed to keep the needle at 2000 psi. I noticed the pressure was falling after shot 7, so I added 4 pumps before shot 8. I then added 6 pumps before shot 9 and that turned out to be too many. However — IT DOESN'T MATTER! You could pick the rifle up after a week of storage and, as long as the gauge shows 2000 psi, it's going to shoot like this WITH THIS PELLET! I think this is the coolest test I have ever run, and I could not have done it without a chronograph and a Seneca Aspen.
Please understand that the data I show here was gathered from this particular rifle. You will have to test your own Aspen like I have today, to discover all the relationships for it. They will be close to the ones shown here, but there will be differences. And, of course, the data will change with each pellet and power setting.
Low power with Kodiaks
Speaking of changes, let's now test the Kodiak pellet on low power. Looking back at Part 2, we see that the .22-caliber RWS Hobby pellet came on the power band when the air reservoir held close to 2800 psi. From today's testing we know that a heavier pellet will lower the starting point pressure, but let's stay safe and start with 2800 psi in the tank.
I see that the rifle got 19 useful low power shots (shots 1 through 19) with Hobbys. Remember that I had to run a second test to prove that 2800 psi was the right pressure for the Hobbys? Since I am starting at a pressure slightly higher than the Kodiak pellet likes on high power, I think we will see the entire power curve. I will watch that pressure gauge closely at the start.
Shot……….Velocity……Sound…….Remaining pressure
1……………..586………..2.0
2……………..558………..2.0
3……………..605………..2.0
4……………..607………..2.0
5……………..613………..2.0……………2600
6……………..619………..2.2
7……………..617………..2.2
8……………..622………..2.2……………2400
9……………..622………..2.2
10……………626………..2.2
11……………629………..2.2
12……………629………..2.2……………2200
13……………626………..2.2
14……………625………..2.2
15……………625………..2.2……………2000
16……………626………..2.2
17……………622………..2.2
18……………618………..2.2
19……………616………..2.2……………1900
20……………610………..2.4
21……………579………..2.0……………1400
Okay, the distribution tells me I can get 18 low-power shots (shots 3 through 20) if I'm willing to allow a total spread of 24 f.p.s. If I want a tighter spread, shots 6 though 19 are 14 shots total with a spread of 13 f.p.s.
At 629 f.p.s. the Kodiak pellet is giving me 18.89 foot pounds of energy at the muzzle. That is more than most other multi pumps can give at their maximum.
But what if I want to shoot on low power with the Kodiak pellet and get the most power the rifle can give on every shot? Well, let's see — duh! Just pick the highest velocity (629 f.p.s.) and note the pressure that gives it (2200 psi). Now, keep the rifle at that pressure for every shot.
Wanna see? Of course you do! I start at 2200 psi on low power with the Kodiak pellet.
Shot……….Velocity……Pumps added after shot
1……………..624………….+2
2……………..629………….+3
3……………..628………….+3
4……………..624………….+3
5……………..631………….+3
6……………..629………….+2
7……………..629………….+0
8……………..626………….+1
9……………..629………….+2
10………..…..629
There you have it. Ten shots with a spread from 624 to 631 f.p.s. That's just 7 f.p.s.
"But B.B." you say, "I can't carry around a chronograph all the time!" You don't have to. Once you know these numbers all you have to do is keep the onboard pressure gauge needle pointing as close to 2200 psi as you can and the gun does the rest (with this pellet on low power). You are the regulator!
Summary
This Seneca Aspen is an extremely interesting air rifle! I have seen this sort of thing in multi-pumps before, like a Blue Streak giving very tight velocity spreads when pumped the same number of times with each pump stroke being consistent. But the Blue Streak was a single shot. The Aspen is a repeater! Guys — this is the gun you have been asking for, even if you didn't know how to frame the question! If it's accurate, it's a world-beater.
And I am not ready to move on to the accuracy test yet. I still need to adjust the trigger for a 2-stage pull.