by Tom Gaylord
Writing as B.B. Pelletier
Part 1
Part 2
Part 3
Part 4
Part 5
Part 6
Part 7
Part 8
Part 9
This report covers:
Do I plan my blogs?
So — why this one?
The sight
P1 damaged
How does it look?
Impressions
Summary
It's been a long time since we looked at this pistol. Part 9 was published nearly a year ago. And the series was started on the first of November, 2017. So, let me bring you up to speed.
As I was packing up to leave the 2017 Texas Airgun Show, a gentleman approached me for a trade. We traded and I ended up with a Beeman P1 pistol. I already owned a P1 that I had purchased many years before, but this one was nice and it came with everything I needed to rebuild the powerplant — if that was required.
When I tested the velocity in Part 2 it turned out this pistol was doing very well, but I encountered what I thought was a bit of hard cocking. It turned out not to be the case, but I tore open the gun anyway, so we could look inside. Then I tuned it with Tune in a Tube (TIAT) grease and we learned some things about that.
At the end of Part 9 I said I would like to test this pistol with a dot sight, and a couple weeks later I was in the Leapers booth at the SHOT Show where I saw what I thought would be the perfect sight — the UTG RDM20 Reflex Micro Dot. I had also seen that sight at the 2017 SHOT Show, but these products take time to develop. You may remember I showed you a picture of it when I reported on the Pyramyd Air Cup this year.

Leapers UTG Reflex Micro Dot is small and compact, yet offers a wide range of options.
Do I plan my blogs?
Yesterday, reader Bob M. asked me whether I have a time schedule devoted to this blog each day or does it happen at random? I told him there is both a plan and a schedule, but randomness is also a part of it. Like right now — I have no idea whether this dot sight will even work on a P1. I have tested dot sights on P1s in the past and I know the concept works, but this sight didn't exist back then.
Dot sights do work on a P1, but I have absolutely no idea whether or not this one will. If it won't I will have started a report that I can't finish — except to tell you all the reasons why something doesn't work. That sets some readers off and ruins their day, apparently, although I am always glad to find out stuff like that before I take the plunge.
When a blog blows up in my face and I have already invested several hours into it, I have to punt real fast. It isn't frequent, but it does happen. You guys can "putter" around with a gun for several days, I have one day, and, if what I'm testing isn't cooperating, I have to leave it and move on. Either that or you don't get a new blog every morning.
So — why this one?
I have some other dot sights I could have installed on this pistol a long time ago. What's so special about this sight? Well, look at it. It's small and light. A P1 will move a scope or a large dot sight with its sharp recoil. Now, I have tamed the recoil on this particular P1, but recoil is still a consideration.
Next — I'm interested in this sight because it is a holographic type sight instead of a tube type. Nothing wrong with the tube types. I just have never tested a holographic dot sight that I can recall.
And finally, this one has different attachment bases that adapt to several firearm pistols. One of them is a Weaver-type base. The P1 has an 11mm rail that's on the narrow side. But since Leapers also offers those 11mm-to-Weaver adaptors, I felt I could get this sight to fit on the P1. We're going to see today.
The sight
The UTG RDM20 Reflex Micro Dot sight is a holographic red or green dot sight (your choice when purchasing but the unit is one or the other — not both) with a 23X18mm wide view lens. I'm testing a green one. The dot is 4 moa when set on the brightest of 6 intensity settings and it's powered by a single CR2032 battery. A single switch runs the sight. The unit turns off when the switch is depressed for 3 seconds. Battery life is about 240 hours at the maximum intensity setting.
With a dot sight the light intensity levels are to compensate for the lighting conditions where you will be shooting. The lower the intensity the smaller the dot appears, and that improves precision when aiming. The trick is to get sighted in, then adjust the dot to as low (dim) as you can and still see it reliably.
The sight is adjusted for both windage and elevation with a flathead screwdriver that is provided. Both adjustments are clearly labeled as to what direction to turn and there are precise click detents! This is a nice sight!
The sight comes standard with a low-profile M1913 Picatinney base. There are other specific bases for Glocks (both small frame and large frame) and Smith & Wesson pistols, but I will be working with the M1913 base. I do own a small-frame Glock 36 in .45 ACP and I might try this sight on it later.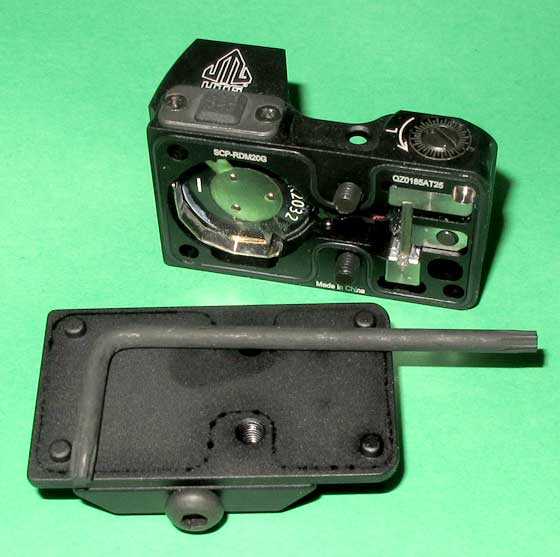 Two Torx screws (wrench provided) open the sight for battery installation and base swapping. I am keeping this base.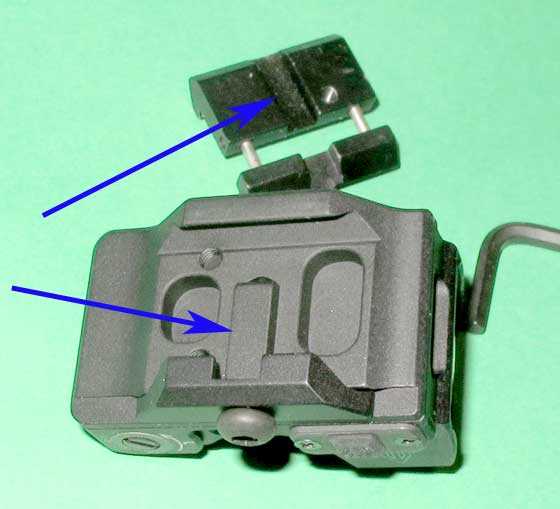 Here you see the underside of the base, with its locking key (arrow) that fits into the corresponding slot in the UTG adaptor (arrow) above. That adaptor is what makes it possible to mount this sight on a Beeman P1.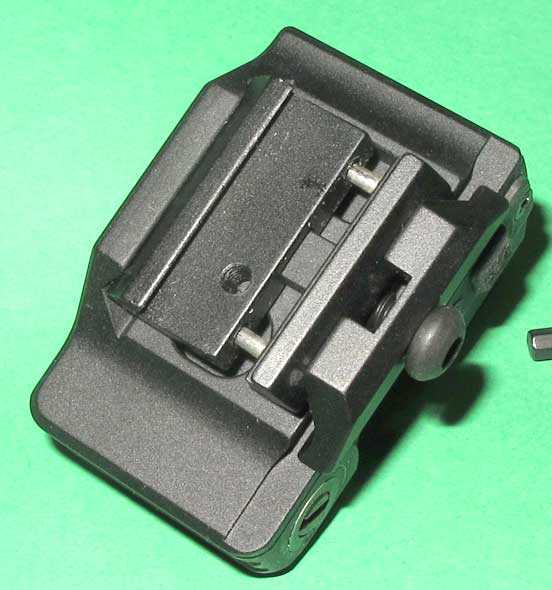 And here is the adaptor installed. As the sight base screw is tightened the adaptor will clamp onto the P1 rail.
With the adaptor installed the sight grabs onto the P1 rail tightly. Shooting will tell us if it's going to stay put without a stop screw.
P1 damaged
The pistol I got in trade is an older one from Beeman's San Rafael address. It was in good condition except for a mark on the sight rail where someone had tightened a scope mount stop screw. But this sight is the perfect way to hide that blemish!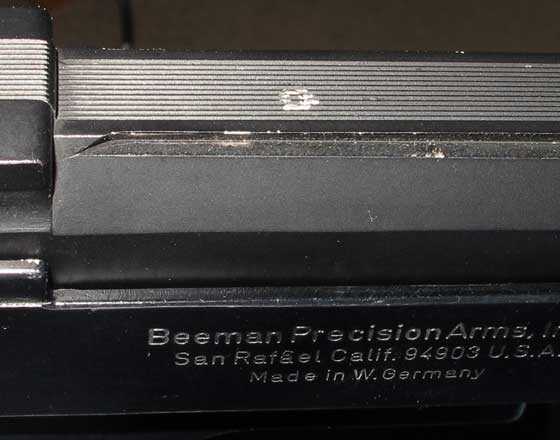 The gun I got in trade has a mark from a scope stop screw…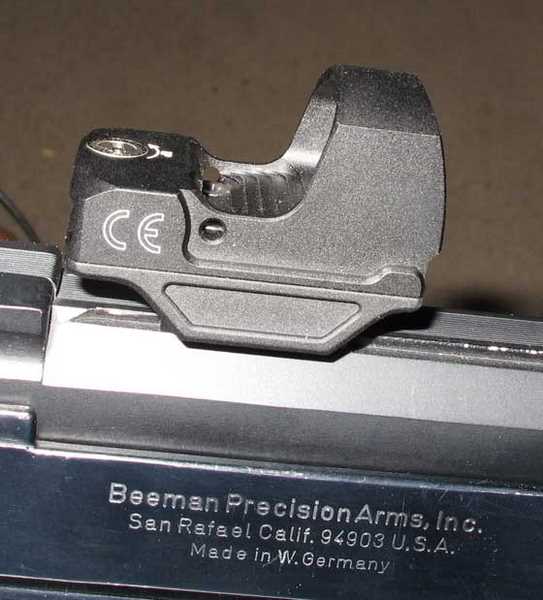 …that the Micro Dot sight covers perfectly.
How does it look?
I thought you would like to see this gun with the sight installed next to a P1 that has no sight other than the factory sights.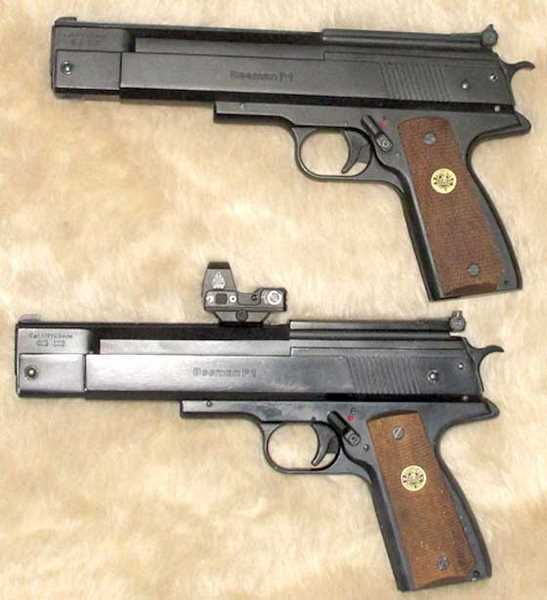 Here is a P1 without a sight and one with, for comparison. The lower gun is older and came with a shiny finish, where the later one is matte.
Impressions
In the past I have mounted dot sights on P1s several times and I never liked the way they made the pistol look. They were too top heavy. This new Micro Dot is perfect for this application. And of course if it works here there are other air pistols like the Diana Chaser for me to try it on. Believe it or not, I have also been awaiting this sight to complete that report, as well.
Summary
This will be a test-within-other tests. I plan to test this P1 next and I will use the same pellets that were used before when I tested it with open sights. So there won't be a separate report on this dot sight, but I will draw your attention to it every time I test it. I expect we will find other airguns for me to test it on, too. This stacks up to be an interesting time.