The Beeman P1 air pistol: Part 3
by Tom Gaylord
Writing as B.B. Pelletier
This report covers:
The test
Sight-in
RWS Hobby
Sig Match Ballistic Alloy
RWS R10 Match Pistol
RWS Superdome
Getting tired
Air Arms Falcon
RWS Meisterkugeln
Something different
Summary
Today I will test the accuracy of my new/old Beeman P1 pistol.
The test
I shot from 10 meters and rested my hands on a sandbag, but the gun was hand-held. I held it with two hands for the greatest stability. My days of shooting perfect scores one-handed are about over. Instead of 10-shot groups I shot 5-shot groups, but I tried a lot more pellets than usual. I also did something neat at the end of the test.
Sight-in
When sighting in, I started out shooting on high power. The first pellet hit the target very low. I played with the sight adjustments until I got the pellets up into the bull, but a thought occurred to me. What if the pistol did better on low power? That might explain why there is a hesitation going past low power when cocking.
So I shot some pellets on low power and, sure enough, they hit much higher. I ended up putting the rear sight back to pretty much where it had been when I started. I will have more to show you about that at the end of the report.
RWS Hobby
I knew from testing my other P1 that the RWS Hobby pellet does really well in this pistol. Five pellets landed in 0.87-inches. That's pretty darn good!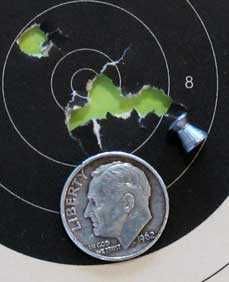 Five RWS Hobby pellets went into 0.87-inches at 10 meters.
Sig Match Ballistic Alloy
Next up were Sig Match Ballistic Alloy pellets. Even on low power they moved fast enough to cut clean holes in the target. Five went into 1.489-inches at 10 meters. That's a little too open for me. I think this is not the pellet for the P1.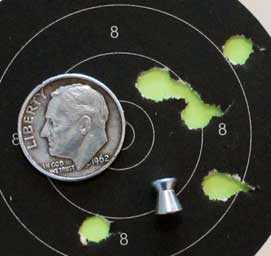 Five Sig Match Ballistic Alloy pellets went into 1.489-inches at 10 meters.
RWS R10 Match Pistol
Next I tried 5 RWS R10 Match Pistol pellets. I guess I was hoping that some of the success I had with the HW55 SF might carry over to the P1. Alas, it doesn't look like it did. Five R10 pellets went into a very vertical 1.245-inch group at 10 meters. This is another pellet that's not right for the P1.

Five RWS R10 Match Pistol pellets made this vertical 1.245-inch group at 10 meters.
RWS Superdome
Next I tried the RWS Superdome pellet. I hoped it would do well, but 5 of them went into a vertical 1.229-inch group. This vertical stringing was becoming a trend. I needed to find pellets that don't do it.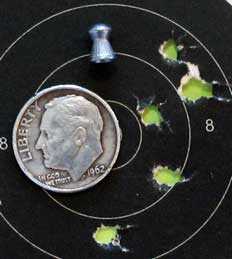 Five RWS Superdomes went into a vertical 1.229-inches at 10 meters.
Getting tired
By this point in the test I was starting to get tired from cocking the gun. So the next group was a surprise, because it isn't vertical.
Air Arms Falcon
The next pellet I tried was the Air Arms Falcon. These often do well ands I wanted to try them out in this pistol. They did pretty darned good, I think. Five went into a nice round 0.997-inch group at 10 meters. That's certainly good enough to give them another try down the road.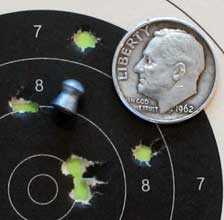 At 10 meters Air Arms Falcons gave a nice round 5-shot group that measures 0.997-inches.
RWS Meisterkugeln
Pressing on with the RWS pellet theme, I decided to try the old favorite RWS Meisterkugeln. Five went into another vertical group that measures 1.179-inches between centers at 10 meters. It's one of the smaller groups, but the vertical stringing is not to my taste.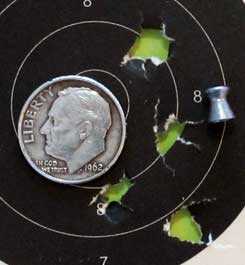 Five RWS Meisterkugeln pellets went into 1.179-inches at 10 meters.
Something different
By this point I was beat and could not trust my ability any farther. But I wanted to try one last thing, so I shot a group of 5 Hobbys on low power and a second group on high power — to see which was better. The high power group printed low on the paper, but at 0.733-inches between centers it's the smallest group of the day and certainly tighter than the low-powered shots that printed 2-3/4-inches higher. They grouped in 1.211-inches. It looks like high power is the way to go with the P1.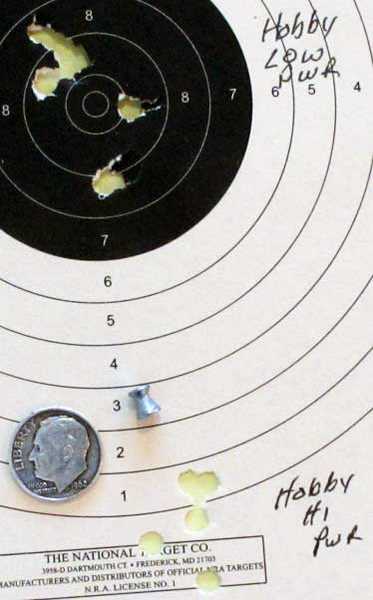 Hobbys grouped much tighter on high power than on low.
The reason the low-powered shots print higher is they remain in the barrel longer and are more affected by the rise of the barrel during recoil. That's something to think about.
Summary
Now that we have the baseline on this pistol the next step will be disassembly for a look inside. I will decided what comes after than when I see the condition of the parts. Stay tuned!
Tom Gaylord is known as The Godfather of Airguns™ and has been an airgunner for over a half-century, but it was the 
Beeman
 company in the 1970s that awoke a serious interest in airguns. Until then, all he knew were the inexpensive American airguns. Through the pages of the Beeman catalog, he learned about adult airguns for the first time. In 1994, Tom started
The Airgun Letter
 with his wife, Edith. This monthly newsletter was designed to bring serious reports about airguns to the American public. The newsletter and
Airgun Revue
, a sister magazine about collectible airguns, was published from 1994 until 2002, when Tom started
Airgun Illustrated
-- the first American newsstand magazine about airguns. Tom worked for three years as technical director at
AirForce Airguns
, the makers of the 
Talon, Condor, and Escape
 precharged air rifles. Today, he writes about airguns and firearms for various publications and websites. He also makes videos, and you'll find short clips embedded in some of his artices on Pyramyd Air's website. Tom is a consultant to Pyramyd Air and writes under the name of B.B. Pelletier.