by Tom Gaylord
Writing as B.B. Pelletier
Part 1
Part 2
Part 3
Part 4
Part 5
This report covers:
Leapers crossbow sight reticle
Beeman Chief PCP repeaters
FX Dreamlite
100-cubic-inch-carbon fiber tank
Another new compressor
This show was different
SHOT Summary
Today I will give you my final report on the 2019 SHOT Show. I always see more things than I can possibly report.
Leapers crossbow sight reticle
First up is the reticle for the crossbow scope that I said would make a fine new Bug Buster with very little alteration. Tom Zhu of Leapers took a picture of the prototype rifle through the scope for us. Remember that this is still a prototype for a crossbow and the design of the reticle could change, but you can see the bubble level in the bottom of the image.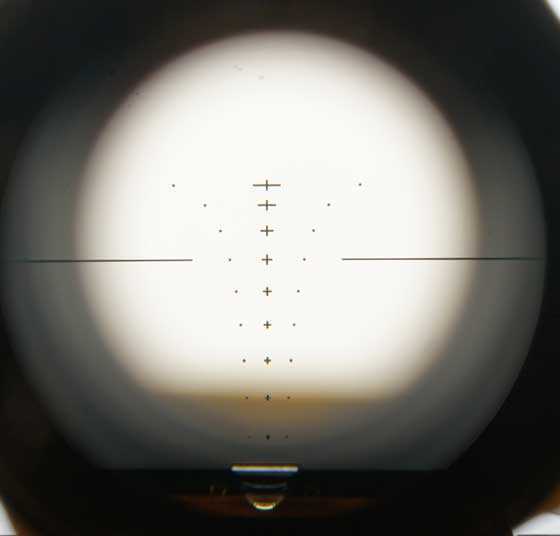 Leapers UTG crossbow scope prototype reticle is etched glass. The bubble of the level can be seen at the bottom of the image.
Beeman Chief PCP repeaters
In the Beeman booth I saw three new PCP repeaters. Two have wood stocks and are based on the current single-shot Chief. The third is a synthetic version of the QB78 — so all three are closely related. They are all 10-shot repeaters and will be available in both .177 and .22.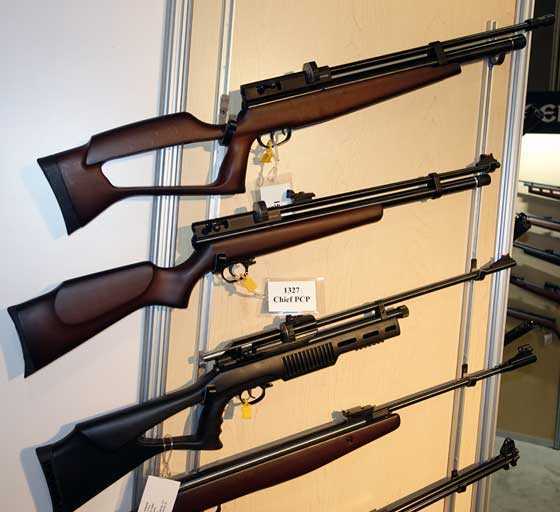 Beeman will bring out three new models of repeating PCP (top 3) based on the QB78 action.
FX Dreamlite
FX airguns were not displayed at this SHOT Show, but that may change. Pyramyd Air signed with FX just after the show was over and they are starting to show the Dreamline models on the website. The rifle all you readers have talked about is the new Dreamlite, which is a new addition to the FX Dreamline line.


The FX Dreamlite should be available soon.
The Dreamlite will be offered in .177, .22 and .25 calibers, and the caliber can be changed by the user. At 5.8 lbs. it is very lightweight, yet is powerful — up to 20 foot-pounds in .177, 32 foot-pounds in .22 and 48 foot-pounds in .25. The trigger is two stage and adjustable. The rifle is filled to 230 bar 3,335 psi with an externally adjustable regulator and an externally adjustable striker spring, which means there are potentially a lot of shots on a fill — up to 100 in .177, 60 in .22 and 30 in .25.
It's a bolt action repeater with a sidelever on the right side of the receiver. The circular magazine capacities hold 21 pellets in .177, 18 in .22 and 16 in .25. The magazine does stand tall above the receiver, so a high scope ring set is required.
The price!
I guess the biggest news for the Dreamlite is the price. All of the Dreamline guns represent a big step down from previous FX pricing. And the Dreamlite is particularly good. I can see that this will be a rifle I have to test for you. I will wait until the first orders have been filled, but I do want to test one.
100-cubic-inch-carbon fiber tank
Want something a little smaller to carry to the field, to air your PCPs? How about the new Air Venturi100-cubic-inch-carbon fiber tank? The EZ-Valve on this tank has two gauges — one to tell you how much air is going into your gun and the other to tell you how much air remains in the tank. That's valuable information, because it allow you to plan the use of air.

I put the 100-cubic-inch tank next to a 98-cubic-foot tank for some perspective. This little tank is easier to carry to the field with your PCPs, yet holds enough air for a lot of shooting. The dual gauges tell you how much air remains in the tank, as well as how much you are putting into the gun — something that is uncommon today.
Another new compressor
I stopped by the Sun Optics booth to see what was new and Duane Sorenson showed me a compressor he has been working on. It may seem familiar to some of you because it's one of the compressors that are selling for cheap on Ebay.
Duane told me he put this one into rugged service right after he received it and the seals failed after just over one hour, so he dismantled it to see how it was built. He was impressed by the design, but found all the seals and o-rings too soft for their tasks. He replaced them all with high-durometer rings and seals. He also modified the valve for greater efficiency and then put the unit back into service. To date it has 80 hours of continuous use filling air tanks on the new setup. That is rugged duty for a small compressor. If his testing bears out, he plans on selling it at some point.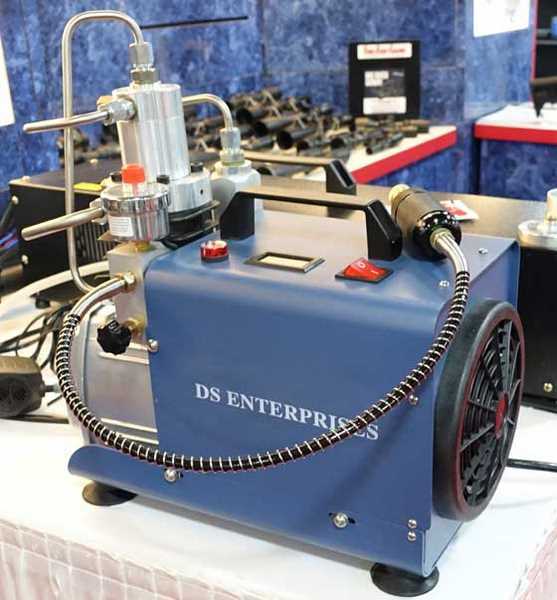 This Chinese air compressor has been overhauled and modified for long life. It may come to market this year.
This show was different
The 2019 SHOT Show was different than any of the 20+ shows I have attended in the past. Always in the past the majority of vendors have shown many new products. Some of those products were on a hard development timeline, and due to come out in the same year as the show. Other products were very shown early in their development and would not come to market that year. Still others were not real products at all. They were trial "balloons," shown to get the reaction of the potential customers, to see if the potential investment of time to develop them was worth it.
This year no one vendor showed very many new products, but, with a few exceptions, the products they did show were on an actual development timeline. And there is more. Several companies had reworked existing products to make them better (many of the gen II products come from efforts like that).
The trial balloon approach gets humorous after you have experienced it a couple times, because, when you are told the product will be out by June you respond, "Yes, but June of what year?" This is also called prototyping in public and it isn't very pretty. When the marketing team advertises the product years before its release they embarrass the company and give consumers a bitter taste in their mouths.
Products in development are a reality of business, and can be accepted when they are labeled as such. But taking orders for something that won't exist for years and may never exist is not good. In the world of software development that sort of product is called vaporware.
SHOT Summary
This year was different, as I have said. I see a lot of airgun companies buckling down and working on products they know will satisfy their customer base. It has taken a long timer for this to happen, but it now seems to be universal.
Are there other products I haven't shown? Of course. But in some cases (not all) these products are from foreign manufacturers who obviously haven't got a clue how business is done in the United States. I purposely did not report them because I have no way of knowing whether they will ever gain traction in this market.
The products I did show, for the most part, are solid and real. If otherwise, I told you as the reports unfolded.
New Blue Book coming
There will be a new Blue Book released later this year. I'm thinking it will be out by June. I have been asked to summarize the major events that have happened in the past three years since the 12th edition was published. When I looked at all of that I realized I will have to summarize, because this has been the most period ever, since airguns were first invented more than 500 years ago! We are truly in airgunning's golden age!