by Tom Gaylord
Writing as B.B. Pelletier
This report covers:
Clarification
Hatsan Vectis
Nova Star
Hatsan Speedfire
Air Venturi M1 Carbine
The stock
The rear sight
Summary
Clarification
This report is about the first day the SHOT Show 2019 was open. I must begin with a clarification. The Sig MPX PCP I reported yesterday has a name I never mentioned. It's called a Virtus. I visited the Sig booth this morning because my pictures of the guns taken at the range weren't that good, and that's when I learned the name. So, It's a Virtus that we are waiting for.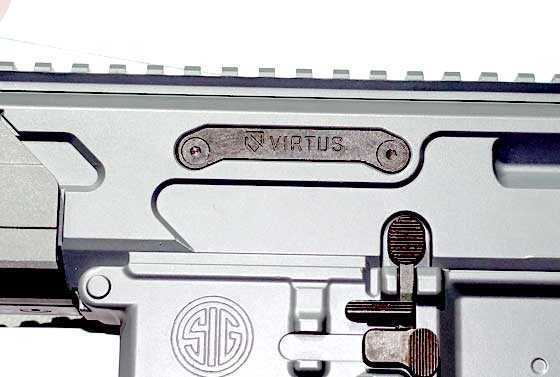 The new Sig PCP is called the Virtus.
Hatsan Vectis
I started the day at the Hatsan booth, where Hatsan's Cecil Bays showed me the new Vectis lever action PCP repeater. It's available in .177. 22 and .25 with magazine capacities of 14, 12, and 10 shots, respectively. The lever both cocks the rifle and advances and feeds the next pellet. It runs on 200 bar air pressure (2900 psi — hurrah!) and gets 29 foot-pounds, 38 foot-pounds and 40 foot-pounds, respectively.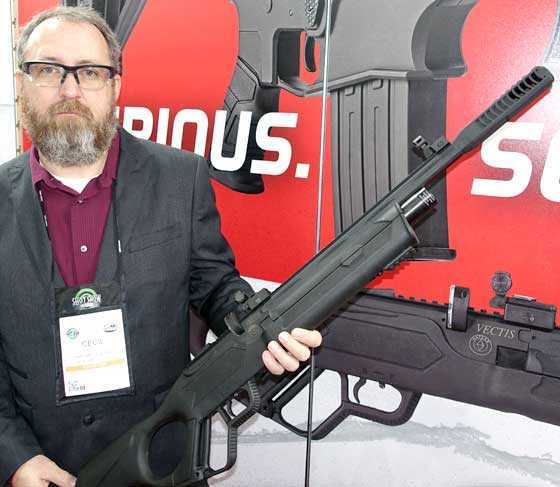 Cecil ,Bays holds the Hatsan Vectis lever action PCP.
Although most shooters will mount a scope, the Vectis comes standard with flip-up front and rear sights. They can be removed for a cleaner look when using optics.
The lever has an amazingly short 45-degree throw for rapid fire. It will be almost as fast as a semiauto. And the safety is manual, so you really can move as fast as possible! The rifle can be manually uncocked, as well.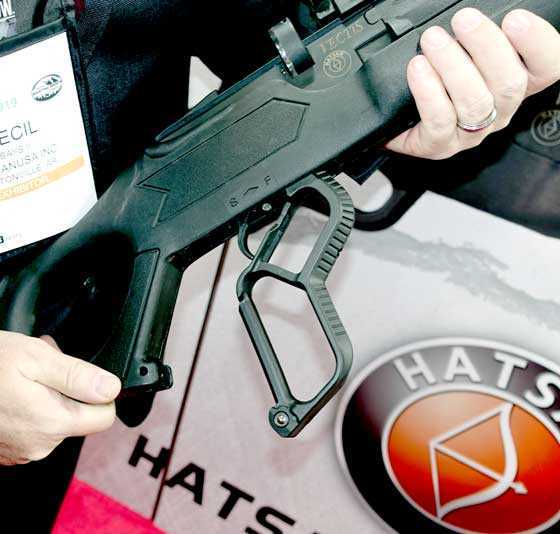 The Vectis lever throw is short for fast recovery.
Nova Star
The Hatsan Nova is not new, but in 2019 the Nova Star will join it in the lineup. The Nova Star has a beautiful Turkish walnut stock, a manual safety a 480cc air tank that does not come off the gun and no silencer. NO SILENCER!!!??
Yes, Hatsan wanted to give you a rifle that is as short as possible, so instead of a conventional silencer or shrouded barrel they provided a 1/2-inch by 20 thread coupling at the muzzle to accept aftermarket silencers. Everyone doesn't need a silencer. Hunters can either run it loud or decide which aftermarket silencer they want to attach.


The Nova Star is a new shorter Nova that has lighter weight and shorter overall length than the Nova.
Hatsan Speedfire
Hatsan also climbed on the repeating breakbarrel bandwagon with Crosman and Gamo by introducing their Speedfire rifle. The Speedfire comes in both .177 and .22 calibers and gets 14 shots in .177 and 12 in .22. The safety on this rifle is automatic, which is because even though your hand should not be exposed to any danger while cocking, the action still is open and Hatsan doesn't want it closing unexpectedly. There is a shock-absorbing scope rail so medium-height rings are all that's needed for the bundled 3-9X32 scope to clear the magazine.
What is really unusual about the Speedfire is the front and rear sight. The front sight tucks out of the way when you don't want it and flips up when you do.


Hatsan's new Speedfire breakbarrel repeater has a few new tricks! Photo courtesy of Hatsan USA.
Air Venturi M1 Carbine
Moving on from the Hatsan booth I moved over to Air Venturi who was just two aisles away. They have so many new products that I won't get to all of them in this report. But let me get to the most important one first — the Springfield Armory M1 Carbine!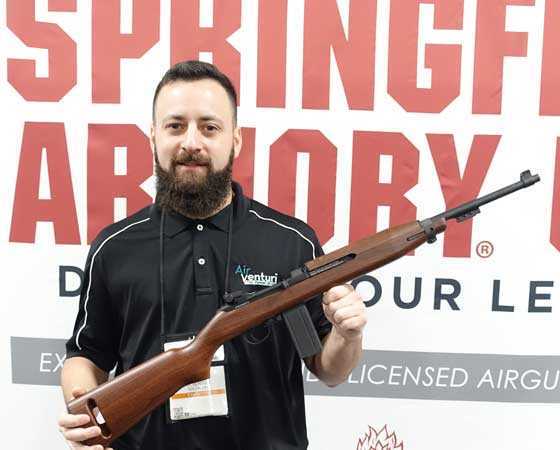 Air Venturi's Tyler Patner holds the new super-realistic M1 Carbine BB gun from Springfield Armory!
Normally I am the one telling you about the airguns, but in this case you readers were ahead of me and had absorbed each detail of the press release like sponges. So I will get right to the stuff you care about.
The stock
The stock is synthetic, but it is extremely well done. It feels solid and the wood grain looks the part. I am a Carbine afficionado, so this is more than a fanboy opinion. Springfield Armory nailed it! However, for those who absolutely cannot touch anything that is not real, a wood stock is an option. And, may I remind you that Mr. Spock assures us that nothing unreal exists!


The airsoft Carbine was in the genuine wood stock that will be an option for the BB gun.
The rear sight
You also wanted to know about the rear sight. Does it only adjust for windage and not elevation? Yes — only windage. Tyler assures me the one he has tested was on for elevation at a BB gun distance (16-25 feet). Why didn't they make it adjustable for elevation, as well? We don't know at this time.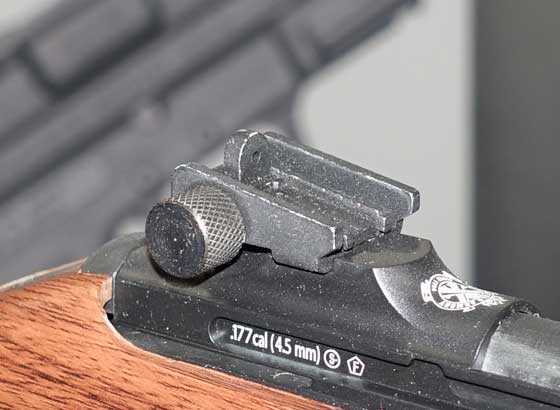 And here is that elusive picture some of you wanted — how the rear sight attaches to the Carbine.
It looks to me like the rear sight can be swapped for an original type II or III adjustable M1 Carbine rear sight that has both windage and elevation. They cost, so be prepared to spend some money to get one, but I believe it will work.
This Carbine also comes with the bayonet lug that only came later in the production run. Does it accept a genuine bayonet? It looks like it might, but as I had none to try we will have to wait to see.
I asked for a Carbine to test as soon as possible, but it will still be awhile. I told them I'm buying the one they send, so they won't release the one sample they have! Shoulda lied, I guess. Tyler admitted to me that for the first half of Day One, the Carbine was their top attraction! Crosman did well in 1966. Springfield Armory has also done well in 2019!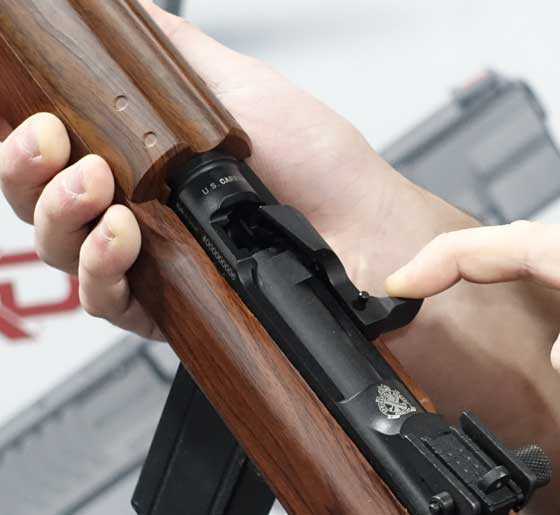 The BB Carbine has full blowback, which just adds to the realism!
Summary
This is just the beginning. I left the show at 3:30 p.m. to get back to my room and have supper by 4:30. Then I massaged all the pix and wrote this report, scheduling it to publish just prior to 9 p.m. That is midnight on the east coast, where WordPress lives. So This stuff is hot off my fat little fingers.
Guys, there is a LOT more to come — I can assure you! All the airguns guys are running around this show, trying to scoop each other. It ain't like the old days, when I was one of just a few who cared. Stay tuned!