by Tom Gaylord
Writing as B.B. Pelletier
This report covers:
Air Venturi TR5
Webley Nemesis pistol
Ataman BP17 PCP bullpup
Badabang!
Velocity Outdoors (Crosman and Benjamin)
Crosman Triple Threat
Ravin crossbows
Umarex
Ruger 10/22
Summary
We are still at the Air Venturi booth as we open today's report, having just looked at the M1 Carbine. Let's see what else they are showing.
Air Venturi TR5
The Air Venturi TR5 target rifle was shown and announced at the 2018 SHOT Show, but never made it to the dealer's shelves last year. I was told we could expect it early in 2019. I think that means by April-May. That's my fudge on their March stocking date.
The rifle will come in both the original black as well as a new bright green color that resembles the stock on the Umarex Embark more than a little! I asked if they were going to be targeting the SAR program and was told, "We'll see."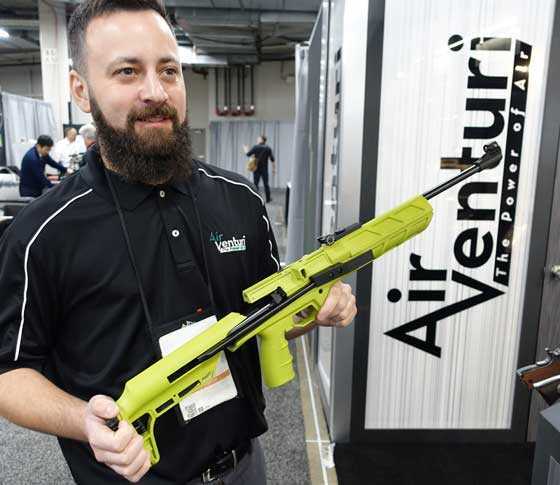 Tyler Patner holds the green stocked TR5 target rifle that he said is for parents who want something for their kids besides black.
Tyler told me the rifle is rated at 500 f.p.s. but is testing a little faster — up to 550. And it comes with adjustable open sights, but also has a muzzle piece with a dovetail for a target front sight and then an optional aperture rear sight can be used! And the forearm has an accessory rail underneath, so, despite the tactical look, this really is a little target rifle. Two of the same kind of 5-shot self-indexing magazines as the IZH61 had come with the rifle, and IZH61 mags will work, too. The adjustable buttstock has five different positions, plus the buttplate itself adjusts up and down for better fit. The new rifle will retail for $130, which is partly driven by the 2019 25 percent tariff increase on certain Chinese products.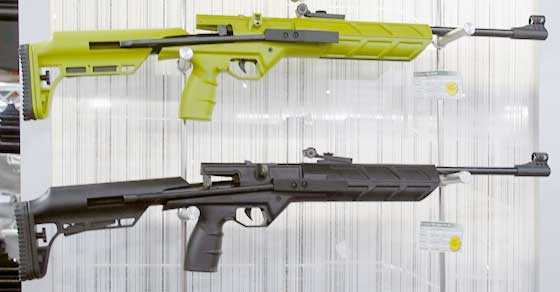 The TR5 will now come in both black and green.
Webley Nemesis pistol
Next I saw the new Webley Nemesis CO2 pistol. Yes, the name has been recycled. This is a brand new airgun.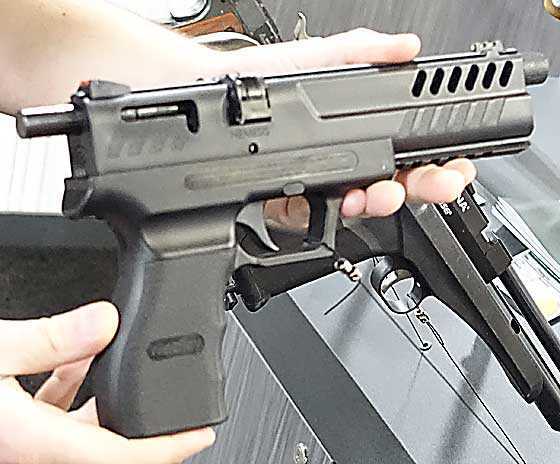 Webley's new Nemesis is a CO2 repeater. Look at the slot for the bolt. You can put it on either side!
A CO2 pistol isn't that different, but a repeater is. The Nemesis comes in either .177 or .22 caliber, with velocities of 450 and 400 f.p.s., respectively. According to the website it is slated to sell for $120. The magazine is a tandem switchable affair with a total of 14 shots in .177 and 12 in .22. After the first half have been shot, you flip the magazine around for the next half. A second magazine stores in the grip, with the piercing tool. A single-shot tray is included.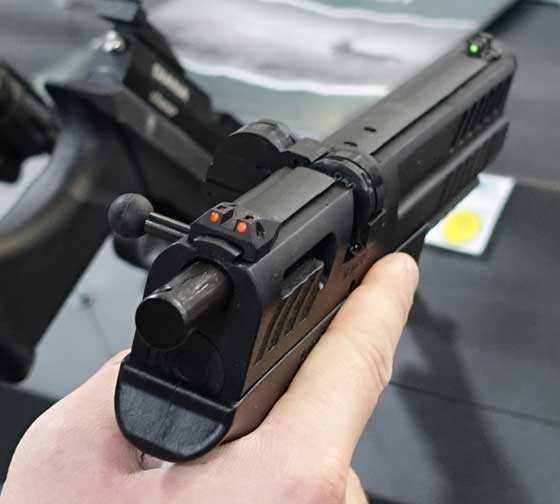 This view of the top shows the fiberoptic sights and the dovetails for optics. That new UTG Micro Reflex dot would be great here!
Ataman BP17 PCP bullpup
Bullpups come in all sizes, from the Hatsan Bully to the new Ataman BP17 that is the chihuahua of PCP bullpups. I have read Tyler's reviews of the gun and was intrigued, to say the least.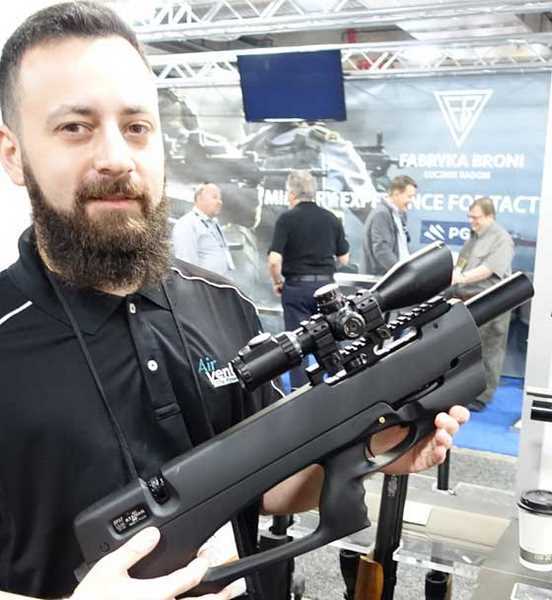 The Ataman BP17 is little, yet in .22 caliber it pushes 820 f.p.s.!
This is a hunter's airgun. Tyler showed me how easy it is to cock by flipping the sidelever with the left thumb (or right thumb for lefties). Yes, at $1400 it's not cheap, but for an exterminator, hunter or pest eliminator it might be ideal.

The sidelever is right where your off hand rests. The thumb cocks the rifle and loads the next pellet without shifting grips!
Badabang!
Air Venturi is bringing out a new electronic target called Badabang. It consists of 4 steel paddles that react to being hit, and the whole thing fits neatly inside a steel case. The real news is this target is run by a smart phone app that and records the scores and tracks your data as you play.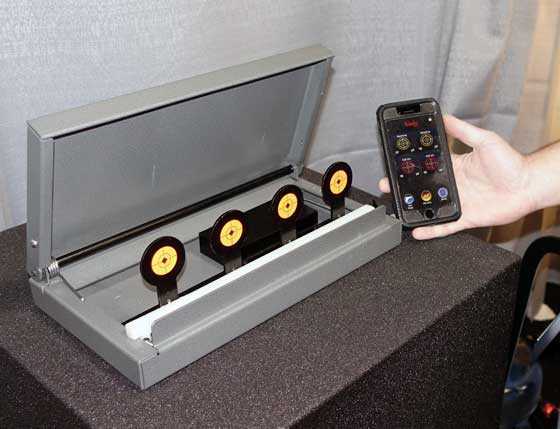 The Badabang electronic target is scored by a smart phone app.
This target is scheduled to be available early this year (means a few more months) in its single user mode, but upgrades are in the works to allow two shooters to compete in the various games over their phones. So you can compete with a friend in another country, if you want. And upgrades to the app will allow the system to grow and morph as times passes! The possibilities are endless. There is already some talk about a rapid-fire competition at the Pyramyd Air Cup in August!
Velocity Outdoors (Crosman and Benjamin)
I've already shown you several new offerings from Crosman and Benjamin, but there are more that I saw in their booth at the show.
Crosman Triple Threat
New from Crosman in 2019 is the Crosman Triple Threat revolver. It's the model 357 that we all know and love, only now it comes with three interchangeable rifled barrels — 3-inch, 6-inch and 8-inch. It has two cylinders to shoot either 10 pellets or 6 steel BBs. It shoots alloy pellets up to 465 f.p.s. and steel BBs to 425 f.p.s. I told their vice president of sales that this kit reminded me of the Dan Wesson Pistol Pac that was so popular several years ago. The suggested retail will be $69.95, which is a lot of gun for the money. It's expected around the middle of the year.

Crosman's marketing director, Sara Calgagno showed me the new Triple Threat revolver.
Ravin crossbows
I know this is an airgun blog, but we have openly discussed the acquisition of Crosman by Velocity Outdoors. There are several other significant companies that are under the VO umbrella, including the Ravin crossbows.
You may remember when I reviewed the Sub-1 crossbow from Mission Archery last year. We were all stunned by the performance that can be gotten from a modern high-tech crossbow. Well, the Ravin is the other high-tech crossbow that the industry is talking about, and it is now a part of Velocity Outdoors.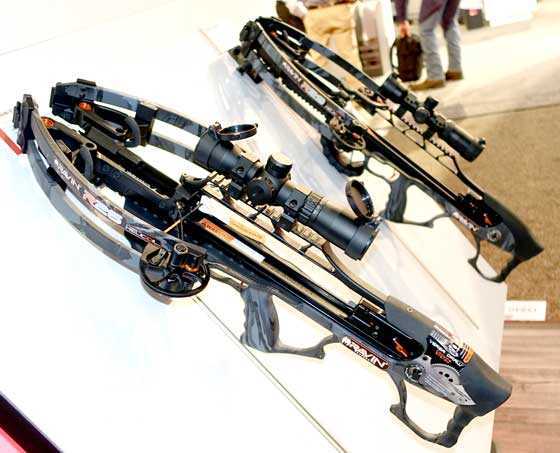 Velocity Outdoors now owns the Ravin crossbows that are competing for the top tier among high-tech crossbows. Their 200-pound draw weight is cocked with just 12 pounds of effort, thanks to a built-in cranking mechanism! And, it launches a 400-grain bolt at 400 f.p.s.
Now that they own the company, Center Point, their archery company, can use the special Heli Coil technology that allows the bow limbs to be so close together. They can offer it in a bow that sells for a lot less money. Instead of $2000, you can get a lot of the same features in a bow for $800 and change.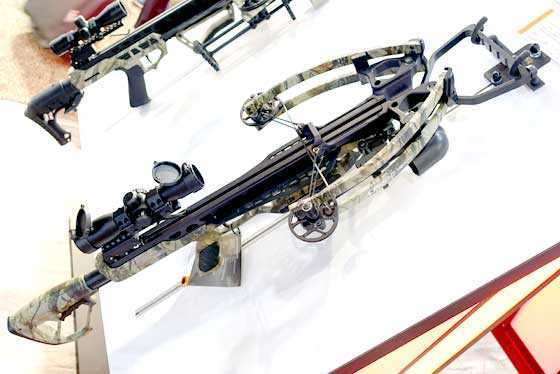 On the other side of the Ravin display were the Center Point crossbows that can now use much of the same technology, yet sell for a lot less.
I tell you this to show that the Velocity Outdoors acquisition was a good thing. Crosman is still Crosman, but they are now under the umbrella of a much larger sporting goods corporation. The people in the company care about what they do and they still want to make great airguns.
Umarex
I didn't go to Media Day at the Range this year, which was where Umarex once again showed the Hammer big bore and let the media shoot it. The gun I shot at the 2018 Texas airgun show was the same one from a performance standpoint, but marketing manager Justin Biddle tells me that the guns at this SHOT Show are made with production tooling. He gave me an estimated release of March, but I would plan on a couple more months to be safe.
Ruger 10/22
It wasn't the Hammer that I went to see, though. I went to see their new licensed Ruger 10/22 pellet rifle! What it is, is a .177-caliber 10-shot repeating CO2 gun that has both a single action and double action trigger pull. I own a couple 10/22s and this is a dead ringer!


The new Ruger 10/22 pellet repeater from Umarex is a 10-shot CO2 repeater.
The rifle uses two 12-gram CO2 cartridges. You can shoot it as fast as you pull the trigger in the double action mode, or you can cock the bolt back manually and the trigger becomes a fine single-stage trigger that releases at about three pounds. The magazine looks just like a 10/22 mag and even releases and installs in the same way. It has open sights and an 11mm rail for scopes. This rifle will be perfect for the Badabang target from Air Venturi.
Summary
There is a LOT more to come, including some huge news from an unexpected quarter. And, for the first time in what seems like a very long time, I have been sworn to secrecy about an airgun that you're gonna love. I know something you don't know…