by Tom Gaylord
Writing as B.B. Pelletier
This report covers:
Diana model 30
Leapers
The really big news!
The King Bug Buster!
UTG Micro Reflex dot sight
P.O.I. rings in 11mm
Hatsan Speedfire
Crosman Triple threat
ASG
Summary
Diana model 30
We were in the Diana booth at the end of Part 4. There is one more thing I want to show you in that booth. We talked about it last year, but when I tested a vintage one, it failed during the test. Last August I reported about the Diana model 30. I told you then that this was an airgun that was made from 1972 through 2000. Well, I learned from a Diana representative that the model 30 is still in production today, and that it sells to shooting gallery operators for 1,000 Euro, which is $1,141 as I write this. So the price of $1,000 back in the 1980s wasn't as far out of line as I had thought.
The gun I tested shot proprietary 4.4mm lead balls. Diana is now working to convert one to shoot steel BBs for the American market. I have no idea what the price will be, but Diana and Air Venturi who will be distributing it both know that no American airgunner will pay a thousand dollars for one. I would expect it to be a quarter of that or possibly a little more.

Diana will produce a model 30 gallery gun for the North American market.
The model 30 is equivalent to some of the very fine historical gallery guns I have tested for you in the past — guns like the Hammerli trainer that fits inside the Swiss K31 battle rifle. I don't know how long these new guns will be available, so when they hit the market is the time to act. I plan on buying the one I'm sent to test. I know I'm the Great Enabler, but I'm not trying to sell you anything right now. This opportunity is simply too good to pass up, if you want a quality gallery gun. When will they be available? I asked, and, if my memory is correct, sometime before this summer.
Leapers
I stopped at the Leapers booth next. And that's when the big stuff started happening! The first one is confusing, but I saw it and have photographic proof, for once. It is a 3-12X56mm scope with etched glass reticle! That's right — three to twelve power with a 56mm objective lens! Talk about light transmission!


I can't find this scope in their catalog, nor in my photos of their booth signage, but I held the scope, looked through it and it does exist — a 3-12X56 UTG scope. I believe it's in their new Accushot OP3 Series of scopes.
Anyhow, the reticle in this one is duplex — heavy on the sides and extremely fine in the center. It's an etched-glass reticle. This is a hunter's scope! It's what many of you have been asking for.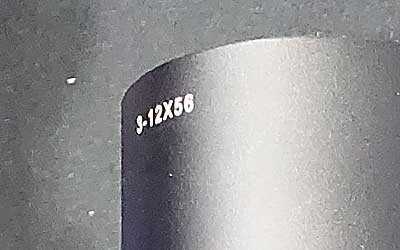 There's the proof! This is an enlargement of the markings on the new scope I saw.
The turrets have been enlarged for easier handling. They still have the locking rings at the base of each adjustment knob, and you can feel each click of adjustment even if you can't hear them. Well — I can't hear them — maybe some of you can.
The really big news!
Here it is — the 2019 SHOT Show distilled into one product! The next scope I saw was a prototype crossbow scope Leapers is making for a certain client. Because I now own a Sub-One crossbow and because I may be writing about the new Ravin crossbows from Velocity Outdoors this year, I examined it — AND WAS BLOWN AWAY!
The King Bug Buster!
After some examination, I said to Tom Zue, the Leapers representative who was showing me the products, "This could be a Bug Buster! It's the right size and it has an ETCHED GLASS RETICLE!!!!!!!" Tom then said, "Yes, but the scope tube is 30mm and Bug Busters are all one inch." To which I replied, "Then call it the King BugBuster! All you need to do is leave off the velocity markings on the ring (for crossbow bolts) and you are done!"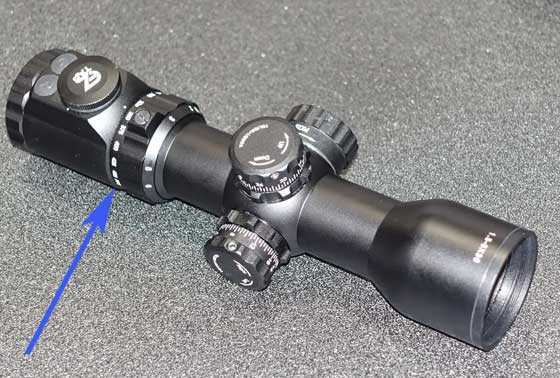 Leapers is prototyping a new crossbow scope. If they just leave off the velocity markings for crossbow bolts (arrow) it could be the next Bug Buster.
Tom then smiled at me and said, "You know, David Ding (the owner of Leapers) said the same thing. He thought this would be a great new Bug Buster too." Then David walked up and joined us, nodding his approval.
Right then Tyler Patner came by and I showed the scope to him. He liked the reticle and agreed that it would make a great new Bug Buster.
Then I saw Val Gamerman, the president of Air Venturi, sitting and talking to Lucy Liu from Leaper sales. So I went over with David Ding and showed the scope to him. He looked at it and turned to Tyler, who nodded his approval. I think we are going to get a new Bug Buster with an etched glass reticle, guys! Oh, and maybe I forgot to mention this — it has an internal bubble level!
All of this happened in just a few minutes. I was in the right place at the right time! That doesn't happen that often.
UTG Micro Reflex dot sight
I have been reporting about the new UTG Micro Reflex dot sight, and they now have a Gen II version out. It's more rugged, for law enforcement tactical use.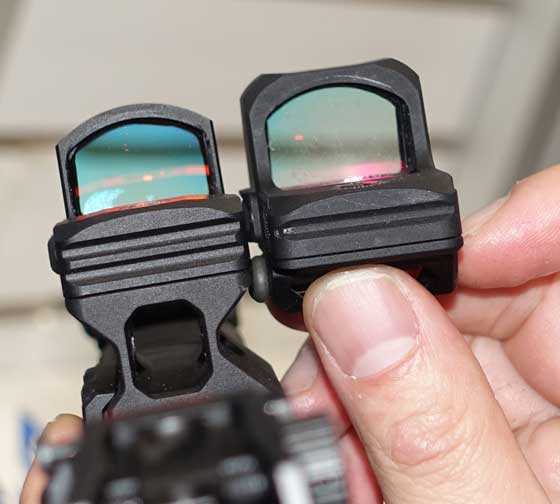 The second generation Micro Reflex dot sight from UTG (right) is built more rugged than the first one. It also has a larger viewing area, due to a more compact design.
The power button on the left side has been given metal "ears" to prevent it from being turned on when a rifle or pistol is laid down. The gen I sight doesn't have that. It's power button stands proud.
The real news here is the battery life. Improved LEDs and a new circuit board give the gen II sight a 30,000 hour battery life! If you leave it on it will continue to be illuminated for 1,250 days, or 3.42 years! The battery of the gen I sight I am testing lasts for 5,000 hours if left on, but Leapers is upgrading it to 30,000 hours as well. Both sights will continue in production, so I'm supposing the gen II will cost a little more.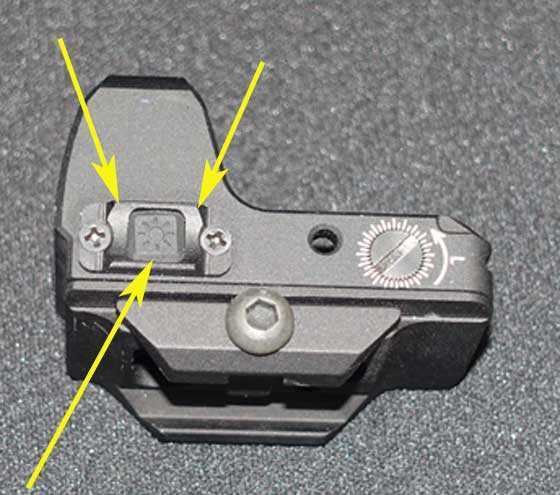 The gen II Micro Reflex sight is more compact, yet has 6 times the battery life as the gen I! Metal ears now protect the power button (arrows).
2.5-inch Mini Dot Sight
The Micro Reflex isn't the only dot sight that's new from UTG. They are also offering a 2.5-inch Mini dot that looks more conventional, yet is still quite small. It comes with a red dot, only. Battery life is the same 30,000 hours runtime.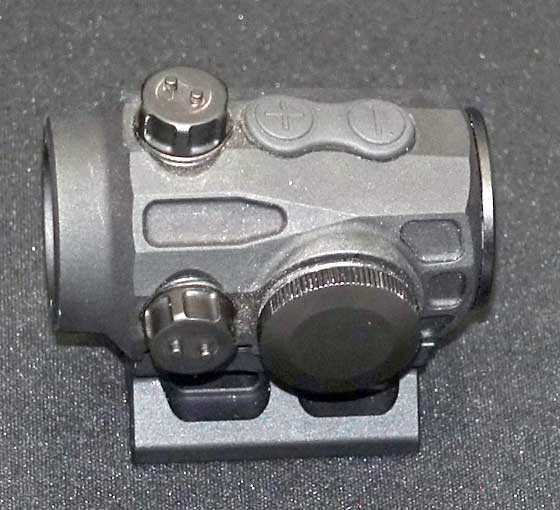 A little larger than the Micro Reflex, the Mini Dot is still quite small. Red dot, only.
P.O.I. rings in 11mm
The last bit of news at Leapers is the launch of their P.O.I. scope rings with 11mm bases for airguns. I have been using these mounts extensively (with Weaver to 11mm adaptors) in the past year because they are closer to true than any mounts I've used. Unless your rifle base is off or your rifle is a drooper, and many are, the P.O.I. mounts will get your scope aligned quickly.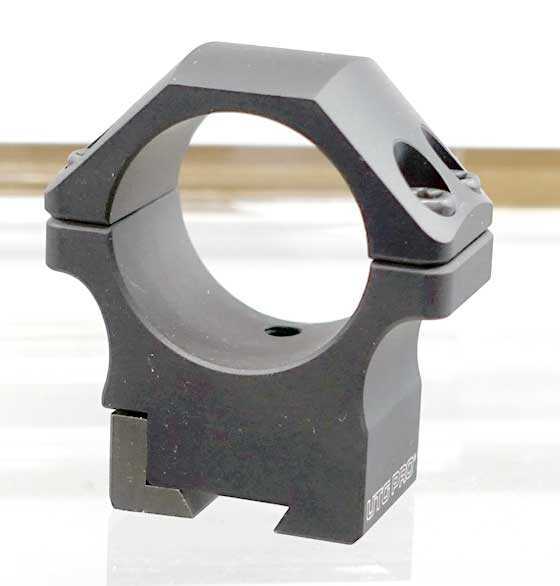 UTG P.O.I. precision scope mounts now come with 11mm bases.
Hatsan Speedfire
A reader asked me if the shock-absorbing scope rail on the new Hatsan Speedfire was just rubber bushings for the screws or if it was more. I said I didn't know but I would look and see. I went back to the Hatsan booth and talked to Hatsan representative, Cecil Bays, who told me the screws do pass through a rubber bushing, but the rail slot that the screws past through is oval. That allows the rail to move slightly under recoil.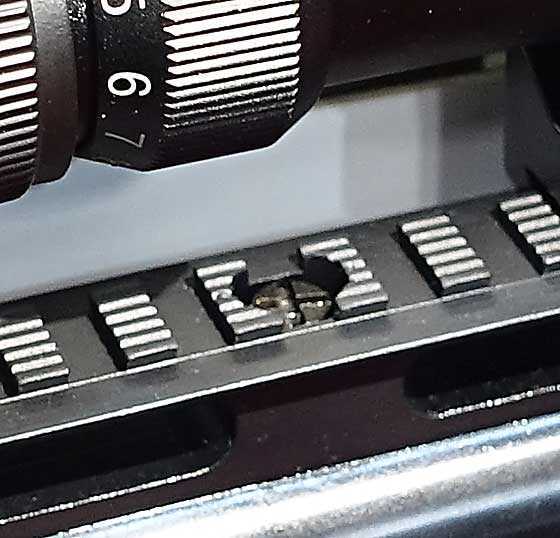 The scope rail is held to the Speedfire by two screws that pass through rubber bushings. The holes in the rail that both the screws and bushings pass through are oval, allowing the rail to move slightly.
Coincidently, Cecil and I were on the same airplane flight returning from the show and I talked to him about your interest in the new Vectis lever-action PCP. He is sending me one to test right away — as well as a Speedfire.
Crosman Triple threat
Another discussion point was whether the barrel shrouds on the three barrels for the Crosman Triple Threat revolver are metal of plastic. At a retail price of $70 I thought they had to be plastic, but I went back and confirmed it. Yes, they are indeed plastic.
ASG
I stopped at the ASG booth next. They had told me there are no new airguns for 2019, but they have an airsoft pistol I might be interested in seeing. I used to write about airsoft, but it pulled me away from airguns and I decided I am not the gun for it. However, Bob Li of ASG is my Great Enabler. He got me to buy a CZ 75 SP-01 firearm to go with the CZ 75 SP-01 Shadow BB gun he sent me for testing. Now there is a new CZ Shadow 2, and this one is airsoft.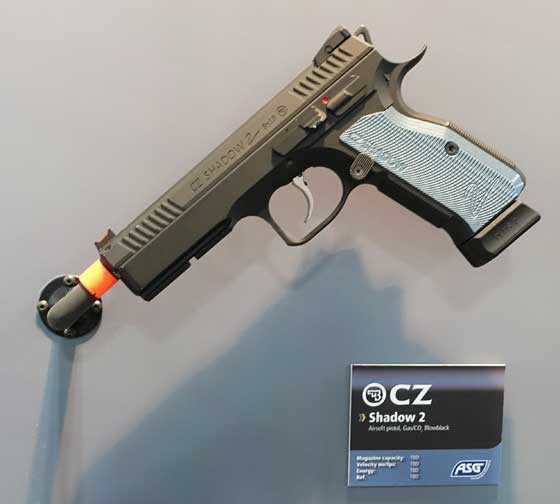 The airsoft Shadow 2 from ASG is very realistic.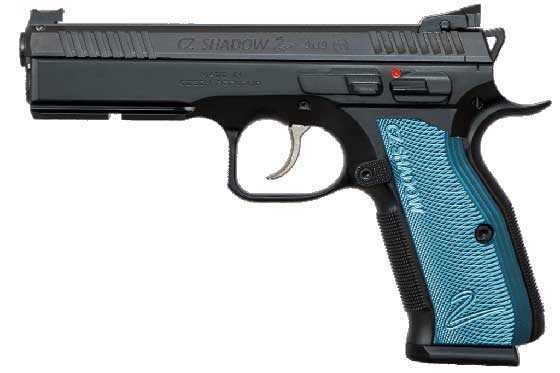 The Shadow 2 firearm is a competition grade tactical sidearm.
I hefted the gun and it feels just like the firearm. The Shadow 2 is CZ's further development of the Shadow SP-01. It's a high-end tactical sidearm that's been made for the USPSA, Product Division competition. It retails for $1,300. So don't go ballistic when I tell you that the airsoft gun retails for $180. Yes, it has Hop Up and it can be fully disassembled. It can operate on either green gas or CO2, though the one that is imported into this country will be CO2. It shoots a 0.25-gram BB, which is on the heavy side for an airsoft pistol. Bob Li said he would send me one for evaluation and I will test it for you, though I have no idea whether Pyramyd Air will carry it.
Summary
I looked for FX at the show, but they didn't have a booth this year. I know several of you are interested in the new Dreamlite rifle and I wanted to see it for you. But they did not display.
I just looked and there is enough for a Part 6. It will be things that Pyramyd Air may never carry, but I saw them and you might like to, as well.