by Tom Gaylord
Writing as B.B. Pelletier
This report covers:
Synergis
Gamo USA
The story
It gets better
AirForce Airguns
Diana Mauser K98 PCP
Summary
Synergis
We were in the Umarex booth in the last report, so we'll start there. The one other airgun that caught my eye in that booth was the new Synergis underlever repeater. Yes, this is yet another spring-piston rifle that repeats!


The Synergis from Umarex looks exciting. Photo courtesy Umarex USA.
This rifle has a gas piston/spring, yet is quite easy to cock. I am guessing it's between 25 and 30 pounds of effort. It gets 1,000 f.p.s. with .177-caliber lead pellets and 1.200 with alloy pellets. It has a 12-shot rotary magazine, so it's another spring-piston repeater. But this one has an underlever, so the mag is lower than usual with a springer that repeats. It has a shrouded barrel for quiet shooting and comes bundled with a 3-9X32 scope and rings. But wait for it — the really big news is the price. The Synergis retails for $169.95! When Umarex marketing manager Justin Biddle told me that I said, "What?" I expected $100 more.
Sure, we all know it's made in Asia. It has to be at that price. But with all it offers I plan to test it and hope that it's accurate. If so, it will be a new best buy!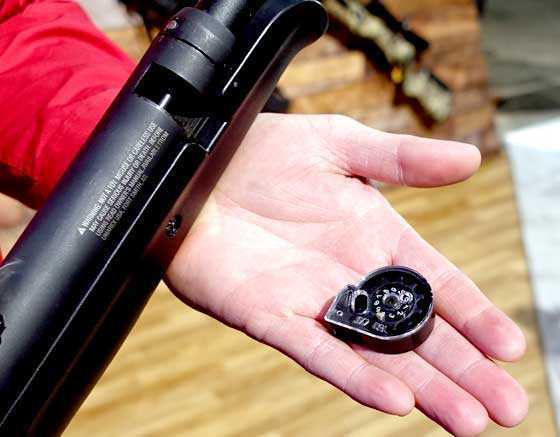 The Synergis uses the same type of rotary mag we have seen with other repeaters.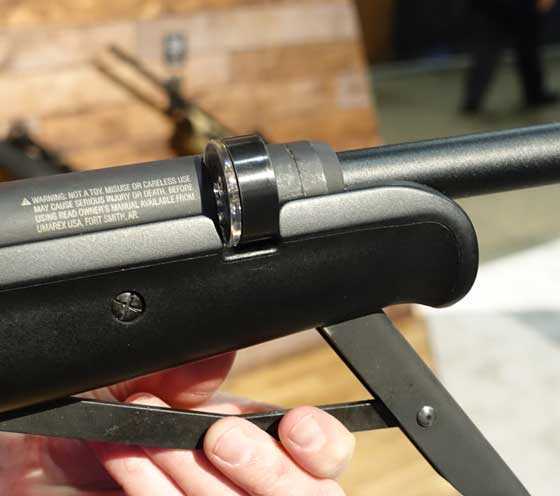 The Synergis mag lies low in the receiver!
Gamo USA
Okay, I told you there would be big news today. Here it is. I was in the Gamo booth, trying to photograph their new Gen II Swarm Fusion 10X that was sitting inside a locked glass case, when another guy caught the attention of Gamo representative, Brad Conley. Brad was very helpful and told the other man, who was a gun dealer, a lot about the new Gen II Swarm. I listened in and got more information than I have ever gotten in the Gamo booth.
After the man was finished, I introduced myself to Brad and asked if there was any way to take the rifle out of the case for photography. He didn't have the key, but instead went into one of the upstairs conference rooms (their booth is 2 stories and it's huge) and got another example to show me.


Gamo's Swarm Maxim 10X Gen II has the lowest magazine profile of any breakbarrel repeater on the market.
The story
Gamo may not have invented the repeating spring-piston air rifle (I don't really know who did, but I've seen a Haenel from the 1950s) but they have been working with them since the 1960s. That's half a century! But, until the Swarm came out a few years ago, they didn't always feed pellets reliably. The Swarm took care of that. Using a reliable rotary magazine is so much easier than feeding lead pellets through a tube!
But the Swarm, and now the other breakbarrel repeaters that have come out at this show, all have very tall feeding mechanisms that force you to use high mounts for a scope. The Swarm Maxim 10X Gen II solves that with a horizontal magazine that reduces the height of the mechanism considerably. You can see for yourself in the photos. And, no, the horizontal mag is not compatible with the Gen I vertical mag.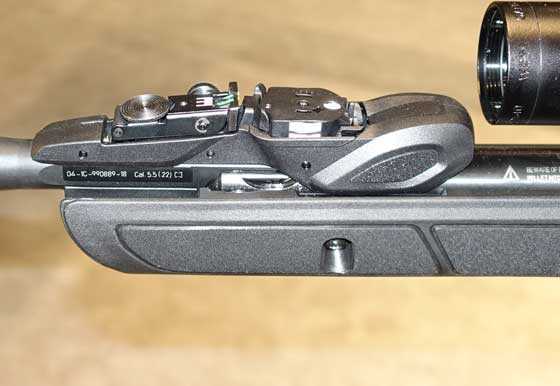 You can see how low the new horizontal magazine lies when the barrel is closed. This allows the scope to be mounted lower.

The Swarm pellet feeding mechanism works well with the horizontal magazine.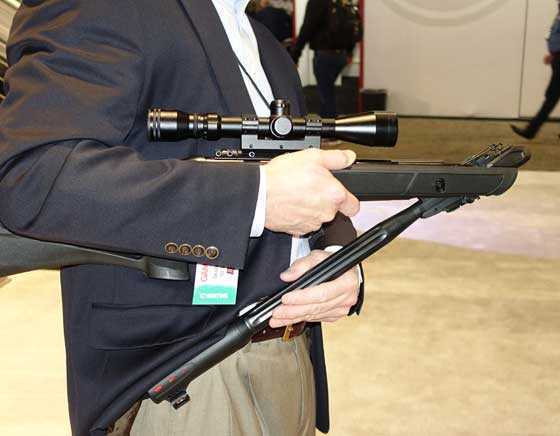 Brad held the Swarm with the barrel fully broken so I could see how far it broke down. This is a long-stroke gas piston, which means easier cocking for great power.
It gets better
As I was talking to Brad, Gamo's new vice president of sales, Joe Syring, walked up and introduced himself. Before coming to Gamo USA, Joe worked at Crosman for a number of years and we had met when he was there. We talked — and talked — and talked! Things have now turned around for me at Gamo USA. Joe is someone I can talk to, and he understands the American airgun market.
You know how we always say not to dry-fire a spring gun? Joe asked me about that and I told him that Gamo was the exception. They used to tell folks in their ads that they dry-fired their spring guns 10,000 times without any signs of damage. I thought I was impressing the new guy until he told me that, before one of their spring rifles goes into production, Gamo takes 10 and dry-fires EACH of them 10,000 times. That is 100,000 dry-fires before a gun comes to market. AND (but wait, there's more) they pull a couple rifles out of each thousand in production and shoot them 10,000 times, as well! I don't know why their marketing department hasn't made more of this, but I certainly plan to.
AirForce Airguns
When you go to the AirForce booth, these days, you have to remember that they are also the BKL booth, the RAW booth and the AirForce International booth. The first thing I want to tell you is the RAW rifles are now shipping. Production is not up to full speed by any means, but guns are going out the door.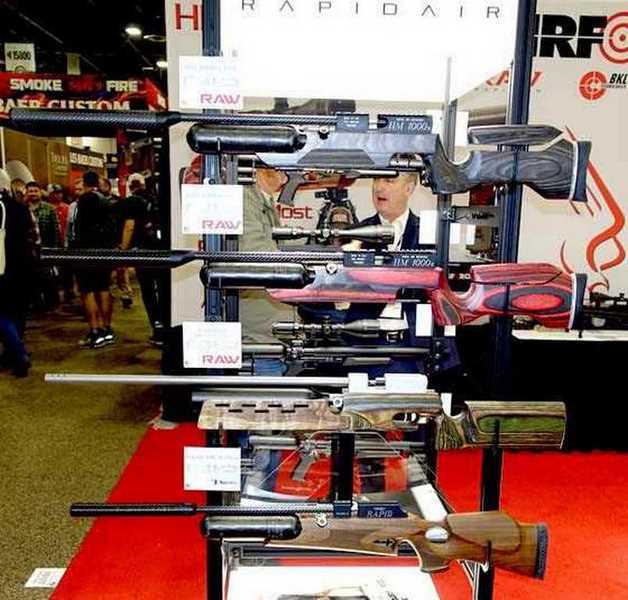 Some models of RAW air rifles are now shipping.
The other new rifle in the AirForce booth was the new Texan LSS. The L stands for long, because this is a full-length Texan with a shroud. This way you can get the full 500 foot-pounds of power in a quiet (ish) rifle. But they did something more. They will take the final five inches of the shroud that contains the baffles removable, so if you want a shorter rifle you can have it. It doesn't show in the photo, but that's what it will be on the production gun.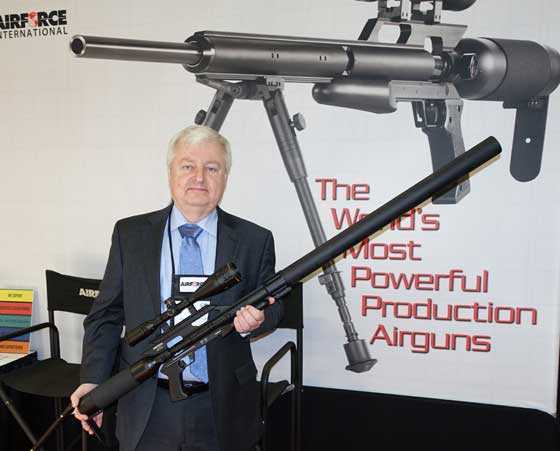 AirForce owner, John McCaslin, holds the new Texan LSS shrouded big bore air rifle.
Diana Mauser K98 PCP
I will leave you with this one to discuss over the weekend. The Diana Mauser K98 PCP is based in the Stormrider, so expect that level of performance — 20 foot-pounds in .177 and 26 in .22. The rifle is large and in charge, yet not overly heavy. As you can see, the appearance looks quite realistic. I expect this one to sell for less than $400 and you should see it by the summer.


Diana's new Mauser K98 PCP will be great for the replica gun guys, of which I am one.
Summary
I am now so full of secrets that if you opened me up I would look like a box of Raisin Bran. There is more SHOT Show report to come, but you all need to chew your cud on this stuff for the weekend. Old BB is finally going to get some sleep!