by Tom Gaylord
Writing as B.B. Pelletier


Air Venturi TR5 repeating pellet rifle.
This report covers:
Complex repeating mechanism
The test
Don't do this
No barrel swap
Cleaning the barrel
Cleaning
Assemble the rifle — oh oh!
Which pellet to choose?
Sighting in
At 10 meters
Too much time
Summary
Today I clean the barrel of the Air Venturi TR5 Multi-Shot Target Air Rifle then mount the UTG Micro Reflex dot sight. I will sight in after that, but not shoot any groups in this report. You will understand why as you read this report.
Complex repeating mechanism
The TR5 has a very complex repeating mechanism. It's practically identical to the repeating mechanism on the IZH 61 that it copies. Repeaters don't usually offer good access to the breech, and this mechanism is particularly difficult to deal with. There is no room even for a flexible cleaning line or a bore snake. For me to clean the barrel of this rifle properly, the barrel had to come off!
Don't do this
I'm doing this to test the accuracy potential of the TR5. I don't recommend anyone taking off the barrel of their rifle. I know several readers have done just that and that's fine, but I can tell you this isn't as simple as it looks or sounds. If it were simple, like taking the mainspring out of a TX200 Mark III, I would publish the directions with pictures. One reader has mentioned how it's done, but he left out a couple of important steps and points that may seem obvious to a clever person, but will baffle somebody else. When I get to the problem area I'll elaborate.
No barrel swap
I know that reader GunFun1 has swapped his TR5 barrel for one from Crosman. He seems to be getting better accuracy from it, but here is how I see that. The TR5 either works or it doesn't. Shooters don't want to buy an airgun that they then need to change barrels on, just to make it shoot. I understand the fun in tinkering, but I'm evaluating this air rifle for the average potential buyer — someone who doesn't want to do all that. They want to shoot it as it comes out of the box — period.
I'm cleaning the barrel today to see if that is what's keeping the test rifle from grouping. If I find that it can shoot, then maybe we need to find a way to clean the barrel without removing it.
Cleaning the barrel
So, I took off the barrel and examined it. It did have some lead in the rifling grooves that I was able to get on film for you.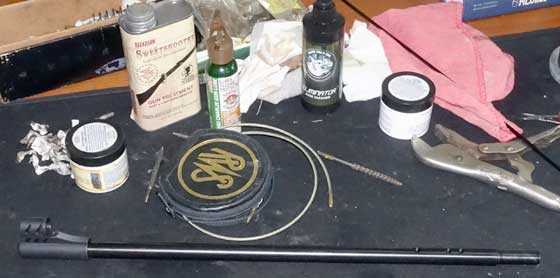 Cleaning the TR5 barrel turned out to be a long process.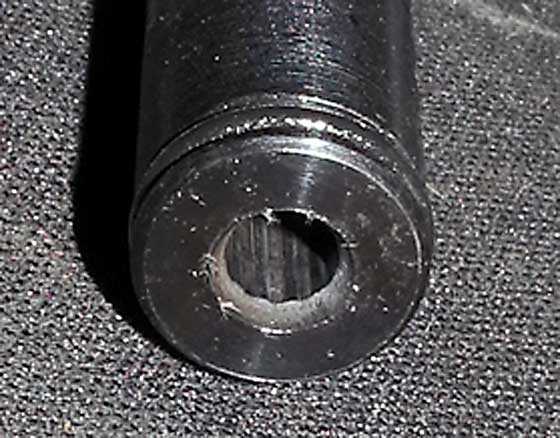 The TR5 breech is a little dirty, but it doesn't look that bad.
My examination revealed that the TR5 barrel was a little dirty, but it didn't seem that bad. Was I wasting my time?
Cleaning
The first step to clean a rifled barrel is to run a brass or bronze brush loaded with JB Non-Embedding Bore Cleaning Compound through the bore. When the barrel is dirty, the brush usually meets a lot of resistance. But not this time! The brush sailed through the bore with almost no resistance at all. Know what that means? The bore of this rifle is large.
I searched through my cleaning kit for the largest .177 brush I could find, which was in an RWS cleaning kit. With that brush on the rod there was some resistance, so the bore is large but not too large. I then scrubbed the bore with the JB bore paste about 100 times in each direction.
At first the brush pulsed through the bore like there were spots of resistance every quarter inch or so. But after about 50 passes in each direction, the rod smoothed out. That's why I scrubbed it so many times. Normally I don't make more than 20 passes.
Then I used cleaning patches with bore solvent on them. Since the barrel was out of the gun there was no reason not to use the most aggressive gun cleaning solvent I could find. Patch after patch revealed that the barrel was dirtier than it had initially looked. In all it took about 30 patches before the barrel was clean. You know that its clean when dry patches start to come out clean. I did try the brush again, but now the barrel was smooth.
Then I examined it the bore again. This time it was hard to see the rifling, which is one way to know it's as clean as it can get. This is hard to get on film, but I think I managed it.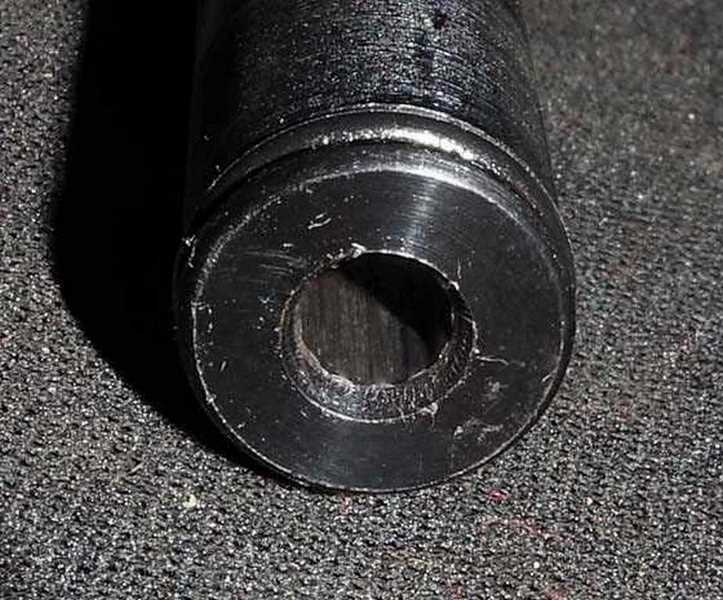 The barrel is now so clean that the rifling is difficult to see.
Assemble the rifle — oh oh!
With the barrel clean it was time to install it back in the rifle. That's when I learned I had removed a screw I should only have loosened — the barrel locking screw! It took me the next 45 minutes to extract the Allen setscrew that holds the barrel tight inside the action. It was down deep in its cavity and refused to shake loose. This is the main reason I don't want to explain how to remove the barrel.
Now that I have removed and reinstalled the barrel one time, it's not that difficult to do, but I don't want to risk a lot of people having the same experience I had. Let's just say it took a very small magnet and extreme dexterity to get that screw out of the action! With that done the rest of the rifle went together easily.
Another reason I don't want people attempting this is because the plastic stock parts are held together by wood screws. Wood screws will strip out of plastic very easily if they are tightened too much. It takes a skilled hand to not strip them!
I left the rear sight off the rifle because the UTG dot sight was going on next. That only took a few minutes and the rifle was ready for sighting in.
Which pellet to choose?
Given the size of the bore I felt that the largest pellets I had would be the best. But I also read what GunFun1 said about his most recent experience with his TR5. He found that JSB Exact Heavy pellets worked the best. But his rifle has a Crosman barrel and I'm using the barrel that came on the TR5 — the one I just cleaned. However, for some reason I went with the same pellet for the sight-in.
Sighting in
I initially sighted in at 12 feet. I used the dot on maximum illumination, because I was shooting offhand with a door jamb for a rest. I wasn't going for precision yet. The UTG dot sight adjusts easily and I had the rifle almost where I wanted it in three shots. Then I backed up to 10 meters.
At 10 meters
At 10 meters I dialed the illumination of the dot down to the lowest level. Now it was a tiny bright pip in the center of the black bullseye. The first shot at 10 meters was low and right, but I knew how many clicks to use at this distance. And, I nailed it! Shot number two went through the 10-ring of the bullseye. Sight-in was finished!
Too much time
I normally try to take 2 to 2.5 hours to do whatever test I'm doing for a given report, because it takes another 3 to 5 hours to write the blog. That time varies depending on how many pictures there are and how much work I have to do to them in Photoshop.
Today the test took me 3.5 hours, most of which was involved in cleaning the barrel and then assembling the gun after cleaning. That put me behind schedule just a bit. So, I didn't shoot any groups.
I'm going to finish this report tomorrow with groups at 10 meters. I'll start with the JSB pellets that were used for sight-in and then I'll use the other pellets I selected. I have hope that we will see some good results from this work.
Summary
I'm doing all of this to see if the TR5 is worth the extra effort. I know owners have reported roughly the same accuracy that I got in Part 3, and I want to find out whether the TR5 has any accuracy potential beyond that.
Buyers shouldn't have to change barrels to get accuracy. But, if a good barrel-cleaning produces results, then the next step might be to discover how to clean the bore without removing the barrel. If the TR5 is accurate, then the extra effort is worth it.