by Tom Gaylord
Writing as B.B. Pelletier


Umarex Legends Cowboy Lever Action BB gun.
This report covers:
The test
Umarex Precision Steel BBs
Loading
Hornady Black Diamond
Avanti Precision Ground Shot
Smart Shot
Dust Devils
Discussion
Summary
Wow, wow wowey, wow, wow, wow! Have I got something for you today! I saw all those fantastic targets posted to Part 2 of this report by our readers, but I still didn't believe it. But, it's all true! The Umarex Legends Cowboy Lever Action BB gun is super accurate. And it cycles perfectly every time.
The test
Being a doubting Thomas, I decided to test at the standard BB-gun distance of 5 meters, even after seeing all those superb targets. Besides, if it's really that accurate, might it even come close to the Daisy Avanti Champion 499? If it tested out I could always run another test at a greater distance. Well — I guess I will, because this one is not going back to Pyramyd Air. I only shot BBs today because I want to give pellets a thorough workout of their own.
I shot from a seated position using a UTG Monopod as a rest. The groups were 10 shots each, which gave me the opportunity to load and fire 10 cartridges from the gun. Since I think the shot count is around 35-40 shots, I shot only 30 and then changed CO2 cartridges. Let's get started.
Umarex Precision Steel BBs
The first BB I tried was the Umarex Precision Steel BB. A reader had commented they were the most accurate for him and. by golly, they were the same for me! Ten BBs went into one hole that measures 0.212-inches between centers of the two holes farthest apart at 5 meters. The last time I saw 10 BBs in a group this small they were shot from my 499!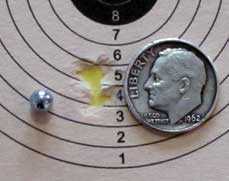 Ten Umarex BBs went into 0.212-inches at 5 meters. This is the best group of the test and can challenge a 499!
Loading
I mentioned in Part 2 that a lever action loads hard, and this one is no exception. But loading doesn't get harder as more shells are loaded. Cartridge number 10 loads no harder than cartridge one.
Hornady Black Diamond
The second BB tested was the Hornady Black Diamond. I expected this one to be the best, but as a reader said, it wasn't. It's very good, with 10 BBs going into 0.383-inches at 5 meters, but not as good as the Umarex BB.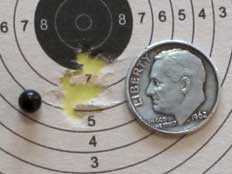 Ten Hornady Black Diamond BBs went into 0.383-inches at 5 meters.
Avanti Precision Ground Shot
Since this BB gun is so accurate I thought it might do best with Avanti Precision Ground Shot that the Daisy 499 uses. So I shot a group with them. Ten BBs made a 0.575-inch group at 5 meters. That's still a very small group for a BB gun, but it's already been beaten by two premium BBs.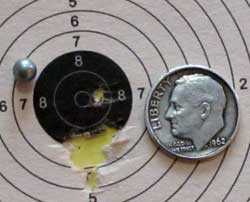 Ten Daisy Avanti Precision Ground Shot went into 0.575-inches at 5 meters.
Smart Shot
Next up were Air Venturi Smart Shot lead BBs. This gun is so powerful that these BBs make good sense, of they are accurate. And, they are! Ten of them made a 5-meter group that measures 0.499-inches between centers.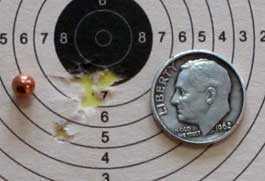 Ten lead Smart Shot BBs made this 0.499-inch group at 5 meters. This is another great group.
Dust Devils
The last BB I tested was the frangible Dust Devil from Air Venturi. They didn't do as well as all the rest. Ten went into 1.064-inches at 5 meters. That's not a bad group for most BB guns, but for this Cowboy Lever Action gun it's about 3-4 times larger than the rest.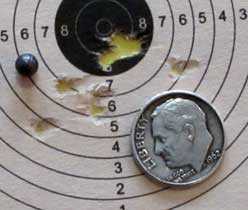 Ten Dust Devil BBs made a group that measures 1.064-inches at 5 meters.
Discussion
This BB gun is the most accurate one I have shot, other than a Daisy 499. And this one could actually offer that BB gun some competition! Umarex is to be commended for bringing out a super-realistic lever action BB gun lookalike that has no competition. This one is a hammer and every target is a nail!
I know I'm called The Great Enabler because I cause many of you to spend more money than you ought to on airguns, but when something is this good, I gotta be me! You should know by now that I'm going to tell you the truth either way it turns out. But don'tcha love it when it turns out like this? I do!
Summary
Next I'm going to back up and shoot pellets. After that I'm going to shoot BBs from a greater distance. Like I said — this gun is not going back to Pyramyd Air!