by Tom Gaylord
Writing as B.B. Pelletier


Diana Stormrider Generation II precharged pneumatic air rifle.
Stormrider Gen 1 Part 4
Part 1
Part 2
Part 3
This report covers:
B.B. — what are you doing?
Rear sight off
Which pellets to try?
Sight-in
The test
JSB Beast
RWS Superdome
Discussion
Second group of Beasts
Summary
First things first. Happy birthday, United States! You are starting to show your age, but that's okay. It happens to all of us. May you have many more. Okay, let's begin.
B.B. — what are you doing?
On Tuesday of this week, reader Krasi asked me when I was going to test the Diana Stormrider again. I had promised at the end of Part 3 back in March to test the rifle with a dot sight and also with a Bug Buster scope. Here is my response to him.
Krasi,
Yes, the Stormrider Gen II is sitting here in my office, awaiting that test. It has been shoved to the back so many times. I will get on with it.
So, yesterday morning I woke up at 3 a.m. and had extra time in the morning when I can do some testing. I found the UTG Reflex Micro dot sight still mounted to the Air Venturi TR5, so I decided to skip what I had planned and test this rifle. I'm very glad that I did and I will tell you why in a little bit.
Rear sight off
The first thing was to remove the rear sight. I discovered that it isn't held to the rifle by any mechanical attachment — just by the clamping pressure of its base on the dovetail that's on the barrel band. It was off in less than 5 minutes and the dot sight was on in it's place.
Which pellets to try?
It's been several months since I last shot the Stormrider, so I read Part 3 again. It turned out that super heavyweight JSB Exact Beast pellets were the best in that test, so I had to try them. RWS Superdomes also looked good, so I gave them a try, too.
Sight-in
This sight has 6 levels of intensity. I switched it to the second from the bottom to make the dot as small as possible. It was still clear when it was in the bull.
I shot the first shot from 12 feet and it landed in the bull I was aiming at, so I could back up to 10 meters. At 10 meters it took 4 more shots to get where I wanted in the bull. Because I'm using a dot sight, a center hold is the correct sight picture.
The test
I shot 10 shots per target from 10 meters. The rifle was rested directly on a sandbag. There is more to say about the rest but I'll tell you when we get there.
Since I was shooting 10 shots per target, I refilled the rifle after the first group. I had done some additional shooting and there were 19 shots on the first fill. In Part 2 I discovered that there are about 20 reliable shots per fill. The actual number depends on what distance you are shooting, but at 10 meters you get all the shots that are possible.
JSB Beast
The first group was shot with JSB Exact Beasts. I got a nice-looking roundish group of 10 in the center of the bull. The group measures 0.476-inches between centers and it's a group I will take any day. But I did notice something during the shooting.
The trigger that I thought was okay in Parts 2 and 3 is actually a bit too heavy for my best work. I will say more about that in a bit.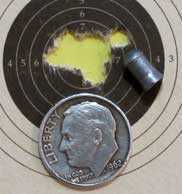 The first group of 10 JSB Beasts shot at 10 meters measures 0.476-inches between centers. The group is nicely centered in the bull. If this was my air rifle I would leave it set up just this way and shoot only this pellet.
RWS Superdome
I wanted to see if there was a second pellet I could trust, so I tried RWS Superdomes next. The UTG Reflex Micro dot sight had to be adjusted down for them, so I shot three shots to properly adjust it. This sight is so easy to mount and to adjust! And, the battery life of the second generation sight is an incredible 30,000 hours when left on! That's 1,250 days or almost 3-1/2 years of run time! When I think of all the dot sights I own that have less than 200 hours of run time, that is impressive!
Once the sight was adjusted for the Superdomes I shot a 10-shot group without looking at the target through the spotting scope, which are my Meopta 10X42 MeoStar binoculars. One of the shots in the middle of the string landed outside the bull at 10 o'clock, so I knew the group wasn't going to be that tight.
When I finished shooting I looked for the first time and was rather unsatisfied. The group is centered pretty well, but it measures 1.065-inches between centers, because of that shot that's apart from the main group. The other nine pellets are in 0.589-inches, which is about what I expected from this pellet.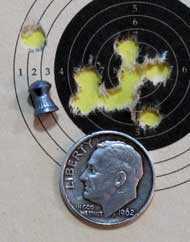 The Stormrider put 10 RWS Superdome pellets into a 1.065-inch group at 10 meters. Nine of them are in 0.589-inches.
Discussion
I was dissatisfied by the Superdome group, and also by the trigger, which by this time was getting to be a chore to operate. I decided to shoot another group of the JSB Beasts and this time to do everything in my power to make it good. I know that sounds like I haven't been trying, but I really have. Not a single bad shot has been called. But there were still two more tricks in my bag.
First I would pull the trigger with my middle finger that is stronger. And second, I put a second bag under the buttstock to really steady the rifle. By itself that trick is worth about 1/8-inch at 10 meters.
Second group of Beasts
I did not adjust the sight from the last group, so I knew it would be lower. I didn't care about that — only about the size of the group. This time all the pellets hit below the bull and I was able to watch the group as it slowly grew. Ten shots landed in 0.392-inches at 10 meters. This was the size group I expected to shoot!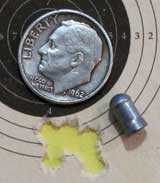 This second group of JSB Beasts measures 0.392-inches between centers. It is what I expected the rifle to do, after reading Part 3.
Summary
This test was exciting because it renewed my interest in the second generation Diana Stormrider PCP. It's a real price point PCP, at less than $200! There is a lot of value here!
I also renewed my association with the UTG ReflexMicro dot sight, and it's been too long since I used it. I'm thinking I will try it on the S&W 77A multi-pump after this! This is the reason I'm so glad I did this test when I did.