Daisy model 105 Buck BB gun: Part 4
by Tom Gaylord
Writing as B.B. Pelletier
This report covers:
Bipod
The test
First up — Daisy Premium BBs
Black Widows
Air Venturi Steel BBs
Dust Devils
Hornady Black Diamonds
Discussion
Grandpa gun
Summary
Today we see how accurate the Daisy model 105 Buck BB gun is when it's scoped. You may remember I installed a Bug Buster 3-12X32 with an optional UTG 80mm Sidewheel on the gun in Part 3. And, as I closed that section I told you there was one more thing I wanted to show you. Let's do that right now.
Bipod
Besides the Little Buck Rail, Buck Rail.com also offers a 7-inch bipod for the gun. It sells for $16 as of the date this report was published. Wow! Not only are we scoping this Buck BB gun, we're mounting a bipod. What will that look like?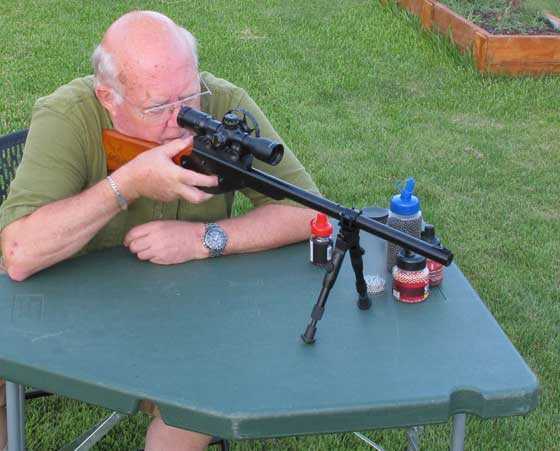 Yes, it looks silly, but read how the test went before you decide!
The test
I shot from 5 meters and all shots were taken with the bipod attached. It took 5 rounds to sight in and I recommend to Terry Harman, the maker, to build some droop into your base, because at 5 meters the first shot hit 3.25-inches below the aim point. Even BB guns have drooping barrels!
First up — Daisy Premium BBs
The first BB I shot was the Daisy Premium Grade BB. In the last test from the same 5 meters and using open sights five of these same BBs went into a group that measured 2.808-inches. Today with the scope and bipod, The Buck put 10 into 1.391-inches. That's twice the number of shots going into less than half the area! I would say that's an improvement!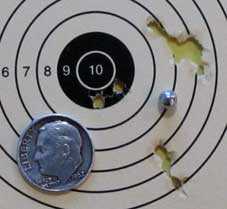 When scoped and sitting on a bipod the Daisy Buck put 10 Daisy BBs into 1.391-inches at 5 meters.
I was shocked, to say the least. This is such a dramatic improvement that it bears consideration. The bipod is rock-steady and the Bug Buster scope, with it's 9-foot focus, is perfectly suited to this gun. Could this level of improvement continue? I went to the BB that was the most accurate in Part 2 — the Crosman Black Widow. In Part 2 five of them made a group measuring 1.341-inches.
Black Widows
Ten Crosman Black Widows made a group that measures 1.079-inches between centers. Eight of the 10 BBs are in exactly one-half-inch and almost perfectly centered on the bullseye! Once again, 10 BBs shot with the scope grouped tighter than 5 shot with open sights!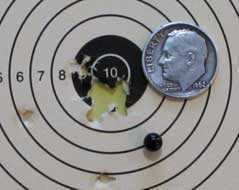 What a group! Ten Crosman Black Widows are in 1.079-inches at 5 meters with 8 in 0.5-inches! In Part 2 five of them made a 1.341-inch group.
Wow! This was getting good. Next up were Air Venturi Steel BBs. What would they do? in Part 2 five of them went into 2.409-inches at 5 meters.
Air Venturi Steel BBs
Today 10 Air Venturi Steel BBs went into 1.886-inches at 5 meters. Once more twice as many BBs went into a much smaller group. I'm starting to see a trend!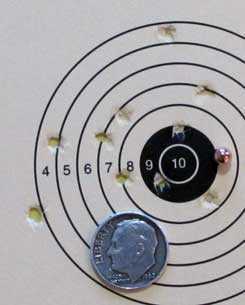 Ten Air Venturi Steel BBs went into 1.886-inches at 5 meters. Once again the Buck is more accurate with the scope and bipod.
Dust Devils
Next up were Dust Devil frangible BBs. In Part 2 five of them made a 3.233-inch group. With the scope and bipod the Buck was able to put 10 into 2.132-inches at 5 meters. It's definitely better by quite a lot.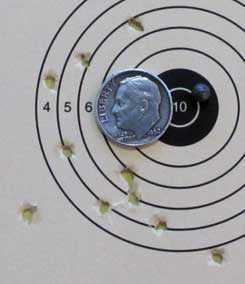 The scoped Buck put 10 Dust Devil BBs into a group that measures 2.132-inches at 5 meters — beating the open sights yet again!
Hornady Black Diamonds
Up last was the Hornady Black Diamond. They were the least accurate in the Buck when I shot with open sights, putting 5 BBs into 4.508-inches at 5 meters. The scope's good shooting carried over to this BB as well, and the Buck put 10 of them into 2.588-inches at the same 5 meters. It's still a large group but it's twice the BBs in almost half the space.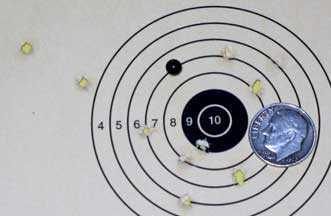 Ten Hornady Black Diamonds went into 2.588-inches at 5 meters.
Discussion
This is probably the biggest advance in accuracy I have seen in many years. There was notable improvement with every single BB shot today.
Yes, it's just a BB gun and no, the groups are not that small, but when you compare today's results with those documented in Part 2 it's amazing!
Grandpa gun
This scoped Buck would make an ideal grandpa gun for when the little boys and girls come over. Once sighted-in and with the right BBs it makes anyone a sharpshooter.
Summary
I want to thank Terry Harman for suggesting this test. This is something I would never have done on my own, and look at how good it turned out! Sure, putting a $108 scope on a $30 BB gun is crazy, but this is one time it really paid off.
Tom Gaylord is known as The Godfather of Airguns™ and has been an airgunner for over a half-century, but it was the 
Beeman
 company in the 1970s that awoke a serious interest in airguns. Until then, all he knew were the inexpensive American airguns. Through the pages of the Beeman catalog, he learned about adult airguns for the first time. In 1994, Tom started
The Airgun Letter
 with his wife, Edith. This monthly newsletter was designed to bring serious reports about airguns to the American public. The newsletter and
Airgun Revue
, a sister magazine about collectible airguns, was published from 1994 until 2002, when Tom started
Airgun Illustrated
-- the first American newsstand magazine about airguns. Tom worked for three years as technical director at
AirForce Airguns
, the makers of the 
Talon, Condor, and Escape
 precharged air rifles. Today, he writes about airguns and firearms for various publications and websites. He also makes videos, and you'll find short clips embedded in some of his artices on Pyramyd Air's website. Tom is a consultant to Pyramyd Air and writes under the name of B.B. Pelletier.