by Tom Gaylord
Writing as B.B. Pelletier


Stoeger S4000E breakbarrel rifle.
This report covers:
Good comments
Cleaning the barrel
Baffles and sights
Stock screws
Tight hold
Pellets, pellets…
The secret
Relax!
The next day
Other pellets
10 shots
Discussion
Is this a world-beater?
Summary
Today I will finish testing the Stoeger S4000E rifle at 25 yards, and what a tale I have to tell you! Grab your coffee and let's get started.
We already saw the rifle shot at 25 yards and the groups were not that impressive. But I saw a potential that I sometimes see that made me work harder with this rifle for many reasons. Today you will see why I do that and also what it sometimes takes to make an air rifle shoot.
Good comments
Several readers commented on my Part 4 report. Some commiserated with the outcome but a couple gave me good suggestions for things I ought to try next time. RidgeRunner reminded me to clean the barrel with JB Non-Embedding Bore Cleaning Compound. I should have done that before but I missed it, and thankfully RR was there to remind me.
Cleaning the barrel
Because the S4000E has a gas piston you can cock it and leave it cocked without worrying about the mainspring. Compressed air does not take a set! That makes cleaning the barrel much easier because there is no time crunch.
I cleaned the barrel with a brass brush filled with plenty of JB Compound, but I'll tell you, the barrel wasn't that dirty. Sure some stuff came out, but where a brass brush will usually take a lot of force for the first 10-12 passes each way, in this rifle the barrel was smooth in just two. I still ran the brush all the way through the bore both ways 20 times and followed that by cleaning and drying the bore thoroughly. Whatever the condition of the bore was before, it wouldn't be a factor anymore.
Baffles and sights
RidgeRunner also thought I might try mounting a dot sight to see what that would do. I did that and it did nothing. And he thought the baffles could be a problem. I examined them when I cleaned the bore and they weren't.
Stock screws
Reader Rk reminded me to check the stock screws. The two on the forearm were tight but the one behind the triggerguard was loose. When I tightened it, the entire barreled action was sucked down into the stock. That is real bad for accuracy! After that I checked that screw about every 20 shots.
Tight hold
Reader Silentsniper gave me his special tight hold for guns with gas springs. I tried it first and shot 5 H&N Baracuda Match pellets with 5.53mm heads into 2.047-inches at 25 yards. Maybe I didn't hold it right, but I tried doing exactly what he said. That was too bad because he had me grasping the forearm at exactly the place the rifle's designers wanted me to hold it. It felt great; it just didn't work.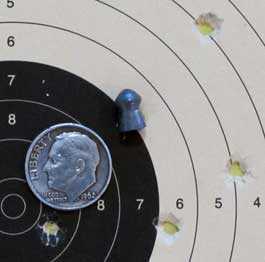 When I held the rifle with a tight grip as reader Silentsniper advised, five H&N Baracuda Match pellets went into 2.047-inches at 25 yards. In the picture the head of the pellet rolled into one of the pellet holes and I didn't notice it until I ran the photo through Photoshop for this report. Sorry.
Pellets, pellets…
I tried about 12 different pellets — all without success. I also tried many variations of holds. I had the UTG Reflex Micro dot sight mounted for some of this and then I replaced it with the factory 4-power scope. Like in Part 4, I would get three pellets in a good group, then two fliers. That happened with either sight. It didn't happen with every pellet I tried, but it happened often enough that I knew the rifle is accurate. I shot a total of 95 pellets on the second day of 25-yard testing before finding the secret.
The secret
At the end of a multi-hour session I suddenly remembered the most hold-sensitive spring-piston air rifle I ever tested. It was a Beeman Crow Magnum, which is another name for a Theoben Eliminator. When I wrote my newsletter I could not get that rifle to shoot! I changed barrels from .25 caliber to .20 caliber because many people advised me that was the way to go. I even had Ben Taylor — the Ben in Theoben — talk me through cleaning the barrel at the SHOT Show years ago! Nothing could make that pellet-shooting jackhammer work — until I found out what could. It is the most fundamental level of the artillery hold. I describe it in my videos but I seldom do it because it takes so much concentration.
Relax!
Relax — that is the big secret! Get into your hold, put the crosshairs in the center of the bull, then close your eyes and relax. Relax completely! Open your eyes, and, if the crosshairs are still within a half-inch of where you want to shoot, line them back up and take the shot. If they aren't, adjust your hold and body until they stay there. This procedure guarantees that when the rifle recoils it won't go in some direction that your body is spring-loaded to send it. It will always recoil the exact same way every time.
If the crosshairs move when you relax, try shifting your elbows, your feet and even the position of your hand on the rest. Don't stop until those crosshairs stay where you want them when you relax. I did this for shots 91 to 95 with JSB Exact RS pellets and look what happened! Five pellets landed in 0.957-inches at 25 yards. I know that isn't as tight as we would like to see, but I had been shooting for several hours to get to this point!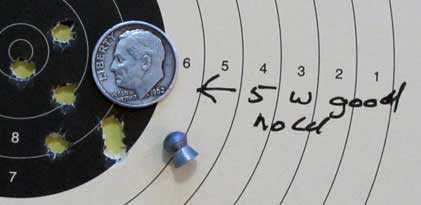 The last group of a long shooting session netted me this. Five shots are in 0.957-inches at 25 yards. There are 6 shots on this target, but the lower left hole is from a sight-in. It doesn't belong to this group.
By this time in the day I was very tired. Rather than shoot another group, I adjusted the scope two clicks up and two clicks to the left and put the rifle away. The next morning I would be rested and ready to do my best.
The next day
And I did great! The first two shots went where they had gone before from scope stiction (the crosshairs don't move when the adjustments are made, but after one or two shots they are jarred loose and suddenly shift to the new location). The first group I shot was 5 JSB Exact RS pellets in 0.547-inches at 25 yards. I relaxed for each shot and really concentrated on doing my best. It paid off. The S4000E rifle is accurate — just like I thought.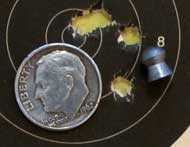 At 25 yards the S4000E put 5 JSB Exact RS pellets in 0.547-inches when I did my part.
Other pellets
I then tried to shoot two different pellets and missed the target paper completely with four shots. I started to adjust the scope for the second pellet when it dawned on me — what was I doing? I already knew a pellet that was accurate. Let's see how accurate it is.
10 shots
This time I wanted to shoot 10 shots, to show that the 5-shot groups from the day before and this morning were not flukes. I adjusted the scope back to the previous setting, or as close as I could get and opened the JSB Exact RS tin again. I shot the same way as before — relaxing before each shot. After 5 shots I could see that it was still good, so I went downrange and photographed the group just in case I blew it with the final 5 shots. I didn't measure this group, and when I enlarger the picture I saw that it is horribly out of focus. But it's proof for what I'm going to show you next.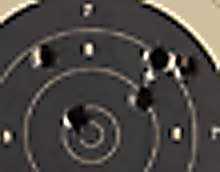 The first 5 shots of a 10-shot group. Sorry for the blur.
This group was not as small as the previous 5-shot group. It was more like the group from the previous day, but somewhat larger. I was still relaxing for every shot.
On the next 5 shots, though, something remarkable happened. I could feel in my off hand when the shot was ready to go. The rifle felt dead-calm in my hand and I knew the pellet was going to the right place. As a result, the final 5 shots did not change the size of the group. Ten shots went into 1.134-inches. But look at the group. Seven of the 10 shots are in 0.725-inches.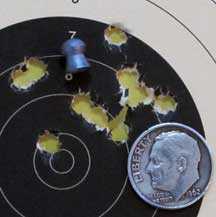 The final 5 shots did not enlarge the group. It measures 1.134-inches between centers.
Discussion
Gentlemen — the final 5 shots in this group are tighter because I am starting to learn how to shoot this rifle. That's what happens when you have an accurate air rifle that requires a knack to shoot well. Once you learn the knack, you get consistently better.
Is the JSB RS pellet the only pellet that does well in the S4000-E? I doubt it. But each pellet goes to such a different place on the target that the scope has to be adjusted for every one. I learned that in Part 3, which you'll see if you go back and read it again.
I did all this with a 4-power scope and I would also like to say that the scope that comes with the S4000E is extremely bright and clear at 25 yards. You will be able to use it as long as you wish. I could even see the .22 caliber pellet holes inside the black bull at 25 yards through this scope.
Is this a world-beater?
Is the Stoeger S4000E a world-beater bargain. Absolutely! Or, it's not. You be the judge. If you want to become a better shot, this is the best value on the market today. But if you don't like trying hard to do your best, better go with a precharged gun. I'm telling you right now, $150 buys a heck of a lot of airgun!
Summary
I have now tested the Stoeger S4000E as thoroughly as I can and I find it to be a great value. It's powerful, accurate, has a smooth firing cycle and is easy to cock. But it's a rifle you have to devote yourself to. It's a rifle you have to get used to and be willing to learn how it works. I did that for you in the five parts of this report because I believe this is a rifle worth spending the time to learn. I was as transparent as I could be and showed you all my mistakes as I learned the rifle. Hopfully they will help those of you who decide to take the plunge and get one.
My thanks to Benelli USA for providing this rifle for the test. I hope they got as much out of these reports as you did.