by Tom Gaylord
Writing as B.B. Pelletier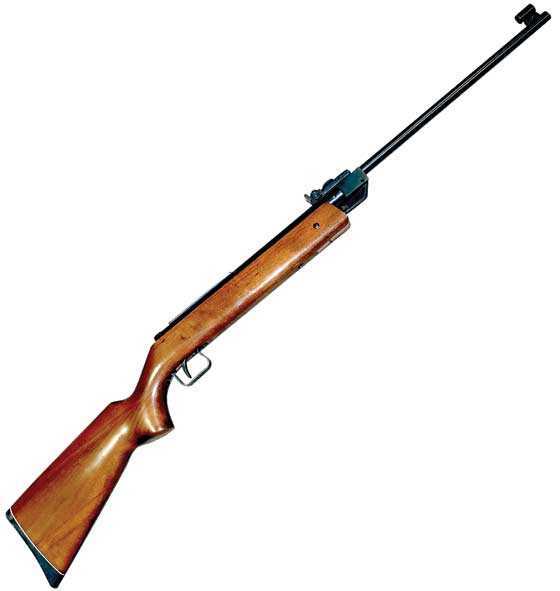 Diana 27S.
This report covers:
SHOT Show
Odd-sized breech seal
Grainger
Velocity with Air Arms Falcon pellets
Fooled around
WHAT!!!?
On with the test — JSB Exact Heavy
Chronograph error
Cocking
27S
Cocking behavior
Firing behavior
RWS Hobby
Summary
SHOT Show
I'm at the SHOT Show today. Today is Media Day At The Range, so I'm looking at all the new airguns that are on the range in Boulder City. Yesterday I went to Sig Range Day, so tomorrow I will have a report on both events. The show opens on Tuesday, so the Wednesday blog will be my first report from there.
Today we look at the velocity of the Diana 27S we are testing. If you recall, in Part 2 the breech seal failed and I couldn't test the rifle. I replaced the seal with a temporary leather one and the velocity jumped from the mid-300s to the high 600s. I said then that it was the largest velocity increase I have ever seen from just replacing a breech seal. I expected a gain of 60-80 f.p.s. Several readers made similar comments.
Odd-sized breech seal
When I measured the old seal I expected to find numbers that were even, numbers that made sense! Instead I found the old seal's material diameter (the thickness of the ring) was 2.4mm. The inside diameter was 8.3mm and the outside diameter was 13.1mm. Okay, where is the camera — I'm on Candid Camera, right? I expected a ring with a thickness of 2.5mm, an ID of 8.5mm and an OD of 13mm. Who would make something common like an o-ring with such random and odd dimensions? The ring wasn't designed for Diana. Diana selected the ring from what was available and designed their airguns to fit.
Apparently, though, someone did design a ring like this because when I went to Grainger looking for one, there it was — 2.4mm by 8.3mm by 13.1mm! The reason I was so skeptical is because when it comes to measuring things I'm a cut-three-times-measure-once-and-then-hire-somebody-else-to-do-the-job kinda guy. But, listening to all of you guys with skills, I figured I could at least give it a go — might provide some fodder for a funny blog!
Grainger
So I placed an order with Grainger for 25 o-rings. I have about 6-8 Dianas that need these seals, and the way I love these guns more can come at any time. The rings arrived last week, and, with considerable trepidation, I installed one in the 27S. Then I set up the chronograph and fired the first tentative shot.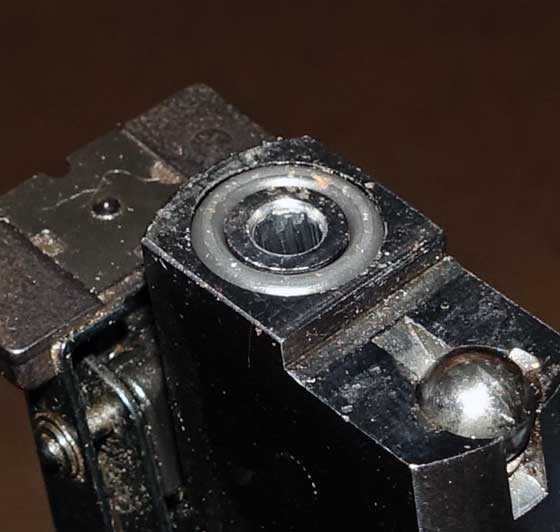 The new o-ring/breech seal from Gainger fit perfectly.
Velocity with Air Arms Falcon pellets
Okay guys, we will start the velocity test with the Air Arms Falcon dome pellet. Ten Falcons averaged 689 f.p.s., for an average muzzle energy of 7.73 foot-pounds. Remember — the magic number of 671 f.p.s. is the velocity at which the energy of the pellet in foot-pounds is equal to the pellet's weight in grains.
The spread ranged from a low of 672 to a high of 710 f.p.s. That's 38 f.p.s., which is high.
Fooled around
After that I shot some more Falcons and got a string of three that measured 320, 309 and 310 f.p.s. — WHAT!!!?
WHAT!!!?
Right after installing the new breech seal and shooting the gun at velocities in the 690s, I suddenly got one at 374 f.p.s. And that is when it hit me. The new breech seal DOES NOT add 300 f.p.s. to the velocity of the rifle! I had shot through the chronograph in such a way that the first skyscreen was triggered at the wrong time. I know that because I can now do it anytime I want.
It isn't common but I have seen this phenomenon before. If the muzzle of the gun is too close to the first skyscreen (with Shooting Chrony chronographs) you will get a reading like this. In the case of this Diana 27S I also have to point the barrel slightly downward by a few inches at 3 feet to make it happen every time. That is what happened in the last test, but I didn't catch it until today. It was just the way I was sitting that made it happen. Apparently the Diana 27S is just long enough to put the muzzle in the exact right spot for this to happen.
So — chronograph users beware. And everybody — a new breech seal should not increase velocity by 300 f.p.s. unless there was no seal to begin with!
On with the test — JSB Exact Heavy
Next up is the JSB Exact Heavy pellet. At 10.34-grains this dome is on the heavy side for a rifle of this power but I have seen excellent results from such pellets in weaker airguns in the past. Ten JSB Heavys averaged 555 f.p.s. from the 27S. The spread went from 552 to 560 f.p.s., so a difference of just 8 f.p.s. At the average velocity this pellet generates 7.07 foot-pounds at the muzzle.
Chronograph error
I got two "Error 2" messages on this string. That message means that skyscreen 2 isn't seeing the pellet. This is something I am familiar with. Unless the pellet missed passing over the skyscreen it means something has fallen onto the widow above the screen's sensor. As close as I shoot I knew I wasn't missing the screen, so it had to be an obstruction. When I looked I saw exactly what it was and was able to clean the screen and get going again.


I shoot with the chrono so close to the pellet trap that stuff sometimes falls on skyscreen 2. There is a smashed lead pellet on the left and a large piece of paper on the right. Remove all the stuff and wipe the screen window with a cotton swab and you're back in business!
Cocking
I reported in Part 2 that the 27S cocks with 24 lbs. of effort. That's more than I expect from a Diana 27, but this isn't a 27 — it's a 27S.
27S
The Brits call the 27S the 27 Super, and apparently it was sold to them under that name. They also know of a 35 Super model that I never heard of. Well, looking at both the cocking effort and just the velocities we have seen thus far I think the 27S is more like the Diana 35 than it is like the Diana 27. In fact, the Diana 35 that I tested and tuned last year shoots at lower velocities than this one.
Cocking behavior
The 27S cocks with a slight scraping noise that is common to rifles that have two-piece articulated cocking links. The solution is lubrication, which I will apply when I go inside.
Firing behavior
This rifle shoots with a jolt and a lot of buzz that isn't common for the other vintage Dianas I have experienced. I will have a look around inside for what can be done and also to see what that anti-beartrap mechanism looks like. But while I'm inside I will lube the rifle with Tune in a Tube in both the mainspring and ball bearing trigger areas. In fact, I am curious to see whether the ball bearing trigger in the 27S looks like the one in a 27 or the one in the 35 that has a few additional parts.
RWS Hobby
This is the last pellet to be tested. RWS Hobby was the speed demon of its day, which was contemporary with the vintage Diana line we have examined. I have found in recent tests that Falcon pellets, though slightly heavier, are often faster, but we shall see.
Ten Hobbys averaged 660 f.p.s., so true to form they are a little slower than Falcons. However, the Diana 35 that I tuned last year averaged 601 f.p.s. with a 26 f.p.s. velocity spread with Hobbys. Today the 27S low was 650 and the high was 671 f.p.s., so the spread was 31 f.p.s. At the average velocity the Hobby generates 6.77 foot pounds.
Summary
That's it for this report. The new breech seal tells us what we need to know about this rifle — it's in good condition and probably shooting like it did when new.
I would also like to add that today was a big learning day. We learned or were reminded about some quirks of chronographs that I hope will help some of you.
The next report will be a disassembly and examination of the insides of the 27S. And, if it cooperates, I will give it a lube tune and button it back up for another velocity and firing behavior report to follow. So, stay tuned!