by Tom Gaylord
Writing as B.B. Pelletier
This report covers:
Scoped
Hornady Black Diamond BBs
Avanti Precision Ground Shot
Discussion
Umarex Precision Steel BBs
Results
I said I would come back to the Brice scope base for the Daisy Red Ryder BB gun, and today is the day. As you may recall from Part 4, the spacer under the rear of the base I am testing is too tall for the gun and it makes the gun shoot too high. I trimmed about a third off the height for today's test.
Scoped
I also mounted a vintage Leapers Accushot 3-12X44 SWAT mil dot scope that looks like the scope I linked to, except it doesn't have the etched reticle or illumination.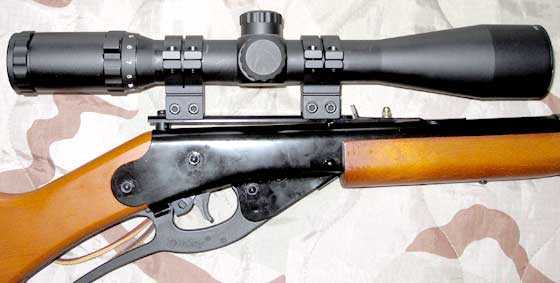 This Leapers scope is an oldie, but it still works great. Looks big on the Red Ryder, doesn't it?
The gun still shot high, but I was able to use the mil dots in the scope's reticle to hold under and get a good point of aim. I also understand that the Brice bases that are being sold now have much lower spacers, so you shouldn't have this problem.
I shot from 5 meters, seated and using a UTG Monopod rest to steady the gun. I was able to shoot right-handed today, which made this test go easier.
Hornady Black Diamond BBs
First to be tested were 10 Hornady Black Diamond BBs. They were the most accurate in the last test and I thought they would be a good place to start.
In Part 4 with a red dot sight, 10 Hornady BBs went into 1.867-inches at 5 meters. Today, 10 went into 1.272-inches. That looks significantly better and I will say that the scope did make it easier to see the target and to hold more precisely.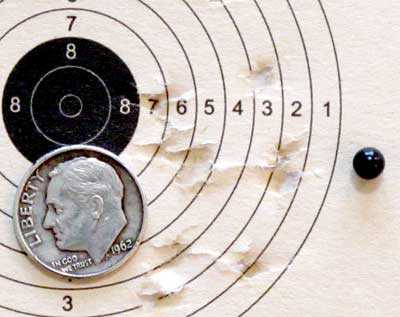 Ten Hornady Black Diamond BBs went into 1.272-inches at 5 meters.
Avanti Precision Ground Shot
For the second BB I loaded 10 Avanti Precision Ground Shot. I secretly hoped they would do surprisingly well. Nine of them did — going into a group that measures 0.991-inches between centers. But that last shot, which came in the middle of the string, opened the group to 1.768-inches. I'd like to say it was a pulled shot, but I can't. I did have one pulled shot that I called, but not in these 10.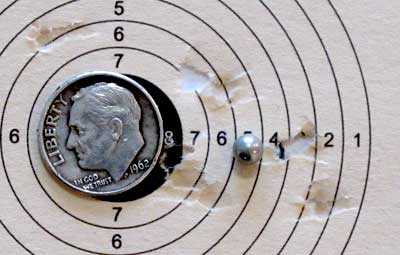 Ten Avanti Precision Ground Shot went into 1.768-inches at 5 meters. Nine of them went into 0.991-inches.
Discussion
From the results of these first two targets I am seeing that the Brice scope base and a good scope really do help the Daisy Red Ryder shoot more accurately. But I wished it was better. And, then it was!
Umarex Precision Steel BBs
Sometimes you luck into the right ammunition by accident. That's why we try so many different rounds when testing for accuracy. Apparently this Red Ryder loves the Umarex Precision Steel BBs, because it put 10 of them into 1.327-inches at 5 meters. Nine are in 0.925-inches and 8 are in 0.61-inches! This is the BB for this gun.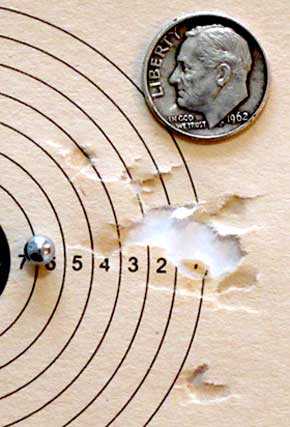 Here we go! Ten in 1.327-inches, 9 in 0.925-inches and 8 in 0.61-inches at 5 meters.
Results
What this demonstrates is the modern Red Ryder can be reasonably accurate. It's hard to hold such a light gun steady, and the overly heavy trigger doesn't help matters, but the Brice scope base does bring out the accuracy potential. It's no Daisy 499, but we never expected it to be. This one is shooting better than I thought they ever could, thanks to the Brice base.
I will do one more report on the Daisy Red Ryder. That one will be a velocity test of this new gun. I tested the velocity of my vintage model 111-40 in Part 2 of this report, but switched to the current Red Ryder when I discovered the Brice base will not fit a vintage gun. So I will close the loop by testing the velocity of the current gun and comparing it to the vintage gun. It should be interesting.