by Tom Gaylord
Writing as B.B. Pelletier
Part 1
Part 2
Part 3
Part 4
Part 5
Part 1 of this series

This report covers:
Edge production
Edge valve
Edge owners
The test
Test strategy
H&N Finale Match Light
RWS R10 Match Pistol
Sig Match Ballistic Alloy
RWS Basic
How fast is the regulator?
Shot count
Discussion
Trigger pull
Discharge sound
Summary
Today I will be shooting the AirForce Edge as a 10 meter target rifle for the first time since 2010. And this one is my own rifle! I have a lot to tell you.
Edge production
When the Texan took off in sales recently,  AirForce struggled to meet the worldwide demand and Edge production was set to the side. When you have solid orders for a thousand guns you have to address that before making 25 of another model.
That time gave AirForce a chance to think. The Edge has not been a high volume seller for them — partly because once a team or individual owns one it lasts forever and the demand goes away. And also partly because of the cost. A buyer has to be serious to spend the kind of money that an Edge sells for. Ironically the Texan that is outselling it costs even more, but those sales are too hot to ignore. Big bore airguns are the hot ticket everywhere and ever since the Texan came out this year in .50 caliber at 800+ foot-pounds they can't make them fast enough.
But those Edge orders had to be filled, regardless of how many there are! So AirForce manufactured all the parts and had them finished, getting ready for a production run. Then they set aside a solid week for assembly and testing, because the Edge has several things that have to be hand-set as it is completed. This was happening just as I was getting ready to write this new series, so I started paying attention to what AirForce was doing.
In 2010 the big concern for the Edge was the shot count, so the Edges were adjusted to shoot 7-grain pellets at around 500 f.p.s. That gave them well over 100 shots per fill. A men's match is 60 shots and a woman's match is 40 shots. The Edge was designed so the shooter could go to the line with a single tank and have enough air for all the sighters, plus a full match.
But in reality, Junior Marksmanship matches aren't run that way. After the sighters, shooters are allow to top off their airguns with air. So the need for 100 continuous shots on a fill isn't there. Crosman also recognized this and makes their Challenger PCP get about 70 shots per fill at 530 f.p.s with a 7.9-grain pellet.
The new Edges that were just built were therefore set up to shoot medium-weight target pellets at velocities in the 525 to 540 f.p.s. region. Achieving that is a combination of adjusting the valve return spring strength, the air regulator and the length of the valve stem travel — which has to do with the top hat. Let me show you.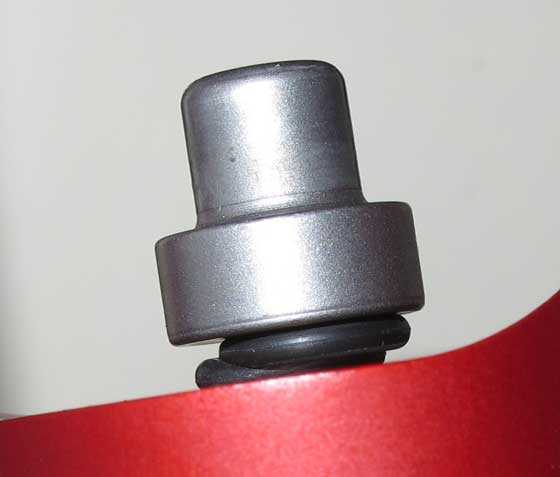 The new Edge top hat has two small o-rings underneath to cushion the hammer blow. This limits the opening (stem travel) of the valve.
Edge valve
The photo above shows the Edge valve as it is now being shipped. Years ago there may have been just a single o-ring under the top hat, but there have been two for many years. The point is — the distance that the top hat, which is the end of the valve stem, can travel determines how long the valve remains open and the amount of air that can pass through to get behind the pellet. This is one part of how the Edge controls the air it uses for each shot.
Ton Jones worked on my Edge valve and regulator setup. He asked me what sort of velocity I wanted. I knew he was testing with 7.33-grain JSB Exact RS pellets, so I told him 550 f.p.s. would be a good velocity. Naturally with other pellets that velocity will change, and, since I don't yet know what target pellet this Edge likes best, my number was just a guess. But Ton gave me the chance to choose.
To get the highest practical velocity from an Edge valve, adjust the top hat out until the bolt just makes contact with it as it closes. There are two small Allen screws on the periphery of the top hat that snug it to the valve stem. Loosen both of them to make adjustments. Screw the top hat in or out to make it lower or higher.
I thought I would only get about 45-60 full-power shots at 550 f.p.s., but Ton thought the number would be 80 or even 90 per fill. I will test that for you in this report.
Edge owners
If you own an Edge that you would like to speed up a little, this is how it's done. Make very small adjustments in the top hat because the Edge valve is very sensitive.
The test
Let's get the test started. I used RWS Basic pellets for the baseline, because I don't want to waste the more expensive target pellets. Basics weigh 7 grains and provide a good baseline for the Edge.
I filled the reservoir to exactly 3,000 psi and started shooting. The first string of 11 shots was not a string to get the average velocity. It was a test to see whether the seating depth makes any difference to the velocity. The first three shots were loaded with the pellet skirt flush with the rear of the barrel (it's as flush as I could get it — the picture does show that it's inside the barrel a little). The second three shots were pressed into the breech as deep as they would go with my thumb, so they are a little deeper in the breech. The last three shots were pushed into the breech to a depth of about 1/8-inch, using a ballpoint pen, so the depth was always the same.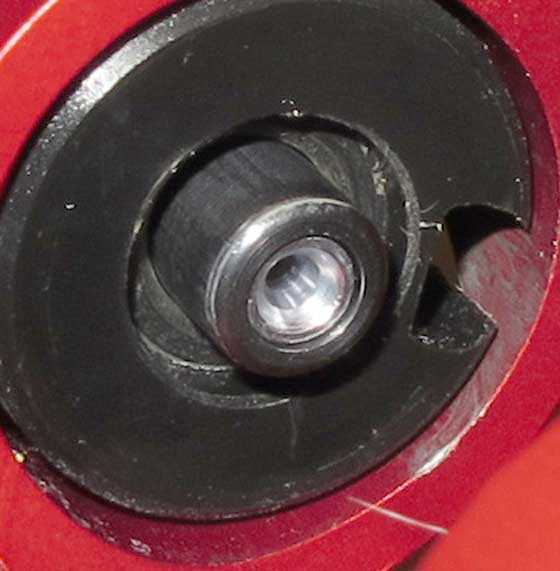 This RWS Basic pellet was pushed in flush with the end of the barrel.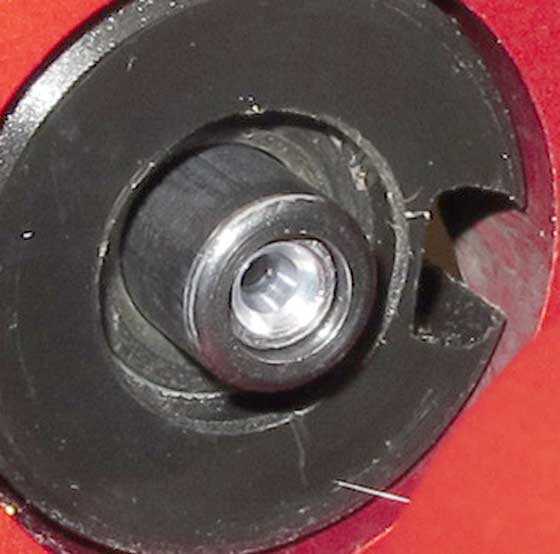 This pellet was pressed in as deep as my thumb would push it.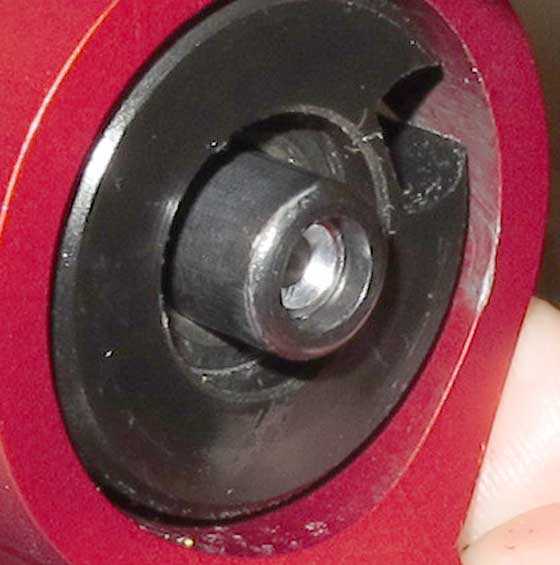 This pellet has been pushed deeper into the breech — about 1/8-inches deep.
Shot…………Vel.
1…………….543 flush
2…………….529 flush
3…………….531 flush
4…………….539 thumb deep
5…………….534 thumb deep
6…………….532 thumb deep
7…………….538 1/8″ deep
8…………….536 1/8″ deep
9…………….542 1/8″ deep
From what I see here, the depth to which the pellets are seated doesn't affect the velocity that much. I needed to take the pictures shown above of the pellets' seated depth, so two more shots were fired. From this point on in today's testing, all pellets will be seated thumb deep, which is the middle picture above.
10…………….535 thumb deep
11…………….530 thumb deep
This first string gives us a baseline velocity to compare to later on. Now I will test other pellets — all seated thumb deep.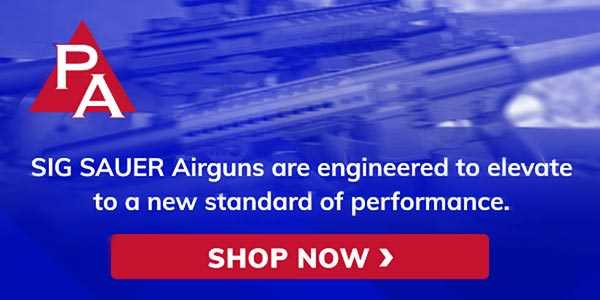 Test strategy
Before I get into the velocity tests, let me tell you how this test worked. I waited for 60 seconds between each shot. The Edge has a regulator and that amount of time should allow it to fully refill the firing chamber that is mostly inside the body of the valve. But also, in a match a shooter has from 72 seconds to 90 seconds between each shot, depending on the type of match. Given all the things the shooter has to do, it takes about 30 seconds between each shot to get ready for the next one, so the 72-90 seconds they have allows for those times when the shot isn't taken and they have to restart. Waiting 60 seconds between shots is very realistic. But don't worry — I will test the speed of the regulator later. Now, let's get started.
H&N Finale Match Light
Ten H&N Finale Match Light pellets that weigh 7.87-grains averaged 532 f.p.s. The low was 527 and the high was 535, so a spread of 8 f.p.s. At the average velocity this pellet generates 4.95 foot-pounds of energy at the muzzle.
RWS R10 Match Pistol
Next to be tested was the 7-grain RWS R10 Match Pistol wadcutter. Ten of them averaged 562 f.p.s. with a spread from 558 to 569 f.p.s. That's a difference of 11 f.p.s. At the average velocity this pellet generates 4.91 foot-pounds of energy.
Sig Match Ballistic Alloy
Sig Match Ballistic Alloy wadcutters are pure tin, and weigh just 5.25 grains. We expect them to go faster and they do. They averaged 640 f.p.s. in the Edge. The spread was 8 f.p.s., from 637 to 645 f.p.s. At that average they produced 4.78 foot-pounds.
RWS Basic
I started this test with 11 shots of RWS Basic pellets. I didn't take an average from that string because I was doing different things that could have affected the velocity. After the fact we know that those things did not seem to affect the velocity, but I waited instead for this opportunity to take the average.
At this point I shot a 10-shot string of Basics for the average and got 545 f.p.s. As you can see, that's higher than any of the first 11 shots. The spread was 12 f.p.s. from 539 to 551 f.p.s. At that velocity the Basic pellet generates 4.62 foot-pounds of energy. But I did a lot more with this string than just get the average.
Is the regulator slow?
Remember in the beginning I said I would test the regulator at some point to see if it takes a long time to fill the firing chamber? This string was where I did that. I shot the first 5 shots waiting a minute between each, and then five more shots that were fired as fast as I could go. Now let's look at the string that produced those numbers I just gave you. And remember — there are already 41 shots on this fill. I'm seating each pellet thumb deep.
Shot…………Vel.
1…………….539
2…………….541
3…………….550
4…………….548
5…………….543
now, shoot as fast as possible
6…………….543
7…………….551
8…………….542
9…………….550
10……………545
That answers the regulator question. This reg fills fast. It took me about 10 seconds between each shot on the second 5 shots because I was writing down the velocity, opening the bolt, loading a pellet, closing the bolt and aligning the barrel with the chronograph skyscreens. I can load and shoot this Edge as fast as I want to.
Shot count
Okay, here comes the rest of the test. For all that follows I shot the RWS Basic pellet and did not wait any special time between shots. They were about 10 seconds apart. All pellets were seated thumb deep.
Shot……….Vel.
52…………548
53…………548
54…………545
55…………545
56…………551
57…………559
58…………553
59…………545
60…………551
61…………547
62…………554
63…………563
64…………544
65…………555
66…………548
67…………559
68…………562
69…………548
70…………561
71…………550
72…………559
73…………547
74…………559
75…………553
76…………552
77…………549
78…………548
79…………552
80…………552
81…………554
82…………556
83…………547
84…………552
85…………555
86…………554
87…………557
88…………586 Oh, oh! We're off the reg.
89…………577
90…………581
91…………577
92…………573
93…………560
94…………557
95…………557
96…………546
97…………543
98…………534
99…………538
100………..529
101………..516
Discussion
Given the velocity we are seeing, I think this is a lot of shots! I expected 45-60 good shots at this velocity. So, how should we interpret this string? There are several ways to go.
If we take the first 100 shots then Basic pellets shot from a low of 529 f.p.s. on the second shot to a high of 586 f.p.s. on shot 86. That is a difference of 57 f.p.s. I am not comfortable with such a large spread for shooting at targets. If I were just plinking then it would be a different story.
If I stopped shooting at shot 80 then the high for the string is 563 f.p.s on shot 63, and the difference between low and high drops to 34 f.p.s. As a target shooter I would feel more comfortable with that amount of difference. But that's not all.
On the first string of 11 shots Basic pellets varied by 14 f.p.s. On the string I actually tested, which was shots 42 to 51, they varied by 12 f.p.s. But H&N Finale Match Light varied by only 8 f.p.s. and Sig Match Ballistic Alloy pellets varied by the same 8 f.p.s. What I'm saying is the target pellet we select might vary by less than the RWS Basic pellet. There is a lot more to figure out, but right now it appears there are no fewer than 80 consistent shots at a considerably higher velocity than I was expecting. So — yes, the regulator does smooth things out, and, yes, it also does fill so fast that we need not worry about it. As this new valve and reg break in, they will only get better.
At the end of the test there was 800 psi remaining in the reservoir. So the rifle gave me 101 shots on 2200 psi. The regulator probably turned off around 1400 psi or so. That's just a guess, based on the faster velocity at the end until the air ran out.
Trigger pull
I have already reported the trigger pull twice in this series. Stage one that many shooters will not even feel is 0.7 ounces and stage two breaks crisply at exactly one pound. The NRA minimum trigger pull for what they call the Sporter Class, which is what the Junior Marksmen shoot, is 1.5 pounds. But as I said, this trigger is too nice to change.
Discharge sound
Surprisingly the Edge is somewhat loud! I rate it a 3.5-3.6 on the Pyramyd Air 5-point scale. I felt it was too loud for me when I knew I had a perfectly good silencer to install. So I installed it and the rifle became incredibly quiet — perhaps a 0.8 on the same scale.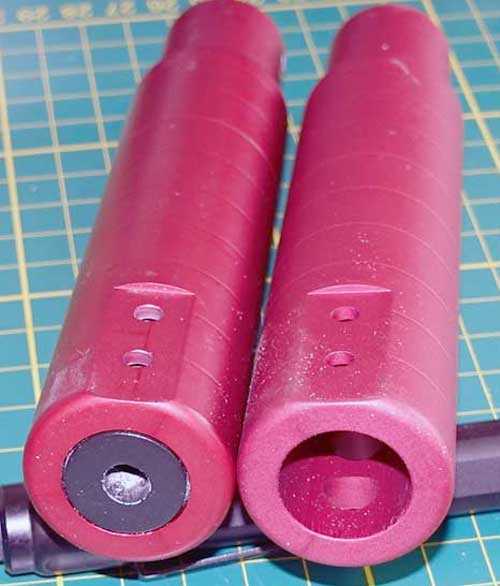 The silencer quiets the rifle considerably!
But what does the silencer do to accuracy? I intend finding out, which will expand the accuracy test a little.
Summary
We are off to a good start with this Edge. I hope there are more pleasant surprises awaiting us!