by Tom Gaylord
Writing as B.B. Pelletier
Part 1
Part 2
Part 3
Part 4
Part 5
AirForce Edge 10-meter target rifle: Part 1
AirForce Edge 10-meter target rifle: Part 2
AirForce Edge 10-meter target rifle: Part 3
AirForce Edge 10-meter target rifle: Part 4
A history of airguns/blog/a-history-of-airguns/
This report covers:
Up to speed
The test
Adjusting the sights
RWS R10 Pistol
Gamo Match
Sig Match Ballistic Alloy
H&N Finale Match Light
RWS Meisterkugeln Rifle
JSB Match S100 
Qiang Yuan Olympic
More testing to come
Summary
Today we conduct the first accuracy test for the AirForce Edge 10-meter target rifle. This is the first accuracy test of at least two, because of some things I will tell you in the report.
Up to speed
As a reminder this rifle came to me highly modified and shooting with twice the power of a standard Edge. I tested it thoroughly in that configuration, then I converted it back to the factory Edge specification. The links to all those reports are at the top of the page in case you want to catch up.
I had to adjust the top hat to give a reasonable number of good shots, and all of that was covered in Parts 3 and 4 of the report on the target rifle. I got the rifle to deliver 69 good shots while the regulator was still functioning and the total velocity spread for the 7-grain baseline pellet was 25 f.p.s. over all those shots. That is how the rifle is tuned for today's test.
The test
Today I shot 5 shots per target with each pellet from a rest at 10 meters. I shot with the aftermarket silencer installed, and that is something I will need to remove for the next test. Then we will see whether a silencer can be used, for the Edge is not a quiet air rifle without it — maybe a 3.7 or 3.8 on the 5-point Pyramyd Air scale.
Adjusting the sights
Before I start testing accuracy I want to show you how I adjusted the rear peep sight during sight-in. Remember — this rifle was pushing close to 12 foot-pounds in its last tune, so I didn't expect the sights to be anywhere near where they should be. And they weren't
The Edge peep sight is made just as fine as any German or Austrian world-class target sight, yet it sells for a small fraction of what they cost. And it has something no other world-class target sight has — a second elevation adjustment for gross changes. I needed them when sighting in the new target Edge. Not only does the sight have conventional fine click detents for precision adjustment — it also is mounted on a post that allows the shooter to move the entire sight unit into the correct range for every application. This is a 10-meter sight you can mount on almost any air rifle and get it to work!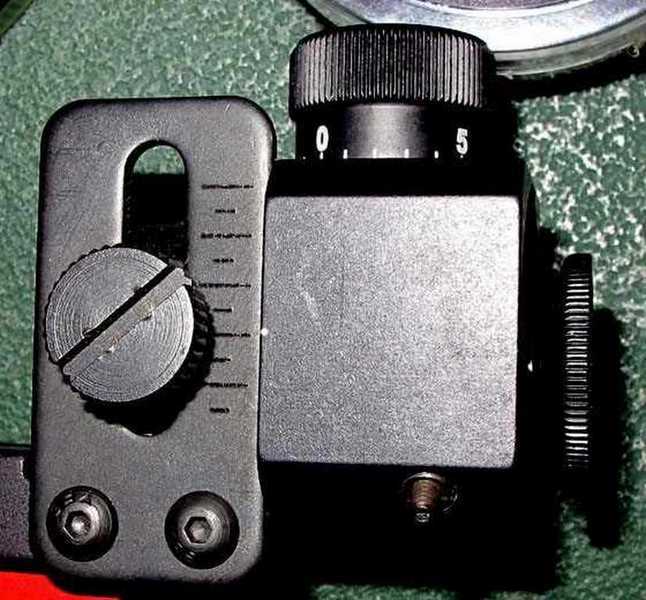 As it was set up, the Edge rear sight was adjusted too high for the target rifle. Note the white dot in reference to the scale on the post.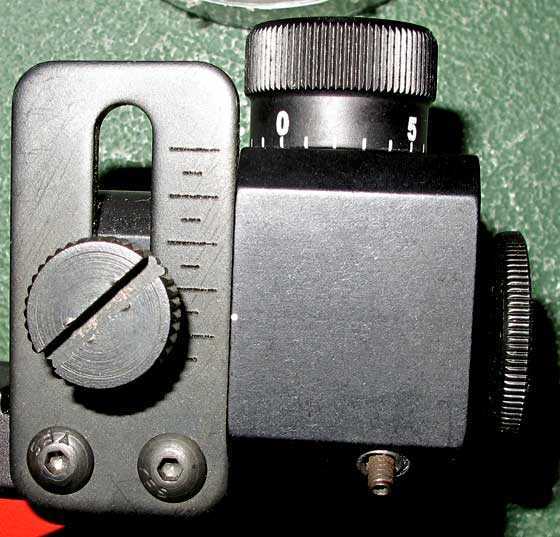 Dropping the sight down one index line proved too much.
When I tried to sight in the first time with RWS R10 pistol pellets I discovered the rear sight was set too high. The internal click adjustments would not lower the pellet's impact far enough. I dropped the rear sight one index line down and tried again. Now the sight was too low.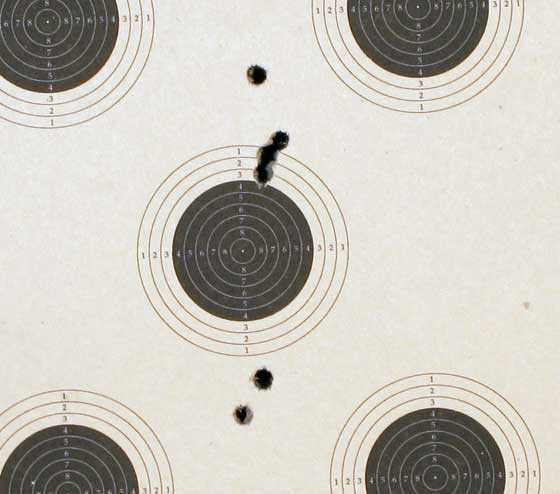 The first sight setting was too high and the click adjustments would not lower the pellet impact far enough. The second sight setting was too low and the reverse happened.
After the first adjustment it seemed to me that the rear sight needed to be almost as high on the post as at the start, but not quite.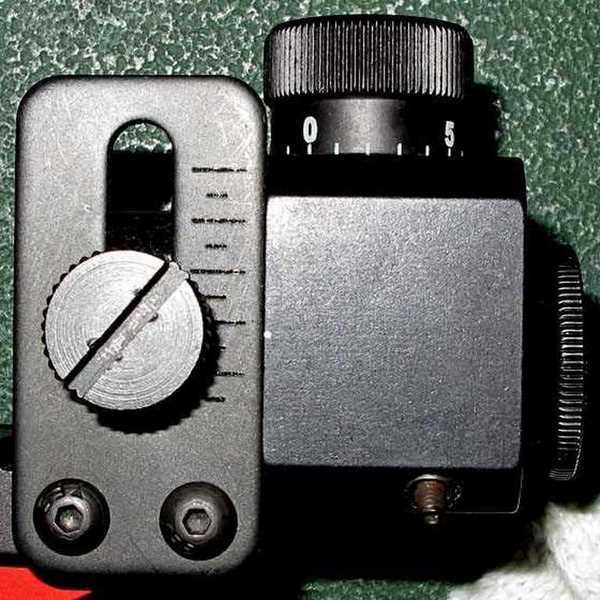 This is where I moved the rear sight.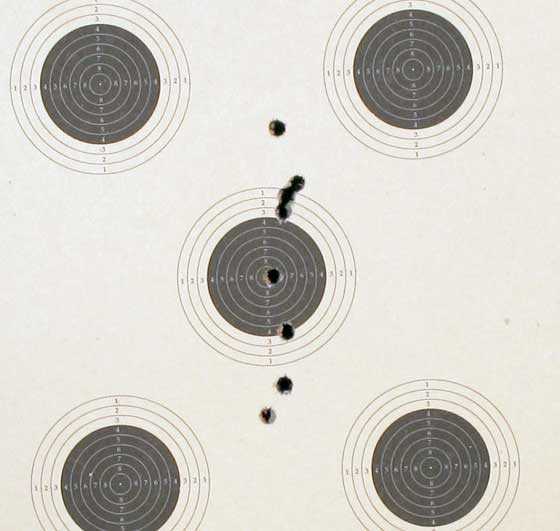 And this is where the pellet hit. Sight-in is over! I don't remember when that additional shot was fired — the one that's below this one and in the bull.
RWS R10 Pistol
Since I sighted in with R10 Pistol pellets, I also shot the first group with them. Five went into 0.25-inches at 10 meters. That's not bad, but it's large for a 10-meter rifle.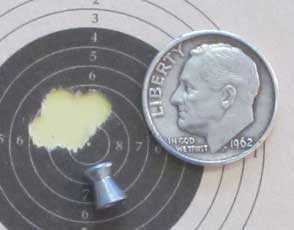 Five R10 Pistol pellets went into a 0.25-inch group at 10 meters.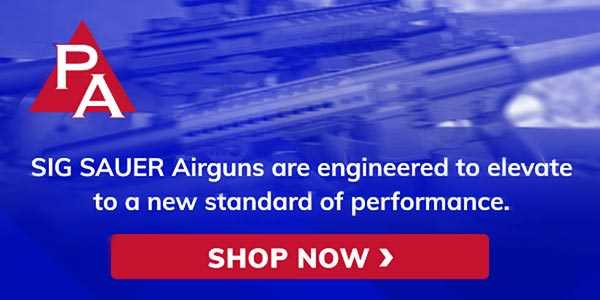 Gamo Match
Next up were five Gamo Match pellets. Remember how well they did in the Haenel 311? In the Edge, however, they did not do well at all. Five went into 0.824-inches at 10 meters. There were no called pulls.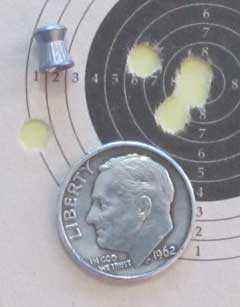 Five Gamo Match pellets made a 0.824-inch group at 10 meters. They are not right for the Edge!
Sig Match Ballistic Alloy
Sig Match Ballistic Alloy pellets were confusing. Four went into a tight .116-inch group and then the 5th one opened it to 0.311-inches. I didn't call a pulled shot, but I would bet that it was me rather than the rifle that opened this group. It means that I will probably give them another try in the next test.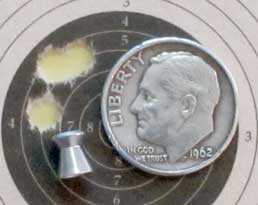 Five Sig Match pellets went into 0.311-inches.
H&N Finale Match Light
Five H&N Finale Match Light pellets made a 0.339-inch group at 10 meters. I think they are not the best for this rifle.

Five Finale Match Light pellets went into 0.339-inches at 10 meters. They aren't the best for the Edge.
Qiang Yuan Training
The Qiang Yuan Training pellet made the best 5-shot group of the test. This is a real 10-meter target rifle group! Five shots are grouped in 0.161-inches between centers.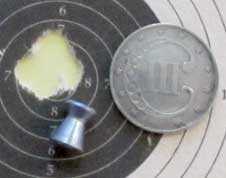 Five Qiang Yuan Training pellets made the best group of the test. It measures 0.161-inches between centers and earns the trime! Just a little better and it would get the gold dollar.
RWS Meisterkugeln Rifle
The next pellet I tested was the 8.2-grain RWS Meisterkugeln Rifle pellet. Five went into 0.223-inches at 10 meters. This will be a pellet I test again in the Edge.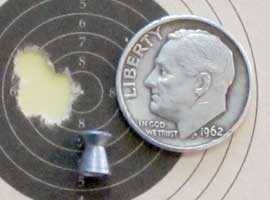 Five RWS Meisterkugeln Rifle pellets went into 0.223-inches at 10 meters. This is a pellet worth testing further.
JSB Match S100
Next I fired 5 JSB Match S100 target pellets. These come in varying head sizes, and the ones I shot are labeled 4.52mm. The group measures 0.326-inches between centers, which rules out this pellet for the Edge.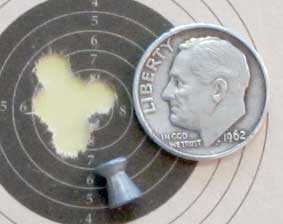 Five JSB Match S100 pellets made a 0.326-inch group at 10 meters. Not a pellet for the Edge.
Qiang Yuan Olympic
The last pellet I tested was the Qiang Yuan Olympic pellet. Five of them went into 0.218-inches between centers which makes them second best overall and puts them into the group of pellets I will shoot in the next test. I find it interesting that of all eight pellets tested, the two Qiang Yuan pellets ranked first and second in this rifle.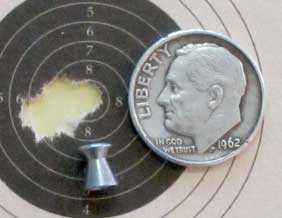 Five Qiang Yuan Olympic pellets went into 0.218-inches at 10 meters. This is another good pellet for the Edge, as it produced the second smallest group of this test.
More testing to come
Not only do I intend testing the Edge without the silencer, there is also another procedure that has recently shown some promise. Ton Jones found that when he deep-seated the pellets (1/8-inch into the barrel) their accuracy improved. I plan to try that when I shoot with the silencer removed, because that test will have a smaller selection of pellets to be tested.
Summary
I think we will see an increase in accuracy when the silencer is out of the gun. When I tested Edges in 2009 I saw groups as small as one-tenth inch at 10 meters. I hope to see that again.
And then when this test is finished I will start testing Crosman's Challenger PCP. That should be a straightforward three-part test because the Challenger doesn't have the same flexible design as the Edge. There are not so many things to test. But it is an accurate airgun and that test will be just as methodical.