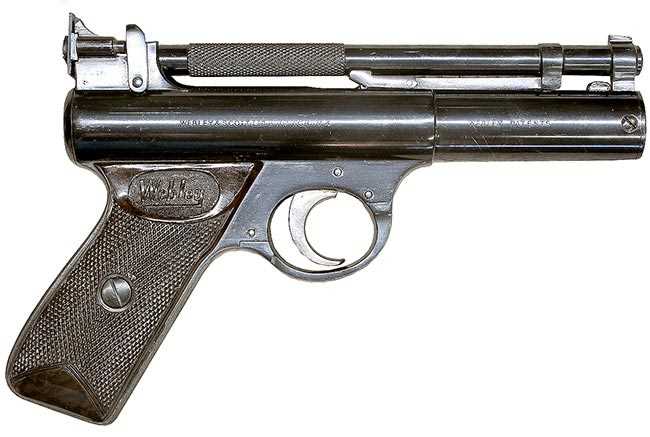 My new/old Webley Senior slant grip pellet pistol.
Part 1
Part 2
Part 3
Part 4
Part 5
This report covers
The test
Start from a place of success
Second group
H&N Baracuda 18
RWS Superdomes
Summary
Today I shoot the Webley Senior to see how accurate it is with other pellets. This has been a Cinderella series with the gun going from not shooting pellets out the barrel to spot on for power and great for accuracy — for a vintage Webley Senior. And it all came from just the replacement of the breech seal!
We aren't done with this pistol yet. Today I look at the accuracy with some different pellets but I also want to test the velocity one last time, now that the new breech seal has had a chance to seat in. That test won't come today, so we have at least one more report coming.
The test
All shooting today was from 10 meters. I discovered in Part 5 that, after tightening the front barrel link (thanks shootski), this vintage pistol can really shoot, with the right pellets.
Start from a place of success
In Part 5 I discovered that this pistol really likes H&N Baracuda 15 pellets. It was shooting them low and a little left in the last report, so the first thing I did was see if there was any possibility for sight adjustment. And there was! I started with the screwdriver on a Swiss Army knife to loosen the rear sight screw, but I soon switched to a token that fit the screw slot much better. I didn't want to bugger that slot more than it already has been.
There was rear sight leaf movement up and to the right, so I slid it that way and tightened the screw again. Now that the parts are assembled correctly (thanks hihihi) the sight leaf slides much smoother with no tilting as the screw is tightened.
Then I shot 5 Baracuda 15 pellets from a two-hand sandbag rest at a 10-meter pistol target. Five pellets made a group measuring 1.427-inches between centers. In Part 5 my best group with this pellet measured 0.951-inches, so this is definitely a good pellet for this pistol! Remember, these vintage Webleys are not really target pistols.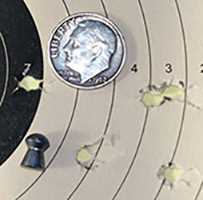 The first group of Baracuda 15s from the Webley Senior went into 1.427-inches at 10 meters.
The rear sight did move the pellets up but it also went too far to the right, so a second sight adjustment was made in an attempt to correct that.
Second group
The second group of Baracuda 15s measures 2.142-inches between centers, but shot five went up high. It wasn't a called pull but the other 4 shots are in 0.903-inches, which is exactly where this pistol wants to shoot with this pellet. So far so good. This group is lower on the bull, but it is well-centered and I will take it. From this point on I left the sights adjusted where they were.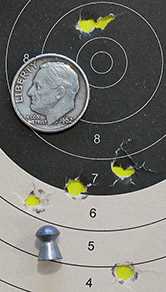 The second group of Baracuda 15s measures 2.142-inches between centers, but the first four shots are in 0.903-inches, which is in keeping with the accuracy of the Senior pistol.
H&N Baracuda 18
If Baracuda 15s are good I thought I would try Baracuda 18s. Wow — what a difference they made! Five of them made a group measuring 2.962-inches between centers at 10 meters. The group is open and has nothing to recommend it, other than the fact that it's centered on the bullseye, left and right.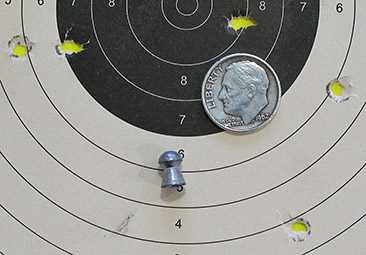 This group of Baracuda 18s measures 2.962-inches between centers. There is nothing good about it.
Isn't it interesting how the Baracuda 15s can be so good and the Baracuda 18s that seem so similar can be so different? But it seems so similar. I guess small differences really do make a big difference. This is why we test different pellets.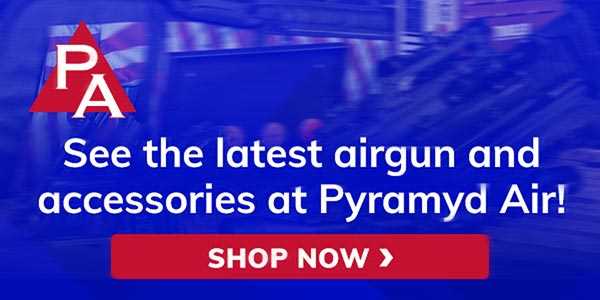 RWS Superdomes
The last pellet I tested was the RWS Superdome. It's the lightest pellet of the test, though I don't know how that would affect anything.
Five Superdomes went into a 2.163-inch group at 10 meters. It's not small, but it is nicely centered and good enough for plinking.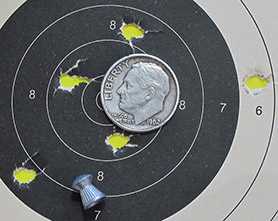 The Senior put five RWS Superdomes into a 2.163-inch group at 10 meters. It's not the best, but it is nicely centered and good enough for plinking.
Summary
Well, that's my test of the Senior for today. The accuracy is better than I had hoped from the start. At this point I have found one good pellet.
The next step will be to test the velocity again, now that the breech seal is broken in. I'm hoping to see a small increase. Stay tuned.