This report covers:
First things first
Open sights
The test
RWS Superpoints
The trigger
Air Arms Falcons
H&N Excite Econ II wadcutters
Crosman Premier Super Match
H&N Baracuda Match with 4.52mm head
Decision time
What happened?
Summary
Today we look at the accuracy of the Norica Titan breakbarrel air rifle. I wanted to test many pellets, plus give the best of them a better test, but, as you will see, things turned out differently.
First things first
Reader Yogi commented the following about the trigger in Part Two, "I assume at this price point it is a starter gun for pre-teens.How many 12 year olds can pull a 5 lbs trigger pull without pulling their shot? Great way to turn kids off of shooting!!!!!"
That was a comment to the Part Two report in which I wrote at the start,"The question we have is this — is the Titan a rifle for beginners? Is it for those just getting into airguns and perhaps even into the shooting sports, altogether? We aren't asking if it's a youth rifle, though that avenue will be explored as we proceed."
So, Yogi, I never considered the Titan to be a youth rifle. It's a beginning shooter's air rifle, for either those new to airguns or those new to shooting altogether. As heavy as it cocks, I think it's an adult airgun.
Open sights
The Titan comes with open sights that I have found to pretty much always be on as the guns come from the factory. Therefore there is no need to start a sight-in from 12 feet. I went straight to 10 meters and started there. I held the front bead at the base of the bullseye.
The test
I shot five-shot groups from 10 meters. That allowed me to test more pellets. I shot from a bench with the rifle resting on a sandbag, though I did use a modified artillery hold since the Titan is a recoiling rifle. The cocking slot of the forearm rested on my off hand. It's true I rested both the HW 30S and the HW 50S directly on the sandbag for a similar test, but they are quite a bit smoother than the Titan.
If one of the pellets showed promise I planned to shoot a ten-shot group with that one. One did show great promise, but when I started testing it for ten shots, things became interesting.
RWS Superpoints
The first pellet shot was the RWS Superpoint. They went below the bull into a five-shot group that measures 0.932-inches between centers. Three of the pellets are in the same hole that measures 0.15-inches, so I will watch that pellet.


The Norica Titan put five RWS Superpoints into 0.932-inches at 10 meters.
After this group I adjusted the rear sight up 7 clicks.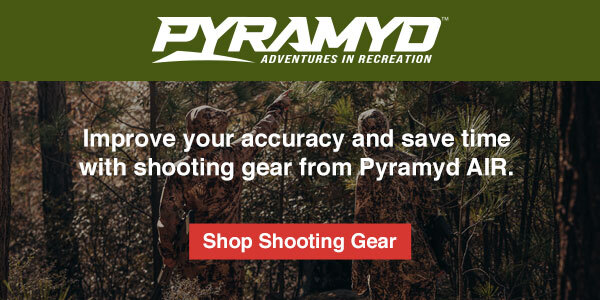 The trigger
The trigger still has the crunches I reported in Part 2. It does release crisply when it finally breaks. I will test both it and the cocking effort again, but not today.
Air Arms Falcons
The Titan put five Air Arms Falcons into a 0.66-inch group between centers at 10 meters. Four of them are in 0.429-inches. This is more like what I was hoping for.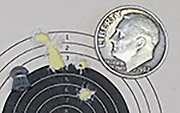 The Norica Titan put five Air Arms Falcon pellets into 0.66-inches between centers with four in 0.429-inches.
Following this group I adjusted the rear sight down three clicks.
H&N Excite Econ II wadcutters
The next pellet I tried was the H&N Excite Econ II wadcutter. Five of them went into 1.215-inches at 10 meters. Looking at this group I can say the Excite is not a pellet for this rifle.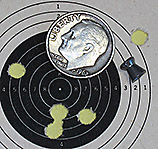 The Titan shot five Excite wadcutters into a 1.215-inch group at 10 meters.
Crosman Premier Competition
The next pellet I tested was the Crosman Premier Competition wadcutter. Five of them went into 0.926-inches between centers, with four in 0.337-inches. That shows some promise.

The Titan put five Crosman Premier wadcutters into 0.926-inches with four in 0.337-inches.
H&N Baracuda Match with 4.52mm head
The last pellet I tested was the H&N Baracuda Match with 4.52mm head. Five made a 0.637-inch group with four in 0.189-inches. Now, THAT is a group!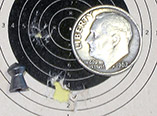 At ten meters the Titan put five Baracuda Match into 0.637-inches with four in 0.189-inches.
Decision time
I wanted to shoot one ten-shot group. Which pellet should I select? There seemed to be several choices but I selected the Baracudas. And this is where the test went wonky. The first shot missed the target paper altogether. Shot two did the same. At that point I stopped shooting this pellet, but I could tell that the flight time was a bit longer than it had been before.
I then selected the Falcon pellet and shot ten. Let me show you the group before I comment.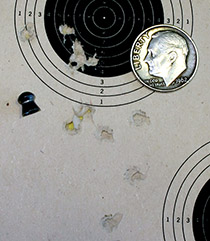 s
The Norica Titan put ten Air Arms Falcons into a 2.005-inch group at 10 meters.
What happened?
Notice that within this group there is a smaller group of four shots at the top. That group measures 0.674-inches between centers. That is very close to the 0.66-inch group of five this pellet shots when I first tested it (second group). Then the next six pellets dropped straight down the paper. That's the same order in which it happened. And the pellets sounded like they took longer to reach the target.
I examined the breech seal and it appears sound and even. I checked the stock screws and all were tight except for the forward triggerguard screw that was stripped from the factory.
Before I test accuracy again I want to re-test the velocity. I plan to shim the breech seal if the velocity has dropped off. And I will clean the barrel with JB Bore Paste before the next accuracy test.
Summary
The Norica Titan is testing about where I expected, though I didn't anticipate that last group. At this point I would say that it can be an okay airgun for a first timer, but that only holds if there is no problem with the velocity. More testing is needed.