Today Stephan Szlosze whose blog name is CptKlotz tells us about his new/old Diana 27. If you read the comments you know he recently received this. Let's sit back and let him tell us about it.
If you'd like to write a guest post for this blog, please email me at blogger@pyramydair.com.
Take it away, Stephan.
My Diana 27
by CptKlotz


My new/old Diana 27
This report covers:
The story so far…
The Diana 27
Apples and Oranges
Dimensions and appearance
Design and build quality
Trigger
Shot cycle
Sights
Accuracy
Conclusion
The story so far…
A while ago, I reviewed the Diana Twenty-One FBB which I thought was "just OK" and the Weihrauch HW30S which is more than twice the price but very close to perfection for my tastes.
I thought it was a shame that Diana didn't have a product like that. All the premium rifles with T06 triggers are pretty hefty magnum guns that produce at least 20 joule/15 foot pounds of energy.
It wasn't always like this, however…
The Diana 27
You might think the Weihrauch HW35 is a long-lived airgun and you wouldn't be wrong. It has been around since the 1950s. It has nothing on the Diana 27, however, which was introduced back in 1910 and made until 1986. The trigger systems, stocks and sights have changed from time to time, but the basic system looks very similar in all iterations.
The 27 is not only a classic, it also happens to be the favourite airgun of a certain Godfather. Later models also have a pretty interesting trigger mechanism that is supposed to be very good. All of this made me curious and I couldn't resist buying a 1967 27 on eGun.de.

The seller told me he had bought this rifle for his wife, who never happened to actually shoot it, so he sold it again. The owner before that had restored the stock and installed new seals and a new spring.
Apples and Oranges
If you want to review things, a point of reference is useful. The 27 was around DM 150 in 1972. Adjusted for inflation, that would make it a € 290 gun today. That's close to what an HW30S costs right now, so that will be my comparison.
Given how much I like my still new HW30S, this is going to be tough for a 56 year old rifle but we will see…
Dimensions and appearance


The 27 is similar in size to the HW30S, but slimmer and longer.


Diana 27 stock.
This gun has a plain beech stock with a nice grain to it. The butt of the stock has some horizontal grooves machined into it and a rubber button at the top to help with grip (which is surprisingly effective).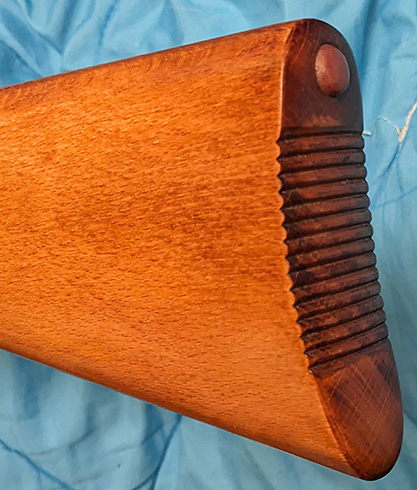 Diana 27 butt.
While not the most ergonomic, it works fine for me and like the HW30S, it feels just fine when I shoulder it.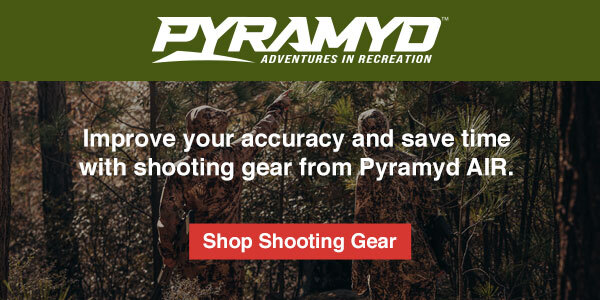 Design and build quality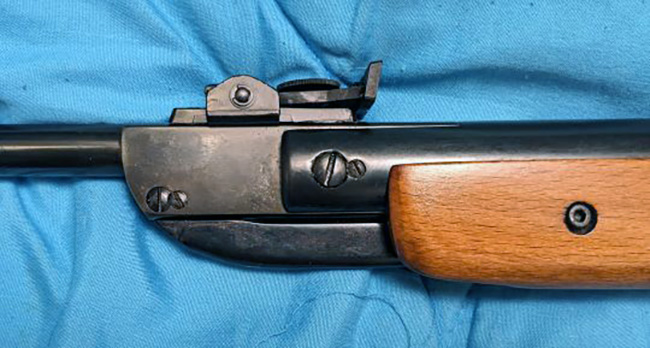 Diana 27 barrel pivot.
The 27 has a lot of obvious Diana DNA or rather other Diana guns have a lot of 27 DNA. Look at a current 34/35 and the shapes of the action, cocking lever and barrel look very similar, as do some of the available stock designs.
This Diana is 56 years old and has probably seen quite a bit of use. It is in remarkable shape all things considered. The finish isn't as deep, rich and shiny as it probably was over half a century ago. Maybe it has just been worn or maybe it has been re-blued at some point. I can see no signs of rust.
The piston movement felt and sounded a little rough when cocking the gun, but then the spring looked pretty dry. I have added some moly grease and extra moly powder to the spring and cocking arm and things already seem to be improving.
The barrel lock is easy to open and close yet still feels tight and precise.
I believe this gun has received a synthetic piston seal at some point. I poured some silicone oil into the transfer port and it doesn't seem that the piston seal soaked up a lot of it. So it is probably either synthetic or already very well-oiled.
Trigger
The Diana 27 has a quirky trigger design with three ball-bearings that lock the piston rod in place. BB has commented on how nice these triggers can be.
The spring for the trigger weight is not adjustable and stiffer compared to how I have adjusted my T06 and Rekord triggers. When I got the rifle, the second stage was fairly heavy but broke cleanly. I followed BB's instructions and was able to adjust the second stage to a light but crisp letoff.
This trigger really is nice. Rekords and T06s may be a little nicer still, but the difference is not huge.
The information available seems to suggest that this trigger design was introduced in the 1950s when the Diana company resumed production of air rifles after WW II. That would make the trigger a contemporary of the Rekord trigger and much, much younger than the T06.
Shot cycle
This rifle was made in 1967 which is three years before the 7.5 joule limit was introduced in Germany. Neither 27s nor HW 30s are powerhouses and they may produce something like 9 or 10 joules with a full-power spring. It seems plausible that this 27 is in that power range as it is a bit harder to cock and seems to shoot a little faster than my 7.5 joule HW30S, too.
Both rifles feel "quick" due to having small pistons without a ton of travel.
I find the shot cycle of the 27 very pleasant without any vibration. Since it seems to be plenty powerful for what I do, I put a generous amount of moly grease and moly powder on the spring.
The rifle diesels slightly with every shot. You hardly notice it, though, unless you try to look through the barrel. The smell is hardly noticeable at all.
Sights
This 27 doesn't have a scope rail. I don't consider this a huge loss since I like shooting offhand with open sights. It will limit my ability to extract the maximum accuracy, though.
The open sights on the 27 are fairly high-quality: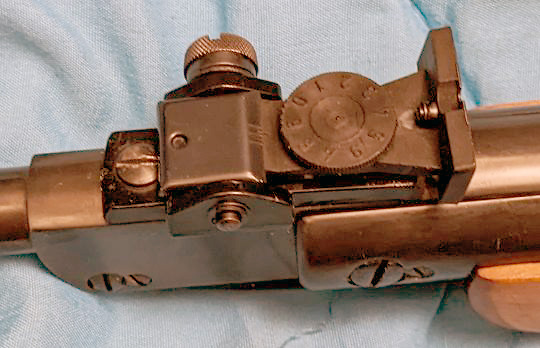 Diana 27 rear sight.
The rear sight looks almost identical to the one on my Diana LP 5 G pistol. It just has a slimmer base since it is mounted on the barrel while on the LP5, it is mounted on the compression chamber. It is a micrometer sight that adjusts for windage and elevation. Like the one on the HW30, it has a selection of four different notches (square and U-shaped with different widths) which I like.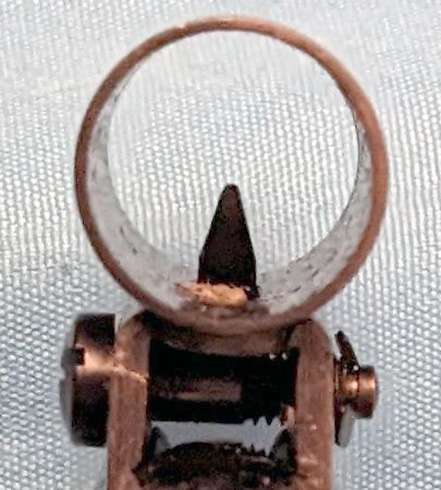 Diana 27 front sight.
The front sight is a simple globe with a pointed post. The resulting sight picture is pretty clear, but the "pointy" front-sight post makes it a little harder to judge whether the front sight is at the same height as the rear sight. The front sight looks rusty in the picture though it isn't. It must be the lighting.
Accuracy
Even though my distance is only 10 meters, I can't shoot as accurately with open sights as I can with a scope. To be able to get a somewhat fair comparison, I shot both the HW30S and the Diana 27 with open sights.
All the groups shown below are 10-shot groups shot from a bag rest.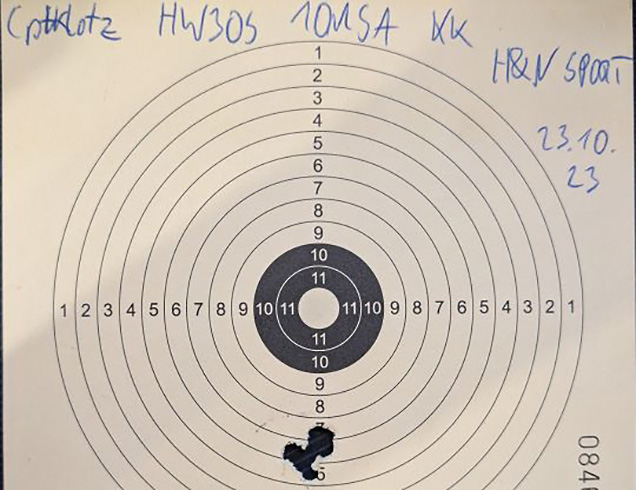 This is the group of H&N Sport pellets I shot with my HW30S as a baseline. I am probably not the greatest shot with open sights, but I think it is pretty decent.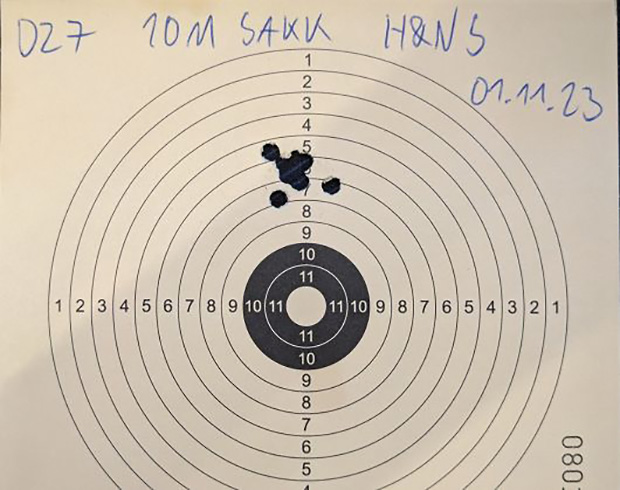 While I also tried Finale Match Heavy pellets, this group with the affordable H&N Sport pellets was among the smaller ones.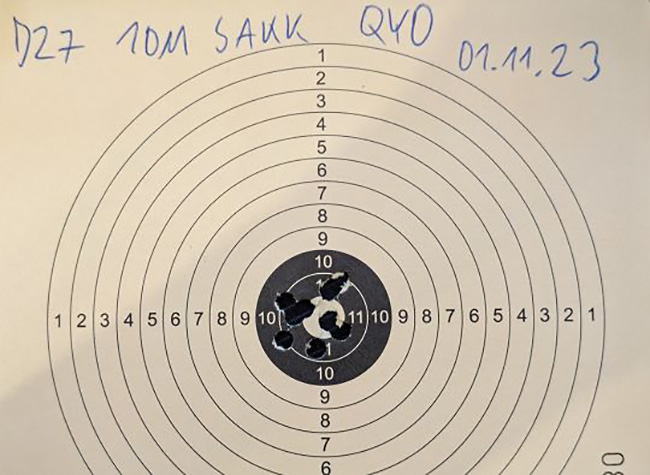 Qiang Yuan Olympic pellets produced this interesting group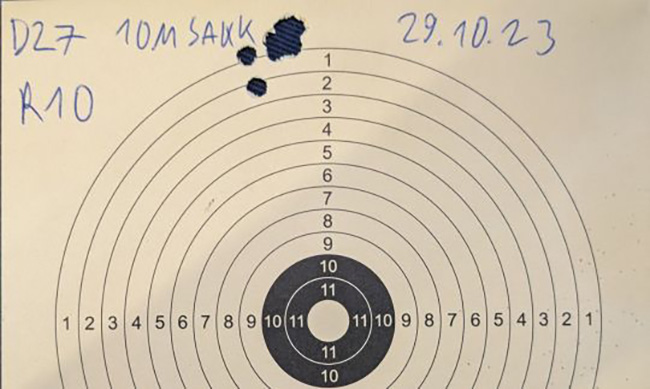 The RWS R10 produced this group that I would consider the best of the bunch, especially if you exclude the outliers.
I wasn't quite able to match the group I shot with the HW30S, so maybe the Weihrauch is a little bit more accurate. On the other hand, some of the Diana 27 groups have as many as 8 shots in a very tight hole with two outliers which might be blamed on sight errors or other mistakes.
While I can't prove it, I have a hunch that the Diana is actually more accurate than I can shoot it with open sights.
Also, I haven't opened the 27 yet, so we don't know what the insides of the powerplant actually look like.
Conclusion
This is my oldest airgun yet and was an interesting thing to try. I can absolutely see why many people like this model. It is compact, lightweight, quiet and fairly easy to cock, so you can shoot it all day without tiring out. It has a pleasant shot cycle and a good trigger.
Shooting it has a simplicity to it since it just covers the basics and covers them well.
Do I like it as much as my HW30S? This is where things get a little tricky. These rifles are 56 years apart in age. The HW30S has more features and I like the ergonomics of the stock a little better (I know opinions on that vary). The HW30S feels a little smoother when cocking it and closing the barrel.
Still… The 27 holds its own amazingly well given both the age of the design and the age of this particular rifle. Yes, my HW30S is the better gun, but I still really enjoy the 27 both in relative and absolute terms. It is a joy to shoot and I would easily recommend it to people who like classics and can get one for a decent price.
So… how about it, GSG / Diana? I bet a new 27 with a T06 trigger would be one hell of a gun.
As for that accuracy thing… There might be a follow-up to this report. Stay tuned.