Posts Tagged 'Air Venturi Bronco'
by Tom Gaylord, a.k.a. B.B. Pelletier
Blog reader Kevin asked me this question recently, and I embraced it because I usually don't even have time to think about which airgun I would prefer to shoot. There's always another blog, a feature article and 5 other deadlines pressing on my time…so thinking like this is not a luxury. It's a fantasy! Then, Kevin asked this question and "forced" me to stop and think about it for today's report. Ahh! Happy Friday!
The first gun that pops into my head when I ask this question is the Diana model 27 rifle. It's just such a simple, uncomplicated airgun that I guess it serves as my happy place. But as I think about it, other guns pop up. The Air Venturi Bronco, the Falke model 70, the Diana model 25 are 3 more that come to mind immediately. They all share the model 27′s chief attribute — ease of operation. In short, they're all fun airguns.

Diana's model 27 breakbarrel is so light, smooth and easy to operate that it epitomizes everything that's good about airgunning in my eyes.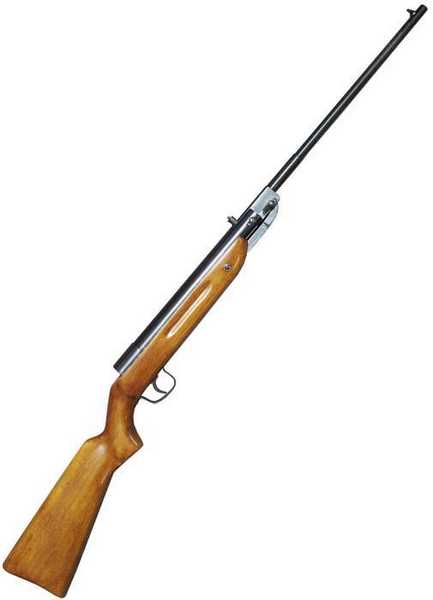 Falke model 70 is another vintage breakbarrel that's light and smooth like the Diana 27.
To take the fantasy a little farther, have these guns always been the ones that do that, or have there been others? Yes! There have been others!
My straight-grip Webley Senior pistol is exactly like the Diana 27 in this respect. It's small and easy to operate. I still own this pistol, although there's seldom any time to actually shoot it. But it's right there in the drawer where I can put my hands on it whenever I want. I guess that's good enough. I guess it will have to be.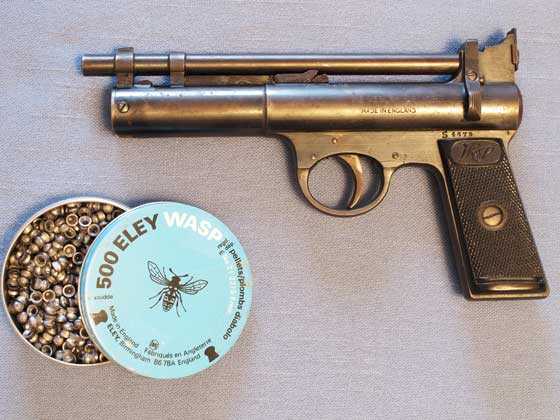 I've owned this straight-grip Webley Senior since the early 1970s. It's easy to cock, has a nice trigger and is fun to shoot. Not terribly accurate, but it's one of those rare guns I let slip by because everything else works so well.
When I think a little longer and harder, my Beeman R8 pops into view. It comes in later because it has a scope, and scopes do complicate things. So do target sights, but my Walther LGV Olympia 10-meter target rifle now comes to light. And with it comes the new .22-caliber LGV. The target rifle took longer to pop up because it's a heavy gun. The .22 took longer because of its power. When I want to play, power is the farthest thing from my mind.
Firearms?
Kevin didn't ask me what my favorite firearms were; but since this is Friday, I'll take a little license and include them, as well. Right now, my new PO8 Luger is a favorite because it's accurate, recoils very little and it eats my handloads like they were candy! And when I think of that gun, I cannot overlook my Ruger Single-Six in .32 H&R Magnum. It has great power and almost no recoil. For cutting out the center of a bullseye, that little Ruger wheelgun is a dream.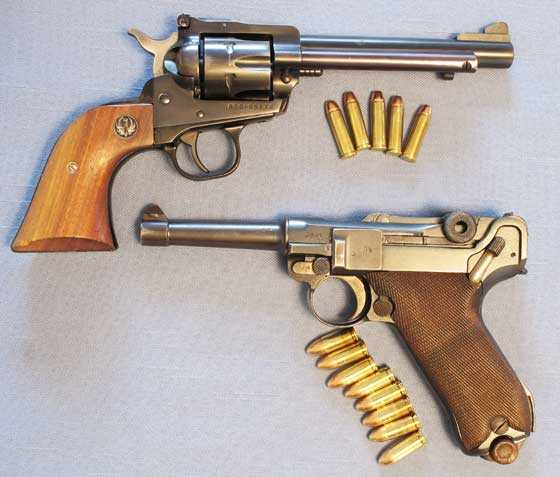 The Ruger Single Six is chambered for the .32 H&R Magnum. It's light, yet very powerful and will out-penetrate a .357 Magnum on a steel target. The 1917 Luger is such a smooth shooter that it's like eating peanuts — I can't stop! Both guns are very accurate.
Then, I think of my O3A3 Springfield. It's one of the few military rifles that gives me an honest sub 2-inch group at 100 yards. If it didn't recoil so much, I'm sure it would have popped up even sooner.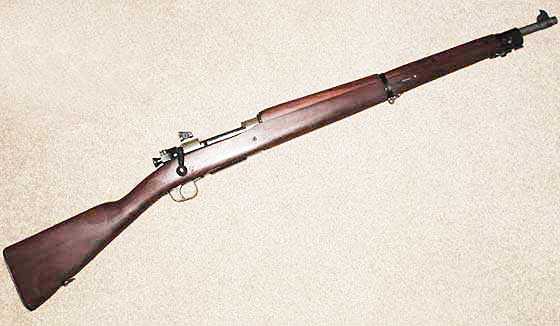 This O3A3 Springfield will smack you with recoil when you're shooting full-house loads. The short stock gives it a running start at your shoulder. But the accuracy is stunning!
My M1 Carbine is also a favorite — not for its accuracy, which is just average — but for the fact that it drops the empty cases on top of the shooting bench! Most autoloaders throw their cases a country mile, but this little sweetie piles them up for me. With more training, I'm sure I can get it to put them back in the box!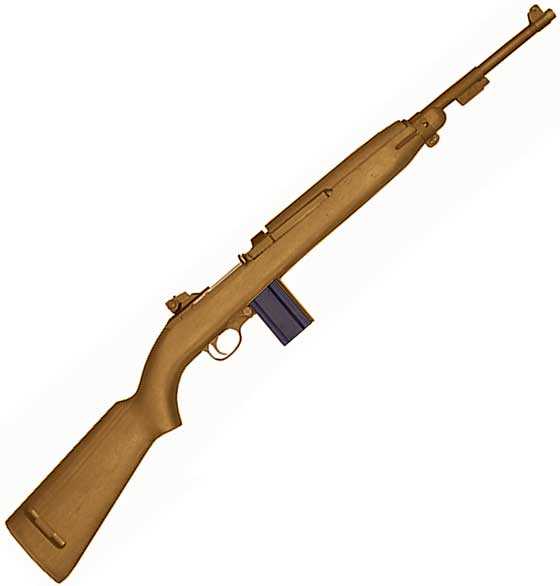 My M1 Carbine is well-behaved. Next, I'm going to teach it to put the fired cases back into the box!
Guns I wish I still had
Now comes the Great Lament — the ones that got away! I had a Bernardelli Baby in .25 ACP that would put 3 shots into the bottom of a soda can offhand at 30 feet. Most .25s are lucky to hit dinner plates at that distance, but this little pistol was a good one. I let it get away. I recently bought another Bernardelli Baby in the hopes of doing the same thing. Alas, this one is a dinner-plate special.
Ruger .44 Magnum Blackhawk with 10-inch barrel
They're very collectible now; but when I had my 3-screw Ruger Blackhawk, they were just good guns. I was too stupid to know that the one I had was an exceptional shooter. I figured I could always get another one.
Custom .458 Winchester Magnum
I have written about this rifle many times. I shot it with a 550-grain cast lead bullet, and it would put 10 shots into less than 2 inches (outside measurement) at 100 yards. It was like owning a target-grade 45/70. Stupid me — I thought I would always be able to find another one just as good. Haven't yet!
What kind of shooting do I like to do?
I'm pretty easy to please. I like whatever kind of shooting I happen to be doing at the time — usually. The things I hate are magnum spring rifles that buzz like bottles of hornets, slap me in the face and have no accuracy. I also disdain black rifles that can't group in less than 3 inches at 100 yards. In fact, I dislike almost anything that isn't accurate.
I enjoy shooting a .45 Colt Single Action Army with accurate loads and feeling the plow-grip roll in my hand during recoil. I like shooting a nice 1911 and feeling the slight burp of recoil when I hold my thumb over the manual safety. I shot a Walther P38 recently that had a nice trigger and is very accurate. My experiences with P38s aren't that good, but this one was memorable. I could burn up a lot of 9mm ammo in that one.

When I came home from the hospital several years ago, I received this Single Action Army as a gift from the readers of this blog. It is a favorite of mine because it mimics the feel of a Gen 1 Colt perfectly!
Same for the PO8 I got for Christmas. The ergonomics are legendary and the trigger is extremely good for a Luger (their trigger linkages usually make for poor triggers). My handloads are moderate enough that I can shoot this pistol for the rest of my life and not put any wear on it!
I enjoy holding a 10 with a target air pistol and seeing the pellet hit the pinwheel. I love seeing 10 shots from an accurate rifle sail through the same hole at 100 yards, knowing the hole they made is smaller than half an inch. I love shooting 5 shots from a 10-meter rifle and seeing a group smaller than a tenth of an inch.

Holding a 10 with a pistol is very enjoyable!
I love shooting my Daisy Avanti Champion 499 offhand and making quarter-inch groups. My shooting buddy Otho bought one for himself this past December and has been doing the same thing ever since.
I enjoy shooting a Garand and hearing the shot go off but not feeling the recoil. I know it's there, but the push is so slow that it doesn't seem to count. The same holds true for my .357 Magnum Desert Eagle. It's got enough power to drop a steer, but the soft recoil feels like a 1911 shooting +P ammo.
Best of all
But the thing I like above all is when I solve some problem of inaccuracy and turn a bad gun into a real shooter. It doesn't happen as often as I'd like, but from time to time I do hit one out of the park. I'm hoping to do that with my Ballard someday. And maybe my Meteor, as well.
by Tom Gaylord, a.k.a. B.B. Pelletier
Today is Thanksgiving, here in the U.S., as well as the first full day of Hanukkah, which started last evening. I want to wish my Jewish readers a happy Hanukkah and all my U.S. readers a Happy Thanksgiving Day. Today I'd like to take some time to acknowledge those airguns that are worth remembering.
Benjamin 107
It was my first airgun — though I didn't acknowledge it at the time. I was whining at my mom to let me buy a BB gun, when all the while I had a beauty right there in front of me.
The 107 was a front-pump .177 smoothbore pistol that shot BBs, darts and pellets — none very accurately. But compared to a common BB gun, it wasn't too bad. I got it when I turned 10 or 11 after my father died. It had been his. I remember seeing him shoot it once, but that was all.
All the black nickel finish was gone, and the gun was worn to silver nickel in most places, with a hint of brass showing though some of the edges. It was a real bear to pump, and I think I could manage only three strokes when I applied all my weight. After that, I was the one having the stroke!
I could hold about one inch at 20 feet with darts, which was the ammo of choice since I had them and they could be reused. There were some Benjamin pellets that came with the thing, too, but I don't remember them being very accurate.
Once I secured my Daisy No. 25 pump BB gun, I don't think I ever looked at the old Benjamin, again. But that was the first airgun I ever shot, and it started the fascination that's lasted until now.
Diana model 10
Fast-forward 14 years, and I'm married (to my first wife) with a child and living in Germany. In the walled city of Rothenberg ob der Tauber, I find a gun store that sells high-end airguns. They have Walther LGVs and LGRs that I can't afford as a family man. But they also have a Diana model 10 target pistol that the owner claims is stunningly accurate. He's a good salesman, and we decided we could afford it; so I buy it plus 5,000 RWS Meisterkugeln pellets.
I learned how to shoot 10-meter pistol with that airgun — heck, I learned that there WAS such a thing as 10-meter pistol! And I got passably good. Good enough to stand on the line at formal matches while better shooters won. I did that for the next 20 years and got better and better until I was what, in technical terms, is known as a duffer. That's a guy who shows up and shoots without embarrassing himself, while others rule the day.
I also taught my gun-hating father-in-law how to shoot with that air pistol. He got so interested that he shot up a lot of my 5,000 pellets! I finally sold that pistol when I left the Army in 1981.
FWB 124
This is the air rifle I bought after returning from Germany in 1977. I scoped it with a Tasco firearm scope and never had a lick of trouble with it. It had the plastic trigger that the early rifles came with, but I loved it just as it was. It taught me what a precision adult air rifle could be. I had been reading about these rifles for the last 2 years I was in Germany; and, of course, I failed to realize that I lived in Erlangen, the home of the BSF factory! No, I read the Airgun Digest in the last 2 years of my tour and I wanted a 124, so that's what I got.

One of many FWB 124s I've owned over the years. Each one is a classic!
Then the R1 came out and took all the wind out of my sails. My 124 was no longer the baddest airgun on the block — despite the fact that no one on my block owned any air rifles at all. No sir! Dr. Beeman said the R1 was the gun to own, and I wanted one with all my fiber! I had to sell that 124 to pay off debts when I left the Army, but it left a seed deep inside me and I've owned several since that time.
Diana 27
The Diana 27 I'm referring to is not the one you have seen me write about. No, it's a gun I bought for $18 in a pawn shop in Radcliff, Kentucky, in the late 1970s. I didn't even know what it was at the time. It was a Hy Score 807 in .22 caliber and rough as a cob. The rust was deep all over, making the metal surface bumpy. Had it been removed, there would have been deep pits left behind. But the gun still shot very well. I marveled at how light and smooth the powerplant was. It shot slow compared to the 124, but out to 20 yards it held its own. I gave that one to a friend when I left the Army.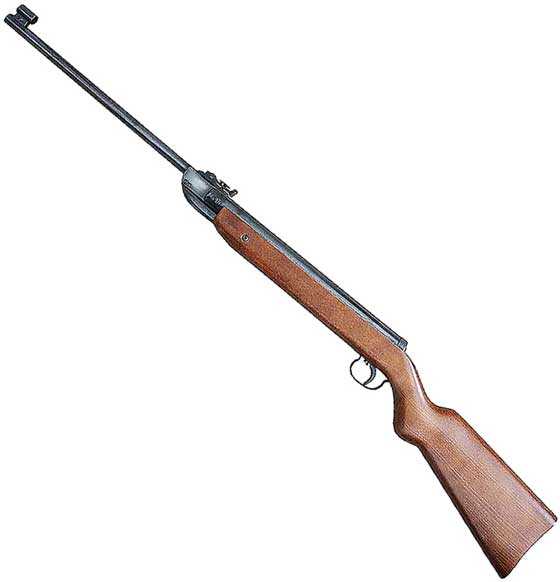 Diana 27 isn't a pretty air rifle, but it shoots like a dream!
Sheridan Blue Streak
This was an air rifle I had coveted since I was a Tenderfoot in the Boy Scouts and read all the ads in Boy's Life. It could shoot through an inch of wood — the ads said so! And it was accurate. But I never had the money to buy one as a kid. In 1978, a year after returning from Germany (and fast becoming a real airgunner), I finally bought one. The price had risen from $19.95 to $39.95 in the time that had passed, but I purchased what is today recognized as the high-water mark of Sheridan production — a 1978 Blue Streak with the rocker safety!

The Blue Streak I bought in 1978, and the rifle on which Edith learned to shoot.
That gun stayed with me after I left the Army. It wasn't worth enough to sell, so I kept it and still have it today. Edith learned to shoot with it and killed 9 rats around our Maryland home — not to mention various mice in the house and snakes in the garden. She put a yellow twist tie around the triggerguard to remind her the pellets were the ones in the yellow plastic box. This was before the days of The Airgun Letter and field target. Edith was still learning about airguns.
Beeman R1
We really didn't have the money at the time, but Edith gifted me with a new Beeman R1 for Christmas in 1991. The Airgun Letter was still 3 years in the future, so the only reason I got this gun was because I told her how long I had desired it. I had purchased a Beeman C1 a couple years before, but it just didn't scratch the itch.
But the real surprise was the used HW 77 carbine that was also under the tree that year. That was Edith at her best — giving me a gift I had no idea I was getting. We even had a scene from A Christmas Story, as a final long box with my name on it appeared after all other gifts had been opened!
The R1 scratched my itch alright; but what I discovered about airguns is that the more you scratch, the more the itch spreads. You think I'm an enabler? Remember, folks, I do everything to myself before I do it to all of you.
Beeman R8
It was the day I returned from the hospital in 2010. I was sitting on the sofa and had just enough strength to sit up for awhile. Edith pulled out a long cardboard box and told me that one of our blog readers had sent me something for when I come home. I couldn't stand or even open the box. She had to do it for me. Inside was a black hard case and inside that was the most beautiful Tyrolean air rifle I've even seen. It was a Beeman R8 with a custom stock and a fresh tune. A personal note told me who had done the work and how nice it shot.

This beautiful Tyrolean Beeman R8 was waiting for me when I returned home from the hospital.
As weak as I was, I had Edith hand me the rifle and I found that I could cock it. Oh boy! Here was a spring rifle I could shoot real soon, even when I couldn't cock most other air rifles. My friend, Mac, was still testing spring guns for me for several months as my strength returned, but that R8 was mine from the moment I first held it.
Edith and I were showered with gifts from the members of this blog when I got out of the hospital, and we were stunned at the outpouring. But that R8 is my favorite spring rifle because of how nice it is, how great it shoots, and most of all what it meant to me at a time when I could barely raise my head off a pillow.
What about the others?
Sure, there have been plenty of other airguns I'm thankful for. My Whiscombe has been a dream test bed for numerous experiments. Both the Benjamin Discovery and the Air Venturi Bronco are guns I personally was involved in developing. So, of course, they meant a lot. The AirForce Talon SS with a 24″ barrel is probably the gun I shoot more than any other…and you all know how I feel about the TX200! I could go on and on, but where do I stop? These guns have all been pivotal in my development as an airgunner.
I'm thankful
Back when I wrote The Airgun Letter, I allowed myself to get sucked into several bad arguments over trivial airgun issues. When we started this blog, I insisted on using a pen name rather than my own. I didn't want to spoil things with old baggage from the past. I also reinvented myself at the same time. I learned to curb my temper and to listen to what others have to say — even when it runs contrary to what I believe.
Some of you suspect this, but now I'll tell you all that Edith is half of Tom Gaylord, the writer. She keeps me on an even keel and lets me vent privately when I have to. She has a much better memory than I do and sometimes she suggests things that I wish I had thought of (and accept credit for when they show up in print). If I didn't have her, the veneer of who I am would quickly peel back and expose the unpleasantness underneath.
The airguns I have written about today were all pivotal in shaping my life as an airgunner. But it is Edith and you readers who have really had the greatest influence. Through thick and thin, you continue to inspire me and make me glad to have this job.
A few weeks ago, blog reader David Enoch asked me to write a report about the airguns that I never warmed to. I tried doing that and quickly found all the bad old stuff leaking out. So, I stopped writing and focused on only the good things that have happened with airguns. There are so many of them; and when I focus on them, I become the person I want to be.
Today's report came as a result of a disaster I had while testing a gun yesterday. Nothing went right, several optical sights failed and I put some new dents in the wall of our bedroom. I then sat on the couch complaining about everything. Knowing that I was losing it, Edith suggested today's topic. I hope this piece does some good for all of you because it has made my day! Happy Thanksgiving!
by Tom Gaylord, a.k.a. B.B. Pelletier
Today's report goes out to all those readers who are just getting into airguns, as well as those who have been in airguns awhile but feel there are many things they're either missing or don't fully understand.
We have a new blog reader who goes by the name Essbee. For the past week, he's been asking the kind of specific questions that tell me he doesn't understand something as well as he would like to. Then yesterday, he sent in this set of questions:
Thanks. How does The Benjamin Marauder compare with German guns (RWS & Weihrauch) in terms of quality and durability and ease too. No doubt the Germans are pricey in PCP hence ruled out but their quality is no problem. Could I have a report for or against on the quality of Benjamin Marauder as compared to German technology and craftsmanship.
What are the chances the gas will leak on PCP guns. If it does how will it be fixed and at what cost? In contrast the air springers have no such problem. What do you say on this? What is the record at your end of PCP repairs vs air springers?
Hence I was comparing an RWS 34, RWS 350 Magnum and RWS Air King 54. Considering the cocking effort, weight and velocity it seems RWS 34 stands up very well in .22 with longer barrel. Am I correct? For hunting which is the best?
How do I answer this?
If you read the questions, you'll see they're a combination of technical questions and requests for my subjective opinions. I find it very difficult to answer questions like these because they require more time and space than we have available. So, what I do is try to guess about who's asking the question, then answer from that standpoint as best I can.
New airgunners come from a variety of backgrounds. They can be youngsters who have never really sampled the shooting sports at all. Everything is a mystery to them. Or they can be adults who may know about the shooting sports but have never really participated in them. You might think that would make them the same as the youngsters, but it doesn't. Adults do have some life experience to relate to, so they can understand things that youngsters haven't experienced yet. My answers to adults have to be slightly different than the same answers to youngsters.
The questions can also come from adults with lots of shooting experience but who are just getting into airguns. When that's the case, we have a common basis of shooting upon which to build, but they still won't be familiar with things like the artillery hold or with canting issues at close range.
Some of these adults may have served in the armed forces and may be even more familiar with firearms than most people. That makes my answers even more difficult because there are things about airguns that the military never thought of.
Some of the questions come from law enforcement officers, both retired and active duty. They'll have an even different viewpoint, and my answers will have to be presented differently.
So — how do you get into airguns?
I obviously can't answer everyone in the same way. But I do think there are fundamental things that ALL new airgunners need to think about. So here we go.
1. Start small
Don't buy that super-duper ultra-magnum that you see advertised. Forget the advertising hype, unless all you want is something to brag about. If that's what drives you, go somewhere else because I can't help you. I'm in this for the enjoyment of the hobby — not for posturing, looking good or counting coup.
Get a weak but accurate airgun as your first gun, and then learn to shoot it. Forget scopes unless you're almost legally blind. Learn to shoot with open sights. Learn to follow-through on every shot. Learn to call your shots, which is to state where they went before you look through the spotting scope.
I would tell you to get a Diana model 27, but they don't make them anymore; and many of you would rather purchase a new gun. Okay, get an Air Venturi Bronco. That rifle was created to be the modern equivalent of the Diana 27. Is it? Probably not, because there are too many things that aren't the same. But the Bronco is accurate, it has a good trigger, it's both light and easy to cock, and it comes in .177 caliber so the pellets are cheap. And the rifle, itself, is a great bargain.
Want a different choice? Okay, consider a Stoeger X5. For around $90, you get everything the Bronco has except the great trigger and some of the accuracy. But it's very good and is a wonderful way to break into airgunning. Find something like that.
Want an air pistol? How about a Beeman P17? Oh, you can find bad reports about this pistol if you look, but they number in the dozens, while thousands of pistols have been sold. I have had 2 and both were quite reliable. One was a test gun from Pyramyd Air and I bought the other one after returning the test gun. The one I have now has many shots on the clock, as well as many years on it, and still performs as good as it did when it was new.
Want a spring pistol? Try the Ruger Mark 1 pellet pistol. It's inexpensive, accurate, easy to cock, and the trigger–while heavy–is manageable.
The point
I said to start small with a low-powered pellet gun and learn how to shoot it. That's the best advice I can give anyone who wants to get into this hobby. Yes, the powerful guns are neat and the super-accurate guns are a ball to shoot, but they also require some understanding that only comes with practice. I want you to get as much trigger time as possible, and a lightweight, inexpensive, accurate gun is the way to do that.
2. Buy good pellets
I know that saving money is a good thing, but I don't want you to miss out on the thrill of a lifetime just so you can save a dollar a tin on bargain pellets. Stop kidding yourself that you can buy good pellets at a discount store. That was never the case, and today it's quite far from the truth. You might be able to buy some adequate pellets at a discount store, but where does that leave you? With a Bronco that shoots 1.5-inch groups at 25 yards instead of one that shoots 3/4-inch groups. Is that what you want? You know the best way to save money is to never shoot at all. If you're going to shoot, give yourself a chance of hitting.
3. Stop fighting the trends and start applying yourself
A popular definition of a crazy person is one who keeps doing the same things and hopes for different results. I see shooters who aren't using the artillery hold because they say it's too hard. Well, of course it's hard, but all the best shots do it. Don't you want to see what kind of shot you can be? If you try to buck the trend and avoid things like the artillery hold, you're acting like a NASCAR wannabe who doesn't like cars that are set up for the racetrack. Sure they're hard to drive, but they're also the only kind of cars that win the races!
You want to shoot groups at 100 yards, but you don't want to use a scope level. Great. That's like an ice-skater who wants to be in Hush Puppies all day because the skates hurt his ankles. You can't shoot tight groups at 100 yards without leveling your rifle for every shot. So, if you don't use a scope level, you'll have to find some other way of doing it.
4. Shoot
I know it sounds simple, but just shoot. That's why you decided to get into airgunning in the first place. It's so easy to shoot at home. I fire from 100 to 1,000 rounds each and every week.
The more you shoot, the more chances you have to improve. Not that all people do improve, mind you, but at least you have the chance.
I've found that 20 shots on your own is worth a lot more than 20 conversations about shooting on the internet. Go on and have the conversations — but do the shooting, too.
Summary
This is what I would tell a new airgunner. Too often — always, in fact — they come to me with their eyes sparkling with thoughts of buying this or that mega-magnum rifle, I know they're heading for disaster. I cringe when I see this because I know the conversations we're going to have much later when all they've done finally sinks in and they realize this wasn't the way to go.
Here's a little story to illustrate what I've been saying. I watch certain internet gun sales websites and from time to time certain guns are listed. Let's single out the Smith & Wesson 500 Magnum for this story. When I see the ad, I can guess what it will say. This fine gun is almost new in the box. It's only been fired a few times. Comes with a fresh box of ammunition and only 6 cartridges have been fired. Now, why do you suppose that is?
by Tom Gaylord, a.k.a. B.B. Pelletier
"Have a wonderful summer."
Great words, but not when they're in my high school graduation yearbook. We were all going our separate ways. Some of us were going to southeast Asia and might never come back. Others were going on to colleges to become doctors, lawyers, nuclear physicists and accountants. A couple went to Hollywood and were never heard from again and at least one went on to win several Super Bowls and become a household name — actually two names. I went to high school with Larry Csonka in Stow, Ohio, and Craig Morton in Campbell, California.
So, why didn't they write, "Since I'm never going to see you again, have a nice life."? I'll tell you why — because people don't know how to say goodbye. So now, 48 years later, I have someone wishing me a perpetual good summer of 1965. I was never quite sure about what that meant, either. Was it just the one summer, or were all of them implied?
Know what else people aren't good at? Visualization. Like what to pack for a vacation. Oh, the old swimsuit is easy enough, but what about taking an airgun?
Well, gee, I did just get a .50-caliber Dragon Claw. Wouldn't that be neat to have along at Yellowstone?
Not unless your fantasy is to be the focus of a SWAT team attack! Unless you're vacationing at a rifle range or somewhere very remote, a big bore airgun is not ideal. Nor is anything that requires a large support base such as scuba tanks, hand pumps, CO2 cartridges and ancillary stuff like that.
While you're at it, leave your 4-foot gun bags and hard cases at home with the aquarium and the garden tractor. The last thing you want or need on a vacation is a lot of baggage.
My pick for you is the Beeman P17 single-stroke pistol and as many tins of pellets as you think you'll need. Or, if you don't like Chinese airguns, spend the money and buy the German-made Beeman P3 that it was modeled after. Both guns are quiet, accurate, have adjustable sights, great triggers and are very portable. Sure, they're single-shots, but that's part of their attraction — they slow you down and make you pay attention to what you're doing.
Oh, you don't absolutely have to stick with a single-stroke pistol if you don't want to. A nice pneumatic like the Crosman 1377C or the .22-caliber 1322 would be fine. They're larger pistols, but still self-contained, requiring only pellets for fun.
If you want a springer, might I suggest the Browning Buck Mark? It's reasonably accurate, easy to cock and the price shouldn't break the bank. If it does, you aren't going on a vacation; you're just staying home from work.
What about a rifle?
For an air rifle, I recommend the Diana 27; but since none of you were far-sighted enough to get one back when I was touting them, now you have to live with what's available. Well, that was why the Air Venturi Bronco was created — for all those who should have bought Diana 27s but never got around to it. For a lot less money than a Diana 27 costs, you can get a brand-new Bronco and have the same fun with it. It's a little larger and heavier, but just as accurate, just as easy to cock and quite the little all-day plinker.
I could go on and on with this — recommending multi-pumps and other springers, but that's not the point of today's blog. The point is that when you're on vacation, take along something simple and fun to shoot. It doesn't need to be your most powerful or most accurate airgun — just one that you like to shoot.
And travel light. Vacations are not the time to stress about air supplies or where to buy more CO2. They're times when you want to be free and unencumbered by stuff, so you can have some fun.
And, one more thing. You guys all say that I'm an enabler who spends your discretionary money faster than your wives and girlfriends can account for it. But did you notice that the guns I chose for today were mostly inexpensive? You don't have to spend a lot of money on an airgun to have fun with it. A $40 P17 or a $45 Buck Mark should certainly be affordable. And that was my criterion for selection — good airguns at good prices.
Keep things simple when you're away from home and your support base. If you have to buy pellets from a discount store, even the cheapest ones should shoot okay in the guns I've recommended. In fact — that gives me a great idea for another report. I will test inexpensive pellets like you'd find in a discount store (and Pyramyd Air sells these, too) against the best pellets I can buy.
Yeah! I like that!
Oh, and have a wonderful summer….
by Tom Gaylord, a.k.a. B.B. Pelletier
Happy Thanksgiving! This is the day Americans set aside to remember the things we're thankful for as we eat a feast of traditional turkey.
A couple days ago, blog reader Rob asked for my list of most-favorite spring guns and why they're my favorites, so I thought today would be a good day to do that. So, here goes. I'm doing only the springers, because that's what he asked for. What you're about to read is by no means a complete list of airguns that I like.
Diana model 27
I bought my first Diana model 27 air rifle from a pawn shop in Radcliff, Kentucky, when I was stationed at Fort Knox in the 1970s. It was tired-looking and rusty but still shot like every 27 does — smooth and straight. This one was a Hy Score 807. I never tuned it because I didn't know about such things in those days. I just shot it offhand as a plinker. That rifle cocked so easily that shooting it was like eating peanuts — I just couldn't stop! I never did figure out the trigger, though. It wasn't until I read the owner's manual for a Diana 35 about 20 years later that I figured out how to adjust the trigger on this rifle. Today, I own 2 model 27 rifles and a model 25 rifle that I've been testing. And these are some of my favorite airguns.
FWB 300S
Because of my involvement with airguns, I've owned quite a few target air rifles over the years. There have been some real beauties, including FWB 150 rifles, Diana 75 airguns and Anschütz 250 air rifles. Because I'm always buying and selling, there have been several of each. But the FWB 300S, which I got a couple years ago from my good friend Mac, has come to stay. That's because it's the most accurate air rifle I've ever owned. By "most accurate," I'm being extremely critical. I'm talking about the last thousandth of an inch. I have other 10-meter air rifles that are very accurate — and over the years, I've had many more that were also very accurate — but for some reason, this particular rifle is the best one I've come across.
Beeman R8
Okay, here's where I'll have a problem as a writer. I've just said the FWB 300S is the most accurate air rifle I've ever owned, yet this R8 is a phenomenal shooter, as well. You last saw it in the report titled First shot: Yes or no?, where I fired 10 first shots at 25 yards to see how accurate they would be. But I did a three-part report for you back in 2010, where I showed the rifle to you. This rifle was a special gift that came at a particularly rough time in my life, and just the thought that came with it is enough to make it a favorite. But the way this finely-tuned rifle shoots makes it a keeper on its own merits. It cocks easily and puts each pellet exactly where I want it to go. The Tyrolean stock fits me very well, and I just smile every time I pick this one up. I cannot say enough good things about it. I've never even seen a plain Beeman R8 before, so I have no idea if they're worthwhile or not. All I know is that this tuned one is a keeper!
Whiscombe JW75
I bought the Whiscombe air rifle to use as a testbed for airgun articles, and that's how it's been used over the years. You've seen it several times — most recently in the 11-part Pellet velocity versus accuracy test. Unlike my other favorites, I don't shoot the Whiscombe that often. The size and weight of the rifle plus the need to cock the underlever three times per shot makes it less than convenient. But I rely on it a lot and would not like to be without it.
Air Arms TX200 Mark III
One spring rifle I own and love that is still available new is a TX200 Mark III. The Air Arms TX200 is simply the finest spring rifle being made today, in my opinion. It's heavy and can be considered hard to cock; but it has the best trigger on the market, and the rifle is deadly accurate. This is another air rifle I don't shoot a lot anymore, but that's because I'm always testing something else. There is no time left to enjoy the stuff I really like. This is the last spring rifle I used for field target competition; and as far as I know, it's second to none in that capacity. The thing I like best about the TX200 is that I know I can recommend it to someone and they won't be disappointed. Right out of the box, it shoots like a finely tuned air rifle.
Daisy 499B
Daisy has changed the name of this BB gun several times over the years, but the Avanti Champion 499 is the gun I'm talking about. It's a BB gun that can put 10 shots through a quarter-inch hole at the regulation competition distance of five meters — offhand! Like the TX200, the 499 is still available and is one of the best buys in airgundom, in my opinion. Adults can shoot it and have as much fun as the kids for whom it was built.
Air Venturi Bronco
I would be remiss if I didn't include the Air Venturi Bronco on my list. This is a rifle I had a hand in creating, and I did so with the Diana 27 in mind. I wanted a modern rifle that incorporated as many of the 27′s fine features as possible and still held the price low enough to enjoy. The Bronco certainly is that rifle. The two-bladed trigger is especially clever and tells the shooter exactly when the shot is going off. I know some folks don't like the blonde stock or the Western lines, but I personally like both features. There are too many air rifles with muddy brown stocks on the market, and every one of them seems to have a Monte Carlo comb. But not the Bronco. It's an individual air rifle that stands on its own.
The one that got away
There's always at least one, isn't there? This one came and delighted me while I had it. It's the Sterling HR-81 that I got in trade at the Roanoke airgun show. It wasn't working well when I got it, but Vince fixed it for me; and afterward, it was a wonderful shooter. This rifle had sights that were cheap and prone to break, and the ones on my gun were already gone when I got it. But a scope fit well, and the low recoil of the gun made securing it to the rifle an easy task. The trigger is light and (after Vince looked at it) crisp.
The firing behavior is good, though the rifle has a pronounced forward jump. Besides that, the rifle lies dead in the hand when it fires. And the accuracy is quite surprising — fully equal to my Beeman R8. When you cock the underlever, the spring-loaded bolt pops open giving access to the loading trough, making loading very easy and convenient.
What the future holds
I currently have the Falke 90 stock being restored, which will be a blog of its own. If the job turns out well, I can see that rifle becoming a favorite. It started as a gun that was practically forced on me at an airgun show. It was so dog-ugly that despite the extreme rarity (fewer than 200 are believed to have been produced) that even collectors who know very well what it's worth declined to even make an offer on it when I had it for sale at this year's Roanoke show. So I thought, what the heck, I'll have it restored and then we'll see what people think. Blog reader Kevin turned me on to a wonderful stock restorer who has the entire rifle now. There are a huge number of critical faults with the stock, so he's really up against it; but if he can do even half of what I see he's done for other damaged stocks, this project will turn out very well.
What I didn't include
What about the Beeman R1? I wrote a book about it, for gosh sakes. Surely, it has to be one of my favorites! Sorry to disappoint, but no, it isn't. I still like it a lot, but it isn't the gun I pick up when I want to have fun.
What about an HW55? They're so accurate! Why aren't they on the list? Don't know, for sure. They just aren't.
OMG — I overlooked the FWB 124! No, I didn't. I thought about it a lot, and it just didn't make the cut.
Rob asked me for my favorite spring airguns, and I've listed them. Maybe I forgot one, but I don't think so. No, there aren't any spring-piston pistols that I consider to be favorites.
Among my firearms, I have several rifles that are tackdrivers. Then there's my dog-ugly, but nearly-new No. 4 Enfield. It's not super-accurate and certainly no beauty. But for some reason, I can't bear to part with it. So, it remains in my collection, getting shot once a year or so. Something I can't define makes it a favorite, and I guess that will just have to suffice.
I have one last thing to say. Two years ago, I was recovering from a serious illness that brought me pretty close to the brink. I still had a drain in my pancreas, and there was an undiscovered hernia festering in me that wouldn't surface until the night I was due to fly to the 2011 SHOT Show. My eyesight was degraded from dehydration and serious anemia, plus I was suffering from undiagnosed Type 1 diabetes. In short, it was a bad time.
You readers banded together and supported Edith and me for the long months it took to get through this tunnel of horrors. You put up with a lot, and we owe all of you a debt of gratitude that cannot be repaid. For what you all did for us, we are very thankful.
Happy Thanksgiving!