by Tom Gaylord, a.k.a. B.B. Pelletier
I know the Christmas holiday is a long way off, but this year it comes upon us faster than usual. Thanksgiving will be very late this year (November 28), and since that day traditionally kicks off the Christmas shopping season, many people will be jammed because of too little time left. So, I'm starting my Christmas shopping blog a couple weeks early.
Stocking stuffers/small, neat gifts
Things in this category are gifts that don't cost a lot but will have great meaning to airgunners. Some of them are things that shooters won't buy for themselves.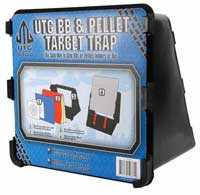 Leapers UTG pellet & BB trap
The Leapers UTG pellet & BB trap is the best trap for BBs, and it also works for lower-velocity pellet guns. I used to tout Crosman's model 850 pellet/BB trap. Well, they removed it from the market and replaced it with a model 852 trap that they say is only good for pellets. There doesn't seem to be much difference between the Leapers and Crosman traps, except the Leapers trap is a few dollars more. How's that for a switch?
But Leapers does recommend their trap for BBs, plus they sell replacement ballistic curtains for just a few dollars for the inevitable time when you shoot through them.
I've been using a Leapers trap for the past 4 months, and I do plan on reporting on it; but if you want the absolute best BB/pellet trap you can get, this is it!
Winchester Airgun Target Cube for BBs and pellets
For about half the money the Leapers trap costs, the Winchester Airgun Target Cube for BBs and pellets is a good BB trap that also works for pellets. I've reported on this trap in many reports on BB guns and even for some pellet guns. My trap now has several thousand shots in it, and the styrofoam is starting to flake off when hit, but it's still useable.
The beauty of this trap is that it's completely quiet. So, you get the same response as though you are shooting at an Air Venturi Quiet Pellet Trap, but at a greatly reduced price. The trap can take hits up to higher velocities because it has a steel plate embedded inside, but I recommend using it for lower-velocity BB guns and pellet guns.
Gamo squirrel field target
As long as we're looking at things to shoot at, don't forget the Gamo squirrel field target. This is a fine field target for low-powered airguns that prodiuce less than 12 foot-pounds of energy. It gives you something to shoot at in the yard, and the kill-zone reducers allow you to change the target as your shooting improves.
I don't recommend this target for a club or for match use, but for informal field target practice it is perfect. It costs half of what a stronger field target costs.
Gifts under $50
This category is for those gifts that cost a little more but still represent a wonderful value to most airgunners.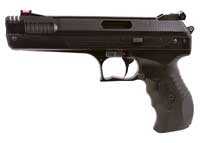 Beeman P17
My first pick is the Beeman P17 pistol. This single-stroke pneumatic air pistol is accurate, has a wonderful trigger and is quiet enough for shooting inside the home. Some find pumping it a little hard, so consider that; and there are reports that some guns have pump problems that allow the compressed air to leak out. I haven't run into one that had a problem yet, but there's a simple fix all over the internet, so don't let that dissuade you.
S&W M&P 45 BB and pellet pistol
The S&W M&P pistol is a great buy for under $50. It's a BB pistol I've reviewed and found to be an exceptional value. It's accurate for a BB pistol, and it looks and feels like the firearm it copies. And it also shoots pellets! What a great buy for so little money! [Note from B.B.: This pistol was below $50 when this report was written and edited, but the price increased before it was published. I left it here because it's such a nice gun, but it now costs over $50.]
Colt Defender BB pistol
I found the Colt Defender BB pistol to be a wonderful BB pistol when I reviewed it.
Gifts under $100
Let's look at some gifts for under $100. These are things airgunners probably want but may not remember to ask for — so you need to ask them.
Champion Heavy Duty trap
The Champion Heavy-Duty trap should be an essential part of every airgunner's equipment. They will only need one of these, and it'll last for the rest of their lives. My own trap is close to 20 years old and must have half a million shots on it, but it still works like new! It can take rounds from a .22 long rifle and still not dent or blemish, so you know no smallbore air rifle can possibly hurt it.
Crosman 1077
The Crosman 1077 CO2 rifle is Crosman's homage to the Ruger 1022. And, like that famous rimfire, the 1077 has become a classic in its own right. It's a fun plinker, and the stiff double-action trigger (this rifle is really a revolver) lightens and smooths with use. It's also surprisingly accurate — way beyond what the price indicates.

Umarex Morph 3X CO2 gun
The Umarex Morph 3X CO2 gun isn't for everyone; but if your shooter likes gadgets, it might be for him. It gets its name from the way it changes from a BB pistol to a BB carbine. It also has adjustable power that compliments the barrel length options. Just seeing what it can be made to do will occupy a lot of time.
Umarex Steel Storm
If your shooter likes full-auto, consider giving him the Umarex Steel Storm. Although it's a pistol and doesn't have a shoulder stock, the Steel Storm is quite accurate with BBs in the semiautomatic mode. It's a very affordable BB automatic, although it's limited to 6-round bursts in full-auto.
Gifts a little over $100
Instead of giving you a list with price breaks from zero to infinity, I'm doing this in a more rational way. This is the way people shop — or at least they should shop. There are a couple items for a little over $100 that make wonderful gifts, but they don't belong in an under $300 category. You'll see what I mean when you look at them.
Dan Wesson BB revolver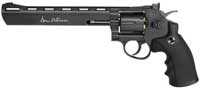 I really enjoyed testing the Dan Wesson BB revolver. It's a CO2 revolver that functions just like the firearm it copies. They come in barrel lengths of 2-1/2 inches, 4 inches, 6 inches and the one I like the best — the 8-inch barrel. Loading is very realistic, and the accuracy is quite good. Read about it here.
Air Venturi Bronco
You knew I had to put the Air Venturi Bronco on the list. For $130, it's the best value you can find in a spring-piston airgun. The stocks are now stained a darker brown color, so those who didn't like the blonde stock will now get their wish. It's great for older youth as well as adults. A wonderful all-day plinker!
EBOS CO2 BB gun
If your shooter wants a full-auto BB gun, I think the Electronic Burst of Steel (EBOS) from Umarex has no equal. It's accurate, powerful, reliable and everything works as it should. Yes, it's over $100, but it's worth it! You can read about it here.
Gifts under $300
This category is much harder to pick for because so much personal taste is involved. But this is my blog, so I get to pick 'em!
Diana RWS 34P
I really like the Diana 34P imported by RWS USA. I don't care for the 34P Compact because the shorter barrel makes it harder to cock. I like the standard 34P. I also dislike its fiberoptic sights, but most people will scope their rifle, so that doesn't really matter.
Diana has made vast improvements in the model 34 over the years, and I think it has evolved into the best value for the money. If you want power and accuracy at a bargain price, the Diana 34P is for you. If you want a wood stock, get the regular Diana 34. It's still under $300.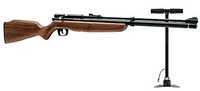 Benjamin Discovery
The best deal around in a precharged rifle has got to be the Benjamin Discovery. It also requires a way to put pressurized air into the gun, and that can be either a hand pump or a scuba tank, so this gift may also entail additional items for your shooter. It's a big decision, but the Discovery is really the easiest way to get into precharged airguns. And if you do decide to get a Discovery, know that there is a package deal that includes both the rifle and hand pump at a significant savings. Of course it takes you out of the under $300 category.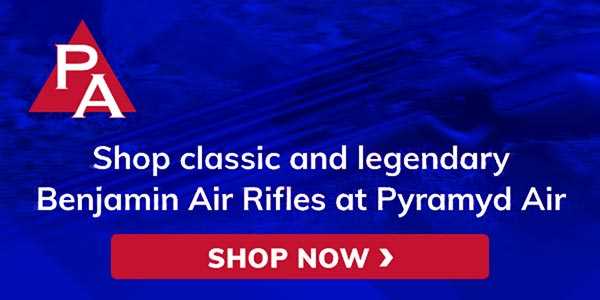 Gifts without limit
I'm not going to list the most expensive things here. I'm just going to list the few things that I would recommend that are more than $300.
Beeman P1 pistol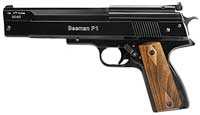 For your handgunner, I recommend the Beeman P1 pistol. This spring-piston pistol is a wonderful target gun for everything short of full-blown 10-meter competition. It features 2 power levels and a wonderfully adjustable trigger. At the time of publication, this pistol is selling for $460.
Benjamin Marauder
Then we come to the Benjamin Marauder precharged air rifle. It comes in .177, .22 and .25 calibers. It's very quiet, has a wonderfully adjustable trigger, is quite accurate and has more adjustability than many European air rifles costing over a thousand dollars. As this is published, the Marauder sells for $470, which has to be the best PCP value around.
AirForce Talon SS
The Talon SS from AirForce Airguns is a stunningly accurate PCP that allows the user to change calibers as well as barrel lengths in minutes. It isn't one rifle — it's a whole shooting system! It was the first PCP to use a shroud to reduce the muzzle report, and it was one of the first to offer adjustable power. This is the kind of airgun a shooter joins with in a serious way because it can be so many different things. At the time of publication, the Talon SS retailed for $575.
Air Arms TX200 Mark III
The last gift I will put on today's list is the always-popular Air Arms TX200 Mark III. It would be difficult to think of a finer gift for an airgunner. Even the inveterate PCP owner needs one of these, just to know how high the spring-piston bar can be raised. Beazer — feel free to chime in, being a new TX200 owner and all.
Now that I've given you my list, I expect to hear from you on those things I failed to mention. I'll come back and do a second list in a week or so, and I'll consider all that you say. There are gifts I intentionally left off this report, but I also want to hear what you guys think.
Remember, the 2013 Christmas season will be brief because of how late Thanksgiving is this year. No matter if you're a gift-giver or a hopeful gift recipient, the time to act is right now. And if you thought of buying one of the last Sheridan Blue Streaks (because Crosman has stopped making them), the opportunity is quickly disappearing. Pyramyd Air is sold out at present but will get a final shipment of this venerable multi-pump around Dec. 6. If you want one, pre-order it. Cause once they're in stock, they'll vaporize pretty quickly.