Posts Tagged 'Benjamin Discovery'
by Tom Gaylord, a.k.a. B.B. Pelletier
Today is Thanksgiving, here in the U.S., as well as the first full day of Hanukkah, which started last evening. I want to wish my Jewish readers a happy Hanukkah and all my U.S. readers a Happy Thanksgiving Day. Today I'd like to take some time to acknowledge those airguns that are worth remembering.
Benjamin 107
It was my first airgun — though I didn't acknowledge it at the time. I was whining at my mom to let me buy a BB gun, when all the while I had a beauty right there in front of me.
The 107 was a front-pump .177 smoothbore pistol that shot BBs, darts and pellets — none very accurately. But compared to a common BB gun, it wasn't too bad. I got it when I turned 10 or 11 after my father died. It had been his. I remember seeing him shoot it once, but that was all.
All the black nickel finish was gone, and the gun was worn to silver nickel in most places, with a hint of brass showing though some of the edges. It was a real bear to pump, and I think I could manage only three strokes when I applied all my weight. After that, I was the one having the stroke!
I could hold about one inch at 20 feet with darts, which was the ammo of choice since I had them and they could be reused. There were some Benjamin pellets that came with the thing, too, but I don't remember them being very accurate.
Once I secured my Daisy No. 25 pump BB gun, I don't think I ever looked at the old Benjamin, again. But that was the first airgun I ever shot, and it started the fascination that's lasted until now.
Diana model 10
Fast-forward 14 years, and I'm married (to my first wife) with a child and living in Germany. In the walled city of Rothenberg ob der Tauber, I find a gun store that sells high-end airguns. They have Walther LGVs and LGRs that I can't afford as a family man. But they also have a Diana model 10 target pistol that the owner claims is stunningly accurate. He's a good salesman, and we decided we could afford it; so I buy it plus 5,000 RWS Meisterkugeln pellets.
I learned how to shoot 10-meter pistol with that airgun — heck, I learned that there WAS such a thing as 10-meter pistol! And I got passably good. Good enough to stand on the line at formal matches while better shooters won. I did that for the next 20 years and got better and better until I was what, in technical terms, is known as a duffer. That's a guy who shows up and shoots without embarrassing himself, while others rule the day.
I also taught my gun-hating father-in-law how to shoot with that air pistol. He got so interested that he shot up a lot of my 5,000 pellets! I finally sold that pistol when I left the Army in 1981.
FWB 124
This is the air rifle I bought after returning from Germany in 1977. I scoped it with a Tasco firearm scope and never had a lick of trouble with it. It had the plastic trigger that the early rifles came with, but I loved it just as it was. It taught me what a precision adult air rifle could be. I had been reading about these rifles for the last 2 years I was in Germany; and, of course, I failed to realize that I lived in Erlangen, the home of the BSF factory! No, I read the Airgun Digest in the last 2 years of my tour and I wanted a 124, so that's what I got.

One of many FWB 124s I've owned over the years. Each one is a classic!
Then the R1 came out and took all the wind out of my sails. My 124 was no longer the baddest airgun on the block — despite the fact that no one on my block owned any air rifles at all. No sir! Dr. Beeman said the R1 was the gun to own, and I wanted one with all my fiber! I had to sell that 124 to pay off debts when I left the Army, but it left a seed deep inside me and I've owned several since that time.
Diana 27
The Diana 27 I'm referring to is not the one you have seen me write about. No, it's a gun I bought for $18 in a pawn shop in Radcliff, Kentucky, in the late 1970s. I didn't even know what it was at the time. It was a Hy Score 807 in .22 caliber and rough as a cob. The rust was deep all over, making the metal surface bumpy. Had it been removed, there would have been deep pits left behind. But the gun still shot very well. I marveled at how light and smooth the powerplant was. It shot slow compared to the 124, but out to 20 yards it held its own. I gave that one to a friend when I left the Army.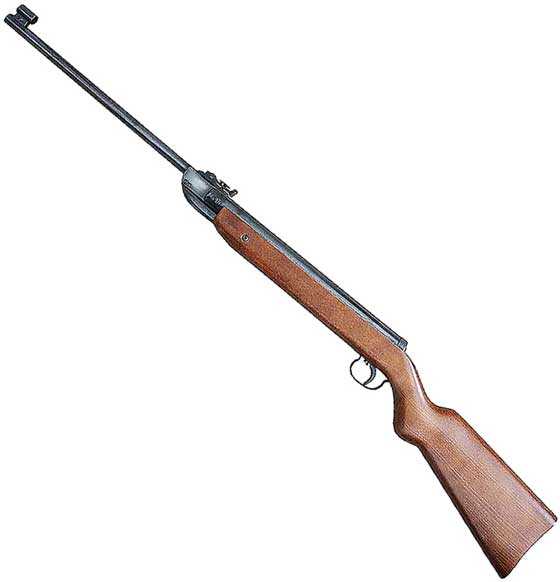 Diana 27 isn't a pretty air rifle, but it shoots like a dream!
Sheridan Blue Streak
This was an air rifle I had coveted since I was a Tenderfoot in the Boy Scouts and read all the ads in Boy's Life. It could shoot through an inch of wood — the ads said so! And it was accurate. But I never had the money to buy one as a kid. In 1978, a year after returning from Germany (and fast becoming a real airgunner), I finally bought one. The price had risen from $19.95 to $39.95 in the time that had passed, but I purchased what is today recognized as the high-water mark of Sheridan production — a 1978 Blue Streak with the rocker safety!

The Blue Streak I bought in 1978, and the rifle on which Edith learned to shoot.
That gun stayed with me after I left the Army. It wasn't worth enough to sell, so I kept it and still have it today. Edith learned to shoot with it and killed 9 rats around our Maryland home — not to mention various mice in the house and snakes in the garden. She put a yellow twist tie around the triggerguard to remind her the pellets were the ones in the yellow plastic box. This was before the days of The Airgun Letter and field target. Edith was still learning about airguns.
Beeman R1
We really didn't have the money at the time, but Edith gifted me with a new Beeman R1 for Christmas in 1991. The Airgun Letter was still 3 years in the future, so the only reason I got this gun was because I told her how long I had desired it. I had purchased a Beeman C1 a couple years before, but it just didn't scratch the itch.
But the real surprise was the used HW 77 carbine that was also under the tree that year. That was Edith at her best — giving me a gift I had no idea I was getting. We even had a scene from A Christmas Story, as a final long box with my name on it appeared after all other gifts had been opened!
The R1 scratched my itch alright; but what I discovered about airguns is that the more you scratch, the more the itch spreads. You think I'm an enabler? Remember, folks, I do everything to myself before I do it to all of you.
Beeman R8
It was the day I returned from the hospital in 2010. I was sitting on the sofa and had just enough strength to sit up for awhile. Edith pulled out a long cardboard box and told me that one of our blog readers had sent me something for when I come home. I couldn't stand or even open the box. She had to do it for me. Inside was a black hard case and inside that was the most beautiful Tyrolean air rifle I've even seen. It was a Beeman R8 with a custom stock and a fresh tune. A personal note told me who had done the work and how nice it shot.

This beautiful Tyrolean Beeman R8 was waiting for me when I returned home from the hospital.
As weak as I was, I had Edith hand me the rifle and I found that I could cock it. Oh boy! Here was a spring rifle I could shoot real soon, even when I couldn't cock most other air rifles. My friend, Mac, was still testing spring guns for me for several months as my strength returned, but that R8 was mine from the moment I first held it.
Edith and I were showered with gifts from the members of this blog when I got out of the hospital, and we were stunned at the outpouring. But that R8 is my favorite spring rifle because of how nice it is, how great it shoots, and most of all what it meant to me at a time when I could barely raise my head off a pillow.
What about the others?
Sure, there have been plenty of other airguns I'm thankful for. My Whiscombe has been a dream test bed for numerous experiments. Both the Benjamin Discovery and the Air Venturi Bronco are guns I personally was involved in developing. So, of course, they meant a lot. The AirForce Talon SS with a 24″ barrel is probably the gun I shoot more than any other…and you all know how I feel about the TX200! I could go on and on, but where do I stop? These guns have all been pivotal in my development as an airgunner.
I'm thankful
Back when I wrote The Airgun Letter, I allowed myself to get sucked into several bad arguments over trivial airgun issues. When we started this blog, I insisted on using a pen name rather than my own. I didn't want to spoil things with old baggage from the past. I also reinvented myself at the same time. I learned to curb my temper and to listen to what others have to say — even when it runs contrary to what I believe.
Some of you suspect this, but now I'll tell you all that Edith is half of Tom Gaylord, the writer. She keeps me on an even keel and lets me vent privately when I have to. She has a much better memory than I do and sometimes she suggests things that I wish I had thought of (and accept credit for when they show up in print). If I didn't have her, the veneer of who I am would quickly peel back and expose the unpleasantness underneath.
The airguns I have written about today were all pivotal in shaping my life as an airgunner. But it is Edith and you readers who have really had the greatest influence. Through thick and thin, you continue to inspire me and make me glad to have this job.
A few weeks ago, blog reader David Enoch asked me to write a report about the airguns that I never warmed to. I tried doing that and quickly found all the bad old stuff leaking out. So, I stopped writing and focused on only the good things that have happened with airguns. There are so many of them; and when I focus on them, I become the person I want to be.
Today's report came as a result of a disaster I had while testing a gun yesterday. Nothing went right, several optical sights failed and I put some new dents in the wall of our bedroom. I then sat on the couch complaining about everything. Knowing that I was losing it, Edith suggested today's topic. I hope this piece does some good for all of you because it has made my day! Happy Thanksgiving!
by Tom Gaylord, a.k.a. B.B. Pelletier
Today I'll show you more of the airgun show that was held in Roanoke, Virginia, last Friday and Saturday. I'm going to jump around just like you would if you walked the aisles at the show.
Let's begin at Larry Hannusch's table. Larry has been an airgun writer since the 1970s, and he has a great collection of fine guns. This year, he displayed some of his ball-flask guns, giving show attendees a chance to see airguns that no American museum has.

Not many people have ever seen this many ball reservoir airguns in one place. Larry Hannusch collection.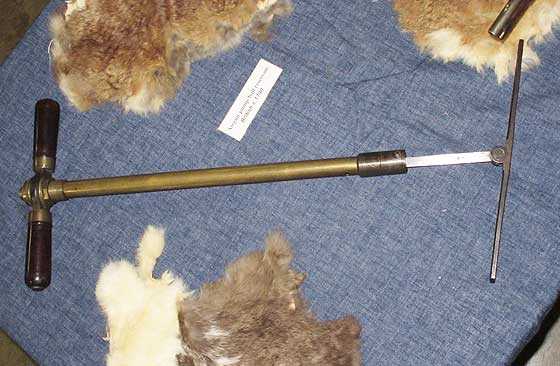 How do they fill those ball reservoirs? With vintage hand pumps like this one. Dennis Quackenbush and I experimented with these pumps and learned they can develop up to 1,000 psi when the right technique is used. And they don't have piston seals — just lapped steel pistons!
Larry also had a sales table with some fine vintage guns that were actually for sale. One was a BSF S54 underlever target rifle with a peep sight the size of a satellite dish. The one thing you can count on with guys like Larry is that they always bring out the rare and wonderful guns that most of us have only seen in books.
Across the aisle from Larry was Lloyd Sikes — the man who invented the electronic valve that went into the Benjamin Rogue. In fact, it was at a Roanoke airgun show years ago where Lloyd shared his idea for that valve with me. And the rest is history.
Lloyd has made quite a name for himself by producing Benjamin Marauder pistols with dual air reservoirs. His company, Airgun Lab, started making the P-Rod Double last year and then moved to the Disco Double — a Benjamin Discovery with 2 reservoir tubes. This year, he's bringing out a Disco Double with 2 aluminum reservoirs that, as far as I can tell, is as light or even lighter than the original Benjamin Discovery rifle on which it is based.
When I picked up the prototype lightweight Disco Double at his table, I was amazed! It can't weigh much more than 5 lbs.!
I'd promised to do a project with Lloyd last year and never got around to it, but this year a wonderful thing happened. A man who had purchased a new Discovery last year from Mac came to my table and wanted to return it. I explained that Mac had passed away, but then I thought that this might make the perfect rifle for a project with Lloyd. It was leaking, but that's not a problem because it will have to be sealed anyway after the conversion. And with the 2 aluminum reservoir tubes, I should get about twice the number of useful shots per fill. And that's a 2,000 psi fill, mind you.
So, I bought the gun and gave it to Lloyd for the conversion. As we talked and refined the details, I decided to also install a Marauder trigger on the rifle, which will give me what I always wanted — a single-shot rifle with lots of shots, a great trigger and superior accuracy. There — that's 1 of the 4 airguns I bought out of the way!


Mac sold this Benjamin Discovery at the show last year, and I bought it back this year. It's one of the early ones with a walnut stock, and it also came with the hand pump.
I was also located next to Ingvar Alm, a collector/dealer from Minnesota who always has wonderful stuff at these shows. He's one of the major contributors to the Blue Book of Airguns. I could spend an entire blog on just the stuff on his table; instead, let me share with you the one gun that really caught my eye. It's a dart gun from 1887!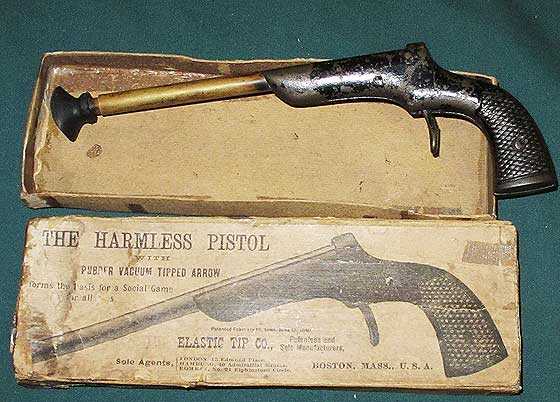 The "Harmless" pistol. Wouldn't you just love to see this at a Congressional hearing on toy safety today? This was on Ingvar Alm's table, and he let me load and cock it for this picture!
Lest you BB-gun collectors feel left out, there were also plenty of desirable guns that you love at this show. I saw at least one model 40 with a bayonet, and I believe there was also a scarce model 140 Defender on the same table.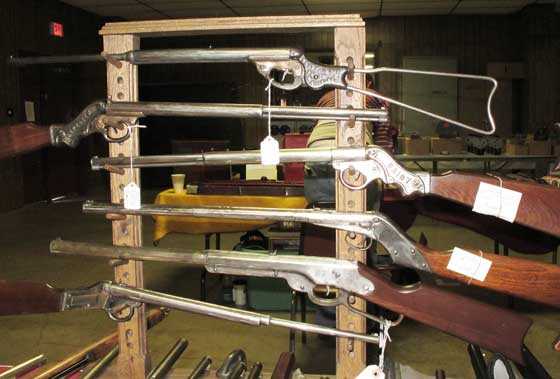 Yes, there were plenty of rare collectible BB guns at Roanoke, too. And the prices were just as reasonable as the rest of the airguns.
What's REALLY rare? How about a 1923 first model Crosman pneumatic with a front pump? There are seldom any at a show, but at this show there were at least 2! One of them had a price tag of $1,250, which is almost half what I've seen them bring in the past.


There were 2 of these 1923 Crosman front-pump pneumatics at the show, and both were for sale. This is something that's seldom seen.
Okay, I guess it was blog reader Bradly who asked if there were any air shotguns at this show. Yes, there were. I saw a Farco air shotgun on one table. That's the 28-gauge shotgun from the Philippines that Davis Schwesinger (the Roanoke show promoter) used to kill a wild pig several decades ago.

Gun on the left is a Farco air shotgun. Gun on the right is a Crosman 102 repeater. Yawn. That's what happens when you're surrounded by riches.
What guns did B.B. buy?
You already know about the Disco, so what other airguns did I get at Roanoke this year? The first one was something I just couldn't pass up. A Diana model 25 for $75! It's the model without the ball-bearing trigger and the cosmetic condition isn't that great, but it's all there and seems to have a powerful mainspring. I felt the gun was undervalued, so I paid a little more than was asked but still got a great bargain.


This Diana 25 was a real bargain! You'll see it in the future.
Before I came to the show, I was thinking about buying a BSA Meteor. I've always heard good things about them but have never pulled the trigger on one. This was the time.
At the show, I saw Meteors from $30 (junky) to $125 (excellent condition), and the average price was around $60. I bought one from Don Raitzer and will test it for you in the future.


This BSA Meteor was my only planned acquisition.
The last gun I bought was a flight of pure fancy. My money was mostly spent; but when I saw this rifle laying on the table I really wanted it — not because of its rarity or value, but just for the neatness factor.
It's a Falke model 70, and it's not much like the model 90 underlever I already have. This one is a breakbarrel that comes with an adjustable trigger and a barrel lock. The stock has been refinished, and the metal is mostly patina. But the rifle looks and feels solid. The dealer, Dave Bingham, said it reminds him of a Diana 27. It looks heavier and more powerful than that  to me, but I suppose we'll find out when I test it. I got it for $100, which I think is a wonderful deal.


This Falke model 70 was on the same table as the model 80. This one is intriguing and I will be testing it for you soon.
Davis Schwesinger, the promoter of the show, had several tables full of vintage airguns. I'm going to show just a few that convey what was there.

Dave Schwesinger's tables just went on and on. Here you see a Hämmerli Cadet, a VZ 47, a pre-war Diana model 30 and a Swedish Excellent. Where do you see airguns like these, except at shows like Roanoke?
Jan Kraner had a table displaying the most beautiful wood-stocked rifles. Most of them were not for sale, but they were a feast for the eyes. Jan uses them to showcase his talent as a stock maker, and believe me — it works!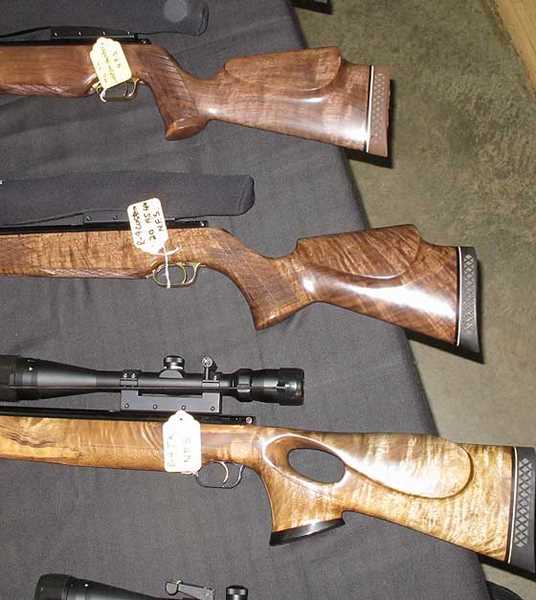 Jan Kraner's stocks stopped people in their tracks.
At last
I saved the best for last. In recent years there haven't been too many Sheridan Supergrade rifles showing up at these events. But this year John Ford had a nice one and the price was just $1,250. That's hundreds under what they have brought in recent years.

A Sheridan Supergrade for sale is a rare thing. And this one was affordable.
The show was over before I knew it, and another year had slipped by. This one was different, as my pal Mac wasn't there to share the excitement. But as I am reminded every time I go to one of these things — nothing is forever. We don't own any of these airguns. We're just their custodians for a time. In the future, these prized possessions of ours will be in someone else's collection. That's how we got them in the first place.
by Tom Gaylord, a.k.a. B.B. Pelletier
Today's report came from a question asked by blog reader GunFun1:
"How do airgun manufacturers come up with the maximum fill pressure for their precharged airguns?"
He went on to say:
"I guess it is safety related and to protect the o-rings also. And if the gun isn't adjustable for the striker and spring I guess they test to see if the gun will get valve lock or something? Or is for the fact that most hand pumps won't go too much above the 3000 psi fill level with the exception of a few brands?"
The report
What I am about to tell you has been collected from dozens of meetings and tours through airgun companies. I've been in the engineering departments, talked to the development engineers, and seen the CAD systems and the prototypes they work on. I've also had long discussions with smaller airgun builders like Dennis Quackenbush and Gary Barnes. I know how they approach this problem. So, I can tell you what I've seen. That's not the same as a full disclosure report, but I don't think you're going to get that anywhere.
Doing what works is Job One
Airgun companies don't "come up with" the maximum fill pressure at all. At least they don't do it as an initial calculated engineering step. It's not a primary goal, except in a few instances I'll mention. Instead, what they try to do is design and then build a precharged airgun that works. One that shoots pellets out the muzzle. That's always the first objective.
In coming up with "what works," each company has something definite in mind. One company may want to build a 10-meter target rifle that fires an 8-grain .177 pellet at 575 f.p.s. for at least 120 shots from a fill, and they don't want the velocity to vary by as much as 10 feet per second throughout the entire shot string. There are several paths available to them — things like pressure regulators, balanced valves and so on.
Another company wants their gun to propel a 30-grain .22-caliber pellet at 1,000 f.p.s. They are making a hunting rifle, and their first goal is to get the power they are seeking. After they get it, they'll then look into getting the most number of shots from a single fill.
A third company wants to build a rifle that gets a lot of shots in the 25 foot-pound region. Their primary goal is the number of shots they can get at around 25 foot-pounds.
Where does fill pressure fit in?
In all of this, the fill pressure hasn't been mentioned, but it has been in the backs of all the minds working on the primary goals. For example, most airgun manufacturers know that shooters in the United States have easy access to air at pressures up to 3,000 psi. So, a gun that has a 3,000 psi fill limit is going to be received better than one that needs to be filled to the 4,350 psi that some German guns require. The United States is not a very big airgun market in general; but for guns that develop great power, it's probably the biggest market there is. Anyone who builds an airgun of great power would be foolish to also build it to accept a 300 bar/4,350 psi fill. Doing so would cut out their biggest potential market.
On the other hand, the United States is a relatively small market for high-end 10-meter target guns — guns costing between $1,700 and $3,200. So making a gun in that category that also accepts a 300-bar fill isn't foolish at all. If the European market for these guns is that much larger than the U.S. market and if it's that much easier to get the higher pressure air in Europe, it makes perfect sense to build guns like that (for reasons I will discuss in a moment).
However, making a low-cost, youth-oriented target rifle that needs a 300-bar fill would be suicide! That's because the world market for rifles in that category is located in the U.S. We have almost a million kids each year competing in 10-meter target matches, and that's a number that's been verified by the NRA. That's why Daisy, Crosman and AirForce Airguns all have models in that category, and they know that to boost the fill pressure of their guns to 300 bar would be the kiss of death.
What about the boutique makers like Quackenbush and Barnes? They know their markets well and tend to build guns that fill to 3,000 psi or less. It's true, many of the Quackenbush Outlaw Long Actions will accept higher fill pressures and still work well, but that's an anomaly. They're designed to use a fill pressure of 3,000 psi.
And what about the Korean precharged guns? Many of them will also accept a higher fill pressure and still function. In their case, like the Quackenbush guns, I think the design goal was 3,000 psi, but a too-heathy valve return spring boosted the top threshold beyond the goal. With guns like these, a shooter is rewarded for chronographing his shots and establishing what the actual fill pressure of his specific gun is before heading out to the field to hunt. He can get by with a 3,000 psi fill, but time spent on the chronograph will reward him with extra velocity for the shots he gets on each fill. What it usually won't do is add more shots to the total per fill.
Can fill pressure be a primary goal?
While it normally isn't a primary design goal, it is possible to make the fill pressure limit one of the primary goals for the airgun's design. Tim McMurray and Larry Durham were the first ones to succeed in doing this in a very big way when they designed the USFT rifle. With a fill pressure limit of around 1,600 psi (these rifles all vary just a little on the exact pressure limit), they get 55 good shots of .177 Beeman Kodiaks traveling over 900 f.p.s. How is that possible? Well, there are 3 things that make it possible. One is a 25-inch barrel that gives a longer time for the pellet to accelerate, and another is a huge air reservoir that stores a lot of air at the recommended fill pressure. The third essential thing is a valve and hammer that are balanced perfectly to open the valve and hold it open long enough for the pressurized air to flow into the barrel and get behind the pellet.
Even before the USFT came about, Gary Barnes made one airgun that got a notable velocity on extremely low air pressure. With his outside lock airgun, Gary was able to get .25-caliber pellets over 25 foot-pounds of energy (a 20-grain pellet going 753 f.p.s.) on just 600 psi. That sounds incredible until you recognize that airguns were doing that and much more in the 1600s and 1700s. They had to because that was about as much air pressure as they could get into the gun!
Barnes' outside lock gun did not shoot at a steady velocity. The first shot was the most powerful, and each shot thereafter dropped in velocity somewhat. But it was still possible to get 9 shots from his gun — all from an initial charge of 600 psi. His rifle has a 32.75-inch barrel, which is needed to extract every last bit of energy from the low air pressure. And the secret of his valve is that it's held open not by impact but by a pair of cams that come into contact and are locked to travel together through an arc as the hammer falls. The length of the arc determines how long the valve remains open. So, the velocity of this gun can be regulated by the hammer spring, the valve return spring, and by the size and shape of both cam elements. It's an ingenious design that dates back to the very early 1700s.
Knowing that low-pressure operation was possible for a PCP, I went to Crosman in 2006 with a proposal to design a low-cost, easy-to-fill PCP single-shot rifle. I'd been told by another airgun designer that my idea was impossible the year before, but I knew from the USFT and the Barnes gun that it was very possible. The result of that project was the Benjamin Discovery.
Why fill to higher pressure?
The next question we must ask is, if it is possible to get many good shots on lower fill pressure, and the Benjamin Discovery proves that it is, then why would anyone ever build a gun that takes a fill pressure that's extremely high? Why, for instance, would a gun need to be filled to 4,350 psi? One good answer is the gun has a pressure regulator that drops the reservoir pressure to a lower pressure that the firing valve can handle. If you can drop 4,350 psi to 1,800 psi for a valve, you'll get many more shots from the gun than if the valve had to operate throughout a range of pressures. That's because no matter how a mechanical valve is designed, there will always be an upper limit at which it will work and a lower limit, below which it will stop working.
While such a system SOUNDS like the perfect design, you need to consider that the pressure regulator takes up space inside the reservoir that cannot be filled with air; and the valve also needs a small chamber of air at the lower pressure where it's been designed to operate. That chamber also takes up some space where pressurized air cannot be stored. So, there's a tradeoff when installing a regulator. You need enough room inside the reservoir to make the regulator system worth the loss of reservoir volume.
A more sophisticated system
A better way to use air at a higher pressure is to employ a computer-operated solenoid to open and close the firing valve. Then, you don't need either the regulator or the air chamber. The electronic valve does all the work. If you also put a pressure sensor inside the reservoir that can tell the computer how much pressure it has to work with, the computer can calculate exactly how long the electronic valve has to remain open, giving you shot after shot at the same velocity, even when the air pressure drops by 2,000 psi. This is how the Benjamin Rogue works.
While the .357-caliber Rogue hasn't been a huge success in the marketplace, the proprietary way its valve operates gives Crosman an edge in the PCP market. If they were to put their valve on a smallbore rifle built for general hunters and shooters, and if they could keep the price under control, they might just have the next generation of sporting PCPs. I don't mean the gun has to be cheap, either. With Air Arms sporters selling for $1,000, and both FX and Daystates pushing $2,000, there's plenty of room for a premium-priced Benjamin sporter with the Rogue-type electronic valve. It can't look like it was sired by a boom box and a black rifle, and it has to be quiet, have a deadly accurate barrel and a trigger to die for; but such barrels are available, and Crosman knows how to make good triggers and quiet guns.
So, GunFun1, this is my answer. Fill pressure isn't normally the first thing on the minds of airgun designers. Many of them just build guns that work, and the fill pressure falls in place toward the end of the project. Those who are more savvy know what the market will allow, and those who are really sharp know what the market is looking for.
by Tom Gaylord, a.k.a. B.B. Pelletier
Today, I just have to address all the discussions in the comments we've been having regarding the cost of production (of airguns) and why some companies can or cannot build certain guns. Let me begin with the Benjamin Discovery, whose story is a wonderful lesson of what's possible.
History of the Benjamin Discovery
In 2006, Crosman held a conference with all the airgun writers. The four of us (Stop laughing! I'm telling the truth, here!) were flown to upstate New York and initially presented with Crosman's corporate goals and objectives. We were then shown things that were soon to be launched. Finally, they asked us to tell them what we thought airgunners wanted. We sat in what they call their War Room (a boardroom with many of their products on the walls) and told them things we thought they should make — or at least consider making.
As we were telling them our thoughts, an idea began forming in my brain. Crosman could build a PCP! And the way I imagined it, they could build it cheap enough that it could retail for for under $200 at that time. But I knew my idea wasn't fully developed yet, and also that it was an order of magnitude greater than the ideas we were discussing in the room.
I kept quiet about this idea in the meeting, but later I privately asked the advice of one of Crosman's trusted contractors — a person I had known for many years and whose honesty I trusted. I told him that I had a world-beater idea and asked whether Crosman was an honorable company, or would they take my idea and shut me out of all that followed? He told me they were very honorable, but they were also businessmen — so I should at least have a non-disclosure agreement in place before any talking started. I later learned that it is Crosman policy to always have such an agreement in place before they talk to anyone — as it is with all honest companies.
Months passed as I started initial discussions with the company. Finally, when the non-disclosure agreement was in place and they thought I might be on to something, they brought me back to make my full presentation. I won't bore you with the Powerpoint presentation, but that's exactly how I did it. My idea broke down to the following points:
1. A PCP gun to sell for under $200 could be made from one of their existing CO2 guns.
2. It should be sold with a hand pump, a tin of pellets and full instructions.
3. The price of the set should be under $300.
4. MOST IMPORTANTLY: It should operate on 1,800 psi air pressure.
Now, I have to give the credit for the low air pressure operation to Tim McMurray and Larry Durham because they're the ones who made it work in the USFT. I knew it would work because I owned a USFT rifle that was working on 1,600 psi and getting 950 f.p.s. with .177 Beeman Kodiaks.
I knew that older airgunners would resist the need to fill the rifle from a hand pump, so the lower operating air pressure was key to its success. Pumping to 1,800 psi is easy. When you pass 2,300 psi, it starts getting difficult.
Crosman listened to the presentation, and I think they were surprised by how passionate I was about the packaging of the gun, the low air pressure and some other things that didn't deal directly with the actual gun. I guess they thought I would come in and try to tell them how to build an airgun, but I knew they already knew how to do that very well. What I was telling them was how it had to work, and how it had to be presented to the marketplace. I don't guess too many people from off the street come to them that way.
CEO Ken D'Arcy then leveled with me. He told me they had tried to get into PCP guns years before. He was surprised when I then told him why that venture hadn't worked. It was before he came to Crosman, but not before I started writing about airguns. They tried marketing British-made Logun rifles, and it backfired. Buyers knew where the guns were made; and instead of buying them from Crosman, they were buying them directly from the UK to save money. But more than that — and this is the real reason it failed — Crosman knew NOTHING about PCP guns, and everyone knew it. So, when support (parts, maintenance, operating information) was needed, how good would it be? That was the real problem that killed the Crosman/Logun deal.
By making a PCP right there in their New York plant, they would be forced to get their hands dirty and learn all the intricacies of precharged pneumatics…and that would make them a better company in turn. That fact, plus my complete marketing plan, was why this project would succeed where the other one had failed — or at least that's what I believed.
They brought me back a couple weeks later, and I was prepared to demonstrate my idea to them. I'd made a pigtail air hose adapter with a built-in regulator that dropped 3,000 psi pressure from a scuba tank to 800 psi. It was set up to connect with their AT392T pellet rifle reservoir and turn it into a PCP right on the spot. The AS392T used 88-gram AirSource tanks, which my adapter mimicked. But Crosman had gone me one better. Ed Schultz, their production manager and also a real airgun enthusiast, had prototyped two 2260 rifles with stronger air reservoirs and special valves to run on 2,000 psi air. He built them both (one in .177 and the other in .22) in about one week and had astounded himself and the entire Crosman management team by producing decent shot strings and great velocities! The .177 got close to 1,000 f.p.s. with lead pellets, and the .22 was just under 800 f.p.s.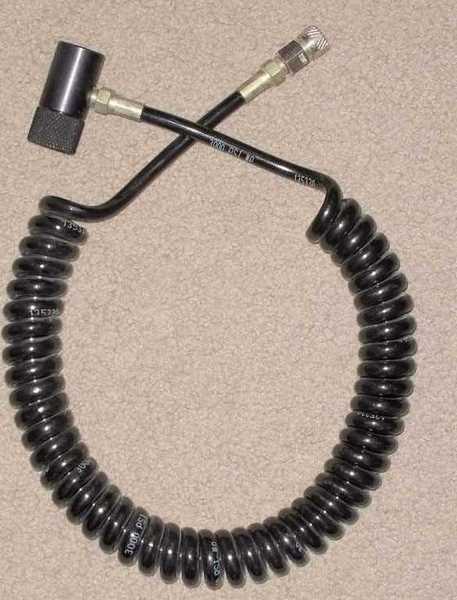 This is all that remains of my demonstration hose and regulator for the Benjamin AS392T rifle. I sold the regulator, yoke and AirSource adapter at an airgun show years ago. The black end attaches to an AirSource port.
Before I could unpack my kludgy air hose, Ed burst into the room with one of his prototypes and several spreadsheets showing the performance he was getting. Everyone there — Ken D'Arcy, Bob Hampton (Crosman's marketing VP at the time) and Ed Schultz — knew they were going to build this gun before I arrived.
The second meeting evolved into this: Should we really build this basic gun, or should we add a better trigger, shrouded barrel and better barrel?
I argued that they should build the basic rifle first. I wanted to call it the Benjamin 8020, because it represented 80 percent of the features of a European PCP for 20 percent of the money. I also wanted to put my name on the gun; because if they were going to really build it the way we were talking, I knew it was going to be a success.
I was pleased that Ed had selected the 2260 as the prototype instead of the AS392T that I'd recommended. It was far easier to modify, plus it was a cheaper base gun and had everything I wanted in this project.
I told them if they would just stick to the basic gun, it would get their production capability spun up and still be simple enough that it wouldn't give them any insurmountable manufacturing problems. Then, Ken D'Arcy asked me the million-dollar question. Did I seriously believe that if they built this gun the way we were now envisioning it, could they sell 1,000 units in the first year?
When he asked me that, things got very serious because I was putting my reputation on the line. So, I gave him an answer couched with stipulations. IF they built it this way, and IF they packaged it the way I'd specified, and IF they marketed it the way we'd discussed and IF they held the retail price point to not more than such-and-such, then I said I thought they could sell TWO thousand rifles in the first year.
This all happened in February. They worked on the gun all that year. I worked with them testing prototypes, drafting the owner's manual and on the website animations that showed how to fill the gun. I had wanted to make a short DVD of a teenaged girl filling the rifle with the hand pump, so we could silence all those old guys who say pumping airguns is for the birds and too hard, but we settled for an animation.
The rifle was launched at the next year's SHOT Show, and it really did surprise the marketplace. Naturally, Cabela's and Wal-Mart didn't understand it — but hard-core airgunners did, and they gave it a try. They started talking among themselves, and the rest is history. I have no way of knowing the exact number of rifles that sold in the first year, but it was more than my prediction of 2,000 guns.
The lesson
The object here is that Crosman was in the right frame of mind to enter the PCP market when I took my idea to them. My idea wasn't for a gun — it was for a package and a presentation that I knew the U.S. airgun market was ready to receive. In our discussions, I told them that if they did this project the way we discussed, and if they followed it with their upgraded gun a year later (the rifle that became the Benjamin Marauder), they would own the PCP market within 5 years. Ken D'Arcy and Bob Hampton both left Crosman in the years that followed; but before they left, they agreed that this project was a complete success.
What made it a success was the commitment that Crosman gave to the project. Had they faltered or had they had a steering committee overseeing the project, making useless contributions that derailed the effort, it could have gone the other way just as easily. Had the marketing department decided at some point that the Discovery was a cash cow and they needed $25 more profit from it, they could have destroyed all that we'd worked to build. But they didn't. They stayed the course, and today they're in the catbird seat as one of the power players in the precharged pneumatic airgun world.
As crazy as this is going to sound, we also discussed turning the Crosman Challenger 10-meter rifle from a CO2 gun to a PCP at the same time we were talking about the Discovery project. Ed Schultz even confided in me that they were going to be interested in big bores at some point, so when Lloyd Sikes showed me his radical new valve….Well, that's another story.
The problem
People are the biggest impediment to success in any industry — or anywhere else, for that matter. You can have a wonderful, successful and powerful company; but if their marketing manager has other interests and if he's the one traveling to China to make the selections and talk to the factory, you're only going to get products that are as good as he asks for. If he doesn't know the market, you're going to get garbage because he can't tell the difference. Would you go to a 5-star restaurant and let a 4-year-old order for you? NO! Mommy or daddy need to reel in the child and take control. In fact, 4-year-olds probably don't belong in 5-star restaurants. And by the same reasoning, people who've just graduated from business school don't belong on management steering committees that select the key features for a new airgun.
Another problem — and a solution
Managers who don't know their market are another huge problem. That marketing manager who goes to China and brings back the wrong airguns is acting in good faith. He may not be an airgunner or even a shooter (though he certainly should be!), but he makes his selections based on what he sees in the marketplace.
Speed sells and everyone knows it. I'll not deny that it really does sell. But — and this is key to understanding how this all works — WHO does it sell to? Does it sell to the 24-year-old kid with his ball cap on backwards and his baggy drawers hanging too low? Because if that's who you're watching — he's not your main customer. His shallow pockets have holes in the bottoms and he has the attention span of a fruit fly. If you're going to sell to him, everything has to be below a certain price point and has to be named something exotic — something like Extreme, or some jumble of numbers and letters. XZ7 or Zombie Revenge are a couple good model names for this guy.
On the other hand, the people who regularly spend hundreds of dollars a year on their hobby are the ones you want to please. They are the ones who will keep buying from you when the rest of the market goes slack. But what if you already have a pretty good handle on those people? Where do you get more people just like them? I'll tell you.
When I started writing about airguns in 1994, there weren't over 10,000 serious airgunners in the United States. When I started Airgun Illustrated magazine in 2003, we estimated there were 15,000 to 45,000 serious airgunners.
Today, I would estimate there are no less than 50,000 and probably closer to 100,000 serious airgunnners in this country. And I'm not including the youth shooters on teams in this number, because they don't buy airguns, for the most part.
However, there were over 5 MILLION serious firearms shooters back in 1994 — and today I would not be surprised if that number was three times as much! NRA membership surpassed 4 million recently and I wouldn't be surprised to see it top 5 million very soon.
So, I'll ask again: Where can you get new airgun customers who like to shoot and are willing to spend money to do it?
Now, what do you think might attract a firearm shooter to buy an airgun? And I'm not taking about a Daisy Red Ryder for the grandkids. Please don't try to answer this with a single answer because that's what all those failed marketing managers are doing.
The reasons people want to shoot airguns today, or should want to, are numerous and complex. A 21-year-old woman in Oregon who wants to get her concealed carry permit has one reason for wanting an airgun (training), and a 73-year-old man in Maine who is living on a fixed income has another (economy). David "Hawke" Hunter in Lubbock wants to drop prairie dogs without endangering the nearby oilfield workers, but Sally Primrose lives in a two-bedroom condo in Pasadena and wants to shoot targets indoors without alarming her next-door neighbor, with whom she shares a common wall. NASA wants to remove woodpeckers from the sides of launch vehicles where they're damaging the insulation (a true story), while the city of Spokane wants to eradicate pigeons under nets they throw over trees on downtown streets at 3 a.m. to keep from alarming the residents (also a true story).
Folks, the marketplace has burst wide open, and buyers with money are looking for what "They ought to make." It's necessary to reach out to these customers and inform them that there are airguns that can put 10 pellets into an inch at 100 yards, serve as a good training tool for a sidearm or drop a wild hog humanely.
Two things need to happen. The makers need to make the kinds of airguns shooters want to buy, and then they need to inform the shooters that such guns do exist. We need to do better on both accounts.