.22-caliber Lightweight Disco Double: Part 6
by Tom Gaylord, a.k.a. B.B. Pelletier
Part 1
Part 2
Part 3
Part 4
Part 5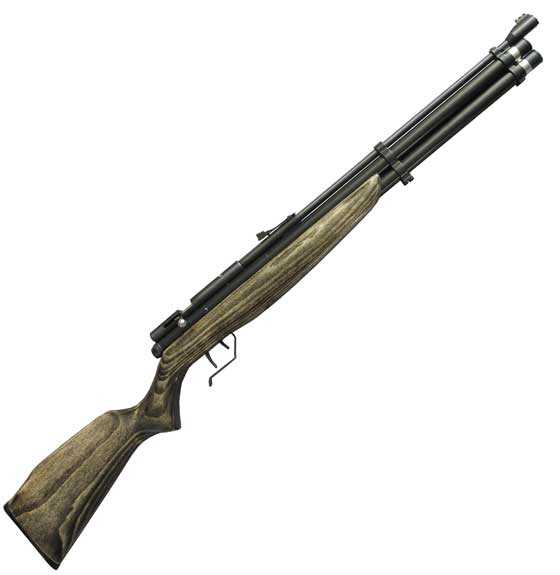 The Lightweight Disco Double in its new stock looks striking!
This is a second look at the Disco Double at 50 yards. On this day at the range, the wind was quiet, so it was a good day to test.
I didn't do anything to the rifle before this test because I didn't have any time to stop long enough to clean the bore. So, it went uncleaned. I may have promised to do certain things before the next test, but all I actually did when the time came was grab the rifle and go back to the range.
I used the same black single sandbag you saw in the Daisy model 8 test earlier this week. The Disco Double perfectly fits the long groove of that bag and feels more secure than if it was in a conventional rifle rest.
Beeman Kodiaks
The first group was made with 10 Beeman Kodiak pellets, and they were on target since I'd already zeroed this rifle at 50 yards for the earlier test. They initially stayed together, and I thought the rifle might have turned the corner. They then began to fly farther and farther apart. In the end, 10 pellets went into 1.837 inches — hardly a group worth mentioning. When I checked back to the previous test, though, I noted that this same pellet had made a group that was 2.458 inches at 50 yards; so as bad as it is, this was an improvement.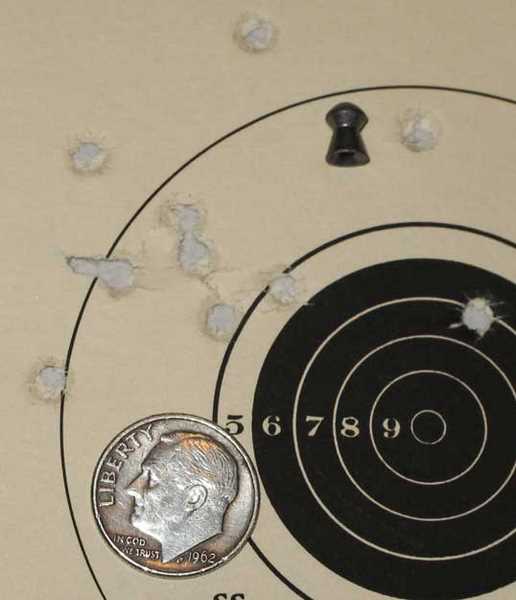 Ten Beeman Kodiaks went into 1.837 inches at 50 yards.
Okay, that wasn't the brilliant opening I was anticipating. Even though the same pellet beat the last group by half an inch, it didn't seem like the time to gloat. Next up were the JSB Exact Jumbo RS pellets — the most accurate pellets in the first 50-yard test.
The first group was another teaser. It looked small through the scope. It wasn't until I measured it that I found out it went over an inch. Ten RS pellets went into 1.317 inches at 50 yards. That's smaller than the smallest group from the previous test. There, 10 RS pellets went into 1.3418 inches at 50 yards. This group is similar, but it's not crushingly better by any means.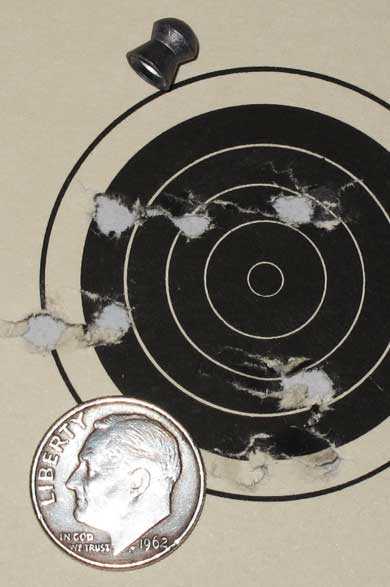 Ten JSB Exact RS pellets went into 1.317 inches at 50 yards.
I now have 2 groups — each of which is better than the same pellet in the previous test. One is significantly better; the other is only better by a whisker. What does that mean? Rather than try to answer that question, I decided to shoot another group. Surely, this one would be conclusive!
The next 10 RS pellets went into a 1.773-inch group. That was the hands-down worst group of both days of testing for this pellet. On the same day, shooting under the same conditions with the best pellet, I got both the best and worst groups this rifle had fired to date.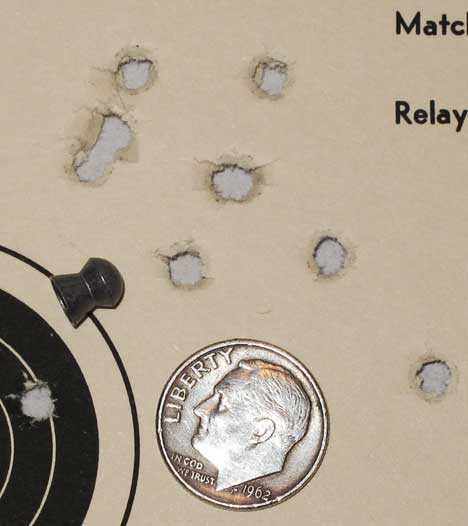 Ten JSB Exact RS pellets went into 1.773 inches at 50 yards.
I'm sure someone can make sense out of these results — but I'm not that person! After 2 days of testing at 50 yards, I had not proven anything except that I can't make this air rifle shoot — yet!
I considered shooting some more groups; but after looking at these results, I thought this wasn't the day. Sometimes, the bear gets you!
Future strategy
I think what I'll do is drag the Disco Double to the range every time I go and try to shoot different pellets each time. Maybe then I'll stumble across the magic pellet that turns this rifle into a shooter. After testing similar rifles, I'm convinced this gun can shoot — I just haven't yet discovered how.
Tom Gaylord is known as The Godfather of Airguns™ and has been an airgunner for over a half-century, but it was the 
Beeman
 company in the 1970s that awoke a serious interest in airguns. Until then, all he knew were the inexpensive American airguns. Through the pages of the Beeman catalog, he learned about adult airguns for the first time. In 1994, Tom started
The Airgun Letter
 with his wife, Edith. This monthly newsletter was designed to bring serious reports about airguns to the American public. The newsletter and
Airgun Revue
, a sister magazine about collectible airguns, was published from 1994 until 2002, when Tom started
Airgun Illustrated
-- the first American newsstand magazine about airguns. Tom worked for three years as technical director at
AirForce Airguns
, the makers of the 
Talon, Condor, and Escape
 precharged air rifles. Today, he writes about airguns and firearms for various publications and websites. He also makes videos, and you'll find short clips embedded in some of his artices on Pyramyd Air's website. Tom is a consultant to Pyramyd Air and writes under the name of B.B. Pelletier.