Posts Tagged 'Benjamin Rogue'
by Tom Gaylord, a.k.a. B.B. Pelletier
Today I'll show you more of the airgun show that was held in Roanoke, Virginia, last Friday and Saturday. I'm going to jump around just like you would if you walked the aisles at the show.
Let's begin at Larry Hannusch's table. Larry has been an airgun writer since the 1970s, and he has a great collection of fine guns. This year, he displayed some of his ball-flask guns, giving show attendees a chance to see airguns that no American museum has.

Not many people have ever seen this many ball reservoir airguns in one place. Larry Hannusch collection.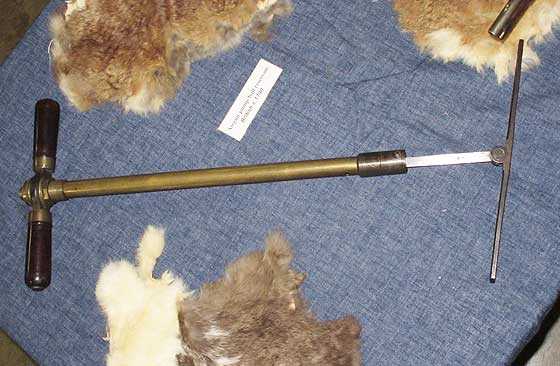 How do they fill those ball reservoirs? With vintage hand pumps like this one. Dennis Quackenbush and I experimented with these pumps and learned they can develop up to 1,000 psi when the right technique is used. And they don't have piston seals — just lapped steel pistons!
Larry also had a sales table with some fine vintage guns that were actually for sale. One was a BSF S54 underlever target rifle with a peep sight the size of a satellite dish. The one thing you can count on with guys like Larry is that they always bring out the rare and wonderful guns that most of us have only seen in books.
Across the aisle from Larry was Lloyd Sikes — the man who invented the electronic valve that went into the Benjamin Rogue. In fact, it was at a Roanoke airgun show years ago where Lloyd shared his idea for that valve with me. And the rest is history.
Lloyd has made quite a name for himself by producing Benjamin Marauder pistols with dual air reservoirs. His company, Airgun Lab, started making the P-Rod Double last year and then moved to the Disco Double — a Benjamin Discovery with 2 reservoir tubes. This year, he's bringing out a Disco Double with 2 aluminum reservoirs that, as far as I can tell, is as light or even lighter than the original Benjamin Discovery rifle on which it is based.
When I picked up the prototype lightweight Disco Double at his table, I was amazed! It can't weigh much more than 5 lbs.!
I'd promised to do a project with Lloyd last year and never got around to it, but this year a wonderful thing happened. A man who had purchased a new Discovery last year from Mac came to my table and wanted to return it. I explained that Mac had passed away, but then I thought that this might make the perfect rifle for a project with Lloyd. It was leaking, but that's not a problem because it will have to be sealed anyway after the conversion. And with the 2 aluminum reservoir tubes, I should get about twice the number of useful shots per fill. And that's a 2,000 psi fill, mind you.
So, I bought the gun and gave it to Lloyd for the conversion. As we talked and refined the details, I decided to also install a Marauder trigger on the rifle, which will give me what I always wanted — a single-shot rifle with lots of shots, a great trigger and superior accuracy. There — that's 1 of the 4 airguns I bought out of the way!


Mac sold this Benjamin Discovery at the show last year, and I bought it back this year. It's one of the early ones with a walnut stock, and it also came with the hand pump.
I was also located next to Ingvar Alm, a collector/dealer from Minnesota who always has wonderful stuff at these shows. He's one of the major contributors to the Blue Book of Airguns. I could spend an entire blog on just the stuff on his table; instead, let me share with you the one gun that really caught my eye. It's a dart gun from 1887!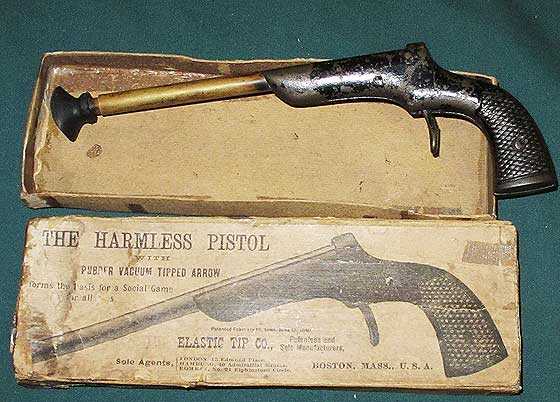 The "Harmless" pistol. Wouldn't you just love to see this at a Congressional hearing on toy safety today? This was on Ingvar Alm's table, and he let me load and cock it for this picture!
Lest you BB-gun collectors feel left out, there were also plenty of desirable guns that you love at this show. I saw at least one model 40 with a bayonet, and I believe there was also a scarce model 140 Defender on the same table.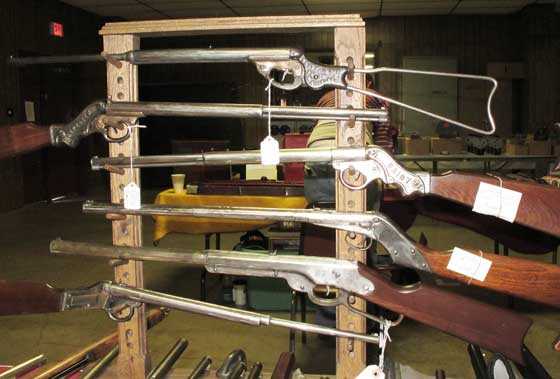 Yes, there were plenty of rare collectible BB guns at Roanoke, too. And the prices were just as reasonable as the rest of the airguns.
What's REALLY rare? How about a 1923 first model Crosman pneumatic with a front pump? There are seldom any at a show, but at this show there were at least 2! One of them had a price tag of $1,250, which is almost half what I've seen them bring in the past.


There were 2 of these 1923 Crosman front-pump pneumatics at the show, and both were for sale. This is something that's seldom seen.
Okay, I guess it was blog reader Bradly who asked if there were any air shotguns at this show. Yes, there were. I saw a Farco air shotgun on one table. That's the 28-gauge shotgun from the Philippines that Davis Schwesinger (the Roanoke show promoter) used to kill a wild pig several decades ago.

Gun on the left is a Farco air shotgun. Gun on the right is a Crosman 102 repeater. Yawn. That's what happens when you're surrounded by riches.
What guns did B.B. buy?
You already know about the Disco, so what other airguns did I get at Roanoke this year? The first one was something I just couldn't pass up. A Diana model 25 for $75! It's the model without the ball-bearing trigger and the cosmetic condition isn't that great, but it's all there and seems to have a powerful mainspring. I felt the gun was undervalued, so I paid a little more than was asked but still got a great bargain.


This Diana 25 was a real bargain! You'll see it in the future.
Before I came to the show, I was thinking about buying a BSA Meteor. I've always heard good things about them but have never pulled the trigger on one. This was the time.
At the show, I saw Meteors from $30 (junky) to $125 (excellent condition), and the average price was around $60. I bought one from Don Raitzer and will test it for you in the future.


This BSA Meteor was my only planned acquisition.
The last gun I bought was a flight of pure fancy. My money was mostly spent; but when I saw this rifle laying on the table I really wanted it — not because of its rarity or value, but just for the neatness factor.
It's a Falke model 70, and it's not much like the model 90 underlever I already have. This one is a breakbarrel that comes with an adjustable trigger and a barrel lock. The stock has been refinished, and the metal is mostly patina. But the rifle looks and feels solid. The dealer, Dave Bingham, said it reminds him of a Diana 27. It looks heavier and more powerful than that  to me, but I suppose we'll find out when I test it. I got it for $100, which I think is a wonderful deal.


This Falke model 70 was on the same table as the model 80. This one is intriguing and I will be testing it for you soon.
Davis Schwesinger, the promoter of the show, had several tables full of vintage airguns. I'm going to show just a few that convey what was there.

Dave Schwesinger's tables just went on and on. Here you see a Hämmerli Cadet, a VZ 47, a pre-war Diana model 30 and a Swedish Excellent. Where do you see airguns like these, except at shows like Roanoke?
Jan Kraner had a table displaying the most beautiful wood-stocked rifles. Most of them were not for sale, but they were a feast for the eyes. Jan uses them to showcase his talent as a stock maker, and believe me — it works!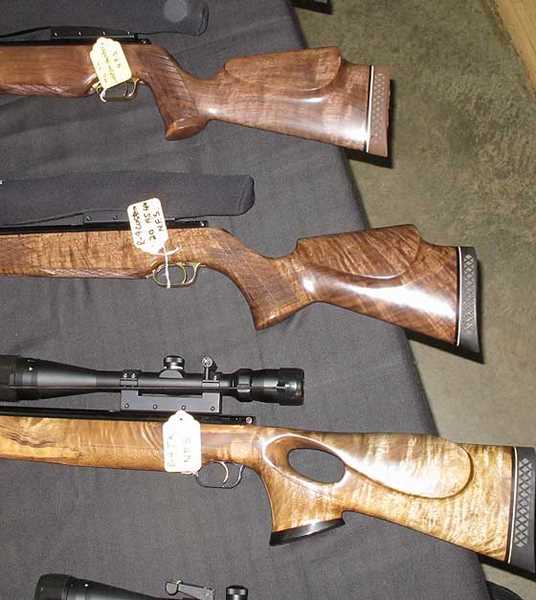 Jan Kraner's stocks stopped people in their tracks.
At last
I saved the best for last. In recent years there haven't been too many Sheridan Supergrade rifles showing up at these events. But this year John Ford had a nice one and the price was just $1,250. That's hundreds under what they have brought in recent years.

A Sheridan Supergrade for sale is a rare thing. And this one was affordable.
The show was over before I knew it, and another year had slipped by. This one was different, as my pal Mac wasn't there to share the excitement. But as I am reminded every time I go to one of these things — nothing is forever. We don't own any of these airguns. We're just their custodians for a time. In the future, these prized possessions of ours will be in someone else's collection. That's how we got them in the first place.
by B.B. Pelletier
Announcement: Andy Huggins is this week's winner of Pyramyd Air's Big Shot of the Week on their facebook page. He'll receive a $50 Pyramyd Air gift card.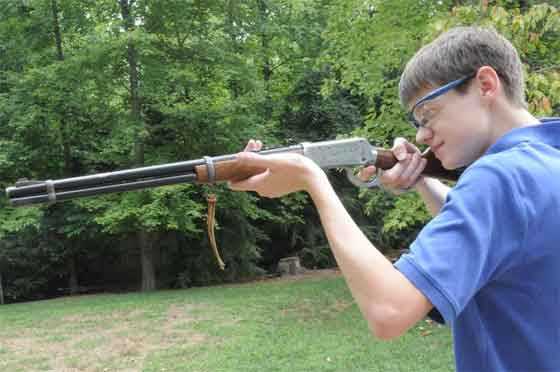 Here's what Andy says about his submission: Found this in the garage, it's my dad's old BB gun he got when he was 9. It needed a little work; but within an hour, I had it shooting good as new! It's a Daisy model 30-30 Buffalo Bill Scout.
One of our blog readers mentioned the excellent book Yours Truly, Harvey Donaldson, and I purchased it. It's a compendium of articles that Donaldson wrote for Handloader magazine, a few special articles he wrote for American Rifleman back in the 1930s and some correspondence he had with various notable shooting magazine editors. I found the book so interesting that I've already given two copies as presents to other shooters.
For those not familiar with the name, Harvey Donaldson is well known as a shooter, writer and developer of many wildcat cartridges — including his best-known .219 Donaldson Wasp. He was able to get 12,000+ rounds from a .220 Swift with each delivering in excess of 4,000 f.p.s. –and still group five shots inside a nickel at 100 yards. Today's handloaders don't have a clue or have forgotten about the knowledge men like this have given us.
Among the hundreds of treasures in this book, Donaldson makes the casual comment in one of his letters that Dr. F.W. Mann, who authored The Bullet's Flight From Powder to Target, wasn't a very good shooter. He also wasn't a very good reloader. That's why (according to Donaldson) Mann had to resort to his Shooting Gibralter concrete pier gun rest that weighed in excess of 3,000 lbs. and was sunk permanently in the ground. Donaldson says any good benchrest shooter could outshoot the groups Mann got using his rest.
That got me thinking. I have always thought of Dr. Mann as the penultimate shooter, and here is Harvey Donaldson, whose shooting credentials are impeccable, saying Mann wasn't a shooter at all. He was a scientist.
Then it dawned on me. Some people like to shoot to see how well they can do, while others, like me, like to shoot to see how well the gun can do. Mann was obsessed with the quest to discover why all bullets do not fly to the exact same point of impact. He never discovered the reason, but along the way he did discover many things that we now take for granted:
1. Uniformity of the bullet's base is extremely important to accuracy.
2. A bullet's nose can be grossly deformed without affecting accuracy one bit.
3. The orientation of the rifle's action must be consistent from shot to shot for the best accuracy.
4. A bullet can stray from the boreline in any direction on its way to the target and still hit the target exactly in the center.
Mann was an experimenter whose focus was on the gun and ammunition, rather than his own abilities. Not all shooters are like that.
Olympic and world-class target shooters tend to focus on their own abilities, to the point that they seem to assume the rifle or pistol they use is capable of perfect accuracy. Of course, they do test ammunition; but once they find what works, they buy it in quantity and concentrate on their own skills.
On the other hand, I tend to shoot from a bench more often than not. I want to see what the gun can do, and I'm not overly concerned about my own shooting skills.
In fact, I am just an average shot. If you were to plink with me, you'd soon discover that I can't shoot any better than you and perhaps a lot worse than many of you. When I test an airgun for this blog, you don't care how well I shoot. You want to know how well you can expect that gun to shoot. The benchrest takes as much of me out of the equation as possible and gives you a more objective picture of the gun's performance.
Of course, you have to know how to shoot from a bench, and I have had lots of practice at that. Maybe I might seem like a good shooter to some people, but that's only when I am as far removed from the shooting as possible. In truth, I am really a lot more like Dr. Mann, in that I'm more interested in the performance of the airguns than in my own ability to shoot.
But there are many shooters who are the opposite. They want to know how well they can shoot, and the rifle is just what they use to measure it. Of course, they're aware that all guns are not perfectly accurate; and, yes, they do go through the same sort of search to find one that suits them best. Once they find it, all focus shifts back to their ability to shoot rather than whether or not that rifle can be made to shoot any better.
These shooters are not all shooting offhand, either. Some shoot from the prone position, others from the sitting position and many will take a rest wherever they can find it. Some of them even use crossed sticks as a portable steady rest in the field.
Let's compare these people to our American 2x Gold Medalist Olympic champion rifle shooter — Gary Anderson. They first want a gun and ammunition they can trust; and after that, it's all up to them and their skills with the gun.
Let me give you a couple variations on this theme to better illustrate what I'm saying. There's the guy who receives his airgun and plops down in front of a chrongraph with a tin of pellets, first thing. For him, life is complete. He'll sit there shooting thousands of rounds across the skyscreens as he inputs the results into endless spreadsheets of data to discuss on his favorite forum. He's like Dr. Mann. He's interested in one aspect of performance to the near-exclusion of all others.
The next guy buys the very same airgun and starts shooting it at targets immediately. He's the guy who puts 80,000 shots on a gun and can talk about longevity issues that the rest of us will never live long enough to see. Where some of us live in the hopes of a good tuneup on our airguns, this guy has already performed four on his and has the parts on hand for the next two. To him, a tuneup is unavoidable downtime when he would rather be out shooting. He's like Gary Anderson. He's a shooter.
Another guy buys the same airgun and never shoots the first shot out of it. He tears it down and modifies it in ways that have either been recommended to him on the internet or that seem like the best way to go. Some of these guys have the rifle shipped to a certain airgun tuner and let him apply his magic before they ever set eyes upon their gun for the first time.
Then, there's the guy why buys the same gun, sights it in with a good pellet and immediately starts hunting everything within sight. His gun is a tool, like his game caller and his rangefinder. He, too, is a shooter, but he doesn't collect his shooting experiences as scores on targets, pictures of groups or numbers on a graph. Rather, he has an endless supply of memories of this hunt and that, what went right and what went wrong.
Does that explain it?
Does that, perhaps, explain why one shooter can be delighted with a rifle that shoots a certain pellet at 1,050 f.p.s. into a one-inch group at 30 yards and another cannot be satisfied until the same model rifle is tuned down to 850 f.p.s. and can put them all into a dime at 50 yards? Does it explain why a twangy firing cycle is so disturbing to one shooter, yet another can brush it off because the rifle puts them all where he wants them to go?
We're complex
I am not saying that any of this is all one way and none of the other. But people do exhibit certain tendencies. Lloyd Sykes worked for years on the dynamics of an electronically controlled air valve, and now the world enjoys the Benjamin Rogue. Lloyd is a definite Dr. Mann. On the other hand, blog reader CowboyStar Dad tells us how many tens of thousands of shots he has on each of his guns. He wears out the mainspring in his IZH 61. He is a Gary Anderson-type shooter.
Knowing that these types of people exist may help us understand where someone is coming from when they ask a "simple" question…
Hi. I'm new to airgunning, and I would like to try out one of these new air rifles I keep reading about. I don't want to spend too much money until I know that airgunning is for me, so can you make some recommendations of guns that cost under $300?
Yes, I can recommend some guns, but what do you want to do with one?
Person 1. I want to shoot tin cans and other targets around the manure pile. I have been shooting a .22; but there are some houses going in down the road, and I want to throttle back for safety.
Person 2. I'm fascinated by the thought of plain old air pushing a pellet to 1,400 f.p.s. I want to see what's possible.
Person 3. My yard is infested with tree rats that I want to eradicate. After that, I plan on taking my show on the road and cleaning out the whole woods.
Person 4. I used to shoot target rifle on the ROTC team, and I'd like to get back into it but still be able to shoot at home because I don't have a rifle range.
Leigh Wilcox, the founder of Airgun Express, used to say that airgun targets had to bleed, break or fall. Maybe they did for him, but I'm not ready to shoot at targets just yet. I'm still concerned why there is a twang upon firing and why my velocity is only 761 f.p.s. when others report over 840 f.p.s. from the same gun shooting the same pellet.