Posts Tagged 'chronographs'
by Tom Gaylord, a.k.a. B.B. Pelletier
Airgun lubrication — spring guns: Part 1
Airgun lubrication — spring guns: Part 2
This report addresses:
• Molecules versus atoms
• Crosman Pellgunoil
• Can't over-oil with Pellgunoil
• "Fixing" leaking guns with Pellgunoil
• Transmission stop leak oil
• Oiling moving parts
• Ballistol
Let's look at lubricating gas guns — and by "gas," I mean CO2. What I'm about to say will also work on airsoft guns that operate on green and red gas, because both those gasses work similar to CO2; but there are no pellet or steel BB guns that run on any gas except CO2 (excluding air).
CO2 is a molecule — not an atom!
Many folks thought that high school science class was a waste, but in the curriculum there were things that matter to airgunners. How levers work is one of the most important things, and yet I still see youngsters grabbing breakbarrel rifles five inches back from the muzzle — as though the length of a lever has no significance! The fact that CO2 is a compound made of molecules is also important.
Atoms are very small. When they're inside a pressure vessel (air is made of several elements that are atoms), they try to escape through the smallest holes imaginable — sometimes through pinholes in the casting of the metal. Molecules are combinations of atoms that are much larger than atoms, by definition. They also try to escape, but they need larger holes to get through. This fact is what saves the CO2 airgunner, and it's also why CO2 guns can be made with larger tolerances. That makes them cheaper to build.
Crosman Pellgunoil is our friend
When I started seriously shooting airguns in the early 1990s, nobody talked about Crosman Pellgunoil. I didn't even know if it did anything. Then, I met Rick Willnecker, the man who runs Precision Pellet — one of the top repair stations for vintage CO2 and pneumatic airguns. Rick always had a jumbo bottle of Pellgunoil on his workbench, and he applied it liberally to valves, seals and o-rings whenever he assembled a CO2 gun. He told me that I should always put a drop of Pellgunoil on the tip of every new CO2 cartridge before it was pierced.
You cannot over-oil with Pellgunoil
I asked Rick how much oil was too much. He said it is impossible to over-oil a CO2 gun with Pellgunoil. Apply it liberally. What doesn't stay inside the gun gets blown out the muzzle. This was all news to me. I'd grown up with the bottlecap CO2 cartridges of the 1950s that leaked before you even put them in your airgun, and I thought CO2 was a gas that was totally unreliable. Rick's revelation turned this around. I discovered CO2 is a very reliable gas if you use Pellgunoil.

In the 1950s and '60s, Crosman was capping their CO2 Powerlets with bottlecaps that leaked a lot.
But the discoveries didn't stop there. Soon after learning about the benefits of Pellgunoil, I bought a Crosman model 111 target pistol at a flea market for $35. It was in the original box and came with the original 10-oz. CO2 tank that Crosman sold with the gun back in the early 1950s. I bought this gun thinking it would have to be resealed. It's seller told me it had laid in a closet for a minimum of 20 years before she brought it to this flea market, so how in the world could it possibly have any gas left in it?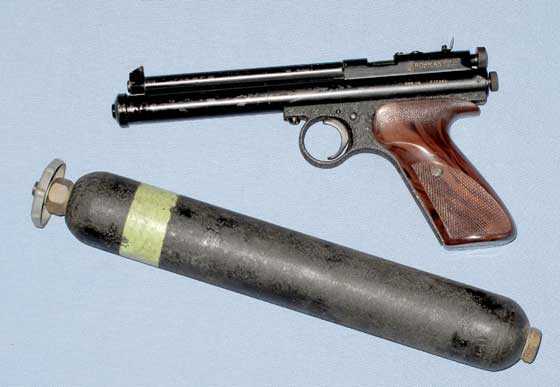 This .22-caliber Crosman 116 bulk-fill CO2 pistol and tank were sold up until the model 150 came out in 1956.
Well, that gun was still charged! What is even more important was the 10-oz. CO2 tank that came with it was also mostly full, so I was able to connect it to the pistol and charge it many times — for another 50 shots each time. Each time I charged the pistol, I applied more Pellgunoil, and that old pistol kept right on functioning for almost 2 years. When the seals finally did need to be renewed, I took the gun to Rick Willnecker, and he got me started in bulk-filling CO2 guns. I bought my first 20-lb. CO2 tank and the adapter to connect it to the 10-oz. Crosman tank, and I was off to the races. Since that time, I have owned five 20-lb. CO2 tanks and have been filling my own bulk tanks at home for more than 15 years. Where a CO2 cartridge costs about 50 cents, I pay about 5 cents for the same amount of gas!
But it didn't end there, either. I discovered on my own that by using copious amounts of Pellgunoil, I could get non-functioning CO2 guns to work again. That's when I started buying up old Crosman gas guns that were leakers and "rejuvenating" them with Pellgunoil. I still own a Crosman 180 rifle that I bought for $20. It has been holding gas for about 20 years so far!
Transmission stop leak oil
Dennis Quackenbush taught me this trick. He said he "fixed" a leaking Crosman 112 bulk-fill pistol with transmission stop leak oil — the stuff you get at the auto parts store. I had a Crosman 116 bulk-fill pistol that was a fast leaker, so I thought I would give it a try. I put several drops of this oil in the fill port connection of the pistol and filled it with CO2. That was about 2-1/2 years ago and that gun is still holding gas today!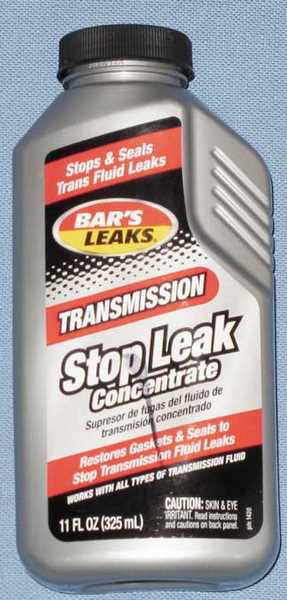 Transmission stop leak oil (this is just one brand…there are several others) will swell and make supple the seals inside an older CO2 gun.
Several people wrote comments telling me that this oil would turn the seals in my airgun to mush and it would be an even bigger leaker than before; but as I said, 30 months have passed and that gun is still holding gas. So is Dennis' gun. This stuff seems to work.
Oiling the moving parts of the gun
You can oil the moving parts of a gas gun with any good brand of gun oil, and I even use household oil (yes, 3-in-One brand) on mine. If you want to buy a good oil from Pyramyd Air, I have used Gamo Air Gun Oil for many years for this purpose. All you're doing is providing simple lubrication, and oil is correct for that.
Ballistol
Finally, you can wipe down the gun — wood, metal and plastic — with Ballistol. Ballistol removes rust, protects against fingerprint acids, lubricates and generally is the single best lubricant for an airgun or firearm.
by Tom Gaylord, a.k.a. B.B. Pelletier
Today's report comes from a question asked by blog reader Richard, who is perplexed by his Benjamin Marauder air rifle. He said he wondered what pressure he was supposed to fill his gun to, and then at what pressure he was supposed to stop shooting.
As the days passed after asking his question, Richard eventually figured it out on his own and now knows what to do, but today's report is for all those who haven't figured it out yet, as well as for those who have held off buying a precharged airgun because they feel there's so much they don't understand.
More power!
At the Roanoke airgun show last weekend, I talked to a shooter who claimed he pumped and pumped his old Sheridan until it cracked like a .22. Now, I know that's impossible and I'll tell you why.
Firearms and airguns are NOT alike!
People think that firearms and pneumatic airguns are alike. The more pressure inside them when they fire, the faster the bullet or pellet goes. That may be true for a firearm (within reason), but never for a pneumatic. You see, a pneumatic airgun has something that a firearm doesn't have — a valve.
The pressure generated by exploding gunpowder gets directly behind the bullet and pushes it. More pressure equals higher velocity — within reason. There's nothing in the way of the expanding gas to prevent it from pushing on the bullet.
In a pneumatic gun, however, there's a valve. That valve has to open before any of the pressurized air can get behind the pellet. If the air pressure is too high for the valve to open, it doesn't matter how much pressure there is — the pellet is going nowhere. That's the difference between a firearm and a pneumatic airgun. So, pumping or pressurizing a pneumatic rifle beyond its design limit doesn't increase the velocity — it slows it down and eventually stops it altogether.
Therefore, Richard was asking how he was supposed to know the max fill pressure of his gun so it would operate correctly. He wondered that because of conflicting information from Crosman, my blog and probably from other sources on the internet. The fact that the Marauder lets you adjust the maximum fill pressure just made this more confusing for him, and I can see why.
He asked me how he was supposed to figure out the max fill pressure and at what pressure he should stop shooting — the starting and ending fill pressures. There are several ways to find this out. The easiest way is to use a chronograph. To do this, you fill to a given pressure — say 3,000 psi — and start shooting through the chronograph. If the velocity of the pellets continues to rise as shots are fired, the valve isn't opening all the way; and you know that 3,000 psi is too high for a starting fill pressure.
As you continue to shoot, the velocity will stabilize at some point. When it does, you know that the valve is now opening all the way on each shot. Of course, you will have shot several shots past this point before you recognize it, but usually it will be a very little pressure above what remains in the gun when you notice it. So, fill the reservoir again and watch the needle on your fill gauge. When it stops rising fast (if you're using a scuba tank) and starts rising more slowly, you've opened the inlet valve of the gun's reservoir and are now adding air to the reservoir. Add just a few hundred pounds of air by watching the gauge on your tank, then shut off  the valve and note the pressure at which you stopped. Maybe it will be 2,600 psi. If the gun fires as fast as it did before, you know that the max fill pressure for your gun is at least 2,600 psi or maybe a bit more. Refine this by iterating the process.
The following graphic shows the relationship between pressure and velocity as I have described it here.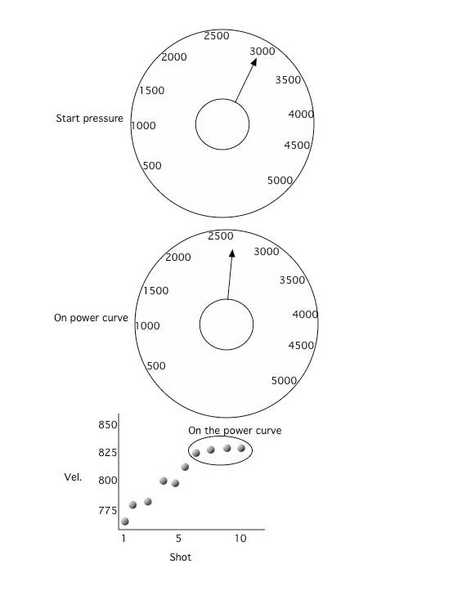 What if you don't own a chronograph? This may be Richard's dilemma. Is there any way he can figure out the max fill pressure and where to stop shooting?
Of course there is. Airgunners a hundred years ago didn't have chronographs, yet they did fine by watching what their guns would do. If they wanted to know how powerful their guns were, they shot them at an anvil and looked at the lead splat. If they wanted to know when to stop shooting, they watched the guns and when stopped when they could see the bullets coming out of the barrel. They filled their guns until they couldn't pump anymore, so max fill pressure was taken care of.
But Richard shoots a gun that's much faster than a 100-year-old pneumatic. His pellets don't make splats — they disintegrate! And he fills his rifle to a much higher pressure from either a scuba tank that gives him very little feedback or a triple-stage hand pump that doesn't have much more feedback.
How does he know when to stop filling and when to refill the gun? Simple, he watches his target and sees where his pellets land.
Let's take an example and have Richard fill to 3,000 psi, then shoot at a bullseye 35 yards away. If the pellets are climbing while he aims at the same aim point every time — making a vertical group, Richard knows the velocity isn't stable. He doesn't know what the numbers are — just that they aren't stable.
Then, when the rifle starts grouping all the shots together, he knows the velocity has stabilized. Like before, by the time he notices this, he will have shot past the optimum starting fill pressure; but he can always fill to a few hundred psi more than the gun has in it at the point he notices, and eventually he'll find the optimum fill pressure. The graphic below illustrates this.
Finding the stopping pressure is just the reverse of this. Shoot until the pellets start wandering on the target, again (usually dropping down, again, but sometimes just wandering to one side or the other). Then, you can start filling the gun, and the ending pressure will be a few hundred psi above where the gun begins to accept pressure. From now on, you'll know approximately how many shots or magazines you can get from a fill; or, if there's a gauge on your airgun, you'll know when it's dropped off the power curve.
You don't know until you know. You know?
You can read about this all day long and never understand it. This is something you must experience firsthand — as in shoot a PCP and watch it happen. The first time you see it, you'll understand…and forevermore you'll wonder why others have so much trouble understanding how precharged airguns work.
by Tom Gaylord, a.k.a. B.B. Pelletier
This test was done for blog reader GunFun1, who asked to see what effect barrel length has on velocity. Though it appears simple, this test took 2 days to conduct because of barrel changes and other sundry things. But what was learned far exceeded my hopes, so the effort it took was well worth it.
Conduct
I tested with an AirForce Talon SS, which has the facility to accept interchangable barrels. All testing was done with the rifle in .22 caliber, which means every barrel used was that caliber. I used the factory-installed 12-inch Lothar Walther barrel, an optional 18-inch Lothar Walther barrel and an optional 24-inch Lothar Walther barrel.
I fired 5 shots at each power level with each barrel. I could have shot more; but since I know the stability of the Talon SS powerplant, it really wasn't necessary. And fewer shots made the test go faster. After every power change, I fired one shot before testing to settle the valve at the new level. I know that's necessary for the Talon SS. Other PCPs may have different techniques after making power adjustments — including no warmup shots at all. But the SS requires one shot after every power adjustment. After testing each barrel, I refilled the gun to 3,000 psi. The pressure remaining in the reservoir when I began each fill was about 2,600 psi. So for all shot,s the rifle was running right in the middle of the optimum power curve.
I started each test on the highest power, then dialed back as the test advanced. That meant that when I got back to power settings 6 and zero, the rifle was in the middle of the power curve and was at its most stable condition.
I used only a single type of pellet — the 14.3-grain Crosman Premier. Had I used additional pellets, there would have been different velocities. The relationships we're looking for are revealed in this one pellet as well as if I'd tested greater numbers of pellets. There was no need to waste shots or air.
Because I'm testing with a Talon SS, the air reservoir I'm using is the standard air tank that's found on both the Talon SS rifle and the Talon that is the lowest-priced model of the line.
I filled the air tank to 3,000 psi, then shot 5 rounds on the highest power, then 5 at power setting 10, then another 5 at power setting 6 and finally the last 5 at power setting zero. After every power adjustment, one dry-fire shot was taken to set the valve at the new power setting.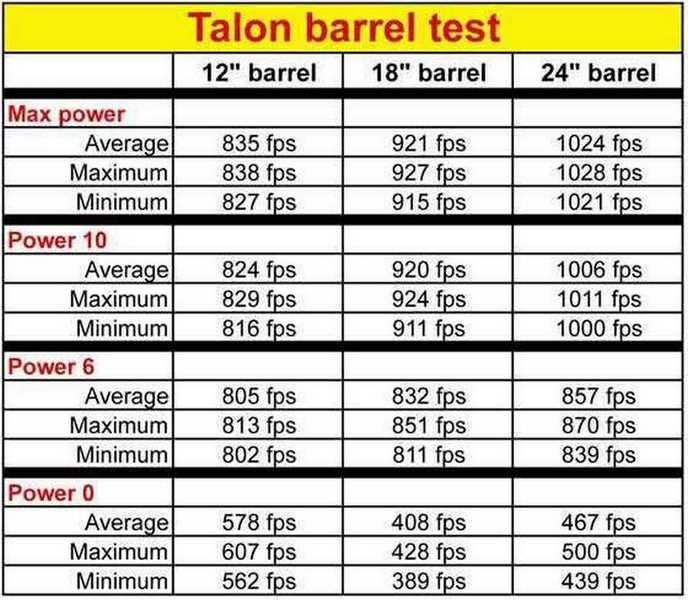 Analysis
First, let's look at what happened with all 3 barrels at the maximum power setting. The 12-inch barrel gave an average 835 f.p.s. The 18-inch barrel averaged 921 f.p.s. and the 24-inch barrel averaged 1024 f.p.s. That's all with the same powerplant, the same amount of air being used with each shot — in fact, everything was the same except for the length of the barrel. This is a clear demonstration of what a longer barrel can do for a precharged gun.
However, there's one thing we need to note. The barrel I used for the 12-inch barrel is not the same 12-inch barrel that was used in the previous test of rifling twist rates. If you look back at that test, you'll see that this same rifle shot a Premier pellet on power setting 10 (854 f.p.s.) faster that it did in this test (827 f.p.s.). The reason is probably due to small differences in the individual barrels — the smoothness and diameters of the bores and how well the backs of the barrels seal against the air valve in the reservoir. So, one 12-inch barrel can be different than another 12-inch barrel — even when they're both produced by the same manufacturer! That's worth noting. I used to see this all the time when I tested guns while I worked for AirForce, and now I'm showing you what I used to see. A lot of shooters don't understand or even believe this can be possible. They think that one barrel must be exactly identical to another barrel of the same specifications made by the same manufacturer.
A second thing to note is the fact that the 12-inch barrel didn't get much more from the maximum power setting than it did on power setting 10 (835 f.p.s. to 824 f.p.s.). In fact, that held true up through the 24-inch barrel, which tells me that power setting 10 is about as high as I need to go to get the most from this particular rifle's powerplant. Other PCPs that have adjustable power will behave differently than this, but they'll all have settings that get the most effective use of their air. Anything more than that is just a waste.
Now, look at power setting 6 across all 3 barrels. The velocity increase as the barrel lengthens is smaller with this power setting than with the higher settings. Also, look at the 12-inch barrel between setting 6 and setting zero. That's where the bulk of the adjustability for this powerplant is when that barrel is installed. But with both the 18-inch and 24-inch barrels, the useful power adjustment range extends all the way up to power setting 10.
Finally, power setting zero had a surprise. The 12-inch barrel was the fastest of the 3. That can be explained by more friction in the other 2 barrels, but it doesn't explain why the 18-inch barrel was slowest and the 24-inch barrel was faster. That's one of those anomalies you sometimes see when you test things like this.
I also want to say that the rifle became quieter with the 18-inch barrel, but got noisier again with the 24-inch barrel. You Talon owners don't have the shrouded barrel the Talon SS owners have, but apparently your barrels are doing a great job of quieting the shots all by themselves.
Summary
Of course, all of this was made possible by the use of a chronograph. No amount of listening to how long it takes the pellet to hit the hickory tree from the back door will give you results like these.
A word from Edith
As many of our readers know, this blog was originally started on the Blogger site/software, and they're listed in the right-hand column as the Historical Archives. Those blog posts are being moved to this site from Blogger so everything's in one place. As originally planned, the comments to the old blog would have been lost. Due to the diligence of several of our blog readers who gave me links to help pages that showed how comments could be transferred along with the posts, we're not losing anything!
The transfer process is almost complete, and the old blogs/comments will soon be available on this site. One caveat: Blogger posts didn't have categories and tags when this blog first started, and we didn't start using them when that feature was added later. So, in my spare time (imagine hysterical laughter at this point), I'll be categorizing the old posts and creating tags that will help you find related items quicker than if you had to do an ordinary word search.
by Tom Gaylord, a.k.a. B.B. Pelletier
This topic was suggested by veteran blog reader Kevin. I liked it because it gives me a chance to say some things to the new airgunners; better yet, it's a great way to start a discussion among all you readers.
I will touch on the things about chronographs, which are near and dear to me, but I think my role today is simply to get the ball rolling. We have enough readers with chronograph experience that I'm sure they'll share a lot of their own viewpoints — some of which may never have occurred to me.
What is a chronograph?
The term chronograph means different things to different people. To an horologist, it might mean a particularly accurate instrument (watch or clock) to record the passage of time; but to a shooter, it means an instrument that's used to measure the velocity of a projectile. It still records the passage of time, but also performs an additional calculation to convert the results into velocity. As incredible as it sounds, we're able to measure the speed of a pellet or bullet moving hundreds, or even thousands of feet per second with an instrument we can buy for as little as a hundred dollars.

A modern chronograph is inexpensive and very accurate!
History
While ballistic chronographs have existed for more than a century, most of that time they were large, cumbersome, very expensive and difficult to use. It wasn't until the 1960s that the first portable electronic chronographs became available to the common shooter — and even then they were still very costly and hard to use. You had to shoot through paper screens that had tiny wires running though them, and a sensor would detect when the resistance of the screen changed as some of the wires were broken by the bullet. These screens didn't last very long in a shooting situation and had to be replaced when they could no longer detect the passage of the bullet. Time was wasted when things didn't go as planned, and buying chronograph screens was an ongoing expense.
The early electronics were also quite troublesome from today's perspective. They didn't directly read out the velocity of the bullet. Instead, they registered the time that elapsed between screen one and screen two, detecting the passage of the bullet. And even that wasn't direct! They did it by illuminating lights in various columns on a panel that the user had to interpret. The user took that number to a table and looked up the velocity. It wasn't always given as one absolute speed, either. It was often given as a small range of velocities within which the bullet was traveling — like 2,140 to 2,148 feet per second. It was slow, crude and primitive, but it was the best we had at the time. This was also the time when we were using slide rules to solve complex math problems, and we accepted small margins of error when taking a reading.
These early electronic chronographs were also very imprecise by today's standards. The precision of their internal "clock" was only about 1/10 to 1/40 that of today's chronographs, so the number they gave…which was a best guess to begin with…was nowhere near as close as what we get from a modern instrument. Still, they gave us numbers, and we were fascinated by them.
When the first direct-reading chronograph (one that displayed the actual velocity of the projectile) came out, it boosted sales worldwide. Then, chronographs were easy enough for the average user. And when the first photo-sensitive sensors (skyscreens) came out, they did away with the expense and frustration of the old paper-and-wire screens. Both these things happened some time in the 1970s, if I remember correctly. That was when the private use of chronographs really took off.
A skyscreen senses the passage of a projectile by detecting the slight drop in light when the shadow of a pellet or bullet in flight passes over the sensor. Since the light source is often the sky, the name skyscreen became common. This is both good and bad. Good because of how easy they are to use, but bad since accuracy depends on how well the screens are lighted — but that's a different topic. Today, I want to talk about what the availability of chronographs does…both for and to airgunners.
You use a chronograph to establish the velocity at which a pellet is traveling. All well and good. But the first time you actually do it, you'll probably be awed by what's happening. Then, one of two things can happen. You can either put aside your awe and get to work or become enraptured by the numbers the machine gives you and lose sight of everything else. I think that's what Kevin wanted me to talk about when he suggested today's topic
Problem No. 1: Speed rapture
The user becomes so engrossed in watching the chronograph readout that everything else stops. This once-sane fellow who used to love nothing more than making acorns dance with his pellet rifle now sits slack-jawed in front of his chronograph, watching the screen for the next number to appear. He no longer shoots at targets. He no longer cleans his gun. He just watches that screen. In extreme cases, he invents things to launch, just to see how fast they go. The chronograph has turned a shooter into a nerd. It's the equivalent of an addition to a social network; and whether you like them or hate them, you've all seen what can happen when the network, itself, becomes the sole focus of a person's attention.
Problem No. 2: Infinite dissatisfaction
The chronograph owner uses his machine to determine how much he likes a certain airgun. Because nothing is ever perfect, he's never satisfied with anything. His chronograph has become like the magic mirror on the wall — but one with an extreme personality disorder. It spray-paints dissatisfaction on the overpass of his life.
This guy will buy an airgun, then shoot it over the chronograph until it fails to please him. You see, he's learned that if you do something long enough, eventually you get the results that come from the bad side of the curve. When that happens, it sets off his spring-loaded trigger of dissatisfaction, as in, "I knew this rifle wasn't as good as they said! And here's the proof!" As Midas was unable to survive when everything he touched turned to gold, this fellow is in pretty much in the same boat; though, when he touches things, they turn into something far more objectionable.
Problem No. 3: The statistian
This shooter used to be the life of the party until he got his chronograph. He now carries a notebook full of columns of numbers that he will try to work into any conversation. You'll ask him how things are going, and he'll whip out a spiral-bound notebook with the numbers he's collected over the past six months. Somewhere in all that data is the answer to how he's doing — he just can't quite put it into words. But he's got the number to back it up! How's he doing? Please turn to page 46.
Problem No. 4: Dazzled by the charts
This guy takes his chronograph numbers and creates charts with them. But he's never taken a statistics course, so he isn't really sure what the numbers are telling him. But he has found that he can tweak the presentation of the numbers on the charts to make them look any way he wants. For him, happiness lies in finding the best way to make his new airgun look good by adjusting the values on the scales of the charts. He's really the same as guy No. 2, only his outlook is positive, where No. 2′s outlook is — well — it's No. 2.
What good are chronographs?
It probably sounds like I'm against the use of chronographs, but that really isn't the case. However, I do advise using them as tools — not as crutches. For example, do you first find the fastest pellet, then see how accurate it is? Of course not! First, you find the most accurate pellet, then see how fast it goes. If it doesn't hit what you aim at, its velocity is secondary.
I see the same thing with those who reload centerfire firearm ammunition. They keep searching for the fastest load for a particular gun, with one eye always on the chronograph screen. They seem oblivious to what that cartridge is doing downrange — just as long as it's the fastest in their gun. They paid for the speed their rifle can deliver, and by gosh, they're going to get it! It's akin to being the "fairest in the land," don't you think?
I turn this around by never consulting the chronograph until I have the most accurate round. Whether it's a centerfire cartridge or a pellet, it's all the same to me. I want to hit my intended target. Once that happens, I get interested in velocity, but only to know how fast the projectile is going — not to tweak it to go faster.
Okay, Edith pointed out that I test velocity before accuracy in my blog tests. That isn't in contradiction of what I just said, because when I test an airgun here I am seeing what it can do in general terms. In other words, I am looking at power independently of accuracy. But when I test a gun for myself (and spend a LOT longer doing it), I'm interesting in the optimum performance it can give — not in the average performance out of the box.
Chronographs as diagnostic tools
A great use for a chronograph is to test the health of your airgun. If you know how fast it shoots with certain pellets, you can always test it again to see whether anything has changed. I've found things like broken mainsprings this way.
You can also use a chronograph to estimate performance of a certain pellet or gun. If, for example, there is an 80 foot-per-second variation in the velocity of a certain pellet in a certain gun, you can be pretty sure that gun will not shoot tight groups with that pellet at long range. They will be elongated on the vertical axis due to the large velocity difference.
Chronographs can also be used to calculate more complex things, such as the ballistic coefficient of a projectile by measuring its velocity at various distances from the muzzle. For this, you need more than one instrument since each projectile must have multiple readings along its flight path.
When I worked at AirForce Airguns, I used a chronograph to test the results of various repair jobs we did to customer guns. Of course, we never knew what the gun was doing before it encountered whatever problem it might have had, but we did know the parameters of a healthy gun. When the rifle was performing within those parameters, it was deemed to be fixed. You may have noticed that I often refer to the Crosman Premier pellet as a "standard candle." That's my slang way of saying that I use it in a diagnostic role since I know how fast a healthy AirForce rifle is supposed to shoot it.
There are also numerous other uses for chronographs, such as determining the energy a certain pellet generates, finding the optimum performance curve with a PCP gun and counting the number of useful shots you can get from a CO2 cartridge.
Before there were chronographs, shooters focused on hitting the target. They didn't talk about velocity — they talked about power, as in, "This pellet rifle is powerful enough to shoot through a one-inch board." After chronographs became widely available, some people lost sight of why they were shooting and became mesmerized by those alluring numbers.
You know that pellet guns are sold today on the basis of how fast they shoot. There are allusions to accuracy in the advertisements, but the velocity is always given. That's what the modern chronograph has done to and for airgunning.
Chronographs are wonderful instruments, as long as they stay in their rightful place. Just don't allow them to take over your shooting life and push the more important things aside.