by B.B. Pelletier
Part 10
Part 9
Part 8
Part 7
Part 6
Part 5
Part 4
Part 3
Part 2
Part 1
Well, here is our old friend, the San Anselmo Beeman 124, again. Today, I'll address the scope problems I was having the last time I tested the rifle for accuracy.
You may recall that I suggested that the front and rear rings be swapped to see if that would alter the amount of down angle the rifle appears to have. One reader was appalled that anything manufactured could be that far off from true, but believe me, it doesn't take much. I've seen this trick work many times in the past. However, I failed to mention that three inches is a bit excessive to try to correct this way. This trick is more for those who optically center their scope and have a half-inch problem at the first point of intersection.
However, I did remove the rings and swap the front for the rear. Because these are two-piece rings I could also turn one ring at a time, giving me six different permutations of the setup, I believe. But three inches of change is so major that if it doesn't come by swapping positions, you might as well look elsewhere.
Well, I was right. Swapping the rings did make a big difference. Only the difference went the wrong way. Now the pellet was striking the target four inches below the aim point, using the exact same scope with no adjustments. So, this set of rings was history. No amount of shimming would ever be able to make up an angular difference that large.
However, I had an ace up my sleeve. I'd visited the AirForce factory and asked to borrow a BKL drooper scope mount, and they happily complied. So, now I had the BKL 260 with .007 drop compensation to try out. This is a one-piece mount and it comes with simple instructions for which way to mount it. However, I did encounter a problem. This BKL mount is too low to allow the 50mm scope I had been using to clear the 124 spring tube. And you'll recall that I have to use a BKL mount because of the 124's non-standard scope stop system. I have mounts that will work with it, but you can't buy them, so I'm not testing them here.
The solution was to use another scope, and all I was trying to do was ascertain that there was a scope mount and ring set in the world for this rifle — a vintage 124 with a large barrel droop. So, I picked a BSA 3-9×32 scope that didn't have parallax adjustment. As a result, I had to run it at five power or the target was too blurry to see well.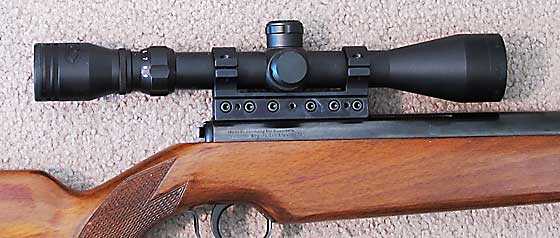 The BSA scope fits well in the BKL drooper mount. I could have gotten away with a 40mm objective, if I'd wanted.
Even with all that disadvantage against me, I proved the concept. The 124 and this new scope adjusted on target perfectly with no problem of adjusting the elevation knob too high.
So, I shot one group of 10 Crosman Premier 7.9-grain pellets and then another. Sure enough, the problem has been solved.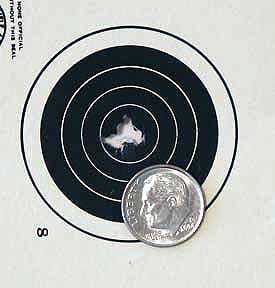 Good group, properly centered and 10 tight shots at 25 yards with Crosman Premier lites.
I'm removing the scope from the gun, because the only reason I scoped it in the first place was to conduct the Silver Jets accuracy test. That's over now, so the 124 can go back into its sarcophagus, except for one more tuneup that will employ the newest Pyramyd Air 124 piston seal.