by B.B. Pelletier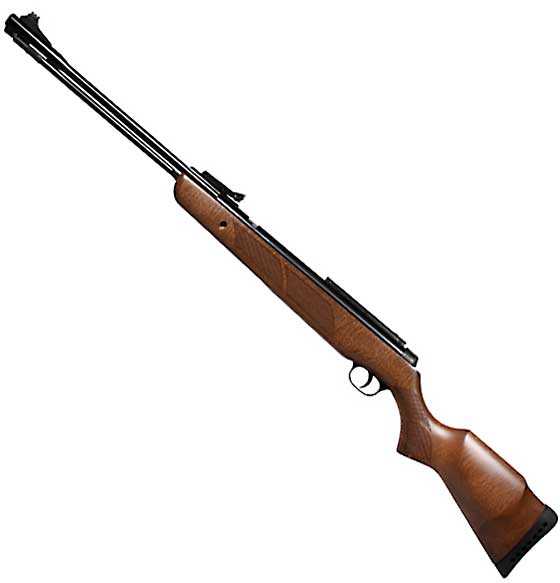 BSA's Polaris underlever air rifle is an attractive new design. Featuring BSA's rotary breech, this rifle comes in a hardwood stock.
Let's look at the power of the BSA Polaris underlever air rifle. I'll also describe the shooting behavior.
Changes have been made
Considering that the Polaris is a close cousin to the Gamo CF-X-series of underlever rifles, and that it might also be made by Gamo, rather than BSA, there've been some changes in the rifle (the CF-X) over the years. The Polaris has a hardwood stock, for starters. You had to buy the CF-X Royal to get wood on the Spanish-branded rifle, and it's no longer offered.
The rotary breech is now finished rougher than before. Where there was once a semi-shiny ramp leading to the breech, the entire rotary breech is now finished rough. It still flips domed pellets on their noses, but for some reason I found the new rotary breech easier to load than before.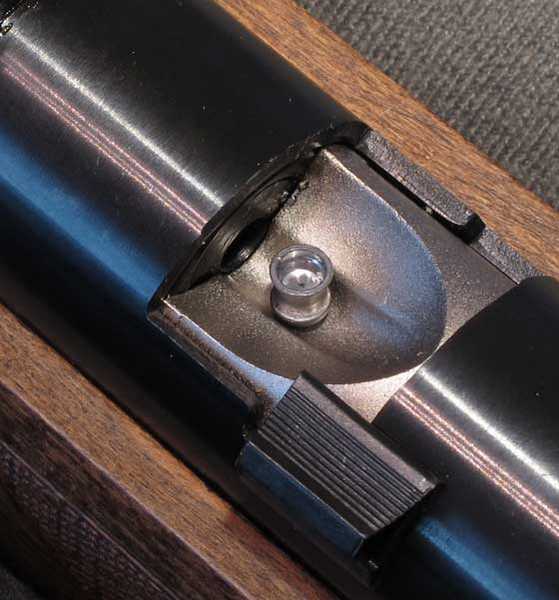 The groove in the rotary breech tends to flip domed pellets up on their noses like this. However, this latest breech finish is more conducive to easier loading.
Believe it or not, my last review of a straight Gamo CF-X was February 21, 2006. I also looked at the same rifle in .22 caliber with Air Venturi's gas spring installed as late as January 22, 2008, but that was the last time I looked at this airgun. While the gas spring is a different gun that's no longer offered, the steel spring CF-X was always a lightweight underlever that was very easy to cock. The Polaris doesn't change that at all. It's surprisingly easy to cock, because the underlever has such great mechanical advantage. It comes back well past 90 degrees, so you'll have to adjust your hold while cocking, or you'll lose the ability to pull on the underlever toward the end of the stroke. I like cocking it while sitting, placing the buttpad on my right leg and pulling the lever with my left arm. This is definitely a one-hand rifle to cock, as the peak effort spiked to only 27 lbs. but remained below 25 lbs. most of the time.


The underlever comes back on an extreme angle, multiplying the mechanical advantage. Just be sure to hold the rifle so you can manage the lever at the end of the stroke.
Trigger
The trigger is technically a two-stage because it has a short, light first stage, but most of the pull is through stage two. It feels like a single-stage trigger to me. I could feel the trigger blade move smoothly through the stage, but there was no hesitation at the let-off point. The rifle just fires while the trigger is moving. It's not precise, but it's so smooth and free from creep (the jerky start-stop movement) that I think you'll like it. It released at 52 oz. as it came from the box.
There is one trigger adjustment screw which I turned as far out (counter-clockwise) as it wanted to go. However, no change in the trigger pull was noted. Then I read the manual and discovered that this screw has to go in (clockwise) to reduce the sear engagement. I did that, too, however I never did get it below 52 oz., which seemed a very consistent pull weight.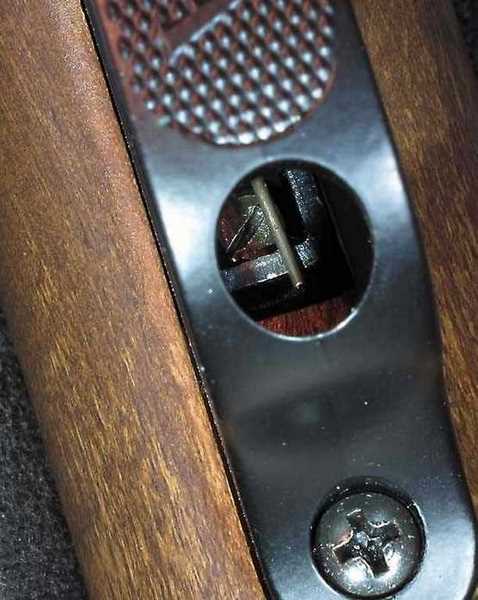 Looking down through the trigger adjustment hole in the triggerguard, you'll see the single adjustment screw deep inside the mechanism. It didn't seem to do much to the trigger-pull except make it heavier when unscrewed (counter-clockwise).
Power
My test rifle has nowhere near the power that's claimed. They say 1,000 f.p.s. for the .177 caliber I'm testing, but as you will shortly see, I got far less. Of course, I didn't use any of the trick (super lightweight) pellets, because no one will probably shoot them for real. I only used lead pellets that have the potential for accuracy.
Velocity and power
The first pellets tested were the 7.9-grain Crosman Premiers from the cardboard box. They averaged 782 f.p.s. and went from 760 to 794 f.p.s. That's a spread of 34 f.p.s. At the average velocity, they produced 10.73 foot-pounds of energy.
Next, I tested RWS Hobby pellets. At 7 grains even, Hobbys are one of the lightest pure lead pellets on the market. They're also relatively accurate — well beyond any of the non-lead lightweights. In the test rifle, Hobbys averaged 845 f.p.s., with a spread from 838 to 856 f.p.s. That range is only 18 f.p.s., which is very good for a brand-new springer. At the average velocity, Hobbys produced 11.10 foot-pounds of energy at the muzzle.
Lastly, I tested some Air Arms Diabolo Field domes, weighing 8.4 grains. These are good, accurate pellets made by JSB on dies that Air Arms owns. Some say these dies are even better than the other JSB Exact 8.4-grain dome dies, but I think you have to test your gun to establish that. In the test rifle, these pellets averaged 767 f.p.s. with a spread from 741 to 780. That's a huge 41 f.p.s. spread that will show up as vertical dispersion at longer ranges. At the average velocity, these pellets produced 10.98 foot-pounds of muzzle energy.
The Polaris does not live up to its thousand f.p.s. claim — at least not the rifle I tested. Perhaps when it breaks in, it'll gain more velocity, but it'll never make up such a huge difference.
However, that isn't a bad thing because this lightweight underlever rifle is a nice shooter. There's very little vibration with the shot, and you could almost say that it feels tuned. I like the behavior, especially when coupled with the smooth trigger action.
I went back and read my old tests of the Gamo CF-X and learned that, in .177 caliber, it was a full 100 f.p.s. faster than the Polaris I'm testing here. However, in .22 caliber, which was the three-part gas spring test I conducted in 2008, the power was well below the stated spec. I think it's safe to say these rifles are best-suited to .177 caliber.
We all know very well that I may have a rifle that's on the lower end of the power range. The rifle you buy may exceed what you see here. But there are limits to how far that goes, and I doubt that any Polaris rifles will be capable of 1,000 f.p.s. Of course that's fine, because airgunners know to avoid that much velocity anyway, but the newer buyers may complain.
Next we'll look at accuracy, and I hope the Polaris is a stunner.