by B.B. Pelletier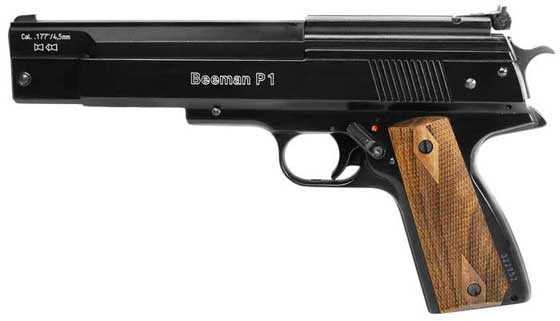 The Beeman P1 sits in the top tier of air pistols for power and quality.
Today is accuracy day; before we begin, I'd like to share a Beeman P1 anecdote with you. I interviewed Robert Beeman for the podcast that will go live in the near future. After we were finished, he told me some stories about the old days, when Beeman Precision Airguns was getting started. This one relates to the P1 and the gun that was never designed.
After the success of the R1, Robert and his wife, Toshiko, embarked immediately on the design of the P1 pistol. They wanted a powerful spring-piston pistol made with the handling characteristics of the M1911A1 pistol. They also wanted dual power levels. They had sketches drawn and took their ideas to Hans Weihrauch for implementation.
Several months passed, and the Weihrauchs called the Beemans to Europe to see the new gun. When they arrived, they were ushered into a conference room where both Hans and his wife, Christa, were waiting along with both their sons. Everybody was hopeful that the design would blow away the Beemans.
When they showed the gun to Robert, he said, "What is this?" This is a single-stroke pneumatic. We wanted a powerful spring-piston pistol with dual power."
"But you left the firing mechanism blank on the sketch!" was the reply.
"Yes. Because we aren't airgun designers. We figured you would know what to put in that space to make the gun we wanted."
"We thought you left it blank to indicate an air reservoir!"
Needless to say, the meeting did not go the way the Weihrauchs had hoped, but they asked for a few more months and would deliver the Beemans exactly what they wanted.
When the Beemans returned home, they had an artist sculpt a chalk model of the pistol to better guide the effort. It was darkened with finish and sent to Germany. A couple months later, they flew back to view what we now know as the P1.
A year after that, Hans Weihrauch caught Robert and said, "Herr Beeman, would you like to see the pistol you designed?"
Beeman knew he hadn't designed any other air pistol, but he said yes out of curiosity. The Weihrauchs brought him the single-stroke pistol we now know as the P2. It was nearly an exact copy of the P1, but of course it operated entirely different. Beeman was so impressed that he added it to his growing line of airguns.
Pyramyd Air no longer imports the Beeman P2 pistol, but they still carry the Weihrauch HW 75, which is the same gun.
Accuracy test
I'm still not strong enough to hold the pistol properly, so I shot off a rest with my shooting arm rested on a sandbag and the pistol extended out in front of the bag. I held the gun as I described in the last report, and it made a huge difference. The distance was 10 meters.
My eyesight has improved to the point that I was able to shoot with my prescription shooting glasses. With a 500-watt light on the target, the bull was very sharp, and with concentration I could bring the front sight blade into sharp focus, too.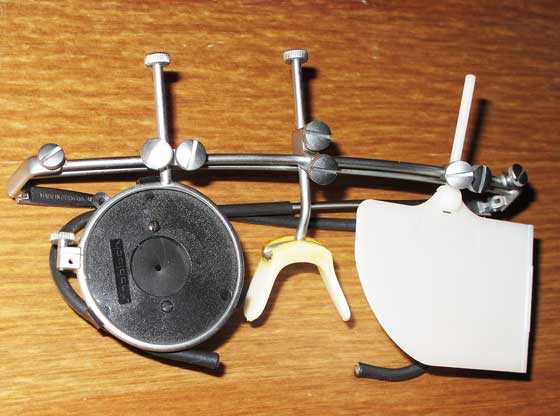 These shooting glasses have my prescription lens in the sighting eye. I used them when I competed in 10-meter pistol, and they still do the job.
Not surprisingly, the gun shot to a different point of aim, so it had to be resighted for this rested hold. I used a conventional 6 o'clock hold on the target.
I shot 5-shot groups instead of 10-shot groups, for reasons you will soon see. In a match, a competitor only shoots one pellet per bull because of the difficulty of scoring multiple hits stacked so close to each other.
RWS R 10 Match Pistol pellets
The first pellet I tried was the RWS R 10 Match Pistol pellet. It's always been good in this P1.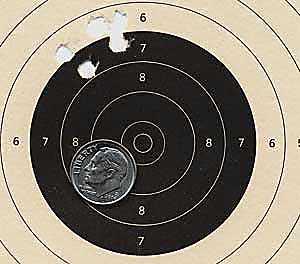 The sight-in target was five RWS R 10 pellets. It showed promise, but the sights needed adjustment.
The sights needed to come down and to the right, which was easy to do since the P1 sights are so adjustable. All it takes is a thin-bladed screwdriver. It took several more targets to get the sights dead on, but that was good practice for this unconventional hold I was using.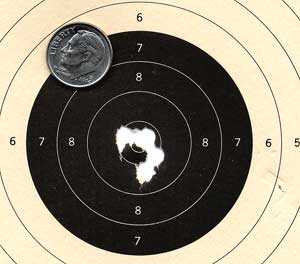 Five R 10 pellets score a perfect 50. This is why I don't shoot 10 pellets at the same target. When they clump together like this, it's difficult to see the individual holes. Back when I was competing, I could sometimes do this with my target pistol in a conventional one-hand hold, though I don't think I ever did it with a P1.
The best target really is a great one. Ask any 10-meter pistol shooter how hard it is to shoot five 10s in a row like that. Of course, my arm was resting on a bag in this test, so this wasn't that difficult.
H&N Match Pistol pellets
Next, I tried some H&N Match Pistol pellets. They do well in P1s, though in the past I've used the Finale Match Pistol pellets that are a little more expensive.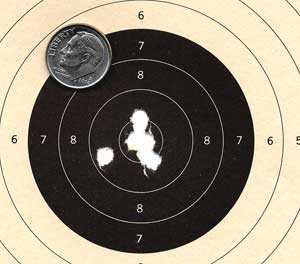 Five H&N Match Pistol pellets also produced a good target, though not quite as tight as the R 10s.
The bottom line
The Beeman P1 is an exceptional air pistol. If you don't believe me, just read all the comments from other owners who have had the same experience.
The one thing I wish I hadn't done was lighten the trigger-pull, because now the pistol is too sensitive. Air pistols need triggers that have at least 1 lb. of resistance, and this one now breaks at just 11 oz., making it too sensitive. You can control that in a rifle, but not in a pistol.
I've tried this gun with both red dot sights and scopes. It works fine with both, but being a veteran handgunner, I do not care for optical sights. As long as my eyes can still see the front sight, I'm not going to use them.
The power of this pistol is legendary. And I've shown you in this report that the power doesn't diminish over time. The lube tune I did was probably unnecessary and cost me some velocity, so I would just start shooting a P1 as it comes from the box and leave it alone. Remember to dry-fire the gun two times on high power if it ever starts detonating.
Dr. Beeman said this is one of the four airguns he would rather not do without, and I can see why. It's an heirloom airgun that will perform well throughout the years for both you and those to whom you pass it when you are through.