by B.B. Pelletier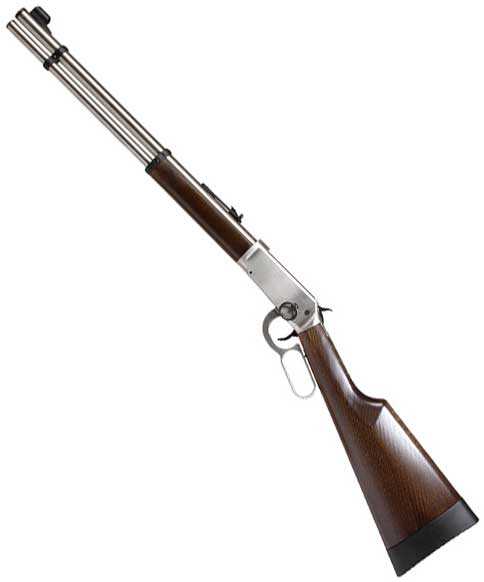 The brushed-nickel version of the Walther Lever Action CO2 rifle is extremely attractive.
Before we start today's report, I want to update you on another report that's ongoing. The .25 caliber BSA Supersport test had to be stopped because the forearm screws on the test rifle will not tighten. Also, the velocity of the test gun seems to be way too low. It's in the 400s. We've contacted Gamo USA to get a replacement rifle. When it arrives, I will re-start the test from where we left off.
Today is a special fourth part to the test of the Walther Lever Action rifle. I did the accuracy test with open sights in Part 3, so today I'm mounting a scope to see how much better this rifle will shoot.
I'm using a prototype scope mount made for the older Walther Lever Action rifle by B-Square. It was eventually offered as a standard item for many years, but it is no longer available. However, Umarex now sells their own version of this mount that they call the Walther scope base, and it looks even nicer. It's made to accept either Weaver or 11mm scope rings, which is a big plus. Also, it has three mounting screws instead of the single screw the B-Square base has.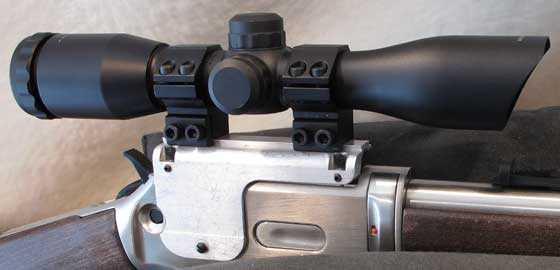 This old B-Square prototype mount was never finished, so the bare aluminum is a close match for the silver rifle. The small Leapers scope looks just right for the rifle's size.
For a scope, I was very selective. This rifle is more of a carbine size, and I didn't want to overpower it with a huge scope. Even the usual 3-9x scopes that are considered normal on most air rifles are large for this one. I had a Leapers 5th Gen 4×32 Compact Mini CQB scope with a 100-yard fixed parallax that looked right for this installation, so I used it. Normally, this would be the exact wrong scope to use on a short-range air rifle, because the parallax is set for 100 yards, but I found it clear enough at 25 yards to let me see .177 pellet holes when they landed in the white. I could bisect the bull with the crosshairs, and the extra bit of eye relief this scope gives made it a good choice in this case.
Trigger-pull
I praised the trigger-pull back in part 2. I said I thought it would satisfy most shooters, but when I looked through the scope in this test I found the trigger a little too heavy for perfect work. So, I applied a technique that always works well on heavier rimfire triggers. Instead of squeezing the trigger gently, pull faster and with more force. The gun will fire sooner, which I found offsets the desire to wait until the crosshairs are on the exact point of aim. It sounds like a sloppy way to shoot, but when there's a heavier trigger I've found that it works well.
Accuracy
All shooting was done from a rest indoors at 25 yards. I began the test by seating the pellets with just my fingers, but that didn't work too well. After switching to the seating tool, the groups shrunk in half. Don't forget to use that tool!
Crosman Premiers
I shot the Crosman Premier 7.9-grain domed pellet, but this time it didn't do very well. The 8-shot group was nearly one inch, which is on the large size in view of the other groups I got.
Air Arms Falcons
Another domed pellet that didn't work as well as I'd hoped was the Falcon from Air Arms. They grouped about 0.90 inches for 8 shots, but in light of the other two I tried, that was lacking.
JSB Match Diabolo Exact RS
One of the pellets that performed well was the JSB Match Diabolo Exact RS. It's another lightweight domed pellet, but unlike the Falcon, the Walther really liked this one. However, it wasn't as consistent in the rifle as the next pellet I tried.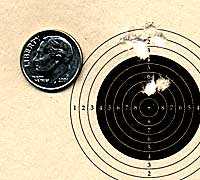 JSB Match Diabolo Exact RS pellets did well at 25 yards. This 8-shot group measures 0.652 inches between centers. This was the best group of the test.
JSB Match Diabolo Exact 8.4-grain domes
The pellets I found best in this rifle and the pellets I kept coming back to, magazine after magazine, were the JSB Match Diabolo Exact 8.4-grain domes. They just always wanted to go where I was aiming, once the gun was sighted in for them.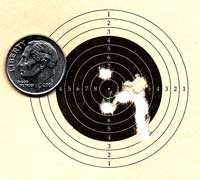 The JSB Match Diabolo Exact 8.4-grain pellet proved to be the most consistent in this rifle. Though they didn't shoot the best group of the day, they were all close to this one, which measures 0.748 inches between centers.
Shooting this rifle is like eating peanuts. You never want to stop, because it's just so much fun to do! I shot a lot more groups than I normally would for a test like this. Both the JSB Exact 8.4 and the JSB Exact RS were super performers that did their job, so long as I did mine.
Final impressions
It's still shooting the rifle on the first CO2 cartridge I installed. With today's testing, that's over 225 shots for certain. You get lots of shots from one of these big bottles.
I'll be sad to let this one return to Pyramyd Air. I know I can't hang onto them all, but this one is the high-water mark of the lever-action design. It's smooth, slick and balanced perfectly. It handles like you wish a .22 rimfire would, and it builds dreams with each pull of the trigger. I'm going to put it in my recommended list of airguns, because I know how happy it will make all potential owners.