by B.B. Pelletier
Announcement: Mark Barnes is this week's winner of Pyramyd Air's Big Shot of the Week on their facebook page. He'll receive a $50 Pyramyd AIR gift card! Congratulations!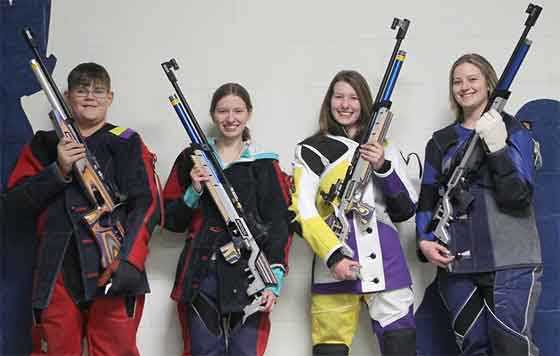 Mark Barnes submitted the winning Big Shot of the Week. This is the varsity air rifle team at Lathrop High School in Fairbanks, Alaska.
Photos by Earl "Mac" McDonald
You all seemed to enjoy hearing about the 2012 SHOT Show, even though I went into some pretty great detail, so today we'll do Part 3. Hopefully, this will keep us busy this weekend!
More on Media Day
The Boulder City gun range, where Media Day was held, is a huge facility with dozens of individual ranges that stretch at least half a mile. Now that I've been there, I recognize the ranges in all the Pawn Stars episodes with shooting.
The thing that most impressed me were the long-range ranges (yes, that's plural) that could easily have gone out for miles if the shooters so desired. As it was, getting distances of a thousand yards was a trivial task. Only on tank gunnery ranges have I seen the equal of this openness.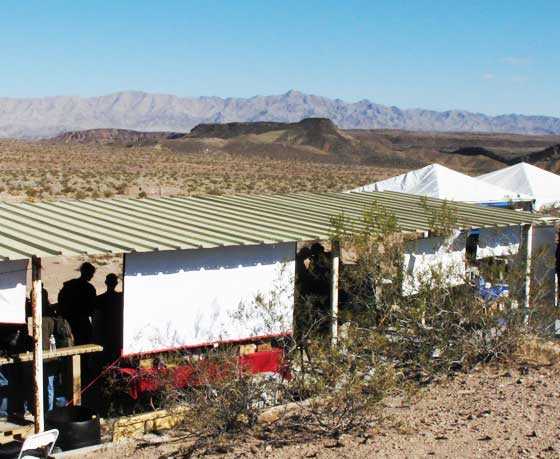 This is a small portion of the long-ramge ranges at the Boulder City gun range. The horizon is miles away, and the targets are out at a thousand yards for big rifles like the .50 BMG and .338 Lapua.
Safety first!
As the media representatives got off the busses and into the registration line, we were each given a range bag that included safety glasses and hearing protection. Mac and I brought our own electronic earmuffs to be able to hear, but the shooting was so continuous (10-50 shots each second the whole time we were there) that the earmuffs were permanently suppressed. We would have been fine with normal earmuffs, as that is how our electronics sounded all the time.
After a couple hours of what sounded like the biggest firefight ever fought, Mac observed that despite thousands of people shooting continuously there wasn't one accident or even an unsafe act that we could see. Of course, each range was monitored by the company running it, and there were plenty of orange-vested range safety officers patrolling the line; but it was the shooters who made the difference. These were people who knew guns and also knew to keep their muzzles pointed downrange and their fingers off the triggers until it was go time. I used to run ranges in the Army; and in all my time at hundreds of ranges, I never saw anything as orderly and disciplined as this!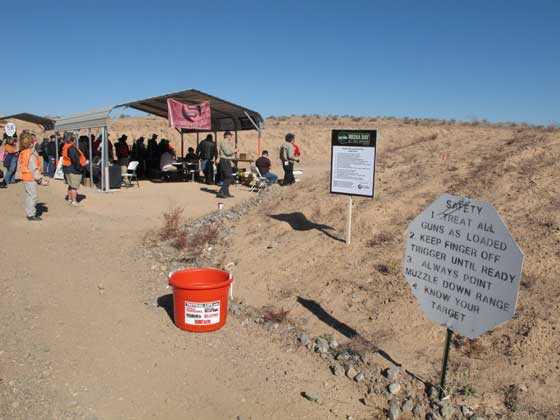 Here is one of dozens of handgun ranges that go out 50-200 yards. Notice the high berms between them. Look at the safety sign and the two range safety officers in orange vests. With thousands of people shooting and hundreds of thousands of rounds fired, there was not one accident or even an unsafe act observed! The red bucket is full of free water bottles packed in ice — provided all day long.
I avoided Media Day in the past when it was a small event; but after attending this one, I'll make it my mandatory first stop at each SHOT Show in the future! Now, let's go back to the show.
Umarex
At the Umarex booth, I was pleased to meet Anna Dalton, who works in the service department. She showed me around the booth and answered every question I had.
Besides the two PCP rifles and the Morph III that you've already seen, there were three interesting new air pistols on display. I'm seeing more and more air pistols these days, so something is definitely up.
The first of the guns is a low-powered breakbarrel modeled after the Browning Buck Mark .22 and called by the same name. The sign says it shoots pellets at 260 f.p.s., which some may scoff at, but I think there's a real need for guns of this power. Just look at how popular airsoft guns can be, and you'll realize that sometimes people just want something for plinking. The Buck Mark appears to be it!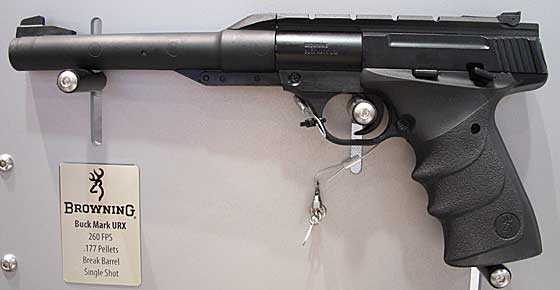 The Browning Buck Mark breakbarrel air pistol appears to be a pellet plinker's dream. Can't wait to test one!
Another new air pistol from Umarex is the Browning Hi Power Mark III. This one is a CO2-powered BB pistol that mimics the firearm prototype exactly. It puts me in mind of the Walther P99 Compact or perhaps the Walther PPK/S.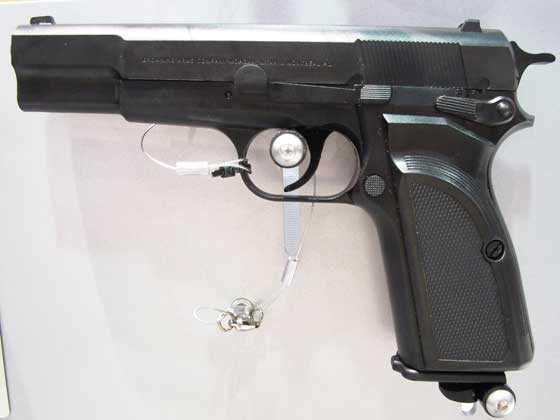 Browning's new Hi Power Mark III BB pistol is a new lookalike from Umarex.
I also met Janet Raab, the Umarex Director of Sales and Marketing for Competitive Shooting. Janet has a long history in competitive shooting and holds the Distinguished Rifleman's badge. I'll be talking to her about the Umarex and Walther competition models in the months to come.
On to Gamo
And here comes the part of the report I bet you weren't expecting. Nor was I, until I walked into the Gamo booth and saw for the first time that they're making a concerted effort to reach out to their customers with something other than velocity. Style is still their strong suit, but it appears they have discovered what the end user really wants and needs to know.
If you recall what I said in Part 2 about some companies were struggling to understand the customer, Gamo was one of them. But this year, I see signs that they're getting it. Four educational displays in the booth impressed me the most.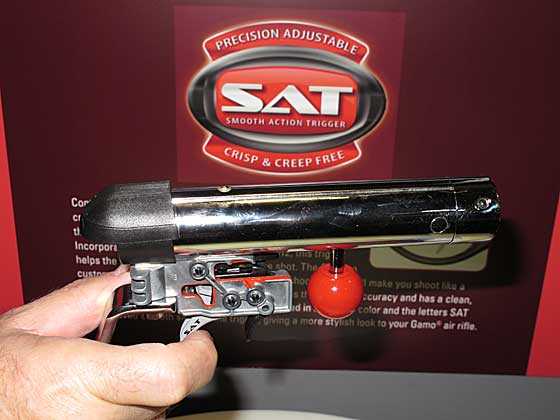 This demo of the Gamo Smooth Action Trigger allowed me to cock and fire the trigger repeatedly. I don't know if the trigger will feel the same with the full force of a mainspring on it; but if it does, Gamo has finally built a winning trigger!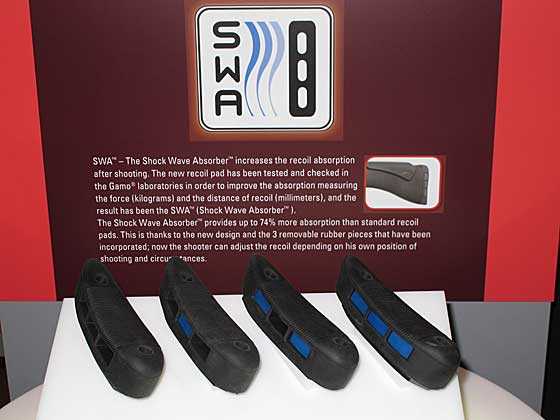 Gamo's Shock Wave Absorber buttpad absorbs the recoil force transmitted by the gun upon firing. Since Gamo sells some pretty powerful springers, this is welcome!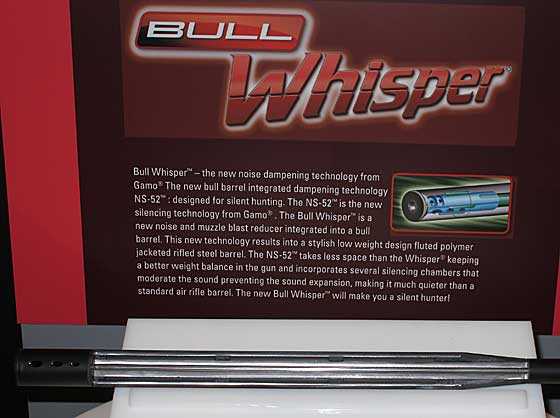 Gamo's new Bull Whisper shroud is a fluted polymer barrel jacket that incorporates a baffled shroud to silence the muzzle report. It's smaller and thinner than the current Whisper muzzlebrake.
Gamo is very dedicated to hunting, of course, so much of their emphasis is directed that way; but it looks like they're now trying to educate their potential buyer as well as impress him with numbers. This is a significant new direction for the company that, if they follow it, will make Gamo a customer-centric business. Seeing the new trigger and the Bull Whisper shroud was exciting, because it means they're talking about the customer in their design meetings.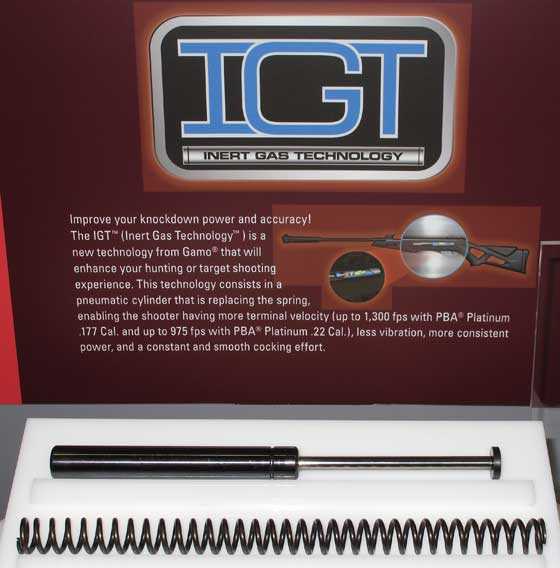 Gamo's Inert Gas Technology gas spring signifies that the company now thinks of their product in the same way that the shooters do. This bodes well for their future.
When Gamo decided to build their own gas springs many, including me, thought they just didn't want others to modify their guns. The new trigger is the same sort of thing. But what I see now is a company that wants their guns to be as nice as they can make them. As far as I'm concerned, Gamo just threw their hat into the ring as a company that can innovate. I hope they'll continue in this direction and build the kind of airguns that put fear into the other manufacturers.
Unfortunately, there weren't any Gamo representatives in the booth to show me their new products this year. So, I took photos of some of the new rifles, and I'll have to wait for the year to unfold.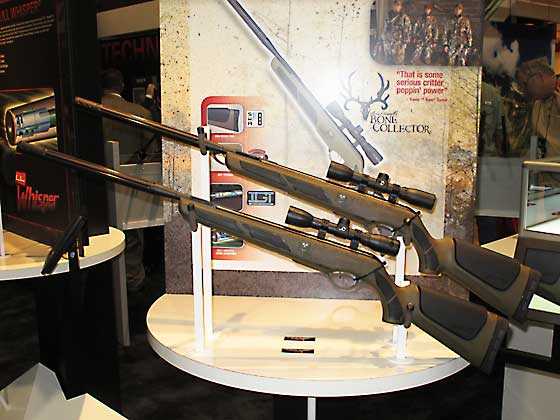 These new breakbarrels were shown under the Bull Whisper name. Whether that is the name of the model or just the silencing technology wasn't clear, but it was obvious there will be some new guns coming from Gamo this year.
Back to Hatsan USA
I went back to Hatsan USA several times during the show just to see more of the new rifles. Like Gamo, they have a new trigger called the Quattro and also a new shock isolation system; but unlike Gamo, they didn't have the interactive educational displays to show them off. I'll have to withhold my judgement on both items until I can test them on a gun.
Mac thought the trigger blade came up too far when it was pulled to the rear; but with the guns in the rack, it was impossible to tell for sure. Hatsan also has a new recoil pad that appears quite similar to the one Gamo is touting. I'll try to get to one of them as soon as possible.
The underlever rifles I showed you back in Part 1 are apparently all from the Hatsan Torpedo line, which — as one reader mentioned — has a unique-looking breech. He likened it to an RWS Diana 46 breech, but I think it's different than that.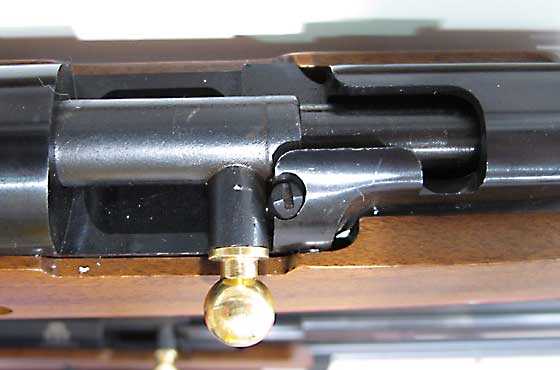 It looks like the bolt goes forward in this Hatsan Torpedo to expose the breech for loading. I want to test one!
AirForce
I don't have any AirForce pictures for you because I've been testing the guns for you all along. There's nothing new gun-wise that you don't already know about. In fact, my TalonP pistol test was in the SHOT Show issue of Shotgun News that was given out free at the show.
This is the last report on the SHOT Show. There is a thousand times more, but I think I got the airguns pretty well.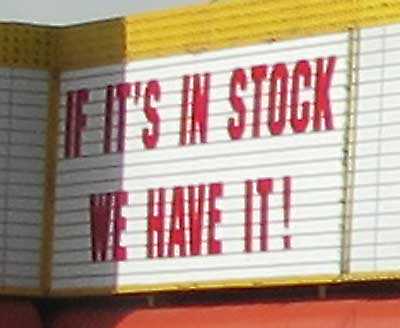 The last photo I took at the SHOT Show sums up business in Las Vegas this year.