by B.B. Pelletier


Now that Vince has tuned the Sterling, it's time to see how she shoots.
It's time to see how the Sterling underlever rifle shoots. Benjamin put Lothar Walther barrels on these rifles, so I'm hoping the pedigree will show in today's test. Vince got the velocity back up to a respectable level, as we saw in Part 3 (and Vince showed you what he did to the gun in his guest blog about the Sterling), so there should be nothing to prevent the gun from shooting its best.
When I went to mount a scope, I saw that the Sterling has two vertical holes that can be used for a scope stop. They're located where the front ring needs to be, but with two-piece rings that presents no problem.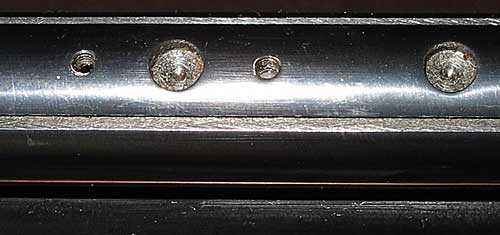 There are two vertical holes for a scope stop on top of the Sterling scope rail. They require the stop to be positioned forward, so I used the front ring of a two-piece ring set.
Since I wanted to give the rifle every chance to shine, I selected the Hawke 4.5-14x42AO Sidewinder Tactical scope for this test. This is the finest of all the scopes I have available for testing, so the Sterling is getting the absolute best of everything.
All shooting was done from a rest at 25 yards. I used my indoor range, so nothing got in the way of the Sterling this day. As usual, all groups contain t10 shots.
H&N Neue Spitzkugel
I thought I would give a pointed pellet a chance this time, as I seldom use them. The H&N Neue Spitzkugel (new pointed bullet) has a very shallow point and looks almost like a wadcutter at first glance. Pointed pellets are most often inaccurate, so I usually don't bother with them, but it's always nice to check from time to time to see if there have been any advances.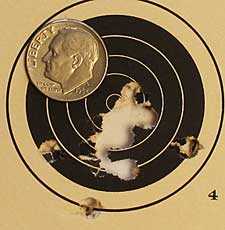 Well, 10 H&N Neue Spitzkugel pellets made only a mediocre group at 25 yards. With some breakbarrels, this would be pretty good, but I expect more than this 1.146-inch group from this Sterling. The shot at the left is a called flyer, resulting from an inconsistent hold — the only one of the test.
While loading, I noticed that the skirts didn't always want to go into the loading trough unless I pressed them in with my thumb. The trough is probably on the small side for larger pellet skirts. This made me watch that the pellets didn't flip backwards before the bolt pushed them into the breech.
Trigger
I also had plenty of time to observe the Sterling's trigger. It seems to be a single-stage, but the pull is short enough. There's some slight creep, but you need a target-shooter's trigger finger to feel it. Overall, it was good enough for very precise shooting without disturbing the aim. If I pull the gauge very slowly, the trigger breaks between 2 lbs., 3 oz. and 2 lbs., 5 oz., which is plenty light enough for good work. I said it was 2 lbs., 8 ozs. in Part 3, but that was when it was pulled more deliberately.  I know Vince had a hand in making it so nice, because Sterling triggers have a reputation for being crude and not so good.
JSB Exact 8.4-grain
Next I tried some 8.4-grain JSB Exact domes. They're at the upper limit of weight of I would choose for a gun of this power, but sometimes that's a plus. Not this time, though, because 10 went into a 0.788-inch group at 25 yards. That's okay for many breakbarrels — but from a fixed-barrel rifle that has a Lothar Walther barrel, I expect more.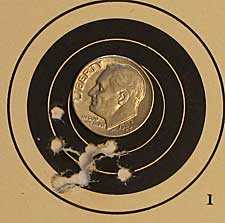 Getting better but this 0.788-inch, 10-shot group is still not as good as expected for the Sterling.
Shot cycle and hold
The Sterling shoots with a very pronounced forward jump — reminiscent of spring guns of the 1970s. It feels like the stroke is long, and the piston is heavy. On the other hand, the rifle lies completely dead in my hand, so applying the artillery hold is easy. My off hand touched the triggerguard, yet I could still feel the cocking slot of the stock on my palm. That means the stock is cut far to the back, which means Vince did a wonderful job of deadening the powerplant to get the rifle as smooth as it is. I just wish airgun makers today would go to the same trouble instead of mounting everything in rubber to deaden the vibration that's still in their guns.
Crosman Premier lites
Next up was the venerable 7.9-grain Crosman Premier lite pellet that often wins the race in these tests. This was the only pellet of the four tested that fit into the loading trough without a push, yet it was also the pellet that gave the most trouble by flipping backwards in the trough.
This time, I got the results I was hoping for, though the group is more open than I would have liked. Look at the group and read the caption, though, because you'll be surprised where most shots went.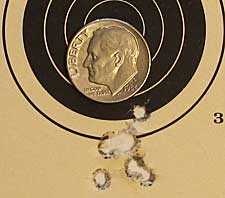 More like it! The group of 10 Crosman Premier lites measures 0.606 inches between centers, but the surprise is in the largest hole in the center of the group. Six shots went through that one hole! Now, we're talking!
Scope not mounted perfectly
By this time, I noticed that I'd mounted the scope a little too far to the rear, and the high mounts I used were not needed. Repositioning the scope in lower mounts would make the rifle easier to shoot — though I don't think it would affect the accuracy. However, if I were to keep a scope on this rifle (and it can't be this wonderful Hawke, as I need it for other tests) I would remount whatever scope I used.
JSB Exact RS
The last pellet I tested was the 7.33-grain JSB Exact RS. You might recall that this pellet is one of Kevin's favorites, and we have seen it do amazing things with some spring guns in the past. The report I did a while back on the Beeman R8 was the most dramatic example of the capability of the RS.
And it didn't disappoint this time, either! Ten RS pellets went into a group measuring just 0.41 inches at 25 yards! That's game, set and match as far as I'm concerned. The Benjamin Sterling has proven itself to be a very accurate underlever spring rifle that warrants special attention from shooters as well as collectors.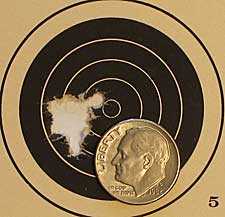 Ten JSB Exact RS pellets went into 0.41 inches at 25 yards, proving beyond a doubt that the Sterling can shoot!
Summary
This test series has been long and rewarding. Thanks to Vince, we now know what a Benjamin Sterling can do under the right conditions. I'm sorry this rifle is no longer available. Except for the lower power and stiffer trigger, it could hold its own with a TX200. When I usually do these reports on vintage airguns, we get to see a lot of warts, but the Sterling doesn't have as many as I was prepared to see. Without a doubt, Vince's work has a lot to do with that.