by B.B. Pelletier
As you read this, I'm at the SHOT Show in Las Vegas. I'll be there all week. In fact, today is Media Day, where the media gets to go to an outdoor shooting range in Boulder City and shoot the guns displayed by manufacturers, importers and distributors. Since I won't be monitoring comments much of this week, I would appreciate it if our regular readers would help answer them. Edith will still monitor all the comments but may not have a chance to answer many more than she already does.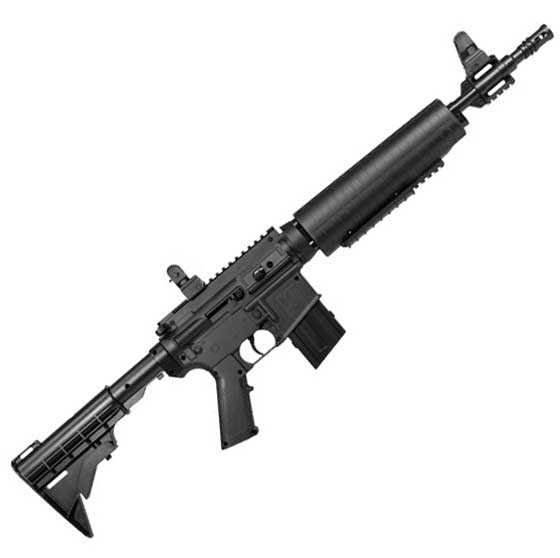 Crosman's new M4-177 is a smart-looking M4 battle rifle lookalike.
How many of you remember that I said I would come back to the Crosman M4-177 multi-pump air rifle and test it at longer range with a dot sight? Well, if everything went right, Mac and I are out at the range in Las Vegas at the SHOT Show Media Day today, but while we are seeing and shooting all the new guns you guys get one more look at this one.
As I mentioned in the last report, I mounted a dot sight on the rifle, to see how it performs at longer distance. I picked the 25-yard indoor range for this one. For the sight, I selected the BSA Optics red/green/blue dot sight that also has a laser and a tactical flashlight. It certainly looks right at home on this rifle, and the Weaver clamp fits the rifle's Picatinny base. All I had to do was remove the open sights, front and rear, and put this one on the base.
The problem with optical sights on a multi-pump rifle is they get in the way of holding the gun during pumping. I had to hold the M4 at the buttstock extension tube because the sight sat right where I wanted to put my hand. Because of that, pumping was more difficult, and I wanted to pump the rifle 10 times per shot. So, I decided to shoot 5-shot groups until I found an accurate pellet, then shoot 10 shots with that one.
Accuracy testing
As I said, all testing was done at 25 yards off a rest. The rifle was pumped 10 times for every shot. Pay no attention to where the groups land, as I adjusted the sights several times to keep the pellets on the target.
I first tried the Crosman Premier Super Match pellet that had worked so well at 10 meters in Part 3. Once it was on target, I shot a group of 5 to see how they did. Unfortunately, at 25 yards, they didn't do as well as I'd hoped. The group measures approximately 3.01 inches, but that's not precise because the widest pellet didn't land entirely on target. Suffice to say it was poor enough to disregard.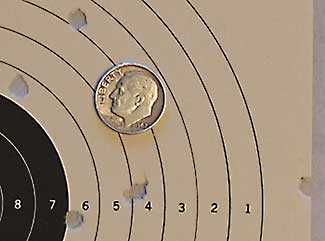 Crosman Super Match wadcutters didn't give the performance I wanted.
I continued on, testing RWS Hobby pellets. They were better, with 5 going into 1.563 inches but not what I was looking for.
Next came 5 JSB Exact 8.4-grain domes. This was the first domed pellet I tried, and the group size shrank to 1.406 inches. The group was also very vertical, however, which leads me to an important point.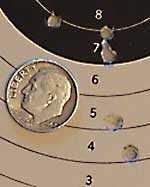 JSB Exact 8.4-grain domes did better.
By this point in the test, I noticed that this dot sight is not precise. The dot smears in all three colors at all three intensities. I've used quality dot sights that held the size of their dots very well, but with this one the dot smeared to the sides. I tried it both with my glasses and without, and the results were always the same. Maybe it's me and not the sight, but I felt I wasn't able to aim precisely enough with this sight.
The last pellet I tried was the Crosman Premier 7.9-grain dome. This one gave me 4 very tight shots, with No. 5 landing several inches away. Now, I had a quandary. Should I go with the JSBs or the Premier lites?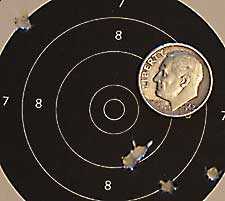 Four of five Premier lites made this tight group, but there's that lone shot up to the left. What to do?
I decided to go with the Premiers, because of the tighter group of 4. So, I shot 10 more Premier lites at 25 yards.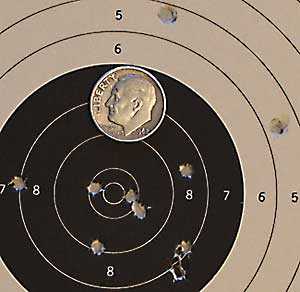 And this is what I got. This "group" is pretty poor, and I don't believe it represents what the M4 can do. It measures 3.358 inches between centers.
What now?
Well, I had been unhappy with the performance of the dot sight to this point. What if I replaced it with the original factory sights — a peep rear and a post front? Hey! Haven't I read somewhere on the internet that those kind of sights can do a good job?
The dot sight came off and the factory sights went back on. It took 4 shots to sight in, and then I shot another 10-shot group. This time, the pumping was much easier because my hands could hold the rifle in the right places.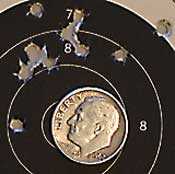 And that's the same rifle, same pellet with factory peep sights. This group measures 1.546 inches between centers, with 8 of the 10 shots going into 0.923 inches. Clearly, the factory sights were better in this case.
Bottom line
Well, I've wrung out the M4-177 pretty thoroughly. It's accurate and fun to shoot, and for my money you can use the sights that come with it. I know that the look of the gun begs for tactical accessories; but for me, accuracy is always the trump.