Mayhem .45 Sport Tactical air pistol: Part 3
by B.B. Pelletier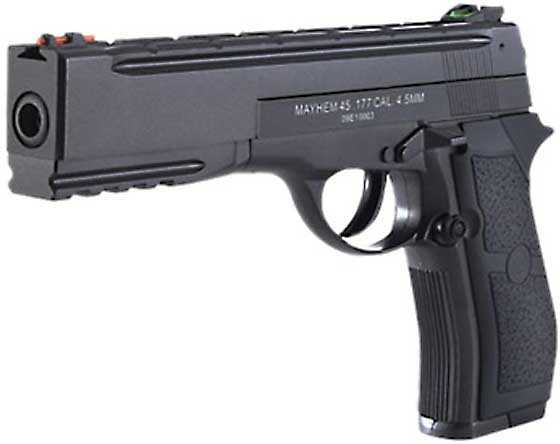 The Mayhem .45 Sport Tactical air pistol is a big, heavy airgun.
Well, it all came down to accuracy, and the Mayhem .45 Sport Tactical air pistol has it in buckets. However — and it's a big one — the trigger is so hard to pull and it's also double-action only that it creates a problem shooting the gun accurately. If this had a single-action trigger, I bet I could shoot half-inch groups with it — especially at 15 feet. But I'm getting ahead of the story.
The first BBs I used were the RWS BBs that I've mentioned in the past. They seem to group just as tightly as Daisy's zinc-plated BBs, and I wanted to give them a chance in this pistol.
I started the test at 15 feet, and the nature of my range dictates a one-hand hold at that distance. I didn't expect very much until seeing the BBs all go to the point of aim. However, I wasn't able to hold the gun still enough to pull the trigger, which requires over 12 lbs. of effort, and still keep the pistol steady.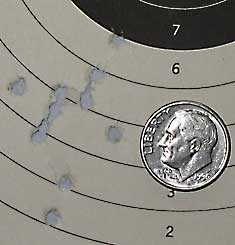 At 15 feet, the pistol shoots to the point of aim, but the heavy trigger-pull caused it to move around more than a little. This 10-shot group measures 1.468 inches between centers.
Since it shot so straight at the close distance, I decided to back up to 25 feet and try it. Normally, I don't shoot BB pistols that far back, but at that distance I could use a barricade rest and this pistol might surprise me.
Barricade rest
A barricade rest is a very steady hold for a handgun — especially an air pistol that doesn't recoil. I grab onto the barricade, in this case a door jamb on my right side, with my left hand and rest my right (shooting) hand on top. Then, I lean into my hands to further steady myself. This eliminates the shakes and allows for a good arm's-length sight picture.
The Mayhem trigger-pull is so heavy that, after the first group at 15 feet, I had to pull the trigger with my middle finger because my index finger was out of strength. The BBs also went slightly higher at 25 feet.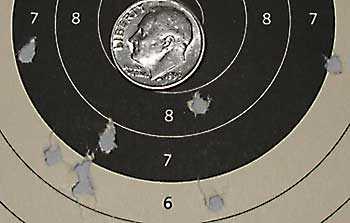 A fair group from 25 feet with a BB pistol. There are 9 shots in 2.192 inches.
After this group, I reloaded the magazine with Daisy zinc-plated BBs for another try. My trigger finger was giving out at this point, so this was the last group I would be able to shoot with any accuracy.
This time, I gave it my best for 10n shots. From where I stood, every shot looked like a perfect release; but when I walked to the target, I saw that the group was more spread out. Ten shots went into 1.873 inches.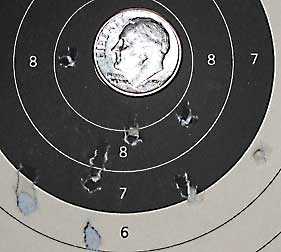 The final group of Daisy BBs did best at 25 feet.
Summary
The Mayhem BB pistol has several things going for it. It gets an incredible number of shots per CO2 cartridge, yet the velocity remains high. The BB magazine is very easy to load and manage. Accuracy is also well ahead of many BB pistols.
On the down side, the sights aren't adjustable. As we see from this test, it would have been nice if they were.
But the trigger is the biggest sticking point I had with this pistol. It's double-action only, so there's no possibility of relief from the excessive pull. I'm usually pretty neutral when it comes to triggers. I shoot so many airguns that I can adapt to just about anything. But this one is too much even for me. I know I could have shot better with a trigger-pull half as heavy or with a single-action pull.
Tom Gaylord is known as The Godfather of Airguns™ and has been an airgunner for over a half-century, but it was the 
Beeman
 company in the 1970s that awoke a serious interest in airguns. Until then, all he knew were the inexpensive American airguns. Through the pages of the Beeman catalog, he learned about adult airguns for the first time. In 1994, Tom started
The Airgun Letter
 with his wife, Edith. This monthly newsletter was designed to bring serious reports about airguns to the American public. The newsletter and
Airgun Revue
, a sister magazine about collectible airguns, was published from 1994 until 2002, when Tom started
Airgun Illustrated
-- the first American newsstand magazine about airguns. Tom worked for three years as technical director at
AirForce Airguns
, the makers of the 
Talon, Condor, and Escape
 precharged air rifles. Today, he writes about airguns and firearms for various publications and websites. He also makes videos, and you'll find short clips embedded in some of his artices on Pyramyd Air's website. Tom is a consultant to Pyramyd Air and writes under the name of B.B. Pelletier.