by B.B. Pelletier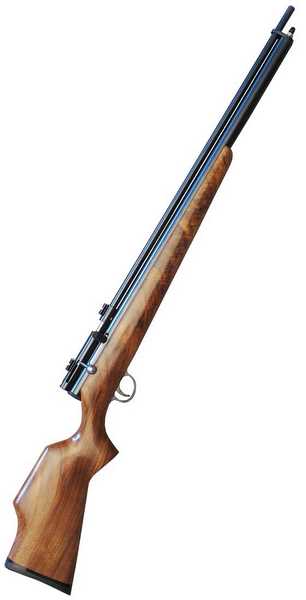 Quackenbush .308 is handsome even in this lowest-grade version.
Today's report will be quite different from the norm. This is Part 2, which is normally where I test velocity. I did that, and you'll see it in today's report — but you'll also see some targets, because I tested accuracy, too.
When I test a smallbore pellet gun, I know at the start how the gun should perform, more or less. Yes, there are some surprises; and yes, I do make some mistakes — but a lot of what happens can be predicted pretty accurately. But not a big bore!
With a big bore airgun, I'm almost starting from scratch. Sometimes, I will have tested something similar and can use that experience as a starting point, and there's some of that in today's report; but this .308 rifle is unlike any other big bore air rifle I've ever tested. There are more .308 lead bullet designs and bullet molds available than there are .177 pellet types on the market. Out of all that, I have to select some designs that make sense.
This is where my firearms experience comes in handy, and this is the reason I often run reports on firearms in this blog: learning the intricacies of this Quackenbush rifle is exactly like figuring out how a new black powder rifle operates. And I don't mean some ultra-modern, bolt-action black powder rifle that uses replica powders in pellet form, either. I mean a real black powder rifle made by hand and has to be figured out as you go.
So, how do you start testing a gun when you don't know much about it? Well, you start with what you do know and go from there.
I know that other Quackenbush Long Action Outlaw guns operate at pressures above 3,000 psi, so I'll start with a higher fill pressure. I know that this rifle will be in the 200-250 foot-pound range with bullets it can stabilize, so I'll select them first. I know that by reading what others have written about their .308 rifles.
I also know that Quackenbush rifles have to break in. They do get faster with use. So, I'll look for that.
Furthermore, since this is a big bore air rifle operating at a very high level of performance, it's going to use a lot of air. I know how much air the Korean guns like the .50-caliber Dragon Claw use, and I know that this rifle is going to use even more. So, even an 88 cubic-foot carbon fiber air tank is going to get drained in a hurry.
I cast bullets for many of my firearms, and I also happen to own a bullet mold for a nice spitzer (pointed) lead bullet that was designed for the M1 Carbine. It casts at around 130 grains, which is an ideal weight for this rifle, because the expected velocity (derived from the known power that has been published by other .308 owners) will be 850-950 f.p.s. on the first shot. I calculate this velocity range by taking the expected power (say 225 foot-pounds) and running it through the Pyramyd Air velocity calculator (use the second formula on the page to do this).
The issue here is bullet stability. These bullets are stabilized primarily by the spin imparted by the rifling in the gun. The longer a bullet becomes, the faster it must spin in order to stabilize. Since you cannot change the twist rate of the barrel, you have to drive the bullet faster to stabilize it. Sometimes, though, you'll get away with shooting targets that aren't too far away with a longer bullet. The bullet will be semi-stable for the first 40-50 yards or so. It all depends on the bullet's length.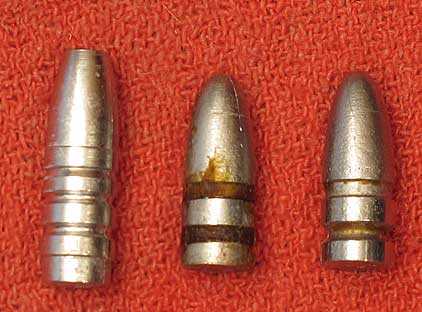 The bullets I shot are like the one at the center of this photo. At the right is that same bullet with the lubricant wiped off. At the left is a 170-grain lead bullet that's normally too heavy for this rifle. However, for close work, it might work okay. That bullet normally takes a copper gas check, but it can be shot without one.
That velocity will give a fairly flat trajectory and stability to the 130-grain bullet as far as the rifle can be accurately shot — which is about 200 yards. But consider this: this bullet is just one of over 200 different lead bullets that are appropriate for this rifle! If you really want to experiment and push the envelope, that number grows to over 500! Nothing guarantees that this will be the one right bullet. It's just the first one I tested.
Scope troubles
Before I went to the range, I mounted a scope on the rifle. I encountered problems right away because of how far the Weaver bases are set apart on the rifle's action. They are so far apart that I cannot mount the leapers long eye relief scope I had planned to use, because the ring separation exceeds the scope's tube length. This is where it gets dicey because of the scopes that were available; and the Weaver rings I had that were not committed to other tests and guns. I ended up with a set of high rings and an Osprey 2.5-10×40 scope that I don't care for. More on that, later.
So, I get to the range and the day is pretty good. The wind is fairly calm, with just a few breezes I can wait out. Besides, I'm shooting a .308 130-grain bullet at 50 yards. The wind doesn't affect it nearly as much as it would a pellet!
First fill
The gun's first fill is a guess. I know my .458 Outlaw likes a 3,500 psi fill, so I go with 3,600 psi for this one. I'm looking for a couple things. First, how fast does the first shot go? Second, how fast do shots two through whatever go? That's right — I don't even know how many powerful shots I'm going to get from this rifle. If it were a 9mm Korean gun, that number would be 5-7. But a Quackenbush .308 is more powerful and uses a lot more air. My .458 gets two good shots per fill, so there's a very good chance this one will, too.
Before I left the house, I oiled the striker (hammer) with high-tech gun oil. I oiled it again at the range. I know that all big bore guns need to break in to shoot their best. Then, I filled the rifle to 3,600 psi and started shooting:
Shot……..Vel.
…1……….857
…2……….816
…3……….777
…4……….730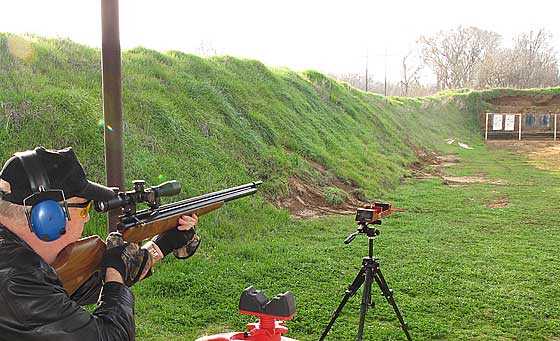 The first few shots were over the chronograph. Then, I commenced shooting for accuracy at 50 yards. You can see how high the scope sits above the receiver.
Okay, those are the first four shots. If I'm looking for good groups at 50 yards with this bullet, only the first two shots look good. If I'm demonstrating the rifle to a bunch of Boy Scouts, I can probably continue shooting for another couple shots. Do you see what I'm doing? I'm calculating things based on what kind of shooting I expect to do.
And shot one generates 212.06 foot-pounds of muzzle energy. Shot two makes 192.26 foot-pounds.
I also noted that when I went to fill the reservoir again, the gun still had about 1,900 psi inside. Four shots used up 1,700 psi, or about 425 psi per shot. The Korean big bores use around 200 psi per shot, so that gives you a good idea of how they compare to a Quackenbush Long Action.
Next, I sighted-in the rifle. Because the Quackenbush Long Action does not allow the bolt to be removed easily at the range, I used a target paper that's two feet by four feet. The point of aim is close to the center of the paper. That gives me a good chance of striking somewhere on the paper at 50 yards. If this were a smallbore airgun, I would have started at 10 feet, as I explain in my article about sighting in a scope; but you can't do that with a gun this powerful unless you own a lot of private land. I'm on a club-run rifle range, and I have to obey their regulations. I'm hoping to get on paper without boresighting. I do own a boresight device, but it has only bore spuds that go up to .22 caliber, so it wouldn't work in a .308.
I'm in luck, because the first shot hits the paper…about two feet below my aim point. Well, that isn't as lucky as you might think. Remember the Osprey scope I mentioned earlier? Well, it has 1/8 MOA (minute of angle) adjustments. At 50 yards, every click will move the strike of the round about one-sixteenth of an inch! For two feet, I'll have to move the elevation knob up 16 x 12 x two, which is 384 clicks! There probably aren't that many clicks in this scope, plus I don't know how far up it already is. I have a droop problem!
I'll replace this scope and mounts for the next test, which means I'll have to sight-in and do this all over again. But today is not lost. I can still continue to test the gun. I adjust the scope up so the round lands about 14 inches below the aim point, and that's how I will test the gun today. It's simple enough to staple two targets to the backer in line with one another, so I can aim at the top one and hit the lower one. Now, we can see how this rifle shoots with this bullet.
The only problem is — all I have are bullets that have been sized and lubricated. I know that Quackenbush big bores seem to do best with dry lead bullets, or at least that's been my experience up until now, but I'll use the bullets I have on hand. I will have to cast some more bullets and not lubricate them for the next test.
Accuracy
Shot one went about 14 inches below the point of aim, as mentioned already. Shot two dropped another several inches, but I compensated for it by using the tip of the bottom fat vertical duplex reticle line as a different aim point. So, I'm able to get a fair grouping of bullets, though it's nothing I am satisfied with, yet. I'm able to shoot six bullets into a group measuring 1.6 inches by shooting just two shots per fill and using the two aim points. After shot two, the gun's remaining pressure is about 2,700 psi, so the first two shots use about 900 psi — which works out to 450 psi per shot. Do you see how this stuff works?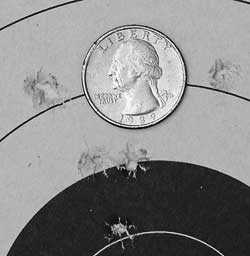 Two bullets in the hole on the left, and you can see the rest. Three of them were first shots after a fill, and three were second shots. This group measures 1.6 inches between centers.
I then moved over to another set of targets and tried something different. I tried refilling after the first shot — so every shot would be going the same speed and I could use the same aim point. This time, four of the five shots grouped into 0.982 inches, but the fifth shot opened it to 1.767 inches. It looked like it was going to be better, but once again, no cigar.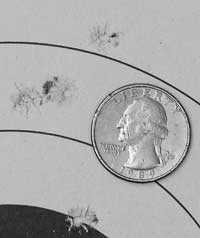 There are three bullets in the large hole on the left. Shot four (top) opened the group to just under one inch, but the fifth shot opened the group to almost 1.75 inches.
After shooting at two different targets, I lubricated the striker again and chronographed the gun. This time, I tried to fill the reservoir higher than 3,600 psi, but my carbon fiber tank had already dropped to 3,600 psi. I had to stick with that as the highest fill pressure.
Shot……..Vel.
…1……….867
…2……….819
…3……….772
…4……….733
As you can see by comparing this second string to the first one, my rifle seems to be performing at the same level, more or less. That does not tell me whether 3,600 psi is the highest operating pressure or not, but it's a good indication that the rifle either needs a lot more shots through it or it's already broken in. I'll have to get my carbon fiber tank refilled before I can conduct another test at a higher fill pressure.
And just for continuity, the first shot generated 217.04 foot-pounds. Shot two generated 193.67 foot-pounds.
Where to next?
If you're as curious as I am, these results open up a lot of possibilities. For starters I want to test the gun at a higher fill pressure. I also want to shoot dry bullets, but I think I need to clean and dry the bore before I do. I can't clean the lubricated bullets well enough to consider them dry, so I have to cast another batch.
I definitely have to mount a different scope in lower rings, and I have to be prepared to elevate the rear mount if the rifle turns out to be a drooper. All I know at this point is that I had the scope adjusted very high, which very well could have lead to the groups being as large as they were.
I have a feeling that this rifle will shoot groups smaller than one inch once I learn its secrets.