by Tom Gaylord
Writing as B.B. Pelletier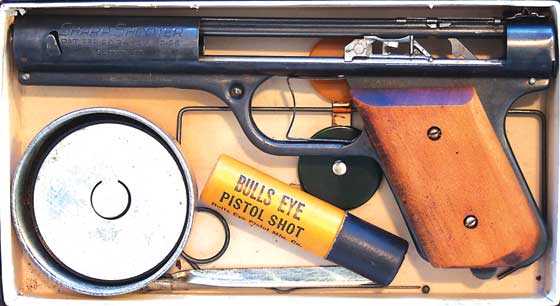 Sharpshooter pistol uses rubber bands to launch a .12 caliber lead ball. Other catapult guns were as large as .43 caliber!
This report covers:
You know catapults guns
More power doesn't mean higher velocity
Why a limit?
What is the limit?
Crossbows may be faster — but…
What about stonebows?
Conclusion?
You know catapults guns
Over the years I have written several reports about catapult guns . The Sharpshooter shown above and the Bullseye pistol that proceeded it used rubber bands to launch their shot. But the Johnson Indoor Target gun used surgical tubing. And a don't really know for sure what the .43 caliber Hodges gun of the 1840s used but I suspect it was natural rubber bands. The point is, catapult guns have used many different power sources.


Johnson Indoor Trainer uses surgical rubber tubing. read more