by B.B. Pelletier
Announcement: Jedediah Strong Smith is this week's winner of Pyramyd Air's Big Shot of the Week on their facebook page. He'll receive a $50 Pyramyd Air gift card. Congratulations!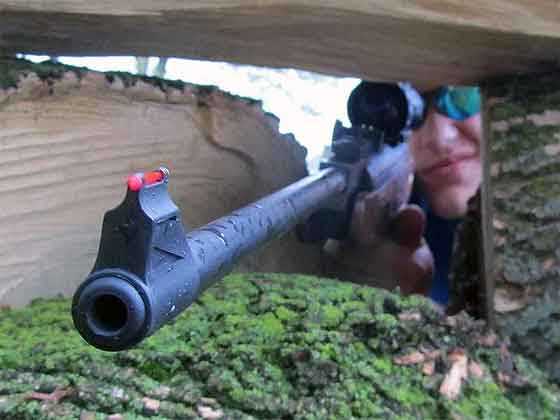 BSOTW winner Jedediah Strong Smith.
Firearms shooters get a new book or two every month or so. But airgunners are lucky to get a new one every year. Today, we're going to look at the latest airgun book from Daisy. It was written by Joe Murfin, Daisy's vice president of marketing and chairman of the board for the Rogers Daisy Airgun Museum.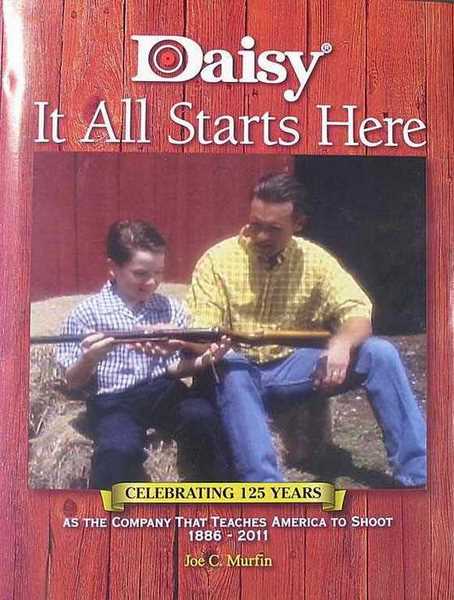 New Daisy book brings the history of the company up to date.
Daisy collectors all know that Cass S. Hough wrote a book called It's A Daisy that documents the beginnings of the company up through the time when he served as its president. Hough was the grandson of one of Daisy's founders and also a test pilot in World War II. He is credited with being one of the first men to fly faster than the speed of sound. It was in a power-dive in a P38 Lightning fighter over England in 1943, while he was testing a problem with the aircraft's control surfaces. Chuck Yeager is better-known for being the first man to break the sound barrier in level flight in 1947, but Hough and perhaps some others broke it much earlier during dives.
The new book, titled, Daisy/It All Starts Here is not exactly a follow-on to Hough's It's A Daisy, but it does fill in the blanks from the time the earlier book left off. The new book begins with a brief history of the company that will be of interest to Daisy fans as well as the general public, because it presents facts, literature and insights not previously published. It even explains why Daisy dates its beginnings to 1886, which collectors realize was several years before the first Daisy guns were made. I won't spoil the story for you — get the book.
The next chapter completes the history to the current period, so this book isn't just a history of the company. But I learned a lot of facts about Daisy that no one other than an employee would know. For example, just ask me how the Marine Corps has Daisy test their M1903 drill rifles. (What?)
How BBs are made
In chapter four, the author looks at the manufacture of BBs — the ubiquitous ammunition that defines the guns and even the entire Daisy company! There have been long articles about BBs in the past. Cass Hough wrote a chapter on them and the late Ladd Fanta did a very nice article many years ago for Gun Digest. I've even written a short report about the steel spheroid in this blog. But, again, Murfin manages to give us facts and data that I've never seen in any other source. With the files of the Daisy Museum at his fingertips, he had wonderful resources to draw upon.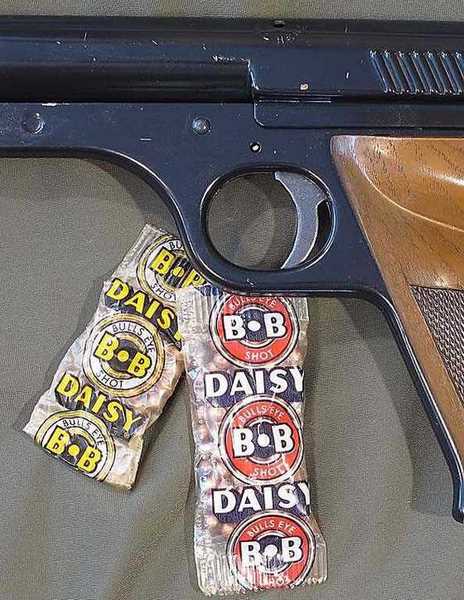 First, they were a penny, then a nickel a pack. Daisy BBs were sold in small plastic packages like these that were wound onto a giant belt. Storekeepers tore off only what the customer wanted.
The author hides nothing from the reader, who gets a fly-on-the-wall view of how BBs are made and distributed today. To say that this particular chapter is an eye-opener is an understatement.
Red Ryder Carbine-Action 200-shot Range Model Air Rifle
Another chapter documents all that's wrong and right about that iconic Christmas movie, A Christmas Story. Jean Shepherd had his main character, little Ralphie Parker, desire a BB gun that never existed. Then, when the movie was made, Daisy cooperated with MGM by building a few of the special guns for the film, and that got spun off into a special Christmas Story Red Ryder gun that never existed before the movie was made. Today, that gun is a major collectible in its own right, and there have been other Christmas Story Red Ryders made at later dates to commemorate the first one! Talk about life imitating art!
Daisy was not about to ignore the vast advertising potential of a movie that often gets shown 24 hours straight during the holiday season, so they also started marketing special tie-in branded items, including a working replica of the famous leg lamp that was made from a cast of Joe Murfin's leg! If the Red Ryder was already the most famous airgun in the world, the movie turned it into an object recognized by millions who aren't even aware that airguns exist!
Happy Daisy Boy
In 2005, Daisy was contacted by Tom Reaume, who said his father had been the Happy Daisy Boy. In his book, Cass Hough had identified George Rockford as the Happy Daisy Boy of 1913-1920's company advertising, but Tom Reaume stepped forward with a 1913 ad showing his father, Rockford A. Reaume, holding the new Daisy No. 25 slide-action BB gun. That ad has hung in the Reaume family living room for decades.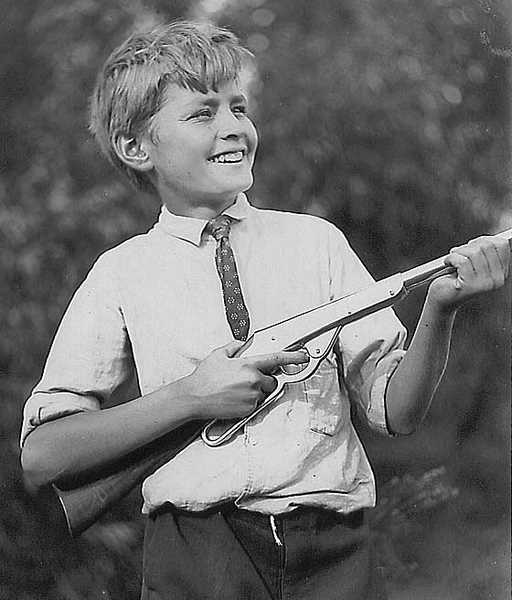 Rockford A. Reaume (a.k.a. George Rockford) was the Happy Daisy Boy from 1913 into the 1920s. His image appeared on a lot of early advertising.
I happened to be visiting Daisy when this took place and was honored that they allowed me to publish the story in Shotgun News, along with about 20 of the vintage photographs. It turned out that Tom Reaume was aware of the one ad, plus he had a small portfolio of photos of his father and several other boys, all posing with Daisy BB guns. But he did not know that his father had been a professional model. He presented copies of all the photos to the Daisy Museum.
Every 120 years
While I was with Murfin in 2005, I asked if he knew that someone had made a small run of the first model of Daisy BB gun several years before. They mounted it in a wooden display frame to hang on a wall. It was incredibly realistic, but non-functional. He was surprised to learn that these non-working copies were fetching $400 from collectors who didn't have the deeper pockets to buy the real thing.
We fantasized about Daisy making a reissue of the old wire stock model as airgun enthusiasts will do, but that was the last I heard of it until late in 2009, when I got wind that Daisy was coming out with a re-issue of the first model. I reported on that gun in this blog in January 2010.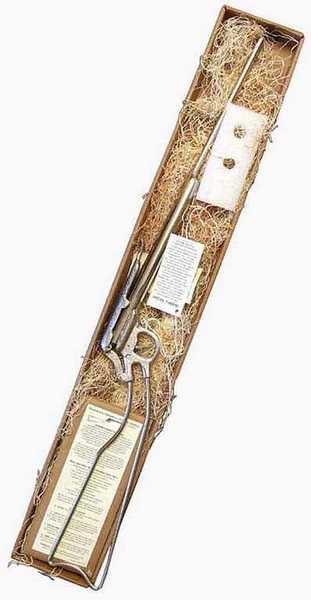 Daisy's wire stock first model was lovingly hand-made at the factory in 2009. In 100 years, will it be as famous as the original that came out a century earlier?
Daisy handmade these BB guns as a labor of love, right in their Rogers Arkansas plant. Everywhere possible, they used original materials — such as a hand-wrapped piston seal made from candlewicking soaked in beeswax! I knew this was a special gun when I got mine, but I had no idea what went into it. This book has opened my eyes to a process of airgun making that many would say is a lost art
Daisy firearms
Some of you know that Daisy made .22-caliber rimfire rifles for a time and also .22 rifles that used caseless cartridges. There's a lot of controversy over these guns because the caseless guns are actually airguns that ignite the gunpowder by means of hot air generated by the piston. It's an airgun that's also a firearm. Only 25,000 were made.
The Legacy bolt-action .22 rimfire is a much more conventional firearm. It came as a single-shot, a bolt-action repeater and as a semiautomatic repeater. But the Daisy name was not known to the firearms world, and these rifles had some non-ferrous parts that soured the buying public's opinion. They pop up at gun shows all the time these days, and the price ranges from $100 to $1,500, because sellers and buyers both still don't know what to make of them.
The book gives insight into what was happening behind the scenes when these guns were being made and sold. And the Wally World connection pops into the discussion. If you want to know the real story, it's all down in black and white, and the author pulls no punches.
The rest of 124-page $30 full-color hardbound book is loaded with more Daisy history from recent times. And the author was there to watch a lot of it as it happened. If you're an airgun collector or just a Daisy fan, you must have this book in your library. It's available only directly from the Daisy Museum in Rogers, AR.