by B.B. Pelletier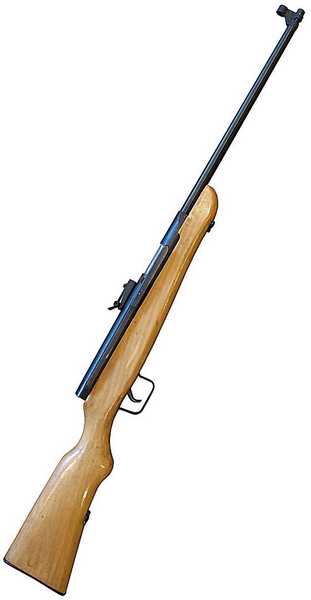 This TS-45 rifle is probably at least 30 years old, yet also brand new.
At every airgun show there's always one or two special things that show up. At the 2012 Arkansas show this year, one of those things was a pile of new-old-stock Chinese TS-45 sidelever air rifles. Randy Mitchell had found a pallet of these vintage guns and was selling them for $20! Now, I'm as cheap as any airgunner, but a twenty-dollar spring rifle in new condition is more than even my frugal nature can ignore.
Yes, we've already looked at the TS-45 in this blog. Most recently, Vince gave us a look at two slightly different variations of that model — one of which was a rifle I bought at the Little Rock airgun expo many years ago from the late Paul Landrith, a well-known airgun repairman from Arlington, Texas. It was about 15 years ago, and Paul had several TS-45s on his table.
I was writing The Airgun Letter at the time and bought most of the airguns that I tested. I'd stayed away from the Chinese springers as long as I could, but the insistent battle cry of, "Real wood and steel for just a few dollars" finally overcame my resistance, so I started testing them. I did it mostly to poke my fingers in the eyes of everyone who had asked me to test Chinese airguns; but the more I ranted about their obvious shortcomings, the more my readers agreed with me. "Yes, they're horrible! Don't you just love them?" It was like attending a convention of bathtub Saab 96 owners. "They're not supposed to start every time!"
Back to my story, I was at Malvern and saw a rack of TS-45s and immediately thought of Paul Landrith and the old Little Rock show so many years before. Paul warned me that the gun I bought from him was one of those that had amputated a few thumbs during loading, and I was never to trust the anti-beartrap mechanism. Always restrain the sidelever positively, he made me promise before selling the rifle. I always did. When I sent it to Vince, I told him the same thing.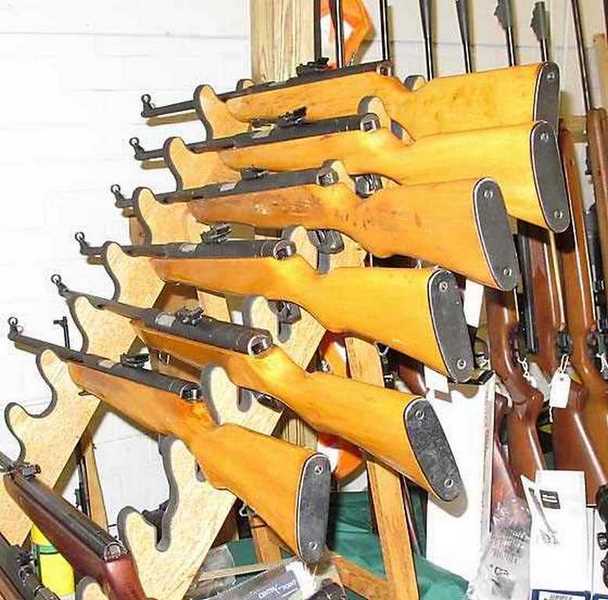 Randy Mitchell was selling piles of these new-old-stock TS-45 sidelevers at the Arkansas airgun show.
And here was another cache of new-old-stock TS-45s, at the show that succeeded the Little Rock show. The clincher came when Randy Mitchel said to me, "These rifles remind me of Paul Landrith!" Apparently, there are many airgunners who dealt with the kindly man and remember him fondly.
So, I bought the gun, more as a reminder of the past than as an airgun project. But after examining my new-old rifle and comparing it to the two in Vince's report, I see that this is a third variation. It resembles Vince's beloved "Pointy" more than the other rifle he also tested, but it has small differences. What the heck; this one might shoot as well as Pointy, too, and then wouldn't I be happy?
The rifle I'm testing for you is a .177-caliber sidelever spring-piston air rifle. From comparison with Vince's rifle, I would have to say this one might be the earlier model — or as Vince guesses, another one made for export. Since the only writing visible on this rifle says MADE IN CHINA, plus the numbers on the rear sight, I'm inclined to go with the export-model theory. This rifle lacks any Chinese characters or the mountain logo found on the other two rifles on which Vince reported.
Randy has stripped this rifle and lubricated it with the correct grease. He also removed the anti-beartrap device parts from some of the actions, and I got to choose if I wanted them in the gun I bought. Since they're notorious for failing, I elected to get the rifle without the anti-beartrap, and I'll be restraining the cocking lever every time I load. That's how I always did it with my other TS-45, and that's what I advise all owners to do, as well.
To safely restrain the sidelever during cocking, tuck the sidelever behind your arm, as shown in the photo below. Never put your fingers into the loading port unless the sidelever is restrained this way. If the gun were to slip off safety, the lever would smack into your arm. It would hurt, but your arm would stop it from allowing the sliding compression chamber to cut off your fingers.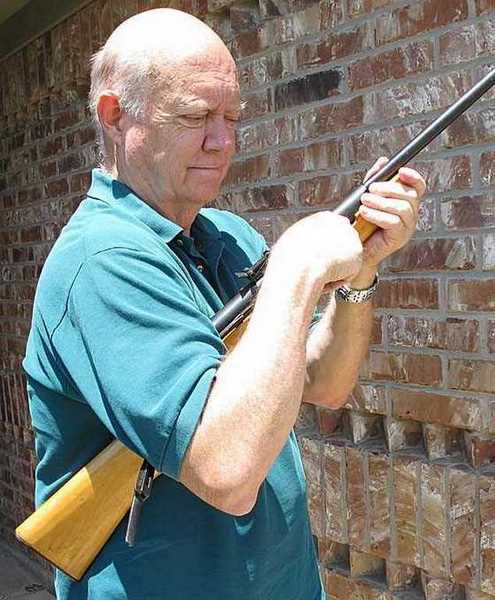 The sidelever is safely restrained by my right arm. My right thumb is loading a pellet into the breech. If the sear slips, my arm will stop the lever and the sliding compression chamber from closing on my thumb.
WARNING
The TS-45 is a vintage airgun made in China and does not have the same safety mechanisms found in similar spring-piston air rifles made today. If you fail to restrain the cocking sidelever while loading, as the photo shows, the gun can slip off its sear and send the sliding compression chamber forward with enough force to amputate your fingers during loading. This is a known fault of these rifles that's easily addressed by this safe loading procedure.
I know that most of our readers are careful shooters who pay attention to warnings like this, but I've also witnessed enough people who act before thinking. I feel it's necessary to emphasize this warning. It's the same kind of warning as not loading a muzzleloading rifle with the muzzle pointing at your head. It makes perfect sense; and if you follow it, you won't have a bad accident. But there is danger, and you need to be informed.
The rifle
This is a single-shot rifle that's a whisker shy of 40 inches long. It weighs 7 lbs. on the nose. The barrel is 18 inches long and is fixed in the frame. The pull (length from the center of the butt to the center of the trigger blade) is 12-5/8 inches, which is short for an adult.
The metal has not been finished in any detectible way beyond tumbling with a black oxide finish, so the least critical description is a matte black finish. But there are a couple scuffs and scrapes that show this rifle in no way received any special handling at the factory. The finish is 100 percent, however, as befits a new gun, though not all Chinese airguns of this era have that.
The stock is a single piece of blond pallet-grade hardwood. It has been shaped on an industrial sander and has a smooth outer surface that's covered with a clear synthetic finish. The internal inletting was done by a rabid beaver and resembles the rough sort of folk carving an Appalachian woodsman might do with a dull hatchet. The butt is protected by a blackened steel plate that's larger than the wood and is one of just two metal parts on the gun that have a smooth finish. Apparently, the punch press is kept fairly clean of metal chips. The other shiny part is the end cap that houses the sidelever pivot point. It shows signs of being hand-finished.
The sights are a hooded round post in the front and a rear ramp that's adjustable for elevation, only. It has the button lock that Vince likes on his Pointy rifle, but the rear notch is laid back unlike any other other TS-45 I have seen. The rear notch is U-shaped and very well-sized to the front post. I'll be able to take good aim with these sights.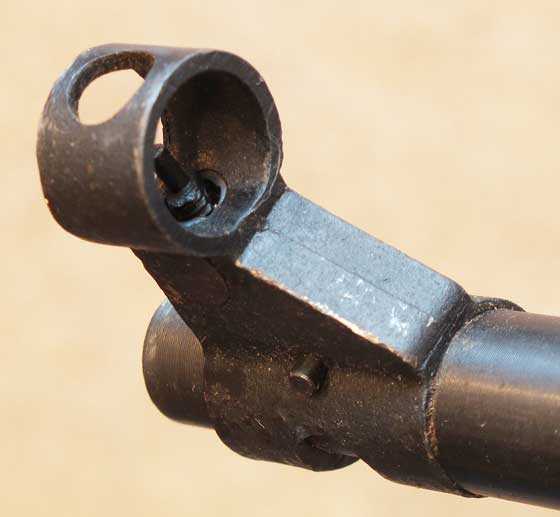 The front sight is typical of a Chinese post sight, like the one found on an SKS rifle.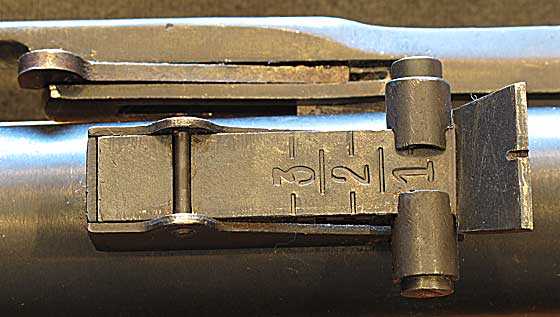 The rear sight adjusts for elevation but not windage. The rear notch slants backwards more than others I've seen. Notice the sidelever latch lock that takes so much pressure to unlock!
I've fired it a couple times just to familiarize myself with the operation and can tell that the bore is uncharacteristically small. I say "uncharacteristically" because, in all my experience with Chinese airguns made during this era (1970-1980), the bores have always been way too large. I have some hope that this may turn out to be a shooter.
The sidelever stays in position until the catch is pushed to release it. On this rifle, the force required is massive — on the order of 20 lbs., which is asking a lot of a thumb! The lever is under extreme tension — not from the mainspring, but from the geometry of how the lever and its parts fit. It's not a pleasant rifle to cock, considering that it's supposed to be a plinker. Give me a Bronco any day!
What's the plan?
The plan is that I'll test this rifle exactly as if it's a new airgun. It doesn't have a scope base, so I can only test it with the open sights that came with it. There's a limited supply of these new-old-stock rifles, so don't look for anything long-term from this test. If a few readers want one for themselves, just Google Randy Mitchell and airguns, and you'll find the link to his website. He doesn't seem to have these rifles listed there, so you will have to contact him to ask about them.