by B.B. Pelletier
Announcement: Tyrone Nerdin' Daye is this week's winner of Pyramyd Air's Big Shot of the Week on their facebook page. He'll receive a $50 Pyramyd Air gift card. Congratulations!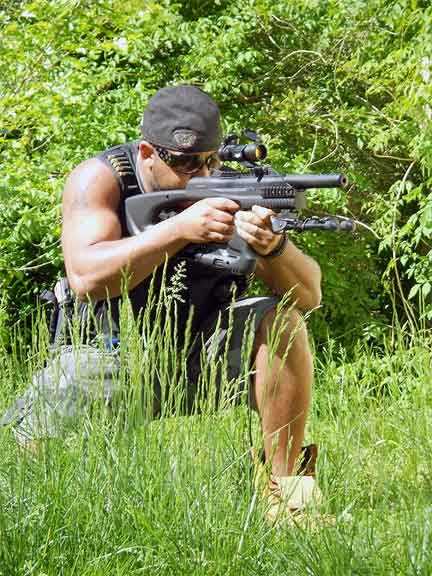 Tyrone Nerdin' Day says this about his winning photo: Me and my IZH-DROZD MP-661k Blackbird with Wild Mod Chip, Walther PS 22 red dot sight, quad rails and a UTG Tactical Op bipod. Black SWAT vest with the Walther CP99 Compact, police belt with Winchester Model 11.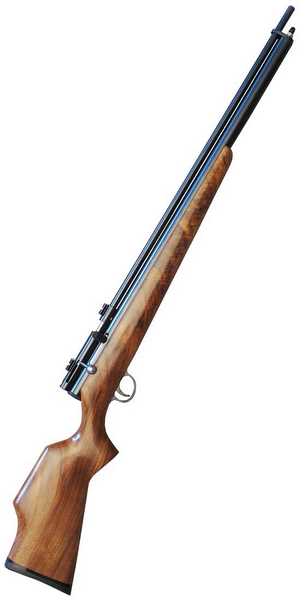 Quackenbush .308 big bore is an attractive air rifle.
It's been a long time since Part 2 because I was searching for a better bullet for this rifle. Oh, the groups shown in Part 2 aren't that bad; but when you see what I have to show today, you'll be glad I stuck with it.
Most of my experience has been with Quackenbush's larger calibers. My Quackenbush .458 Long Action rifle is so accurate that I was pretty sure I could get better performance out of this .308.
The .308 is the big bore gun everyone talks about these days. Guys are taking deer and goats with them out to incredible distances. At the 2012 LASSO big bore shoot, they were hitting half-sized sheep silhouettes out to 300 yards and making it look easy. But the bullets I had didn't seem to want to perform like what I saw from other guns. So, I kept searching and trying different bullets.
Blog reader Robert from Arcade even sent me a batch of 150-grain Loverin-style lead bullets he cast himself. They were big and heavy, and my rifle wasn't doing that well with lighter lead bullets, so I didn't have a lot of hope for these. But I took them along to the range yesterday, where I tried them along with a remarkable new bullet that I picked up at the Arkansas airgun show this year.
Mr. Hollowpoint saves the day!
At that show, I asked Robert Vogel, who's Mr. Hollowpoint, for a good bullet for my rifle. He recommended a new hollowpoint he's casting that has had some good reports. At 68 grains, it's a featherweight compared to the 115 to 130-grain bullets I've been shooting, and I thought maybe the additional velocity I'd get might make the difference. So, I bought a bag to try.
I got out to the range on Wednesday, and the day was very close to perfect. At 88 deg. F, it was a bit warm, but the wind was very low and never did pick up.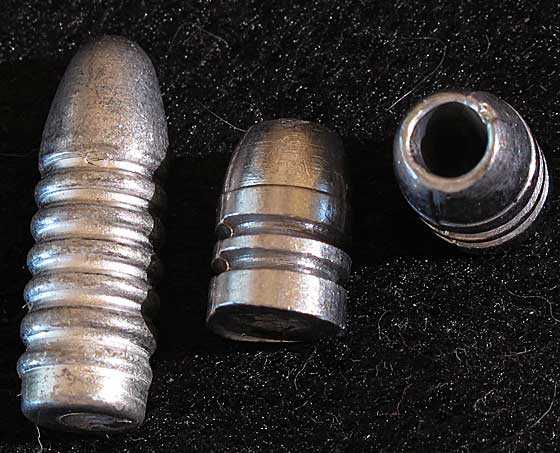 The 150-grain Loverin bullet on the left and the 68-grain hollowpoint at the center and right were both tried. Notice the uneven base on the hollowpoint. It seemed to make no difference on the target. That large hollow point lives up to its name!
My carbon fiber tank would soon need a refill, so I was only able to fill the rifle to 3,000 psi, and I held the number of shots per group to 5 instead of 10. The first shot was low and about three inches to the right of the bull, so I cranked up the elevation and put in some left clicks and then shot a 10. It was nothing but luck that the one adjustment put the bullet in the right spot.
It doesn't get much better than that, so I refilled the rifle and shot again. I was filling after each shot, so every shot had the benefit of a 3,000 psi fill behind it. With the Quackenbush Long Action Outlaw, and to a large extent with all other big bore air rifles I've tested, the first and second shots group in different areas — but they do group tight. The trick is to use some extra elevation for the second shot so it goes to the same place as the first. But since I didn't know exactly how much elevation to use with this new bullet, I refilled after each shot instead.
It was a slow, methodical process of settling into the rest, sighting, squeezing off the shot, then returning to the tailgate of my truck to top off the reservoir for the next shot. My shooting buddy, who witnessed all this, was impressed by how much recoil this .308 has. Of course, it recoils with or without the bullet, because the air that's exhausting is giving the rifle a rocket push.
By the time the fifth shot had been fired, I could see the results through the scope. The group was tight and well-centered, and the last three shots were in the x-ring, which is in the center of the 10. They can be covered by a dime. So, this 68-grain hollowpoint from Mr. Hollowpoint is the bullet my .308 likes!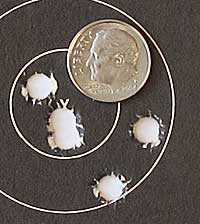 Five shots went into this 0.975-inch group at 50 yards. The 68-grain bullets from Mr. Hollowpoint are a real winner in my Quackenbush .308. The center three bullet holes can just be covered by the dime.
The base of the bullet has an uneven ridge extending past the base. It's the result of sizing the bullet, because Robert Vogel sizes each and every one to .308. Normally, I would worry about anything on the base that isn't perfectly uniform; but after looking at the target, I can see that this has little affect on how this particular bullet flies.
This bullet loads very easily in my rifle. There seems to be no resistance when the bolt is closed. They're cast from pure lead, which leaves them soft and prone to deformation. Performance on game is enhanced through the combination of the soft lead and the hollowpoint design. A soft lead bullet holds together better than one that's hardened with antimony, so these bullets still penetrate deeply in game. Elmer Keith wrote extensively about the performance of soft lead bullets on game with handguns, and the velocity of these big bore rifles is pretty close to what he obtained.
I wouldn't use such a light hollowpoint on a whitetail deer-sized animal, but it ought to turn a coyote or a bobcat inside-out! And the rifle is now zeroed at 50 yards — huzzah!
From light to heavy
Next up was the Loverin-style 150-grainer from Robert of Arcade. Since the rifle was only so-so with the lighter bullets I'd tried, I didn't think it would stabilize this long lead slug, but it wasn't much trouble to try. Robert also casts these from lead as pure as he can get; so, like Mr. Hollowpoint bullets, they're just right for airguns.
A Loverin bullet has many grease grooves along a relatively long body. It was greatly in favor in the early 20th century. When jacketed bullets came along, they sent the best lead bullet designs into relative obscurity. Only those who cast their own bullets are aware of the differences in designs like the Loverin, and this style bullet is no longer popular with mold-makers today. If I want to get a Loverin mold, I either have to buy a custom mold or I have to watch the auction sites for a vintage mold to come up for sale. This one is Lyman mold 311466.
In contrast to the easy loading of the 68-grain hollowpoint, these bullets were hard to load. They were not sized and measure up to 0.311 inches in diameter. I normally shoot unsized lead bullets in my big bores whenever I can to ensure the best sealing of the bore — a little resistance at loading is normal.
The bullets landed lower on the target, as expected, and they were about a half-inch to the right; but after 5 shots, I was impressed by the group they made.
By this point, the carbon fiber tank was definitely running out of air. On the final two shots, it filled the rifle to only 2,950 psi. Since the resulting group seems elongated up and down, I will attribute some of that to the uneven fill. I think that if I shot this bullet at a higher-pressure fill, the performance might improve.
Notice, also, that the bullet holes seem elongated. There was some tipping going on, and this bullet is probably at the ragged edge of stability at this velocity — whatever that is. A higher-pressure fill will probably boost velocity enough to correct this at 50 yards.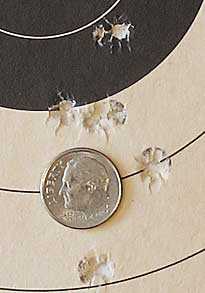 Five shots went into this 2.008-inch group at 50 yards. The Loverin-design bullet did remarkably well, considering its 150-grain weight. The last two fills were only 2,950 psi. I wonder what a higher, more uniform fill might do?
This longer, heavier bullet would be ideal for deer. While the velocity is probably down at the 700 f.p.s. mark, these bullets still shoot all the way through deer unless they're stopped by heavy bone. I would restrict my shots to very close range with this bullet, but I think it might do the trick out to 80 yards, or so.
What's next?
Now that I have one good bullet for sure and the possibility of another, it's time to test both with higher fill levels. I also want to chronograph these bullets so we can see what sort of performance they give.
I also want to cast some of my 130-grain spitzers in pure lead and shoot them unsized and unlubricated. That might be the secret to success in this rifle.
We're not quite done with the Quackenbush .308. My thanks to both Mr. Hollowpoint and to Robert from Arcade for providing me with these two bullets to test.