by Tom Gaylord, a.k.a. B.B. Pelletier
Announcement: Connor Moynihan is this week's winner of Pyramyd Air's Big Shot of the Week on their airgun facebook page. He'll receive a $50 Pyramyd Air gift card. Congratulations!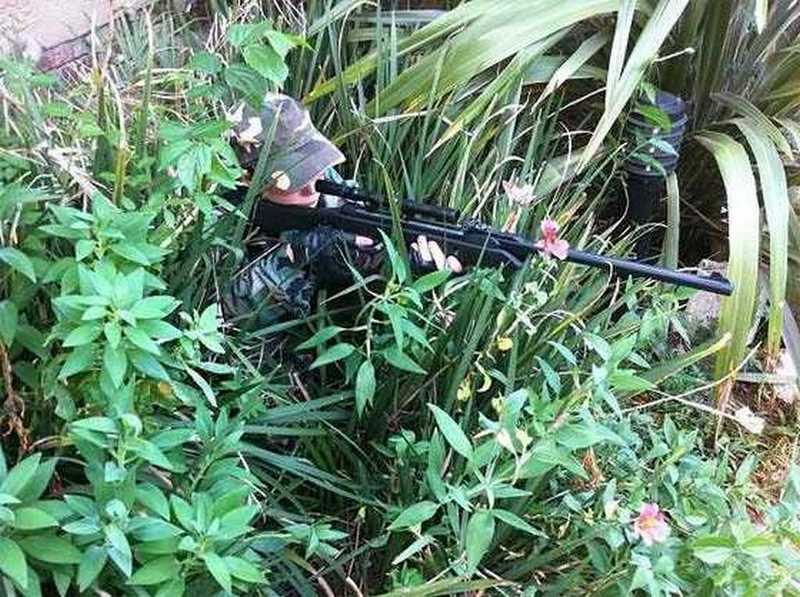 Connor Moynihan won the BSOTW.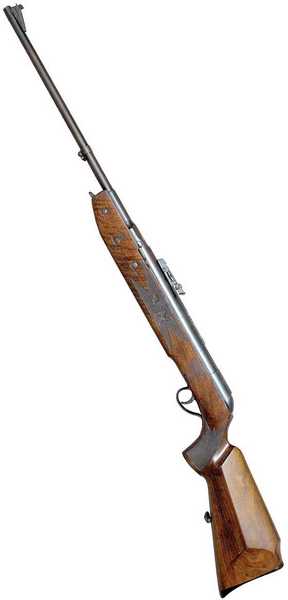 My Falke 90 is a well-built vintage air rifle.
If you've been a reader for long time, or have read the older reports, the chances are you'e read about my .22-caliber Falke 90. I ran a report titled Shooting the Falke 90 back in early 2011. The problem is that I didn't shoot the rifle for that test. That was back at the end of my illness, and my good friend Mac graciously stepped in and shot the rifle. Plus, he wrote up the data so I could write the test report because I couldn't cock a spring rifle at that time. Blog reader Vince had just tuned the rifle for me back then and reported on that in a three-part report titled It's not my Falke in very early 2011.
So, a lot has been said about my Falke 90. The thing is that I didn't have much to do with what was said! I never really tested the gun, because as I've stated, I was unable to cock it. This came to my attention at the Roanoke airgun show a couple weeks ago, where Mac and I discussed the rifle at length.
Mac says the rifle feels like a .22 rimfire when it shoots. Now, if I knew he wasn't experienced with vintage springers, I would pass off a statement like that, but Mac knows as much as I do about vintage airguns. There must be something to it.
Then, I re-read Vince's three-part report on fixing the gun. All along, I had in my mind that the Falke was almost exactly the same as a Hakim, and there were many similarities between the two air rifles. But the Falke also has some standalone features that bear examination. I'll point these out as I go.
So, I'm starting a look at the Falke 90 from my own perspective. I bet I haven't shot the gun 100 times since it came back from Vince, so this will be a learning experience for me, as well as for those who follow along. Let's begin with a brief look at the company that made this air rifle.
History
The history will have to be brief, because not a lot is known about the Falke company. We know they had a catalog in 1951, and the models 80 and 90 (both underlevers, with the 90 being the top model) were not listed. But in a 1952 catalog, both are listed as new offerings. The Falke company operated in Bennsigen, Germany, during the 1950s. If the 1952 date is correct (and it can't be later than that, can it?), the Falke 90 pre-dates by several years the Hakim made by Anschütz.
We also know that the BSA Airsporter that also resembles the Falke 90 was first made in the late 1940s — so it was the first airgun to use this type of underlever design. Therefore, the chronology goes –> BSA Airsporter, Falke 80/90 and the Hakim last.
Writer W.H.B. Smith said in Gas, Air and Spring Guns of the World, regarding the Falke 80/90, that no finer or more powerful airgun existed at the time (1957). He did see the BSA Airsporter, but I can't tell if he ever looked inside one. Vince, though, has seen the inside of all three guns — the first variation Airsporter, my Falke 90 and several Hakims. It's his opinion that the BSA is superior to both other rifles in the quality of the build. I must refrain from this discussion, since the earliest Airsporter of which I've seen the insides was a 5th variation. It was not up to the standards of the Falke 90 but was about the equal of the Hakim, in my opinion.
The one interesting thing about both the model 80 and model 90 is their rarity. There are suspected to be only 400 model 80s ever made and fewer than 200 model 90s. A lack of information about the company prevents us from knowing for certain how many were made, plus there are duplicate serial numbers in both model ranges. A worldwide serial number registration exists on the Falke Talk forum. My rifle is number 39…and as of this date, there's no duplicate.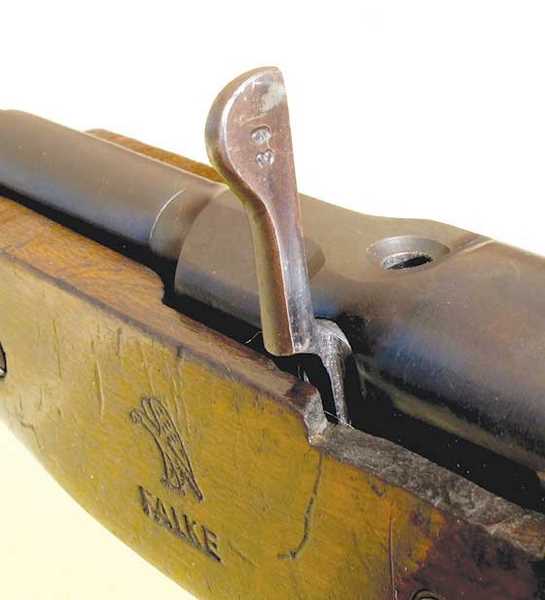 The serial number is on the lever of the loading tap, among other places.
What makes the 90?
I keep referring to the 80 and 90 together, but what differentiates them? Their actions are similar, but they do have differences. The 80 has a sporting type open adjustable rear sight, while the 90 has a precision diopter. My rifle has the sight that belongs on an 80, and I see that many Falke owners share my situation. There are more 90s than there are diopter sights for them, so either Falke sold them with the sporter sights at some time, or they have been lost over the years and replaced with the lesser sporter sight.
The sporter sight is a beautiful thing by itself, and it is one point of departure from the Hakim that has a far simpler rear sight. The Falke sight is mostly machined, while the Hakim is mostly made from stamped parts. Both are fine by today's standards; but in a side-by-side comparison, the win goes to Falke. I wish I had a diopter sight for my rifle, but they are so scarce that people have actually machined them from steel just to have one!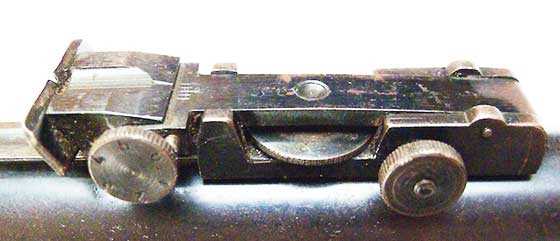 Heavy and machined — the rear sight is exactly what an airgunner wants to see.
The stock is another point of departure for the Falke 90 — not just from the Hakim, but also from its own sibling, the Falke 80. We all know the Hakim has a military-looking stock, because it was built as a military trainer for the Egyptian army that was armed with the 8mm Hakim semiautomatic battle rifle at the time. The Hakim also has an upper handguard, even though it is completly unnecessary on an airgun.
The Falke 80 has a nice sporter stock made from elm. It resembles the BSA Airsporter stock a little. But the Falke 90 has an in-your-face walnut stock with thick cross-section and high cheekpiece. The wood is well-executed and hand checkered and wears the Falke logo proudly. On my rifle, unfortunately, some budding folk artist decided to give the Mona Lisa a second coat of paint, by carving his initials into the checkered panel on the left side of the forearm. Or at least he started to! Then I suppose he found a freeway overpass to deface and lost his focus. That vandalism makes my rifle look like a beater, despite the fiddleback grain in the walnut.
So, I am resolving to fix this problem, by refinishing the stock. I'll take pictures as I go; and if you never hear about the rifle again, you'll know I turned the stock into kindling.
This rifle is large and heavy — 9 lbs. on the nose and with a longer pull than the Hakim at 13.5 inches. The barrel measures 19 inches and the length overall is 44 inches. It has sling swivels built in, with the forward swivel attached to the fixed barrel. They're the thin 3/4-inch European type that were in vogue in the 1950s.
Mac has already reported some velocity numbers for RWS Superdomes. They averaged 490 f.p.s. with a spread from 481 to 494 f.p.s. And the Eley Wasps he tested averaged 474 f.p.s., though their spread went from 451 to 500 f.p.s. The Wasps are fatter pellets, and Mac had better luck with them in the accuracy test — but I want to say something about that. I've discovered that the loading tap on this rifle is not overly large. I'm used to pellets falling into the tap of a Hakim, but those same pellets have to be pushed into this rifle's tap. So, it may prefer different pellets than have been tried so far. I'll have some fun finding that out for you.
Impressions so far
Like I said, I haven't shot this rifle enough yet to know it very well, but I can already tell you that it isn't a Hakim. It's similar, but finish and fit is better in every critical place. I can't say that I agree with Mac that it feels like a .22 rimfire, but I haven't shot it for accuracy yet. That's when I'll know for sure — one way or the other. What I can say at this time is that the Falke 90 is a very robust and well-made air rifle that feels good to hold and shoot. I'm going to enjoy this test.
It's a shame that my rifle was beat up so much. Not only were the initials cut into the stock, there are numerous scratches and dents put there by a lot of careless handling. Hopefully, I can restore it to some state of respectability while enjoying it at the same time.