by Tom Gaylord, a.k.a. B.B. Pelletier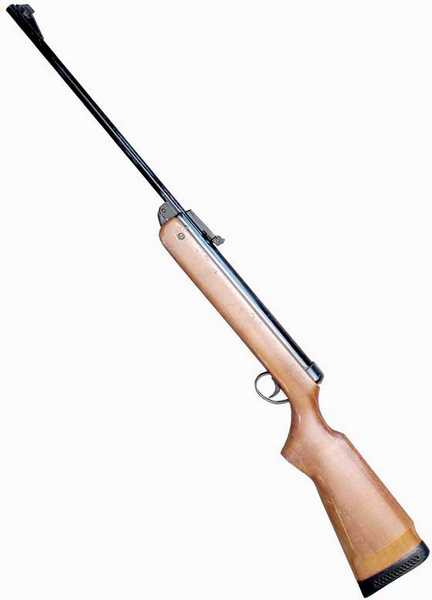 My rifle is actually a BSA Super Meteor.
Today's report is really interesting — at least I think so. If you want to know more about what's behind the performance of a spring-piston air rifle, today will give you some insight.
In the last report, I installed the new piston head with a new seal and buffer. This head has a threaded shank with a nut to hold it to the piston securely. It replaces the old head that was held on by a flimsy E-type circlip that had failed. And you may remember that after the head separated from the piston, people continued to cock and fire the gun, not knowing what was wrong. The result was a lot of mechanical damage, including broken welds on the piston and heavy galling inside the compression chamber and spring tube.
After the rebuild (with a lot of help from my friend Otho), I fired the rifle and noted that it seemed okay, but it would have to wait for a run over the chronograph to know for sure. Today, we'll do that run.
Before I did any shooting, I cleaned the bore with a bronze bore brush and J-B Non-Embedding Bore Cleaning Compound. It was filthy to begin with, but I was surprised that the brush went through easily from the first stroke. Usually, it takes 10 strokes or more before the brush loosens up.
Once all the paste was cleaned out of the barrel, it was much brighter inside, though not as shiny as a new barrel. I don't have a borescope; but to my naked eye, the bore on this rifle looks very uneven. If this were a firearm, I would suspect it had fired a lot of corrosive ammunition and not been cleaned properly. We'll see what that does to the accuracy in the future.
Pellet selection
I initially selected three different pellets for this test. Two of them were lightweights, and the other was a medium-weight pellet; but as it turned out, I never got to test the medium-weight pellet. I learned so much from the lightweights that I was pushed in a new direction.
RWS Hobby
The first pellet I tried was the 7-grain RWS Hobby. The Hobby is a lightweight pellet that normally goes faster than any other pure lead pellet. I use it in most of my velocity tests to give a good idea of the rifle's power. I expected to see something in the high 400s or low 500s with this rifle, but that's not what I got! Look at the first 3 shots.
337 fps
337 fps
350 fps
Obviously, Hobbys were not the right pellet for the Meteor. They fit the breech tight and didn't seem to want to move very fast.
JSB Exact RS
Next, I switched to the JSB Exact RS pellet. While this 7.33-grain pellet weighs a little more than the Hobby, it fits the breach much looser, and I felt it might have higher velocity. Let's look at the first 3 shots.
312 fps
343 fps
357 fps
Clearly something was wrong! I felt the tuneup should have given me more velocity than that. I took a look at the breech seal, which had not been replaced. It was flattened even with the breech but didn't seem to be damaged in any way. However it seemed like a good idea to pull it out and examine it closer. That turned out to be exactly the right thing to do!
When I pried the seal from the breech, it fell apart! The Meteor's breech seal is a synthetic circular seal that's taller than an o-ring; and from appearances, this one is at the end of its life. I didn't have a replacement seal on hand, but I know how to make breech seals out of leather. I had a couple of my homemade leather Diana breech seals on hand, and all they needed was some trimming to fit the Meteor. The first one was trimmed too small and gave me several shots at 216 f.p.s. Obviously, it wasn't doing the job!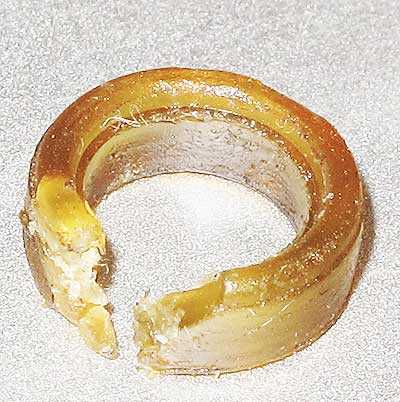 The Meteor breech seal disintegrated when it was pried out of the breech. It wasn't doing the job anymore and needed to be replaced.
The next leather seal was left larger and just stuffed into the breech seal channel. It fit the rifle much better, while still standing a little proud of the breech. That's what you want in a leather breech seal. This time I decided to oil the seal thoroughly before continuing the test. I applied several drops of silicone chamber oil about 10 successive times and allowed it to soak into the leather. Then, I left the gun overnight with the breech broken open to allow the leather to completely soak up all the oil, while not flattening out. The next morning, I oiled the seal one more time. Then, it was time to shoot.
The first 3 shots with JSB Exact RS pellets the next day were very revealing:
522 fps
510 fps
485 fps
I was on the right track, but maybe the job wasn't finished. Even though the JSB Exact RS pellet fit the breech looser than the Hobby, I wondered if deep-seating would improve the velocity. The next 10 shots are all with the JSB Exact RS pellet seated deep in the breech, using the Air Venturi pellet pen and seater.
509 fps
494 fps
500 fps
481 fps
496 fps
480 fps
470 fps
446 fps
416 fps
408 fps
Time for learning!
Okay, what have we learned from this? I think an examination of this last shot string shows the gun wants to shoot a little faster than 500 f.p.s. with this pellet, but it isn't for some reason. You notice that the velocity drops as the shots accumulate. What's up with that?
It seems to me that the new breach seal is losing its ability to do the job as the gun is fired. An examination of the seal shows that it's flattening out, but I didn't want to accept this conclusion from just one string of shots. So, I returned to the RWS Hobby pellets next.
RWS Hobby
Because they fit tight, I also deep-seated these pellets with the pellet seater:
332 fps
344 fps
335 fps
379 fps
397 fps
363 fps
370 fps
373 fps
360 fps
373 fps
I'm not sure what to make of this shot string. It looks like the Hobbys wanted to go faster, but then they sort of stabilized around 360 to 370 f.p.s. I doubt if they're going to go over 400 f.p.s. with the current breech seal.
Trigger
The adjustable single-stage trigger breaks at 4 lbs., 9 oz. as it's set right now. Because this trigger adjusts by varying the amount of sear contact area, I plan to leave it right where it is, for safety's sake. It's crisp enough that I can work with it as is.
What to do next?
Based on the evidence I see above, this rifle now wants to shoot in the low 500s with light pellets, but the breech seal is holding it back. If that's true, a new breech seal should push the gun back up over the 500 mark. The solution seems simple. I went online to T. R. Robb's website in the UK and ordered 3 new breech seals. Since they're synthetic, I don't know how long they will last…but 3 should last me the rest of my life.
I'll be very pleased to get a final velocity around 500 f.p.s. with lightweight pellets. Remember, I want to shoot this Meteor for fun — not to obtain the absolute last foot-pound of energy it can produce. The trigger is heavy but also very positive, and a delight to shoot. And the rifle fires with a pleasingly dead-calm shot cycle.
I have no idea if this rifle is worth the money, time and effort I'm putting into it, but I'm doing it as a learning exercise, rather than just restoring a BSA Meteor to usefulness. If I wanted a Meteor to shoot, I would have been money ahead to just turn this rifle into a parts gun and find a rifle that was in good condition to start with.
I guess the analogy to what I'm doing with this Meteor is the guy who finds a rusty old tractor laying out in a field — abandoned for decades. It isn't worth the effort, but if he can get it running again, think of all he might learn along the way.